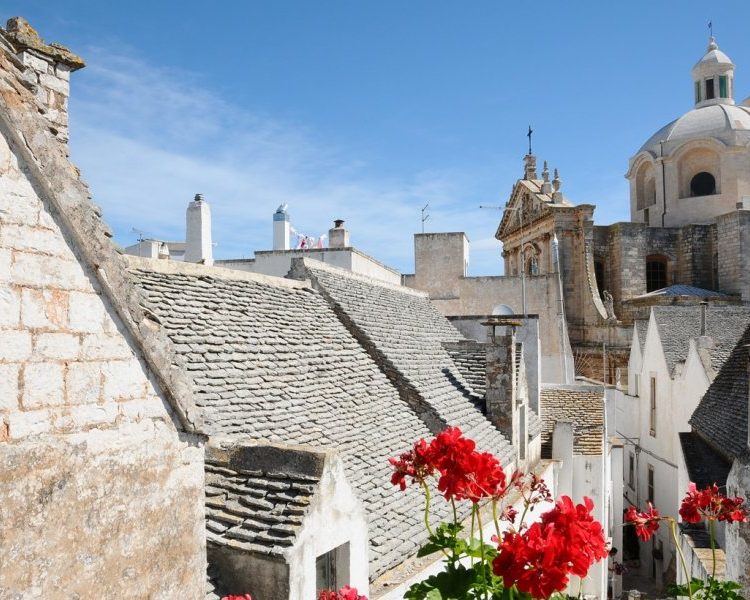 Hot from a long journey, wheeling our suitcases through the narrow alleys of Locorotondo's centro storico was akin to stepping into a scene from a fairytale. Whitewashed and unnaturally peaceful, this ancient hilltop town sparkles in the dusty southern Italian countryside of Valle d'Itria.
The region of Puglia, the heel to Italy's boot, is harsh and dry during the summer months, with mile upon mile of gnarled olive trees. We'd read about the wonders of Lecce and Ostuni, but found ourselves disappointed and a little claustrophobic.
Arriving in the tiny walled city of Locorotondo was a different story. Pristine white churches offer solace from the heat of the day, and hot pink bougainvillea winds its way up quaint little bookshops and artisan pottery studios.
Every turn is a work of art, an old world architectural treasure. Inside the confines of the tiny city, it feels as though not a single stone has moved for hundreds of years. There's no room for cars, no modern convenience shops, and an illusion of complete timelessness.
Sotto Le Cummerse describes itself as an "Albergo diffuso" – a scattered hotel. What this means is a handful of private houses and apartments sprinkled throughout the walled old town, seamlessly woven into the fabric of the place. Tucked between local homes spilling with lavender and lace curtains, the properties are completely at one with the town.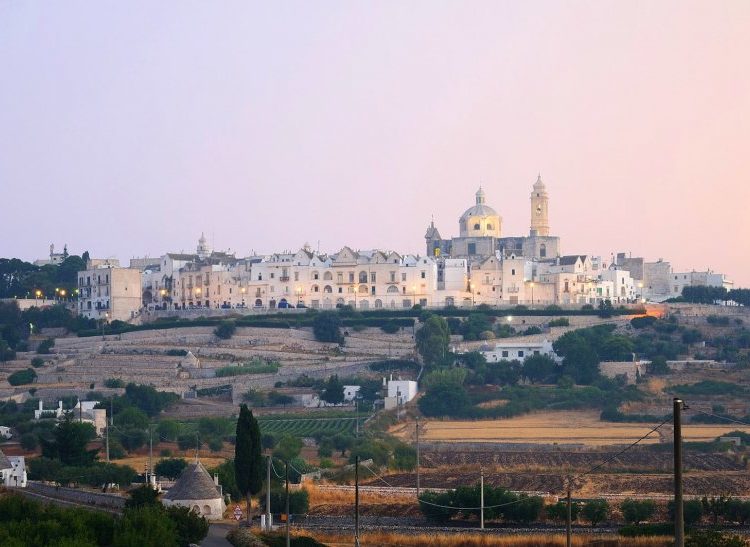 On arrival, guests are given the keys to their own little home from which to explore the labyrinth of Locorotondo. Rather like staying within the walls of the Vatican, or on a private island, you have that unique smugness of being an insider, living within the tourist attraction itself. Everything about Sotto Le Cummerse welcomes the visitor as a fellow resident, giving an entirely immersive experience, while still providing all the services expected from a top-notch hotel.
Twisting through the narrow passageways and under arches, we're led to the white steps of our little slice of heaven, the 'Casa degli Angeli': a stylish and minimal suite within a whitewashed medieval house. It's named after owner Angelo Sisto, who created the hotel with his wife his wife Teresa Salerno. Both were born in Locorotondo, and are driven by a passion to retain its heritage.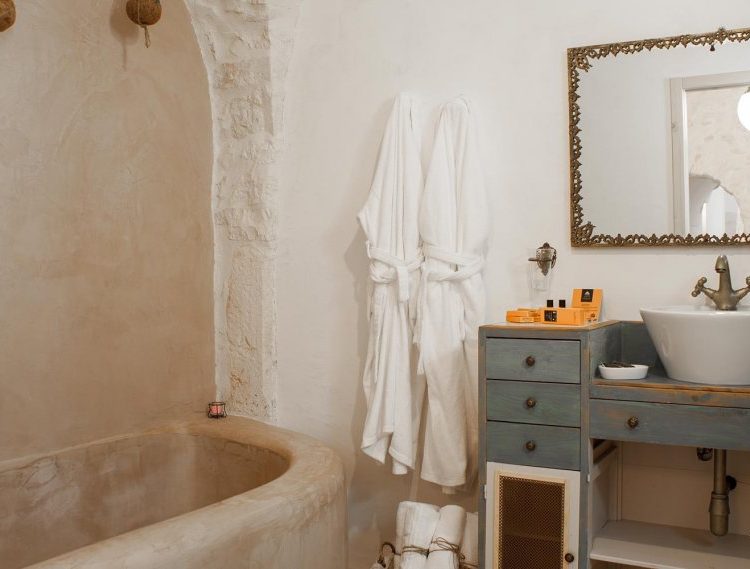 A fantastic palate of painted brickwork, dark mahogany and wrought iron furnishings blend together in perfect harmony. The suites comfortably fit up to 4 people, while deluxe and junior apartments vary between 2 to 4. All are beautifully designed with a balance of old and new, equipped with chic kitchenettes and generous bathrooms. As much as we loved the house, the roof terrace really stole the show. We sat for hours, drinking red wine bought from outside the city walls, watching swallows darting between the rooftops as day melted into evening.
Breakfast deserves a special mention and takes place in a cosy stone-vaulted chamber, a brief stroll from the apartment. Puglia is known for its outstanding produce and Sotto le Cummerse lay on a feast of peaches and apricots, glooping homemade yoghurt, cured meats and local cheeses. Homemade cakes, focaccia and brioche are also on offer, as well plentiful Italian coffee, laid out on vintage cake stands and in kitsch kilner jars. A homespun breakfast of dreams, whipping out my iPhone to capture the display seems sacrilege and I decide for once not to break the spell of the moment.
All too quickly our 24 hours in Locorotondo comes to an end, and we move along the Adriatic to sample the rest of Puglia. Otranto seems brash in comparison, with honking cars and real shops, and Alberullo is swarming with tourists.
We wonder that those calm deserted squares and sun-drenched houses ever existed at all. Locorotondo may be one of the Italian region's best kept secrets and with it, Sotto Le Cummerse is a hidden gem of a hotel.