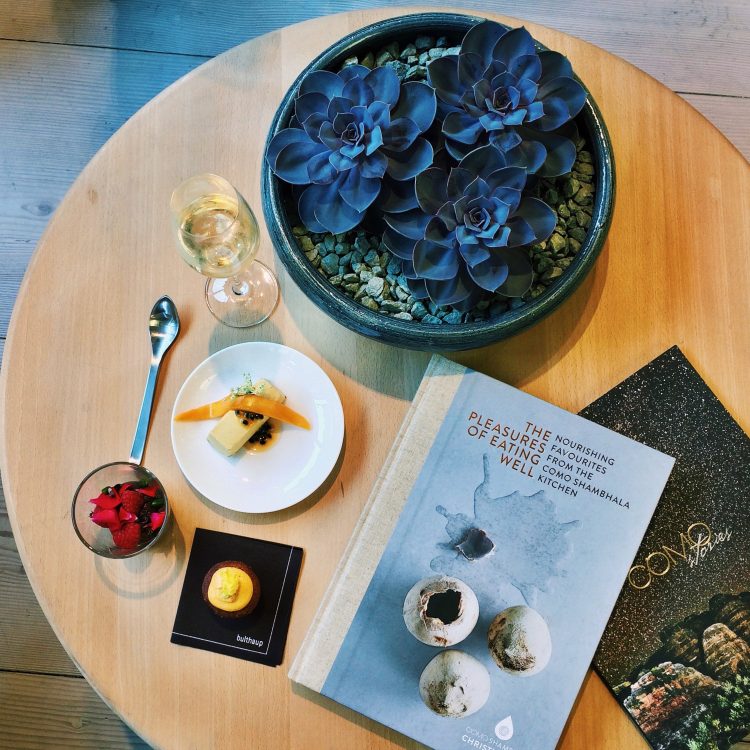 Known for their exclusive luxury hotels, COMO have launched their first cookbook 'The Pleasures of Eating Well' by Christina Ong, one of the world's most successful Singaporean entrepreneurs. Ong is renown for her investments in fashion and luxury hotel resorts, having set up Club 21, the Metropolitan Hotels and COMO Shambhala worldwide.
The Pleasures of Eating Well features signature COMO Shambhala Cuisine which offers a gastronomic journey through COMO's exclusive hotels in Bali, Bhutan, the Maldives, Miami Beach, the Turks and Caicos Islands, Thailand, the UK and Australia.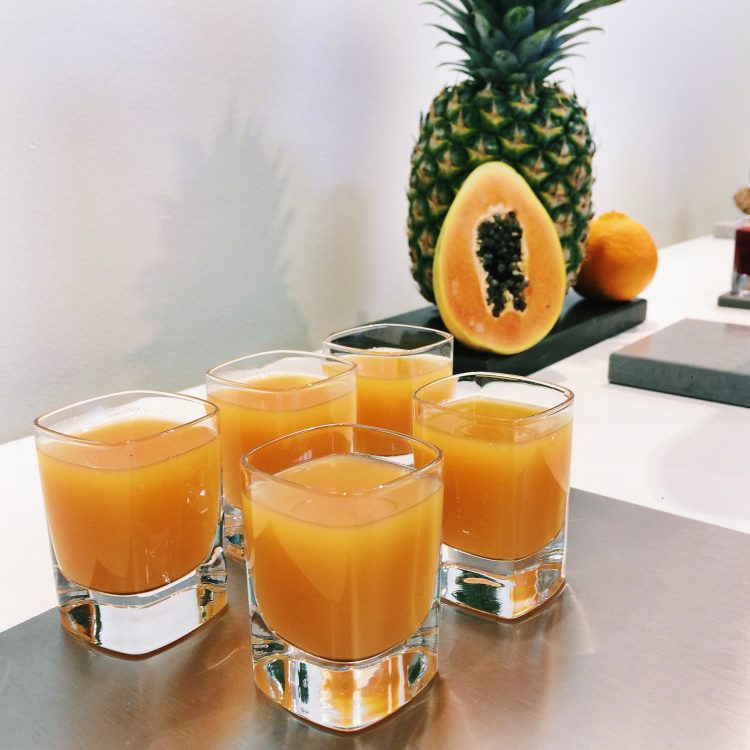 To celebrate the launch of the new book, Daniel Moran, COMO's Executive Chef and Eve Persak, COMO's sought-after Nutritionist flew over to London from Singapore and the Turks & Caicos to give a personal introduction to the recipes in the book and a hands-on cookery demonstration at Bulthaup in Mayfair. There was also a very delicious tasting of a few of the adventurous, balanced and nourishing recipes featured in The Pleasures of Eating Well.
The beautiful presentation, vivid colours and full flavours were all that much more enjoyable, taking into account that each dish had been developed not only to please the palate but also with the aim to boost concentration and energy, balance blood sugar levels, and cleanse the body from the outside in. Some of the tasty treats we tried included; pumpkin and whole wheat mini cupcakes, an Asian-inspired raw tuna and radish salad, avocado and cacao mousse with fresh berries, various no-cook juice combinations and my personal favourite, the mango and passionfruit cheesecake.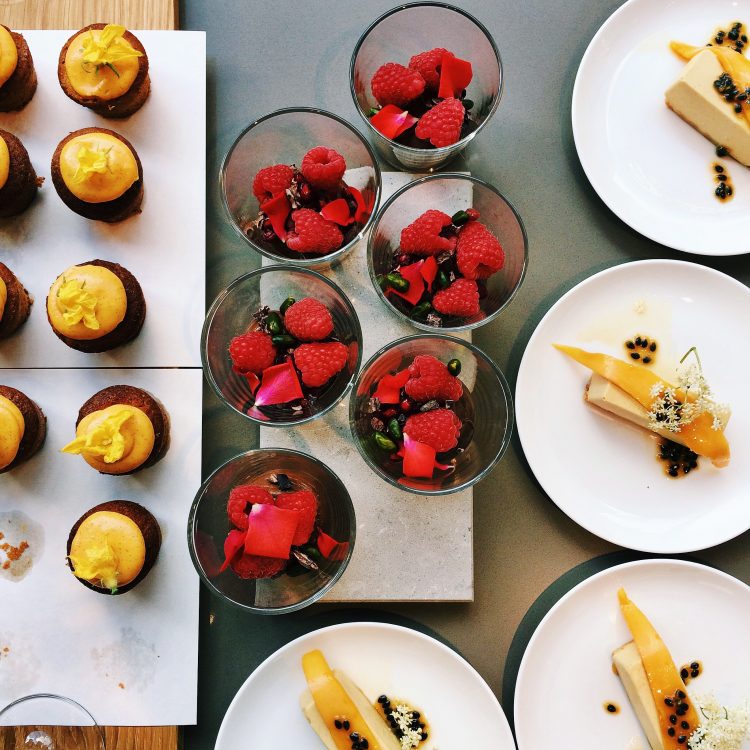 Chef Daniel Moran or 'Chef Dan' as he insisted we address him, gave us a demonstration of how to make the 'Flaked Salmon with Cauliflower and Quinoa Tabbouleh with a smoky aubergine puree '.
Using a vibrant combination of purple and white raw cauliflower 'rice', quinoa, pomegranate and fresh herbs to make a colourful and nutritious side to compliment the Salmon and aubergine puree (which I volunteered to don an apron to assist in making). Chef Dan also showed us a few innovative ways to boost the colour and create more texture in simple dishes while increasing the overall nutritional value.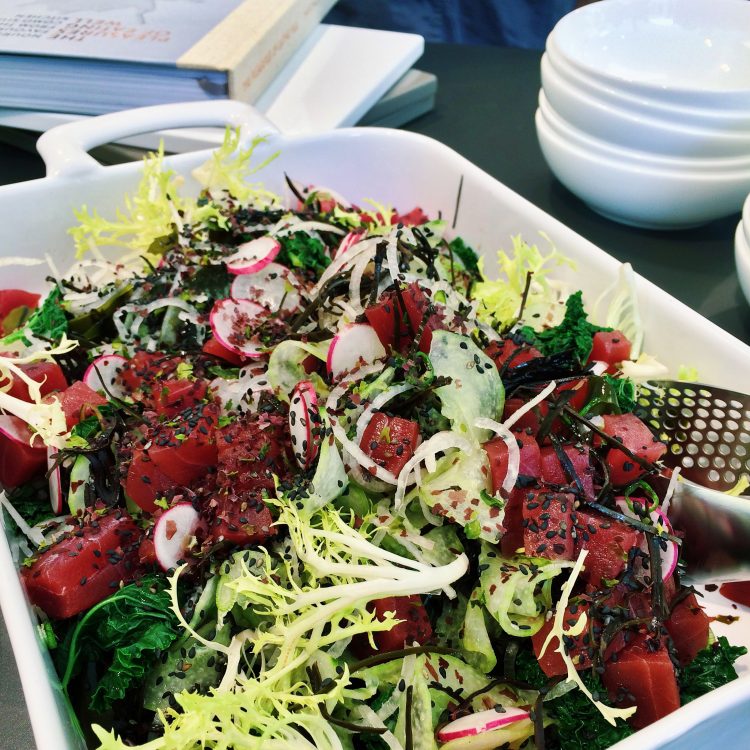 While Chef Dan was happily cooking away, Eve Persak gave us all helpful nutritional advice and tips as well as explaining why various ingredients were being used in these recipes, their nutritional benefits and what alternatives could be used – all of which is explained well in the book itself.
Daniel and Eve made a heavenly team. They were engaging, fun and friendly – helping to guide us through COMO Shambhala's holistic wellness approach to a healthier lifestyle without sacrificing flavour, counting calories or skipping dessert.
All in all, the event was a warm celebration of food and wellness that left us feeling inspired to recreate some of the beautiful dishes featured.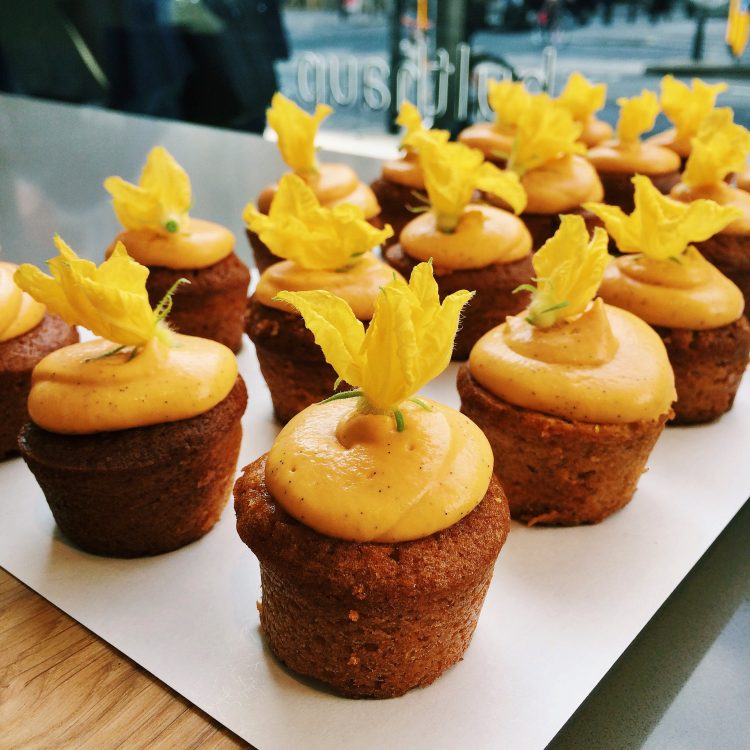 Cooking at home can often feel like a bit of a drag and often the phrase 'I just don't have the time' is mentioned. It can be a bit of a challenge to easily source the right ingredients to create meals that are simple, nutritious, delicious, exciting and prepared quickly enough to fit in to our busy schedules.
The Pleasures of Eating Well delivers simply instructed, perfectly portioned recipes, made with each recipe's standout nutritional benefits clearly highlighted. It features ingredients that are easy to source and that are not only healthy and energy boosting but also do not compromise in taste. They embrace all that is seasonal, pure and sustainable in delicious, nourishing combinations that make it easy and fun to cook well at home.
Images by Mica Francis-Angel.
Buy The Pleasures of Eating well here.