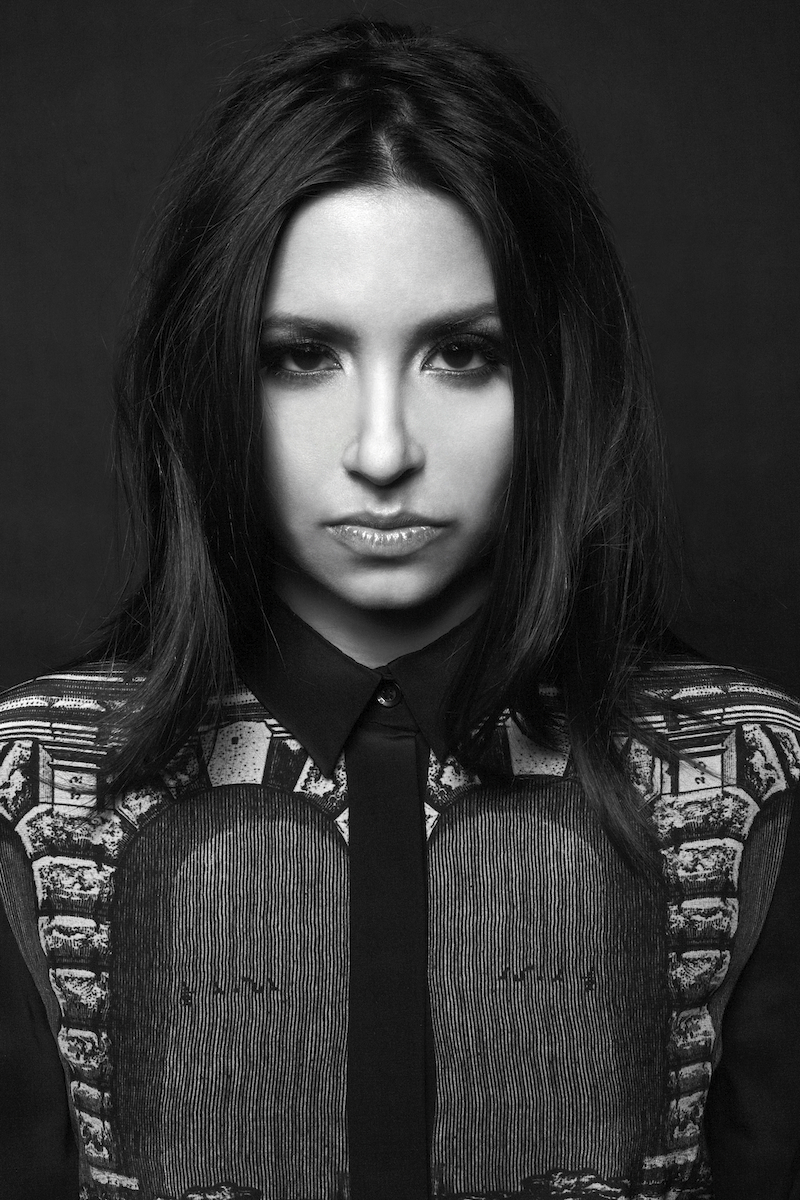 You may know DJ Kayper from her earlier shows with the BBC Asian Network, originally known as "The Hype Show" on Wednesdays, before moving to a prime time slot on Fridays, renamed simply, "DJ Kayper". Since then, Kayper has become one of the most sought after female DJ's in the world, headlining in London's renowned Ministry of Sound, New York's famed SOB's, and a regular residency at the infamous LIV in Miami, amongst many other global hotspots.
Watching DJ Kayper on Youtube has me in complete awe of her ability to scratch and mix so effortlessly on the decks. Her SoundCloud never fails to get me raving in my room most nights. So I can't begin to express my excitement when I found out that Kayper, real name, Kaajal Bakrania, had taken a moment out of her busy schedule to talk to us at The Arcadia Online.
I wondered whether it had been difficult for Kayper to break through in a predominantly older male industry. Kayper tells me, "I don't think I was taken seriously in the beginning mainly because I didn't look like a DJ.  I felt like I always had to prove myself everywhere that I went, which I think in the long run pushed me to get better all the time."
She added, "To be honest, I still feel like I have to prove myself to this day but its different now because I actually have a history. But during the early days, nobody knew who I was and my biggest problem was that a lot of the guy DJ's didn't like it if I showed them up by playing better than them."
Completely self-taught from an early age, Kayper reminisces about being inspired by an older cousin, who was a DJ in the 90's and practicing in his room. She says, "I was really into music and fascinated with djing from an early age, but nobody wanted to teach me so I taught myself. There was no YouTube or Internet back then so I learnt by listening to mix tapes and watching Technics DMC Championship video's, which is also how I learned to scratch."
I was astonished to learn that Kayper's debut as a DJ was at the tender age of 15-years-old, and was chaperoned by her elder brother. She recalls, "It was in the middle of a car park, in Croydon, my hometown, which was on a roundabout and I remember that the bouncer wouldn't let me in at first because he didn't believe that I was the DJ."
She added, "When I eventually got into the club I realized it was just filled with dodgy drug dealers and wannabe gangsters.  The DJ booth was in a different room to the dance floor, which made absolutely no sense and the booth was so high that I had to stand on a few milk crates to reach the decks. It was the worst club ever."
It is incredible to see just how far Kayper has come in her career. Her list of credentials, includes being the first ever, female winner of The Telegraph Student DJ of the Year award in 2003, which Kayper tells me was actually by accident. She explains, "I was in my first year of university when I won that competition and the funny thing was that I didn't even sign up to be in it. I was studying Music Technology and I asked one of the 3rd year students on my course to master a mix tape I had done."
She adds, "He was actually competing in the competition and when he heard my mix he decided to drop out and suggested that I take his place. I agreed to do it just for fun and ended up winning all the heats and then eventually won the final. So really if it weren't for that guy dropping out to put me in the competition, it never would have happened."
She has also been praised by her idol, Jazzy Jeff, who referred to Kayper as, "The best female DJ I have seen in my whole life." Not to mention, being invited to DJ at Gwyneth Paltrow's birthday and supporting the tours of hip hop royalty such as, Ghostface, Common and Pete Rock.
It is amazing, that Kayper has managed to keep a level head. Her passion for her craft and her love of music is just as evident now, in her advice for emerging DJ's. She advises, "If you want to be a DJ, do it for the right reasons, do it because you really love music, take it seriously as an art form."
She adds, "Learn how to use your equipment inside out, not just the play and stop button with the sync on.  Aim to be better than the best. Practice makes perfect. Perfection takes time."
Constantly improving her skill set, Kayper has turned her attention to music production. She released her debut single earlier this year, brilliant dance track, 'Out of my Mind'. She has already set the bar impossibly high but I look forward to what Kayper will be bring to the 'turn-tables' in 2014.
15 Questions We Ask Everyone
1. What is the first thing you do when you wake up in the morning?
Rub my eyes.
2. What did you want to be when you were younger?
A Sound Engineer, even though I had no idea what it was.
3. If you could offer advice to your twelve-year-old self, what would it be?
Stop being a nob and getting suspended from school! You'll regret it later.
4. You have 24 hours, with no travel restrictions, how would you spend it?
I'd go to the most amazing beach in the world (wherever that is) with my closest people and just chill.
5. The most exciting thing that has happened to you this year?
People actually taking notice of the music I'm making.
6. The film that you can watch over and over yet never tire of?
Just Friends.
7. What character can you relate to the most in any film, book, TV show and why?
Hermione from Harry Potter because I'm a perfectionist and can never be wrong.
8. If you could commit one crime and get away with it, what would it be?
I would rob the crown jewels.
9. The song that always makes you emotional?
Stevie Wonder – I Never Dreamed You'd Leave In Summer
10. If you could spend an entire day with anyone uninterrupted who would it be?
Janet Jackson
11. It is Friday night at midnight, where are most likely to be?
Djing in a club.
12. What is your biggest vice?
Drinking coffee patron after djing. It's like sugar in a cup.  So bad!
13.  What is people's most common misconception of you?
That I'm stuck up if I don't talk but I'm actually just a bit shy and awkward sometimes.
14.  How would you like to be remembered?
Honestly, I'd like to be remembered as being one of the best to get behind two turntables full stop, without any mention of my gender.
15.  What is the last thing you do before you go to sleep?
Look at my phone.
Follow DJ Kayper on Twitter: @djkayper
Follow DJ Kayper on SoundCloud: www.soundcloud.com/djkayper
Like DJ Kayper on Facebook: www.facebook.com/djkayper
Visit DJ Kayper's official website: www.kayper.co.uk