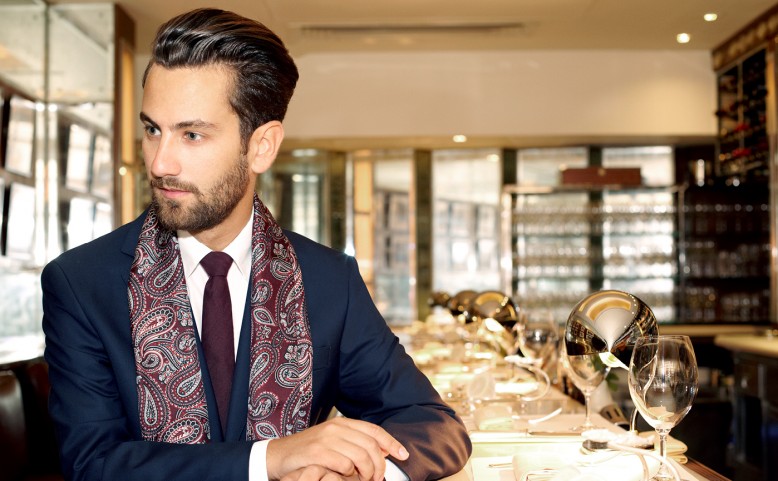 Location: Sketch, Conduit Street, London
We drank: Perfect Passion
The number of times Matthew exclaimed, "My god!": 5
Matthew Zorpas is the founder of celebrated website, The Gentleman Blogger, a lecturer at renowned fashion school, Isituto Marangoni, and now he can add author to his impressive résumé. Matthew has just launched his widely anticipated book, London 100, A Gentleman's Guide. This has all been accomplished in the seven years that Zorpas has lived in London.
I believe everybody's first impression of Zorpas is of his suave sense of style and he did not disappoint on the day of the interview. He wore one of his beloved classic white shirts, complimented by a Salvatore Ferragamo tie, inside a double-breasted navy Tommy Hilfiger suit, and beautifully crafted Church's shoes. It is no wonder Esquire magazine named him the 2nd best-dressed man in Britain, as well as, GQ Taiwan acknowledging him as one of the best-dressed men in the world.
His gentlemanly fashion can be put down to, not only his visual eye and appreciation for fine tailoring but his conventional upbringing in Nicosia.
"Cyprus is a very conservative country, if somebody thinks that suits are traditionally conservative, then yes, I would say that the element of conservative fashion in Cyprus, reflects into my conservative dressing now."
He added, "However, I believe when I came to London, I explored so many aesthetics and different styles which built up my view on suits. The moment I arrived in London, I knew it was for me, I saw the fashion as fashion, style as style, whereas before it was very limited, what I was receiving from the public was very limited so I would say the starting point of my career was as soon as I arrived in London."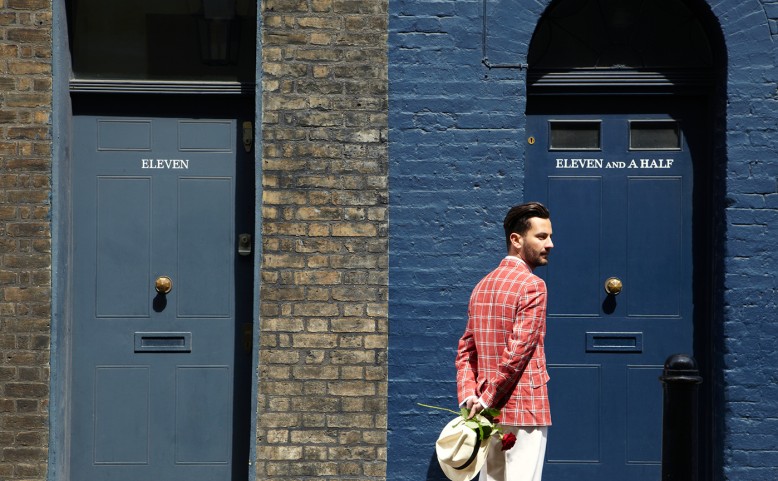 With everyone looking for the next big thing, it has become a trend to search for up-and-coming designers. Always ahead of the game, Matthew's support for new designers has always been a way to keep his finger on the pulse.
"Every season, I always look at graduate fashion weeks from all around the world, from Germany to Hong Kong to London, LCF, Central St. Martins and I'm always sporting young generation designers."
It was never Matthew's intention to start a blog; in fact, he refused to start a blog even after the persistent badgering from his friends. It wasn't until he discovered that there was no male lifestyle blogger out there, that he really considered it.
"I was having tea with Dianne Pernet from A Shaded View of Fashion, during menswear fashion week last year, I shared the idea with her and she said, "You should start your own blog, I think you're there and you have an incredible style and a good following so why don't you start?" She actually named me The Gentleman Blogger. I checked the domain, the domain was available and then a month afterwards, it was live. That was last year, August 2012," he reminisces fondly.
Matthew's endeavours are not just down to his ability to look great in a suit. Every project he commits to, he gives one hundred and ten per cent, and The Gentleman Blogger was no different. The online platform opened doors for him and led to collaborations with prestige luxury brands such as Gucci, Dolce and Gabbana and Fabergé. This fuelled his desire to innovate the blogging hemisphere and led to the birth of London 100, A Gentleman's Guide.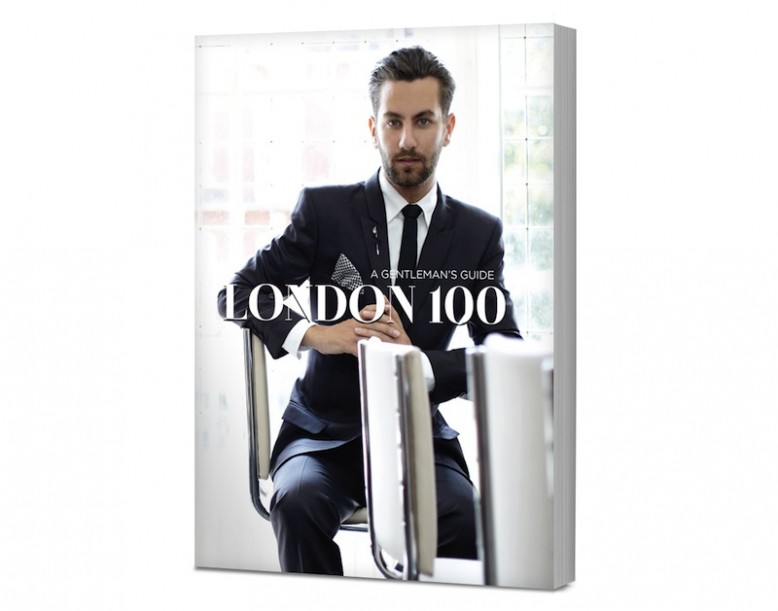 "London 100 was an idea that I had around 8 months ago. It was an idea to transform a blog into a printed version, for the first time. The Gentleman Blogger was very successful and had a very strong following, I was like, "Why can I not give a printed version of what people are looking to see online?"
He realised that the traffic on the website was higher when he posted an 'outfit post' in a certain location. Matthew intended for the blog to inspire his audience to wear something they wouldn't normally wear or discover a new place to eat or see.
He questioned, "Why can't I put one hundred places together and one hundred outfits together? I will be shot inside each place and create a guide for a gentleman. Someone who follows the blog can follow the guide if they come to London and anyone from the public can be introduced to an alternative London. Alternative restaurants, alternative hotels that you cannot find through guides such as TimeOut London or any other guides."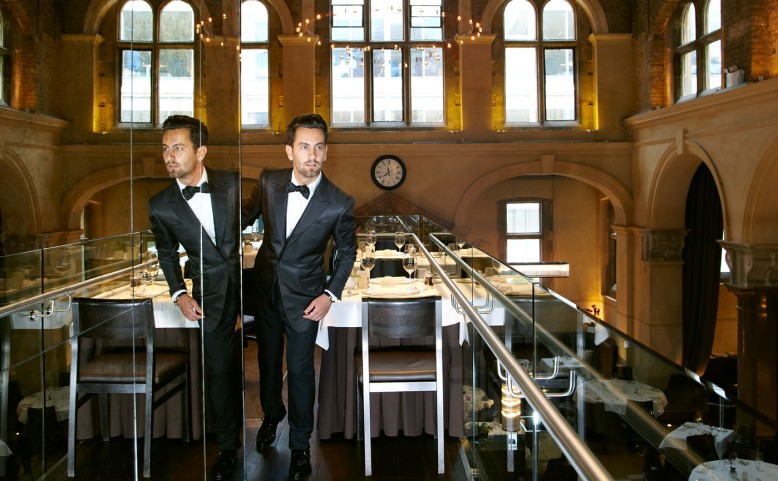 The book is an exquisite creation. Matthew's vision is translated by dear friend, Adam Tannous, capturing the undefined beauty of each location. It is most certainly something to be proud of.
The triumph of London 100 did not come without setbacks. A project this big and with this many collaborations was bound to have a few obstacles.
"Some of the ideas fell apart because of the trust that we gave to somebody else. I still trust people; I don't think it's wrong to trust people. However, through this journey I became more, lets say selfish, when it comes to my business in terms of what I want to do and how I want to do it. I think that was the outcome that I learnt that I need to become stronger so I don't actually need to make that approach."
Since the start of the project, Matthew has gone full force without stopping. Still recovering from the high of the launch.
He said: "After the book, I think the book was a very stressful project, I put lots of energy into it, and my team as well. So I think, I'm still in the recovery period, I cannot think of the future. There have already been some very interesting suggestions coming in. There is a suggestion for a TV show called London 100, there is an idea of a fashion film, and there is an idea of expanding London 100 into different cities. Plenty of plans and ideas, but kind of a slow process, I'm still kind of taking everything in, the success of London 100, taking a break and then hopefully returning back."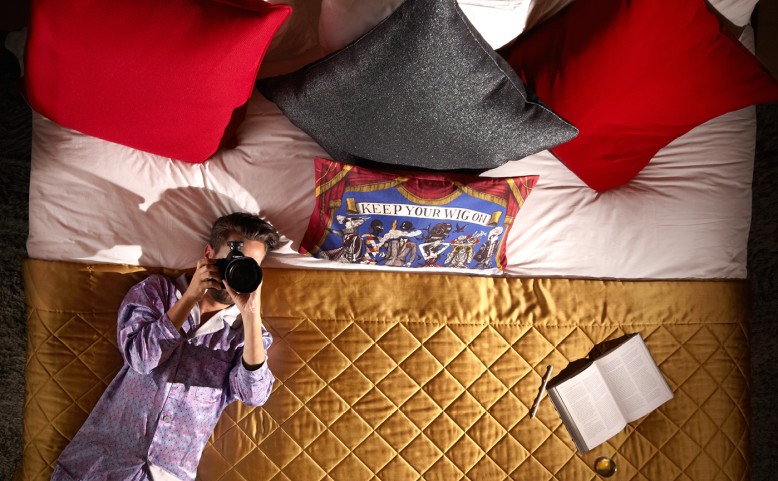 Ten Questions We Ask Everyone
1.    What did you want to be when you were younger?
I'm still young! I don't think I had a clear idea; I really wanted to work with the public in communicating something. I guess where I am today is exactly what I wanted to do when I was younger.
2.    If you could offer advice to your twelve-year-old self, what would it be?
Twelve? My god, I don't even remember when I was twelve! Be yourself, explore more.
3.    You have 24 hours, with no travel restrictions, how would you spend it?
I would go to Rio and stay there for 24 hours. I would feel at home so I think it's more about the feeling of being safe and being secure, in a place that inspires you as opposed to how many places, it's about the place that you would go. And for me, at the moment, Rio seems to be the place.
4.    What is the most exciting thing that has happened to you this year?
London 100!
5.    The film that you can watch over and over yet never tire of?
A Single Man
6.    The song that always makes you emotional?
It's a Greek song, it's called 'Dodeka'. It actually means the number twelve, so the song is called number 12. It's kind of an emotional song itself but it's more because everyone was listening to it in my teenage life and I think that still has something. I guess coming from Cyprus, we are very emotional people!
7. If you could spend an entire day with anyone uninterrupted who would it be?
Someone that you love, someone that you can actually communicate 100% with, someone who you don't actually need to speak to and there is an energy, so probably my lover would be the perfect option.
8. It is Friday night at midnight, where are you most likely to be?
In my bed! A glass of wine, in my bathtub, candles and a nice soundtrack playing in the background.
9. What is your biggest vice?
White shirts!
10. How would you like to be remembered?
I think I would like to be remembered as an entrepreneur. I'm doing something that goes against the system and it is successful. It is a different way and a different approach to what is taught at school and a different approach that we have learnt throughout our lives and at this economic situation, it's kind of risky but at the same time has been very successful. I think maybe, I have developed a different pattern of discovering and supporting your passions and actually making money out of it, surviving through these difficult times. And so it would be nice to be remembered as a young entrepreneur that has managed to break through this situation.
Follow Matthew on Twitter: @MatthewZorpas
Read The Gentleman Blogger: www.thegentlmanblogger.com
Buy London 100, A Gentleman's Guide: www.london100.bigcartel.com
Photographs provided by:
Matthew Zorpas
Adam Tannous