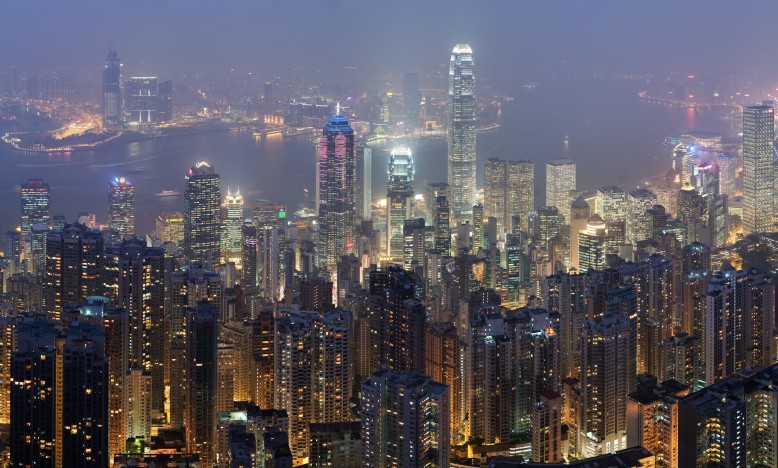 "You can leave Hong Kong, but it will never leave you." – Nury Vittachi
Imagine any fast-paced city and you instantly think of London or New York but Hong Kong is like both of those cities on acid. Hong Kong will always have a special place in my heart as I have spent endless summers as a child and an adult, experiencing everything that it has to offer. The mere mention of Hong Kong still gives me goosebumps, even after I have explored every corner of this tiny yet incredible island. A glittering metropolitan city, set against majestic mountains, aching with tradition yet with an undeniably modernity, Hong Kong has something for everyone.
Culture
Hong Kong is a myriad of paradoxes; east meets west, old meets new. Local families still hold traditional, conservative values whilst the thriving business culture allows the island to be heavily influenced by the west.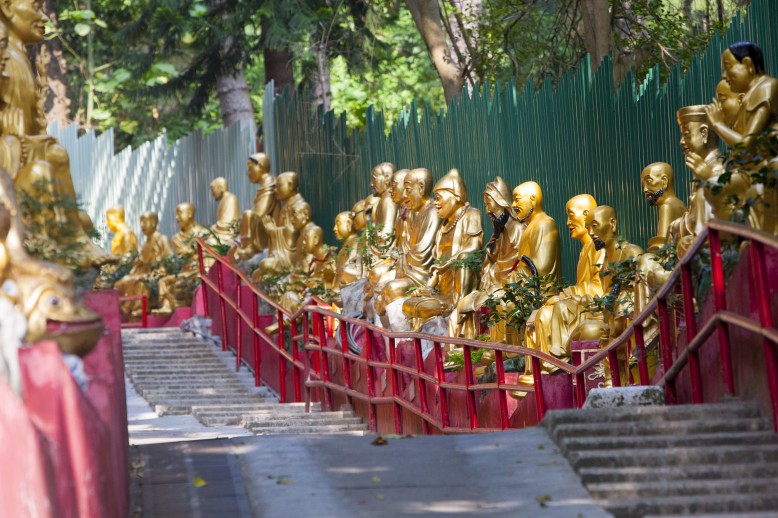 There is no official religion in Hong Kong. However it is predominantly a Buddhist country. Take some time to visit a few of the majestic temples, such as the Ten Thousand Buddha's Monastery in Shatin. The path leading up to the monastery is unmissable, with charming golden Buddhas lining the path, each in a different pose.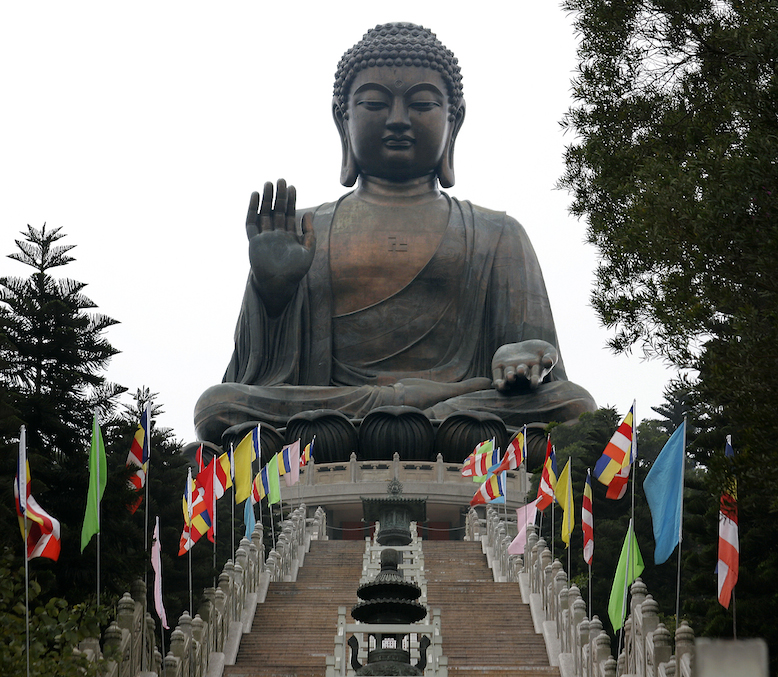 The 'Big Buddha' is also a great attraction, at 112 feet tall it really is unmissable in every sense. I am always mesmerised by the beauty and size of the statue. Make sure you climb all the way to the top, the view itself is most definitely worth it. Whilst you're there, check out Citygate designer outlets, they have everything from Burberry to Kate Spade to Adidas.
Style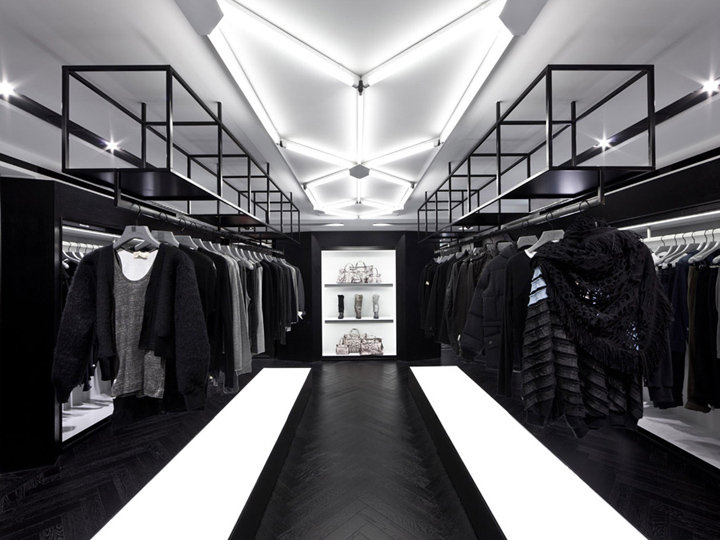 Hong Kong is the ultimate shopping destination. You will find all sorts of idiosyncratic items there that you won't find anywhere else. Hong Kong draws their inspiration from around the world; Europe, Japan, Korea, America, what you end up with is a very unique sense of style. My favourite places to shop are Mong Kok, Causeway Bay and Tsim Sha Tsui.
A highlight is Shine, one of Hong Kong's most renowned high end multi-brand fashion stores. It is famous for bringing pioneering foreign brands to the trend conscious locals. It is located in the high traffic youth-oriented shopping district of Causeway Bay.
Mong Kok is probably the busiest place on earth, think Oxford Street during the Christmas period but everyday. Located in the heart of Kowloon side, there are several reasons why I seem to be there all the time and I hate crowds. One, Fa Yuen Street (Mong Kok East side), I do the biggest bulk of my shopping there. The street is filled with small boutiques selling fast fashion at very cheap prices on both sides of the market.
Another reason to join the chaos is the Mong Kok Computer Centre, where you can find any laptop, hardware, software or accessories.
Back to Fa Yuen Street again but this time head towards Mong Kok MTR station. This is a street with shops only selling trainers, funnily enough; it is nicknamed 'Boh Hai Gai' in Cantonese meaning 'Trainer Street' in English. If you're a sneaker head, this will be your heaven.
'Ladies Street' on Tong Choi Street is a haven for souvenirs. I buy all my souvenirs here as they sell everything from magnets to leather notebooks to phone cases to toys. The best part is, you can haggle. And lastly, Langham Place, perhaps not for the shopping but the building is incredible and the tallest in Mong Kok.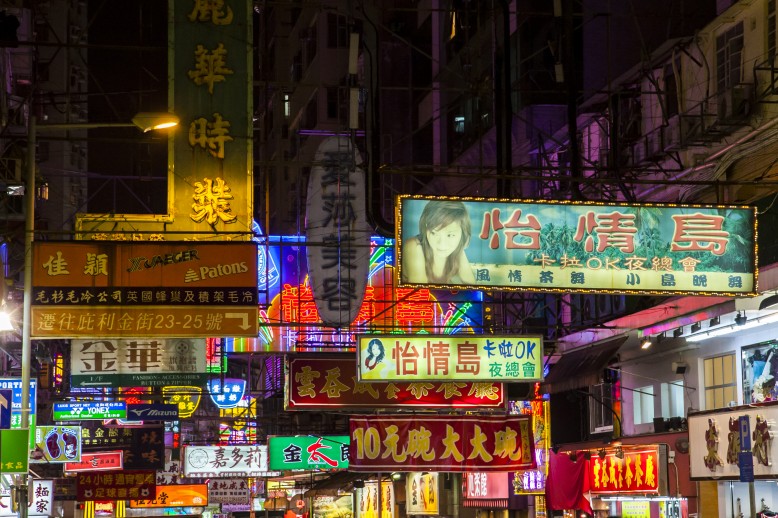 Tsim Sha Tsui is great for shopping centres, though it would seem there is a shopping centre next to every MTR station in Hong Kong. I always find myself in The One, the tallest retail complex in Hong Kong, with twenty-three storeys of fashion, beauty, food and entertainment. I love exploring all the premium boutiques filled with cool local, Japanese and Korean brands. Most of the stores there are part of Hong Kong's unique multi-brand fashion house, I.T that is another store not to be missed. Another much-loved shop is Log-on in iSquare. You will find all sorts of eccentric items from around the world, from skincare to photography to kitchenware. I always spend hours in there; it is definitely my version of Disneyland!
Causeway Bay is also one of my much-loved places to shop, another district of heavy traffic and numerous shopping centres. I can spend hours in Island Beverly Centre, also filled with local, Korean and Japanese brands but I do believe you might find something a little more one-of-a-kind here. One of my favourite things about Hong Kong is the fact that everything is open late. Most places will shut at 10pm but the majority of Causeway Bay will shut at midnight. The Forever 21 there closes at 1am! It is definitely a shopper's paradise.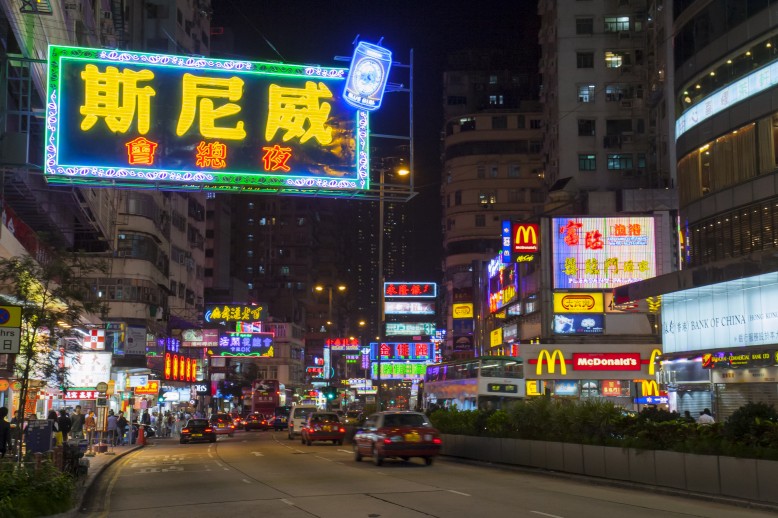 Adventure
This city is made up of numerous islands. The main islands are Kowloon Island and Hong Kong Island, that is where it is most urban and built up. This is what I absolutely love about Hong Kong, there is so much to do, you can go hiking, or to the beach, shopping, or explore one of the beautiful peninsulas. I recommend Sai Kung, one of the most rural parts of Hong Kong. I love hiking there and discovering the beautiful quiet beaches. Since it is a former fishing village, the seafood there is definitely worth trying.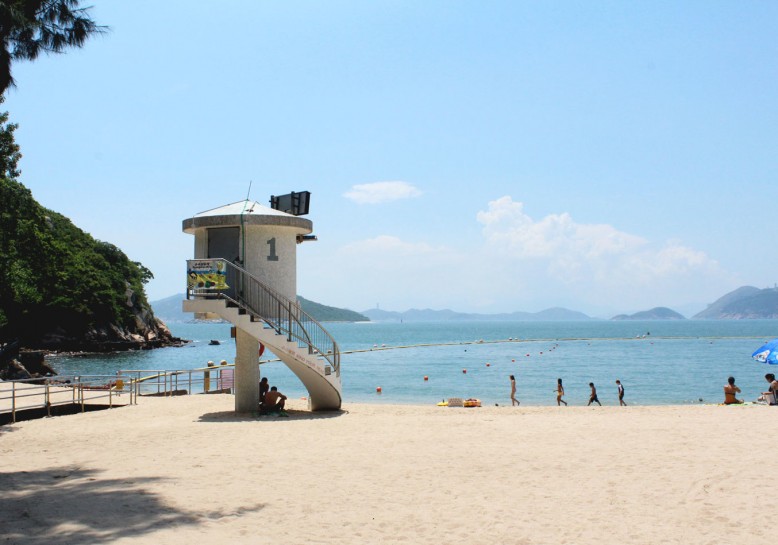 One of the most beautiful places in Hong Kong is Stanley, a little beach town on Hong Kong Island. I love exploring the markets there and walking along the promenade, eventually making my way down to the beach. I always feel refreshed after a day there. There is nothing like watching the world go past with a fresh coconut juice on the beach.
Hong Kong is iconic for its soaring skyscrapers across the city. The best way to experience the view is from Victoria Peak, the highest mountain on the island. The quickest way up is by taking the Peak Tram from Central, some would say that is an experience in itself! I visited The Peak at night and I was absolutely blown away, thousands of lights illuminating the city shimmering in the reflection of the water, is breathtakingly beautiful and I make it a point to go every time I travel back to Hong Kong. I have heard the best time to visit is when the sun sets.
Food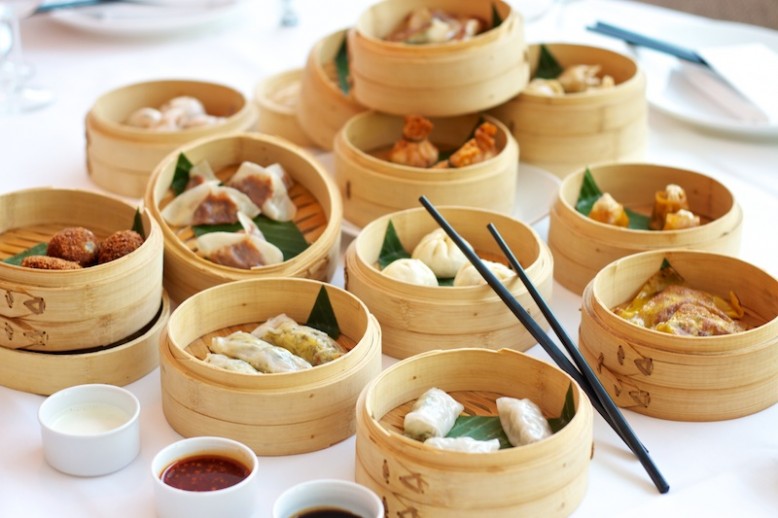 When in Hong Kong, you must eat to your heart's content. The Chinese food you have tried in London is most likely not real Chinese food. Be adventurous and try some authentic local cuisine.
If you love Dim Sum, I recommend Star of Canton. They have branches in iSquare and The One in Tsim Sha Tsui. Enjoy your 'Char Siu Bau' and 'Siu Mai' with the most spectacular views of the city.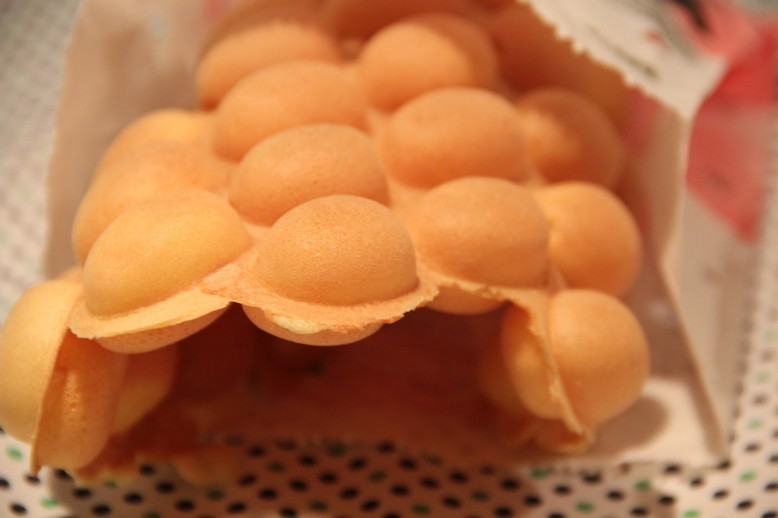 One thing that will have your mouth watering is the street food scattered around the city. Try the 'eggettes' which are delicious bubble shaped pancakes or the waffles drizzled in peanut butter and condensed milk.
Nightlife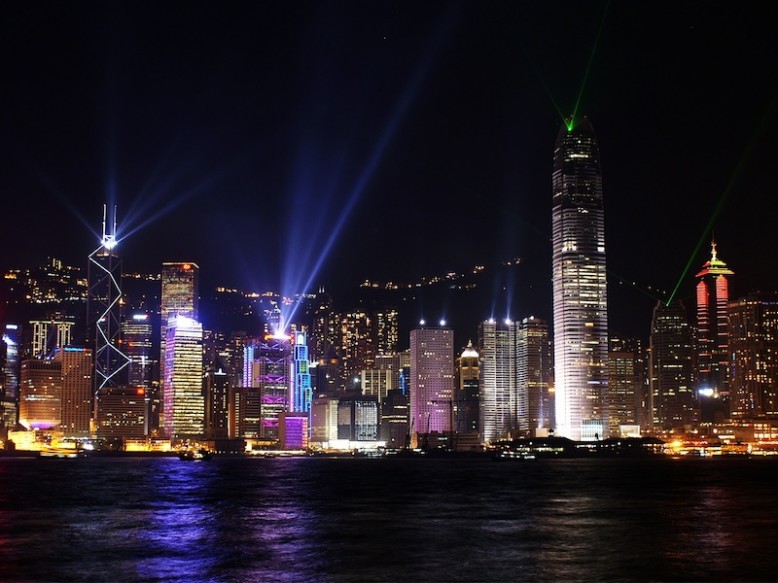 I am never disappointed on a night out in Hong Kong. There is such an eclectic mix of bars and clubs that you are guaranteed a good time. Lan Kwai Fong in Central is definitely the place to be if you are up for a wild night. Known as the clubbing district, walking up or down the hill (depending on which direction you are coming from), you will be met with the booming of an assortment of basslines coming out of each bar/club along the strip.
LKF, as it is also known, is usually swarming with ex-pats so you will always meet the most interesting people there. You will also get great DJ's flying out, like DJ Jumpy from Berlin or Yasmin from London. You will definitely catch me at club Fly when DJ Jumpy is in town; he plays the best in hip-hop through the ages. Try Dragon-I for celeb spotting, you will see the likes of Lady Gaga and Heidi Klum in there. I also like XXX in Sheung Wan for certain nights; it has more of a rave environment so very different from the clubs in LKF.
If you want to party like a local, you should try booking a karaoke room. Most karaoke bars will have a wide choice of music. Start off with drinks and nibbles and learn some of the local drinking games. You might not think you won't sing but you will most certainly be singing your heart out by the end of the night!
Recommendations: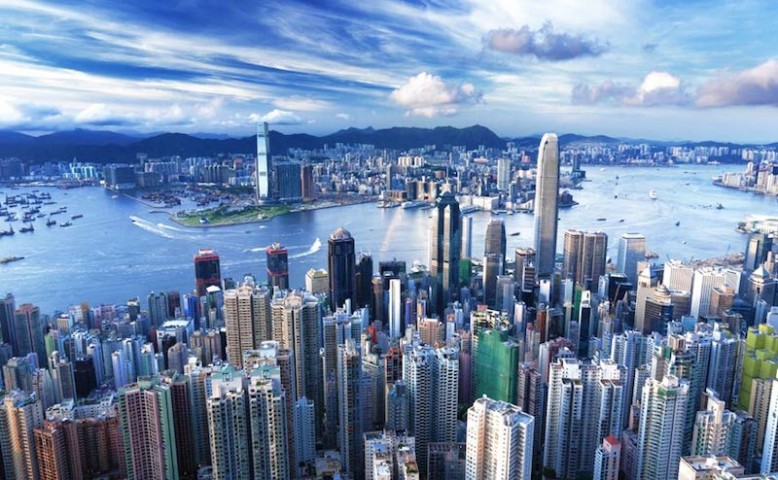 I discovered that the best time to go to Hong Kong was in December whilst the weather is still warm but not humid. You will see people walking around with puffer jackets on and fur coats but I assure you, coming from London, I was pleasantly surprised to be greeted by a glorious sunny 21 degrees. I have been told that the humidity stops around October and it is still summer there at 27 degrees.
Images provided by:
IES Photography: www.iesphotography.co.uk
The Peak: www.thepeak.com.hk