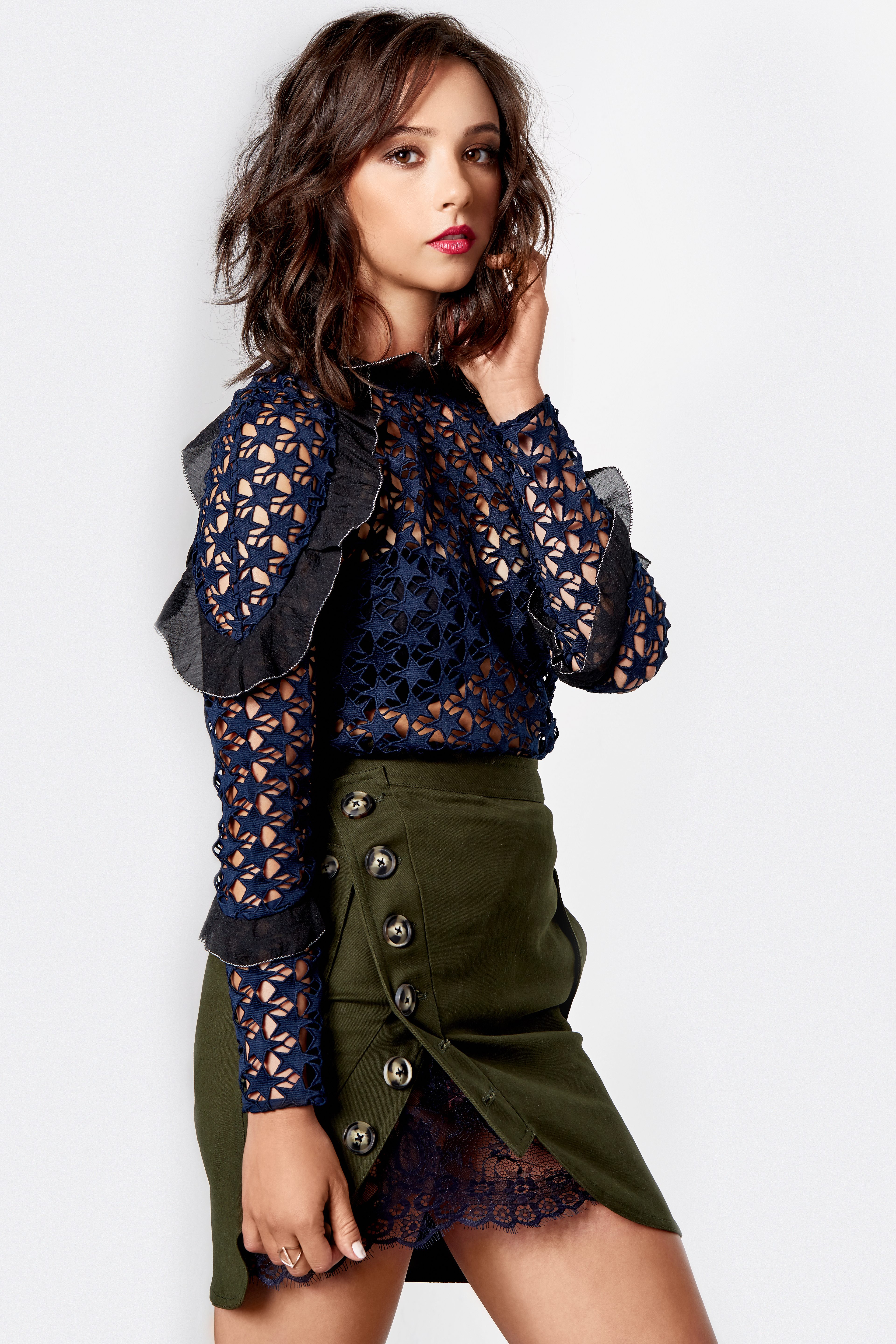 From the executive-producer who brought tv series bingers Orange Is The New Black, Jenji Kohan brings Netflix audiences GLOW. The title which was also the name of a real all-female wrestling league, Gorgeous Ladies of Wrestling, aired on television from 1986 to 1990. The show follows Ruth Wilder (Alison Brie), a struggling, out of work actress in Los Angeles in the 1980's, who eventually goes on to create the first women's wrestling TV show. The Netflix comedy plays with the lives these women are already leading and looks even closer at how their relationships change and develop as they form the diverse group which is GLOW. It is clear from the pilot that these women are not without baggage and come with their own distinct stories to tell.
Britt Baron, who plays Justine has quickly become an entertainment sensation and is set to remain as "one to watch".  From bringing characters to life on stage in Chicago, to training with professional female wrestlers in spandex and covered in glitter, Britt Baron has proven she can take on whatever is cast her way. Britt discloses that "My manager actually texted me on a Saturday night to see if I could talk. I was in the middle of babysitting and told him I needed to call him in twenty minutes after I put the kids to sleep. He responded with a 'k.' and I immediately thought he was mad at me or that I was in trouble. When I called back, all my agents were on the phone and I knew that meant there was either really bad news or really good news. When they told me I got the part I remember just being shocked and saying 'Wait, what?' a few times. I think it took a minute or two of them talking, for me to realise I had actually booked the part. I just went into shock initially."
Almost in parallel to the shows first episode, Britt opens up about the daunting casting process. "As an actor, you go to so many auditions and after a while you learn to walk out of the room and just disassociate with the project. You develop a thick skin to protect yourself, and I try and forget about the audition as much as possible after it's over, otherwise I drive myself crazy.
"To get the call late on a Saturday night that I was cast came as such a shock. I had also just finished the finale of season 4 of Orange is the New Black the night before. I'm such a huge fan of Jenji Kohan's work, so it was a real dream come true to get to work on her new project. I was the last to get cast and they were planning to start training on that Monday. I actually had to miss the first day because my paperwork hadn't all gone through. After I got the call I was cast, it was just a whirlwind. I was thrown into the process head first, and didn't have much time to process what was going on. It was kind of exhilarating that way, I felt like I had just jumped onto a speeding train that was full speed ahead."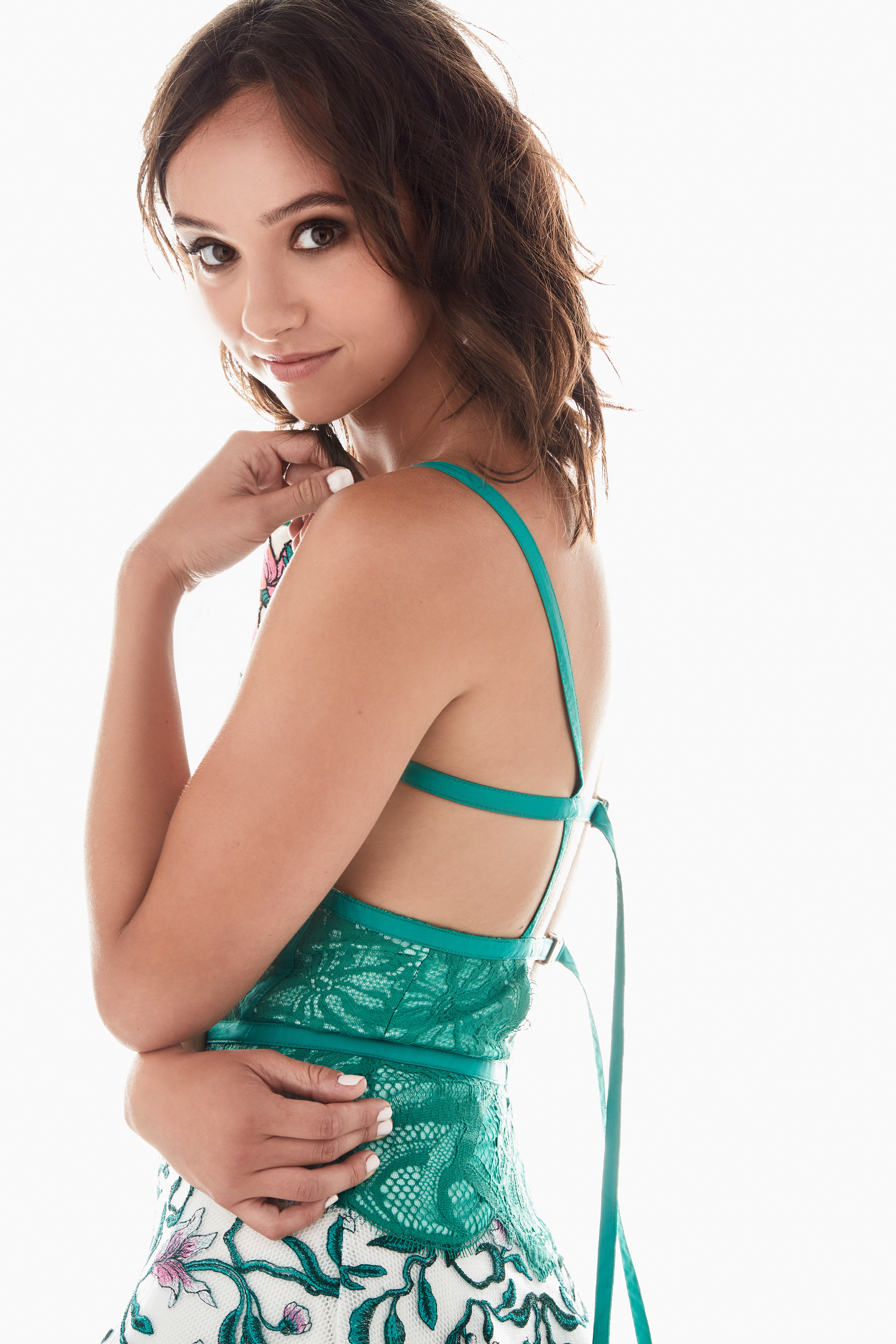 Preparing for such a unique role must have taken some getting used to as Britt explains that, "I'm embarrassed to say I really knew nothing about punk rock. I grew up listening to Britney Spears and NSYNC, so I had a lot of work to do to understand Justine. Jesse Peretz, our director of the pilot and episode seven, really helped me find Justine. He was in the band, The Lemonheads, so he was well versed in the world of punk rock. He made me a Spotify playlist with bands like Black Flag, Motorhead, Germs, The Users, etc.
"I also went down to the Grammy Museum and visited the Ramones exhibit they had at the time, which was a great way for me to fall in love with the music. I watched really interesting documentaries about the punk rock scene in Los Angeles in the 1980's and went down a rabbit hole of YouTube videos on Joan Jett (who I now idolise)."
Describing the other measures that went into perfecting her characterisation, Britt reveals that, "My hair was also cut and dyed jet black to look like Joan Jett, and wow, changing your look can really help you find your character. I have always found, especially with theatre, you put in all this work to understand the character, but it isn't until you are finally in your costume and makeup that everything really falls together and you live the character. You literally walk in their shoes. For me, the hair and clothing helped bring it all together."
Justine was clearly a role Britt could enjoying playing as she divulges, "I totally lucked out with costumes. Justine is a runaway, so the idea was that she has a limited wardrobe because she could only fit so much in her backpack. I was in this cotton black jumper and rotating band t-shirts for most of the season. Let me tell you, when you are on set for 14 hours a day, that jumper was a god send. I basically was in pyjamas every day. It was so comfy. I also loved wearing my black converse because that's what I wear in real life. I think I even have a photo of my costume converse next to my real ones in my trailer, and you can't tell the difference between the two.
"Behind all the black eyeliner and chain necklaces, Justine is really just a kid, still uncomfortable in her own skin and unsure of herself. I think everyone can relate to that. Justine is at such a tender age, where you are crying out for your own independence while still desperately in need of love and support. I loved being able to play a character who is at the age where you walk this delicate line between feeling like you know everything about the world and yourself and yet absolutely nothing at the same time. Carly Mensch and Liz Flahive, our showrunners, met with me prior to shooting and we discussed how while punk rock is an important outlet and a way that Justine identifies herself; that behind the tough exterior she exhibits, she is still just this young kid inside. That is something I really identified with. Justine just wants to be loved and accepted deep down, and I think that lives inside everyone."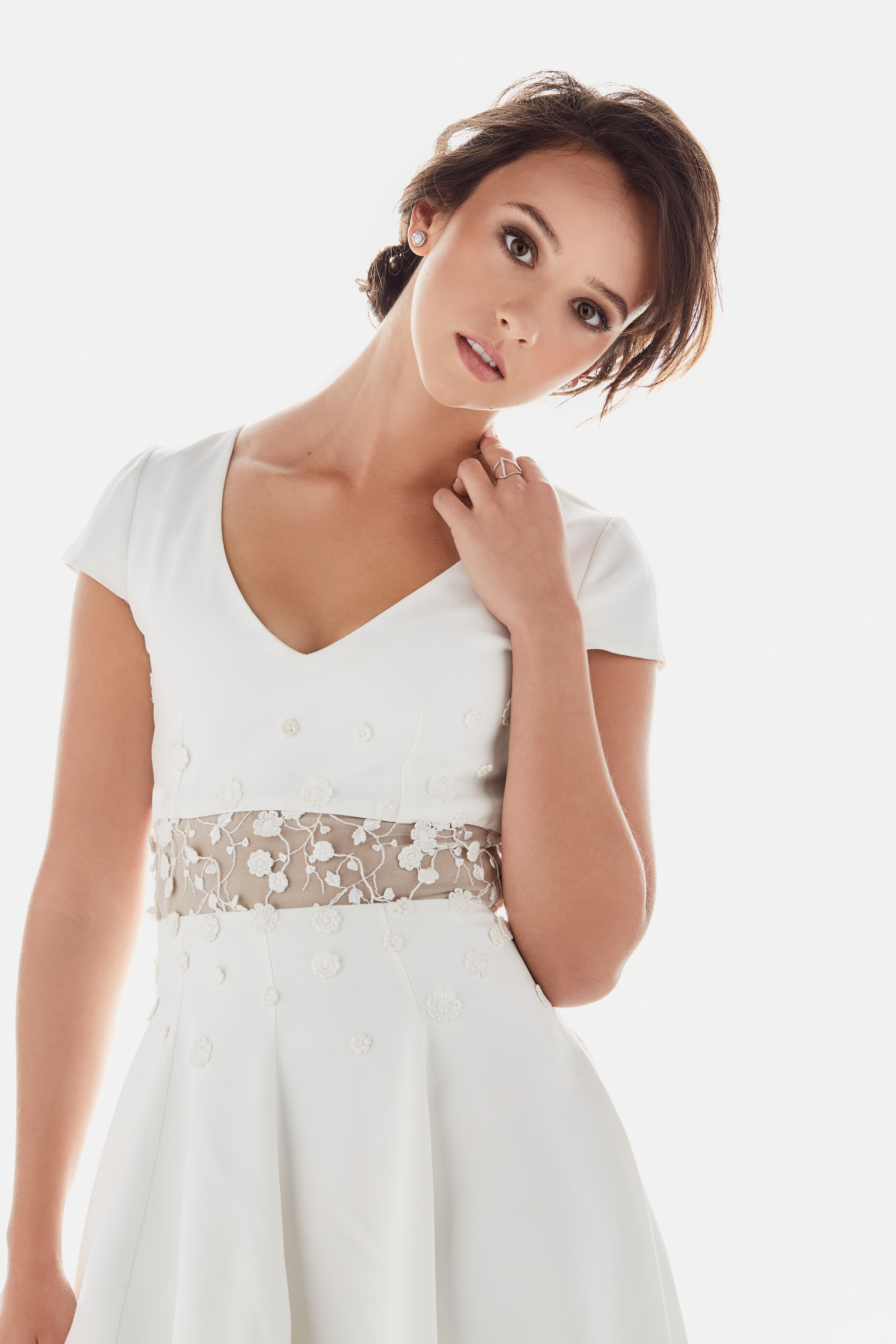 GLOW was a landmark show for representing women in sport, so when discussing the lasting impact of GLOW and the new audience which the Netflix series has created, Britt opens up to explains that, "I feel so incredibly fortunate to be a part of this legacy, really. I wasn't alive when the original GLOW was on TV, so I really didn't know anything about it prior to auditioning for the show.
"After watching the documentary (which is now on Netflix) and seeing what these women went through and how fierce, dedicated, and strong they all are; I was so inspired. Being in the same family as the original GLOW girls is a dream come true, I can't believe it. I look up to all of them so much. I feel just so incredibly grateful to be a part of introducing GLOW to a new audience, and to giving the original fans a second chapter in a way. I hope that people who watch our show fall in love with women's wrestling the way that I have, because it is so empowering. I really believe that every woman has an inner wrestler inside of them, and I hope that watching GLOW inspires woman to embrace what makes them unique and helps them find their own inner warrior."
The cast and crew, who were largely made up of women, was "a dream come true" according to the actress, who assures me that "I'm not just saying this because it's an interview. These women are the nicest, funniest, kindest, strongest, most supportive woman I have ever had the pleasure of knowing.
"I was a bit terrified to begin this process, because women, I think especially in this industry, can be so catty, competitive, or judgmental, and I was worried about working in that kind of environment. I was worried about not fitting in. This is the largest television part I have ever been cast in, and I am the youngest in the cast, so I feared feeling like a rookie. But I was so wrong. These women are so special, they are so supportive, goofy, loving, and insane. I mean, it felt like being at a slumber party every day. We were singing, dancing, laughing all day on set. It was such a fun and safe environment where everyone was themselves, and I'm so grateful for that. But these girls, they are my sisters for life, no matter what happens to GLOW. The connection I have with these women is unlike anything I have ever had before.
"We trained together for four weeks prior to shooting, and throughout shooting as well. I think this was a big contributing factor to how close we all are. We basically shook each other's hands, exchanged names, and then began putting our heads in each other's armpits and pulling each other's hair, throwing each other onto the ground, etc., all while trying not to hurt ourselves or our partner. With this kind of physical work, you become very close very quickly.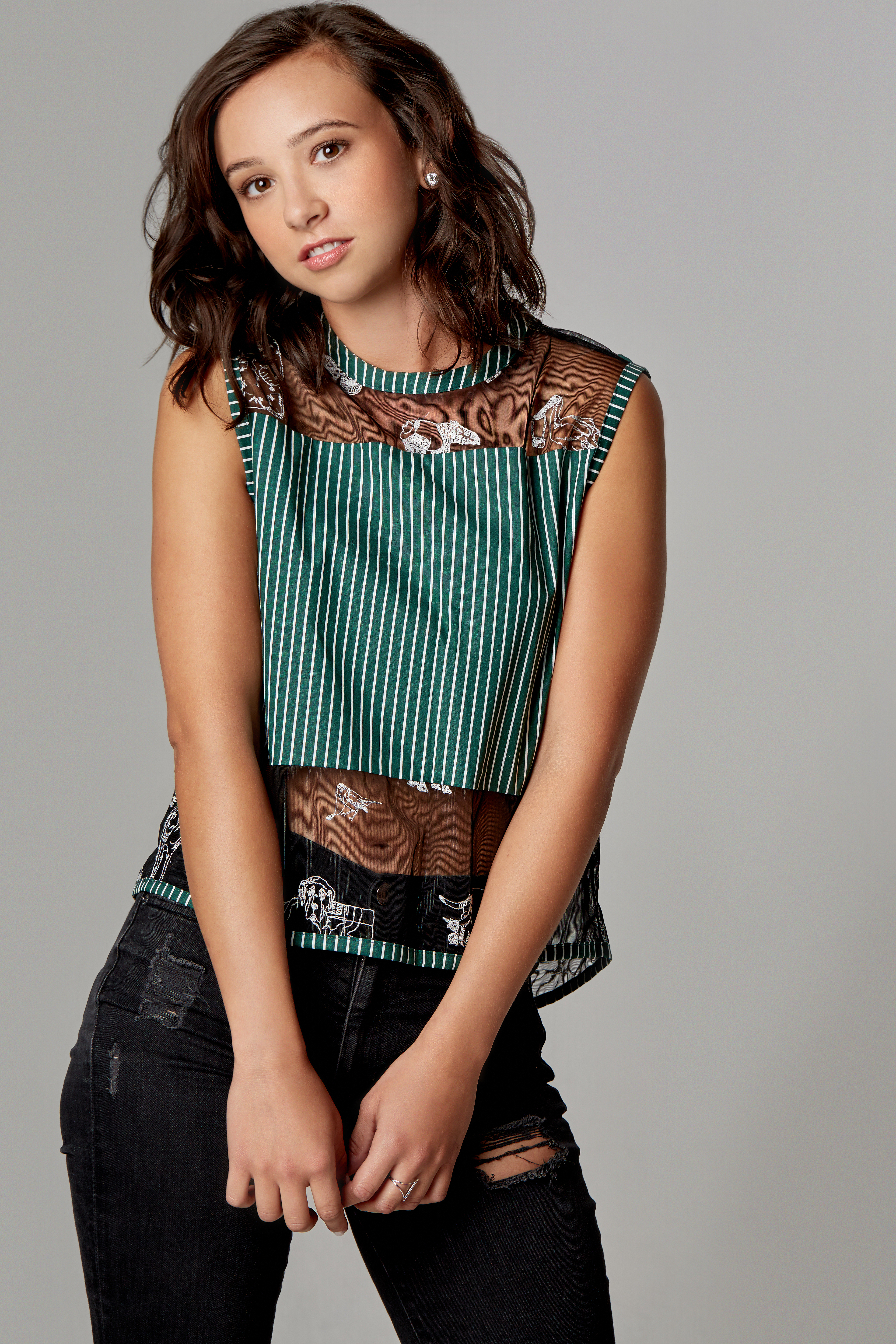 "It's very vulnerable to be learning moves in front of strangers who you are working with, and it's frustrating or embarrassing when you can't get a move down. I think all of us teared up at one point or another during training. But what was so beautiful was to see how much each of us supported one another and cheered each other on, and to see someone being vulnerable and push through that and succeed, is amazing. We grew together as a team. I love these girls so much that I would cry sometimes driving home from set because I just can't believe how lucky I am to have met these incredible people. This all sounds so corny, but it is true! We have a group chat that goes off every single day, even when we aren't filming. I love them, every single one of them. We are a family."
When asked about whether Britt has seen any development in the film and TV industry for involving a more diverse cast and crew she exclaims, "Yes, I mean people like Jenji Kohan are such a force in the industry because they are paving the way for women. I love seeing more women in front of the camera and behind it. We have so many women producers, writers, crew members on GLOW, and it's beautiful.
"In terms of being in front of the camera, being able to see more women in roles that are about more than just crying pretty on camera, or functioning as the love interest to a man, is exciting to me. When I got cast, we were told that the producers didn't want us to lose weight or change our appearances, they wanted us for who we are and that is so refreshing in an industry where it is often about how skinny you are or if you could pass as a model.
"Finally diverse, interesting, and unique stories are being given to women. I just finished The Handmaid's Tale and I loved it. I feel that as an audience, we are starving for strong female characters and stories. We need more shows like The Handmaid's Tale or Orange is the New Black or movies like Wonder Woman. I think how well those have been received sends a clear message to the industry that the world is starving for diverse female roles. I think GLOW helps move that needle forward."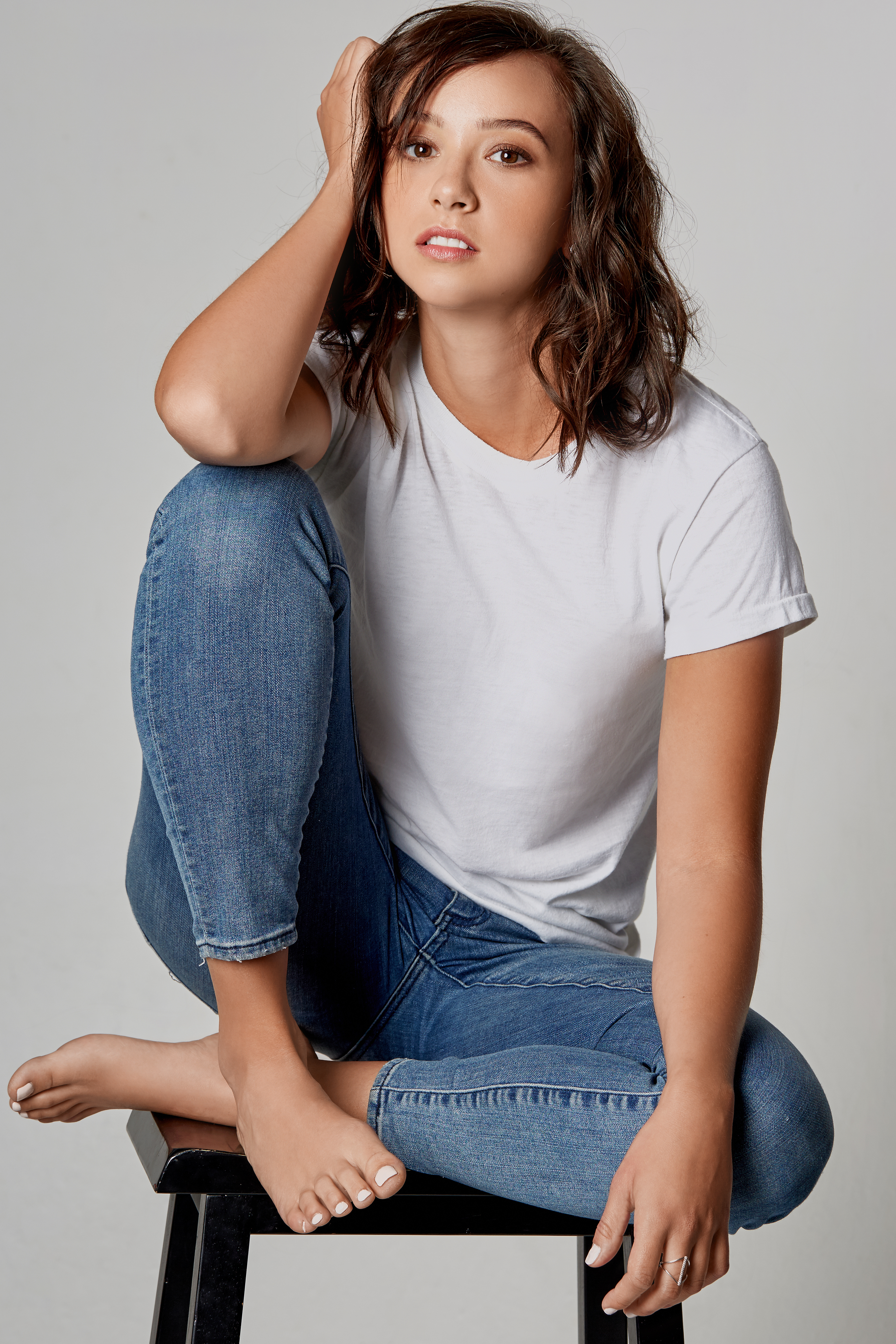 Discussing whether Netflix is successful at being a diverse network, Britt praised that, "Netflix is incredible. They have created such a successful platform by telling diverse and new stories that have never been seen on television before. I am amazed at how supportive they are of the creative forces behind their projects. I think that helps. They trust their creators and writers, they trust the artists, and the proof is in the pudding.
"Their shows are amazing and embraced around the world. I love how innovative, interesting, strange, and bold their content is. I am so fortunate to work for this network because I really believe in the shows they create. Netflix is fearless and marches to the beat of their own drum and it has really paid off. Everyone I know watches Netflix, I even got my grandma set up with an account."
As for the future of GLOW, Britt revealed that, "There is still so much to learn and explore with GLOW. There are so many unanswered questions, so much we don't know about many of the girls that I would love to explore in season two…fingers crossed. Season one ends with us shooting the pilot episode of GLOW. We haven't been able to see how the show develops and how the characters deal with their newfound fame and success. With my character there is so much to learn about her relationship with Sam and I would love to see where that goes. I also hope that I get a chance to wrestle and show off some of my moves, if we are fortunate enough to get a season two."
Follow Britt Baron on Instagram: @brittbaron