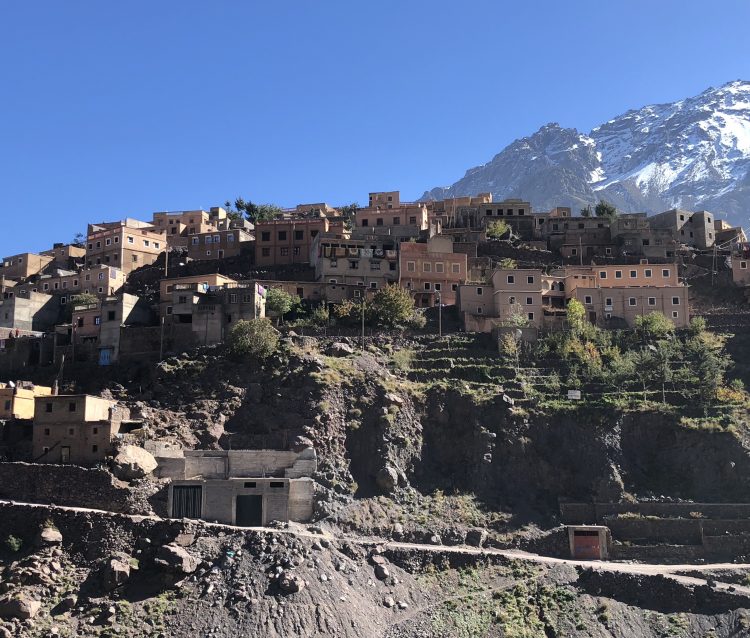 We are sitting, four friends and I, sipping glasses of sweet mint tea and soaking up the panoramic views of the High Atlas mountains. On this terrace, in this cold country with a hot sun, I couldn't be happier. I want to bottle up this moment and uncork it when we're back in London in the depths of winter. Across the valley from Kasbah du Toubkal's well-positioned terrace, clusters of distant villages can each be identified by their mosque, sometimes little more than a shepherds hut with a minaret.
Apparently we got especially lucky with the season: our Berber trekking guide Abdul tells us how unusual it is for the mountains to be covered with snow while the Autumn leaves are still on the trees. How convenient. How thoughtful of the glorious ochre and russet leaves to cling on to their trees a little longer just for our aesthetic enjoyment.
Just as we're pondering this good fortune, our final lunch arrives: a spread of tagines and koftas in little terracotta dishes, still sizzling from the heat of the oven. Slow cooked lamb and shredded chicken and meatballs are flavoured with apricots and prunes, mopped up with their uniquely morish house bread and crunchy garden salads. We savour it all. Way up here, it's difficult to believe that in just a few hours we'll have hurtled the short 40 miles down the mountain road and be flying out of Marrakech airport.
We'd turned up at Kasbah du Toubkal three days earlier, flustered by the chaos of our three days in Marrakech and unconvinced by Morocco's tourist offering in general. We passed Richard Branson's imposing Kasbah Tamadot hotel, and thankfully the car kept climbing. As corny as it sounds, the hassling, accosting, shouting and food poisoning effects begun to dissipate the further up we drove.
Eventually we were dropped in the low-key trekking village of Imlil, where second hand crampons are sold alongside the usual tourist ware. Mules carry our bags up the final craggy path. Though they are photogenic with their colourful woven blankets, the mules are a necessity: there's no vehicular access to the Kasbah itself. We walk the last fifteen minutes behind the mules, glad to stretch our legs, breathing in the cold, thin air.
The charming Berber welcome party are at pains to manage our expectations, and explain that Kasbah du Toubkal is not a conventional luxury hotel. Perhaps they've had some complains from jetsetters in the past, and it's true: If you're after the homogenous modcons of a five-star hotel chain, then despite being listed in the likes of Conde Nast Johansens, Kasbah du Toubkal probably isn't for you. That much is obvious from their charmingly noughties website.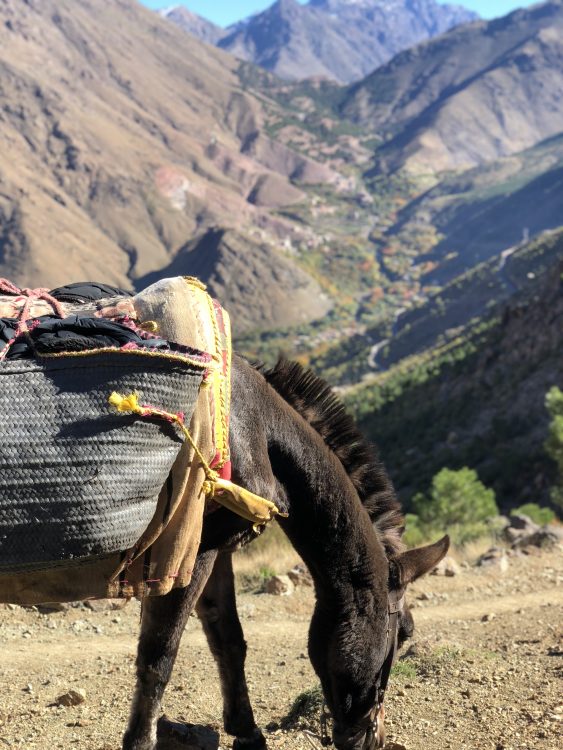 But despite their humble pretences, Kasbah du Toubkal is far from basic. On first glance, it appears to be a luxury eco lodge with an extraordinary attention to the community and natural surroundings. There's a hammam and a yoga studio, and the rooms have luxuriously big baths and underfloor heating. Carved into the mountain at 4000 meters above sea level, it's a perfectly visualised oasis. With a little digging, though, these indulgences barely scratch the surface of this labour of love. Electricity didn't arrive to this remote Berber region until 1997, for one, meaning every single element was built by hand.
No proper roads existed when founders Chris and Mike McHugo, along with local mountain guide Haaj Maurice, begun the project eight years before this. Village labourers used traditional building techniques and local materials in its construction, and everything was carried in by hand or on the backs of mules. Their efforts in both design and conservation have not gone unnoticed: Kasbah du Toubkal is a founding member of National Geographic's Unique Lodges of the World, and has a host of other awards.
We're staying in the Garden House, a palatial semi-detached private apartment ideal for families or groups of friends. A floor to ceiling window looks out onto the mountains, with the perilous peak of Jbel Toubkal – the tallest mountain in North Africa – on display. It's getting dark by the time we settle in, so we light the woodstove (pre-laid, now that's a luxury) and dig the traditional hooded djellaba robes out of the wardrobes. It is a unique pleasure to wear your pyjamas to a fireside supper in a cosy mountain retreat, and even more so when they're disguised under a floor length local robe and therefore permitted.
We venture outside gleefully, where the temperature has dropped dramatically and the stars are bright. Supper is simple and outstanding: hunks of juicy lamb in a rich and aromatic sauce, far outshining the scraggy bits of flesh we encountered in even Marrakech's best recommended eateries. We demolish two baskets of bread soaking up the delicious juices, and don't mind that pudding of yoghurt and bananas is less remarkable.
Breakfast the next day is no less hearty. Baghrir, somewhere between a crumpet and a pancake, are slathered with a tahini-like argan paste. Hard boiled eggs, granola and huge dried apricots and all fuel us for the day's trekking. Just as we're preparing to head off, we're amazed to recognise Mike and Chris' faces from the brochure as they pop over to say hello. We follow the advice of friendly guide Abdul, who we meet in the reception, and head north out of the kasbah. A well trodden path climbs through the rocks, leading us up and into the hills above. We cross a dried up riverbed and briefly consider following it downstream, before safely deciding to stick to the path.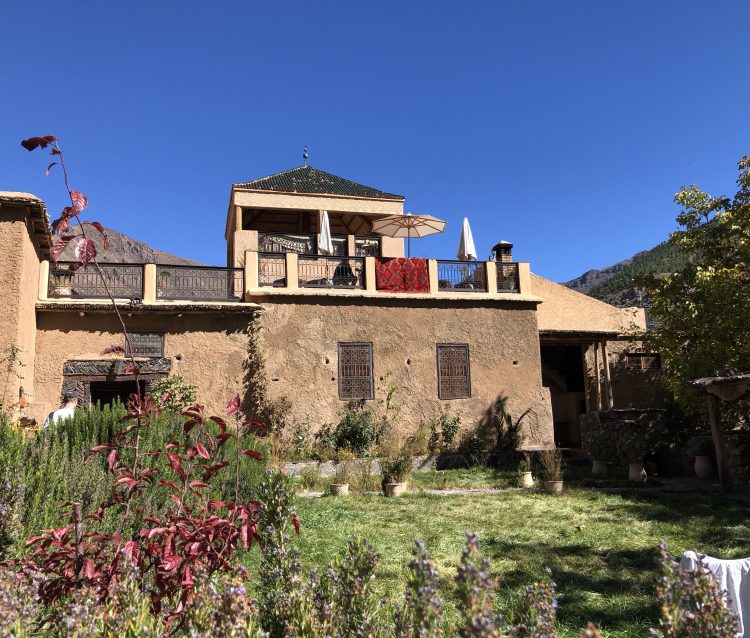 Out in the open, the autumnal splendour is even more apparent, and we stop every minute to take a yet more beautiful photo, sometimes with a passing goat or particularly idyllic village scene. A couple of hours later, as we near Kasbah du Toubkal again, a thick fog suddenly descends and the mountains take on an incredibly eerie atmosphere.
Back inside, we endeavour to find the famous hamam, and take turns jumping in the icy plunge pool before dousing ourselves with hot water and handfuls of savon beldi, a thick black olive soap. While lovely, I think we slightly missed the point. Luckily for us, a residential yoga event meant a masseuse was on site, offering gentle and relaxing massages before sunset and another perfect evening of delicious food, chatting and card playing.
As we sit on that terrace that final day, it's not just the unspeakable beauty of the cold blue sky and snowy mountains around us I want to capture and store for a later date, but the feeling of deep nourishment inside. The fresh air in my lungs, the rustic cooking, the comfort and care and love that's gone into every element of the Kasbah. Built up from a humble little lodge over the last thirty years, it's grown into the hub of a wonderful community that has every promise of continuing to thrive.