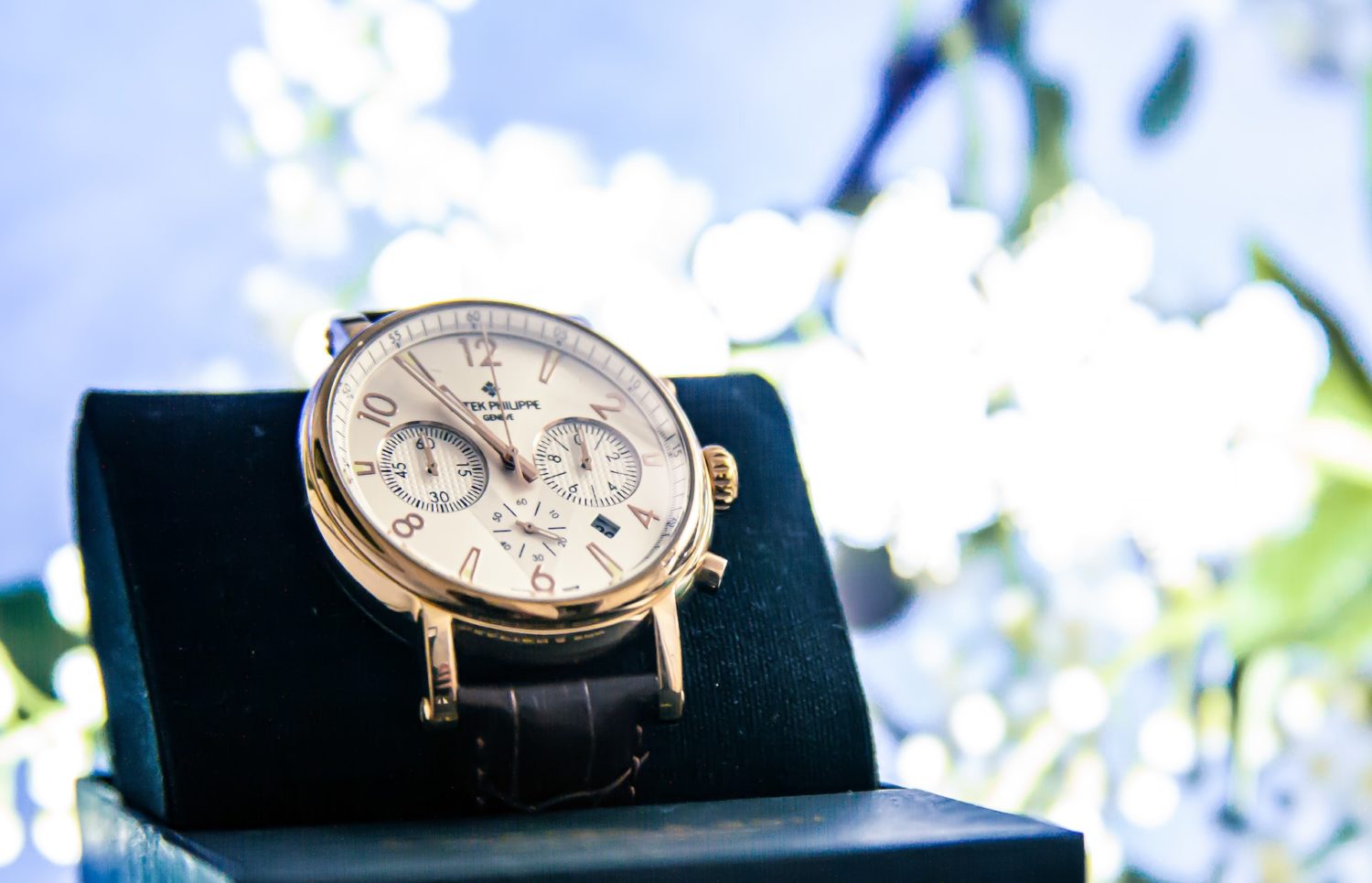 This year has brought a myriad of luxurious timepieces worth your considering. Here's a list of the 5 best luxury watches for investment in 2023. All of them are some of today's most sought-after brands and will likely continue trending throughout time. Let's get the hang of their features and price tags.
1. Patek Philippe Nautilus
For those looking for an iconic watch with a timeless porthole-inspired design, the Patek Philippe Nautilus is a perfect choice. The gear is crafted from durable stainless steel and features a date display at the 6 o'clock position. The water resistance level is 120 meters, which is impressive. Consider a rubber strap for PP Nautilus for more rain- and water resistance. This 40mm-diameter PP timepiece operates on a self-winding mechanical movement. While its cost of around £30,000, it will certainly hold its value over time making it worth every penny spent.
2. Audemars Piguet Royal Oak Jumbo
The Audemars Piguet timepiece is a must-have addition to any collection this year. Fashionably designed with a sporty edge and a surefire way to make an impression, the Royal Oak Jumbo model stands as one of their most popular models. The AP piece boasts its 42mm case and date display at the three o'clock position. This top-shelf watch checks all the boxes when it comes to sophistication and elegance. This Audemars Piguet model carries a price tag of around £25,000 and will make for the perfect long-term investment.
3. Rolex Daytona Cosmograph
The Rolex Daytona Cosmograph is one of the most fashionable watches on the list. The model offers a precise chronograph function. There's also an embedded tachymeter scale that allows you to track your average speed over any designated distance.
Crafted from 18k gold and surpassing the test of time with its 100-meter water resistance. The Rolex Daytona Cosmograph is a luxurious timepiece starting at £25,000. If you're craving a watch that is both stylish and highly functional, the Daytona Cosmograph model is an outstanding option.
4. Vacheron Constantin Overseas
Introducing the Vacheron Constantin Overseas watch, where sophisticated and sporty come together in a beautiful blend. Made from lavish 18k white gold with an impressive water resistance of 50 meters. This timepiece will be sure to make a statement wherever you go. And all that luxury comes at quite the price – starting at £30,000.
Featuring the Haute-Horlogerie movement, Vacheron Constantin Overseas is a testament to the brand's artistry in watchmaking. With its luxurious blend of style, functionality, and comfort, this Vacheron Constantin piece is an ideal choice if you're looking for something sporty yet casual.
5. Breitling Superocean Heritage Chronograph
The Superocean watch is a stainless steel timepiece constructed to be resistant up to 100 meters – perfect for the deep sea diver. Its unidirectional rotating bezel and black dial provide an elegant touch that will get you turning heads. The price for Breitling Superocean Heritage Chronograph starts from £12,000.
The Breitling Superocean is a trendy yet sporty watch that will fit your needs perfectly. It's ideal for those who wish to have a timepiece with both style and functionality. With its sleek design and sturdy construction, this gear is perfect for investing in something special.
Why Invest in Luxury Watches?
Whether you're looking for a valuable asset, the watch is the right way of thinking. Luxury watches have a solid potential to return that interest. Featuring their high-end status that can increase in value over time. When purchased at the right price point, luxury watches serve as beautiful reminders of one's past accomplishments and successes. In short, here are the major benefits of investing in watches this year:
Luxury pieces are created from ace materials that guarantee their longevity and aesthetic beauty.
They are renowned for their excellent resale value. If you ever decide to part with your watch, be sure that it will bring back a substantial portion of what was initially invested.
Watches made by well-known brands are a symbol of prestige. If you own one, it's indicative that you have an eye for style and sophistication.
What to Look for in Luxury Watches in 2023?
When selecting a luxury timepiece, there are several critical qualities to take into consideration. From the materials used to design and resale value – these features should all be on your checklist. Ensure that you invest in an item crafted with high-end materials for long-term durability. Make sure your item is always en vogue, as well as holding its worth over time.
If you're seeking a worthy watch in the upcoming years, make sure to bear these three things in mind. This will guarantee that your investment is worthwhile and ensures that you won't be disappointed with what you acquire. When it comes to luxury watches, doing some research beforehand pays off!
Conclusion
If you're looking for a perfect luxury watch to invest in 2023, you'll be spoiled for choice! With so many incredible watches available on the market, it can feel daunting trying to pick just one. However, with a little research and careful consideration of your options, there's no doubt that you'll find a top-notch timepiece that is just right for you.