Paris and tearooms go hand in hand, but when it comes to deciding which one to reserve a table for it can become quite a task, as let's face it Paris is full of tea rooms. When you want that true Parisian tea room experience look no further than Ladurée's Champs-Élysées situated on the iconic shopping avenue in Paris. Find out why Ladurée is a must visit when in Paris…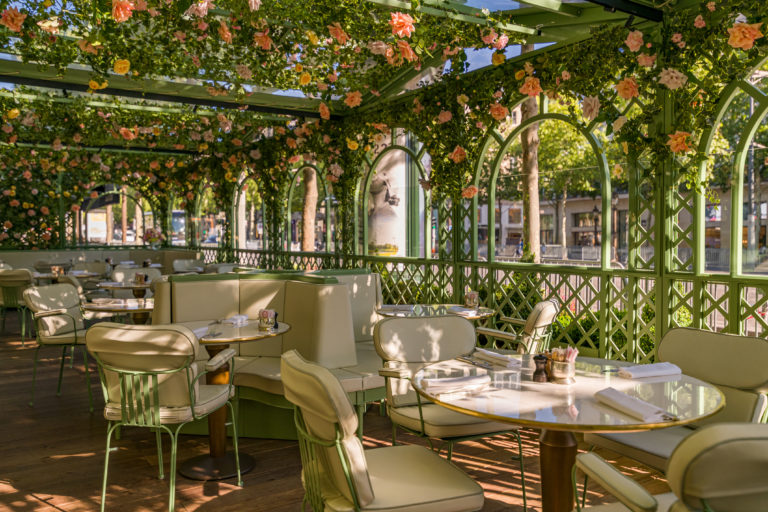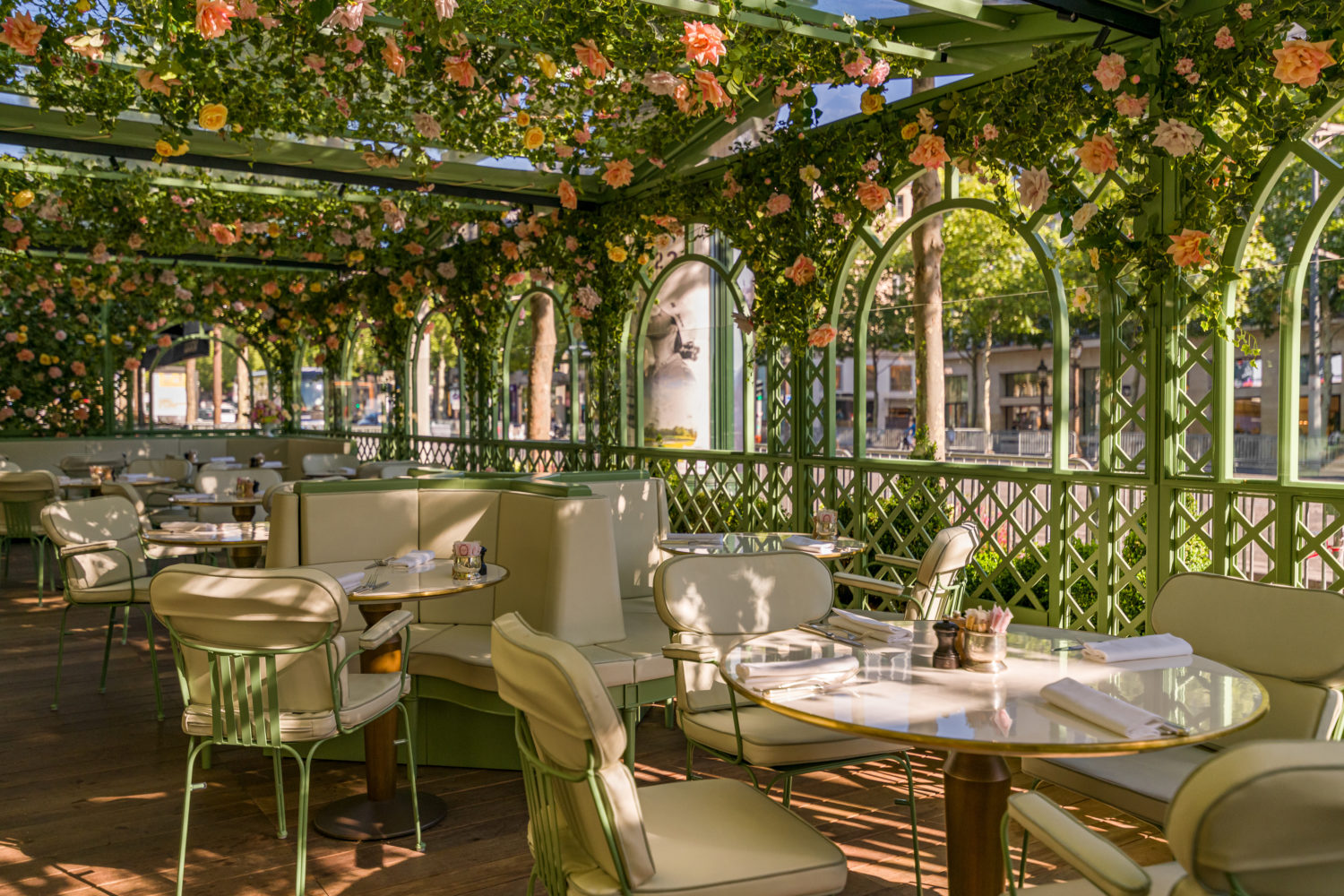 Home to the macaroon
Ladurée is home to the best macarons in Paris. Fact. These colourful Parisian double-shell macarons layered with a creamy ganache filling were in invented by Ladurée back in the 1830s. The recipe to this day has remained unchanged, Ladurée's head chef is the only person who knows the secret recipe behind these world-famous macaroons! Delivering that perfect balance of flavour, with an utterly divine texture and sweetness that just melts in your mouth making each macaron a taste sensation. Available in a wide variety of delicate flavours from classic raspberry, pistachio, and original almond flavour to more unique varieties such as orange blossom and liquorice…the options are endless.
Ladurée Champs-Élysées is situated on the "most beautiful avenue in the world"
We have to agree with Ladurée! Avenue des Champs-Élysées is one of the most photographed avenues in the world, with an array of luxury French stores and iconic landmarks like Arc de triomphe and Palais de la Découverte dotted around it. Ladurée Champs-Élyséesopened up in September 1997 and recreates the sophistication and ambience of the original Rue Royale tearoom. If you're after a shopping pitstop, or a place to enjoy some people watching the Parisian way, then let Ladurée Champs-Élysées be your next stop.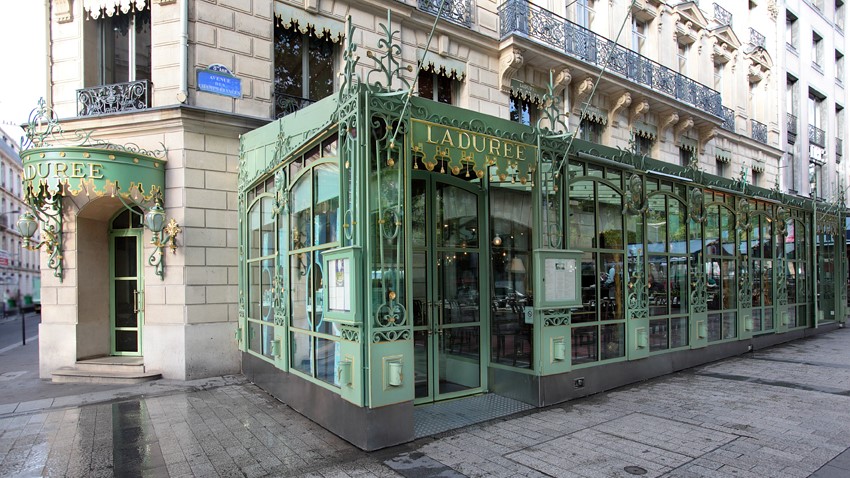 Ladurée originally opened as a female only tearoom
Back in the 1800s women were not allowed to enter French cafes serving coffee, as coffee back then was renowned as a drink for males only, so females had nowhere to socialise or enjoy a drink other than at home. The first generation Ladurée family decided to rewrite the rule book and open a tea room on Rue Royale for women to socialise outside of their homes, serving a range of teas which back then was renowned as being a feminine drink.
Food and drink options to suit all budgets
Everyone can have that Ladurée experience, whether you want to book in for a special occasion and enjoy a French champagne afternoon tea or looking to sample their famous hot chocolate and breakfast pastries without blowing your budget – the menu is varied enough to enjoy that Parisian experience on a budget.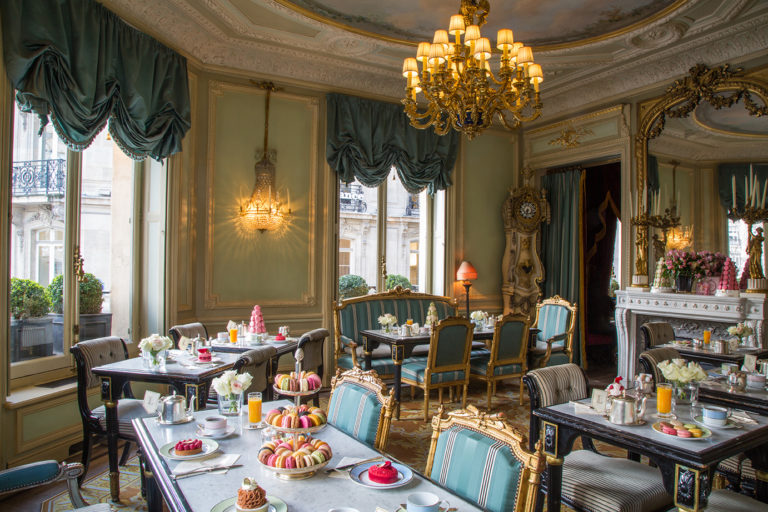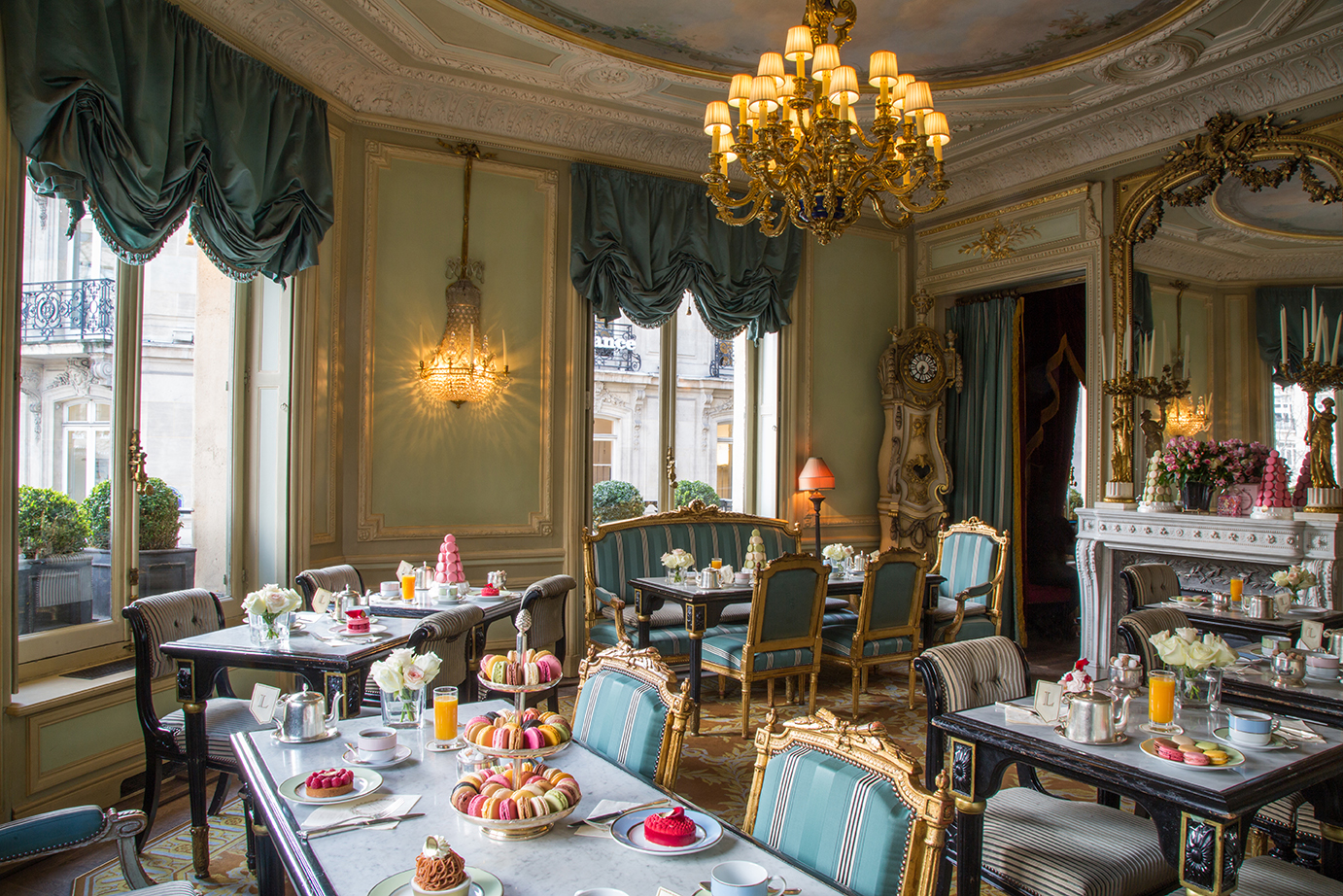 They serve the smoothest omelette in Paris
If macarons aren't your thing and you are looking for something more substantial, Ladurée offers a wide range savoury dishes like sandwiches and salads for lunch and breakfast eggs. There is also an array of sugary treats to satisfy your sweet tooth, plus pastries galore. The Ladurée omelette is an Arcadia highlight from the menu, made up of ham, tomatoes, mushrooms, herbs, cheese and served with a side of fresh spinach with a lemon dressing. Not only was this the best omelette we've sampled, but it is something of a piece of art the way it is plated and seriously smooth.
You can stock up on an array of Ladurée merchandise at the gift shop
It would be rude not to take advantage of the superb gifts on offer here at the Champs-Elysées location. Expect macaroon-shaped souvenir keyrings, tote bags, scented candles, cookbooks and of course you cannot leave without a box of macaroons to take home – all packed beautifully in the iconic mint Ladurée carrier bag.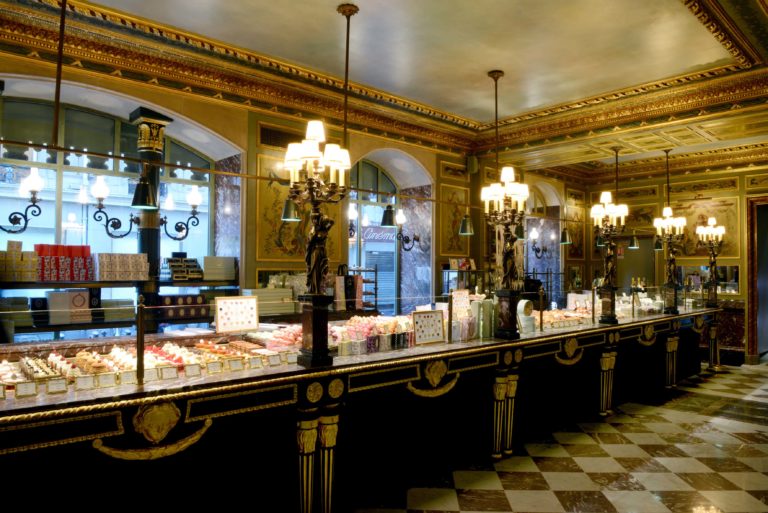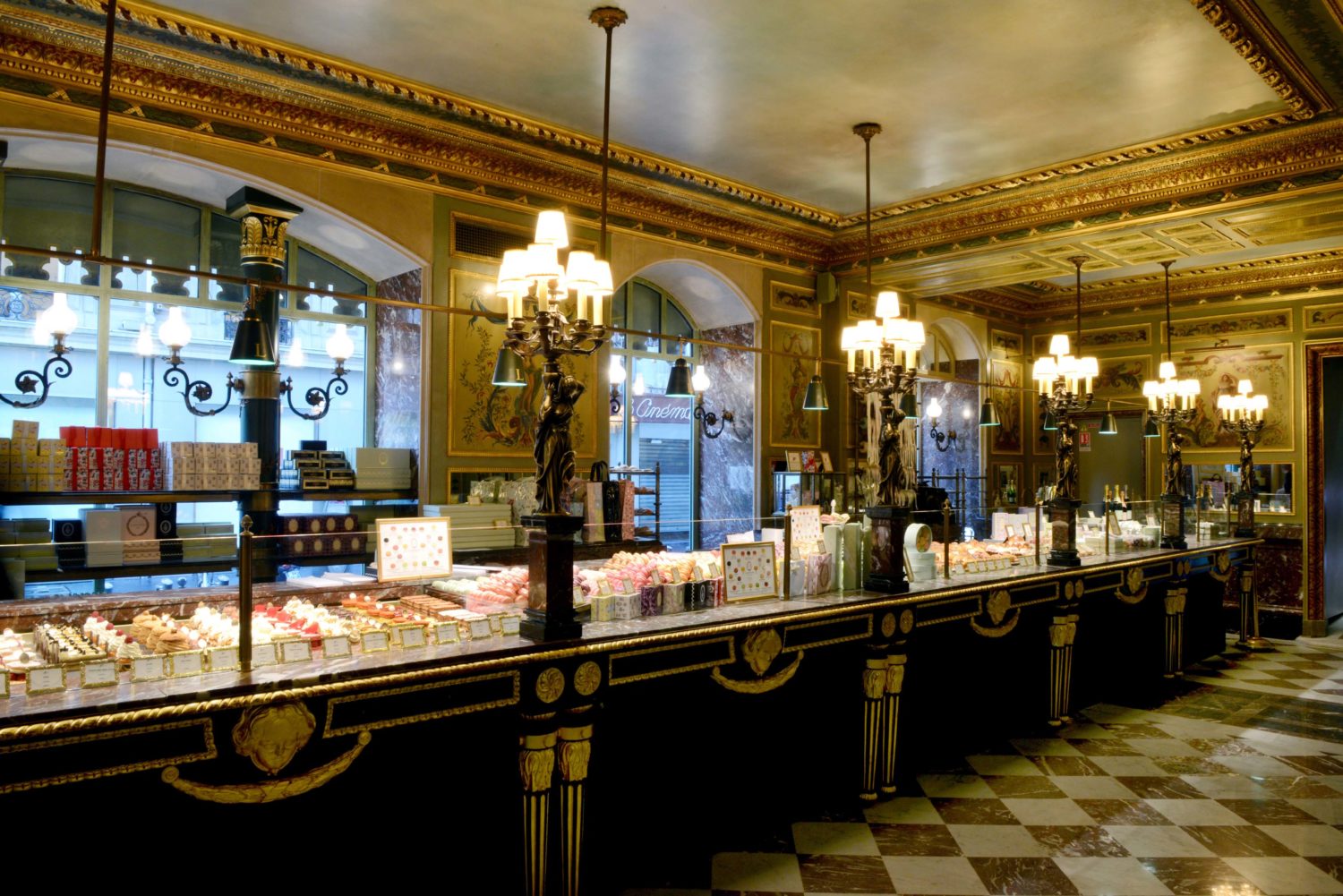 The location is very Instagramable
There is definitely a reason why Ladurée's queues stretch out the door and down the street, the décor alone is seriously Insta-friendly. Ladurée tea rooms have become true Parisian institutions. The Champs-Elysées location is created from historical inspiration and feminine styles that inspired the decorative arts of the 18th century, with grand French chandeliers, fairy tale mirrors, opulent ceilings and elegant furniture using a pastel pink, mint, gold, black and white colour palette.
Ladurée, 75 Av. des Champs-Élysées, 75008 Paris, France