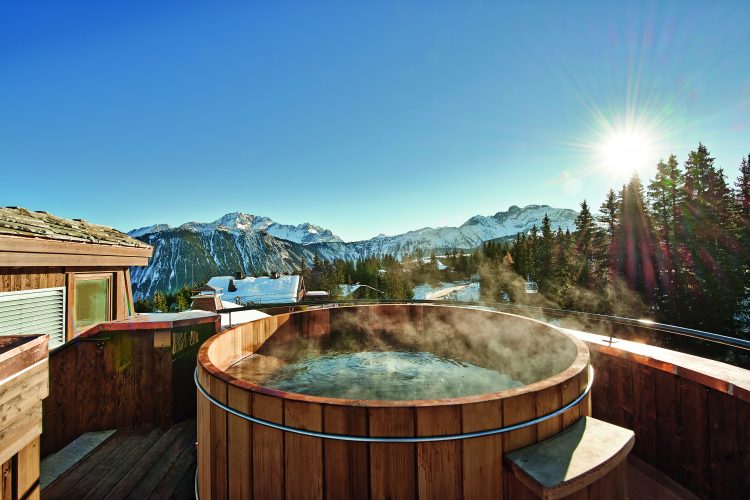 Imagine a dream of the most exquisite nature that your slumberous subsconscious can muster, and then imagine a dream within that, in a sort of enhanced layered homage to the blockbuster 'Inception'. You're getting close to experience of L'Apogée in Courchevel 1850. 1850 itself, named after its altitude in metres, represents the giddy uppermost heights of the Courchevel ski resort set deep in the heart of the French Alps where even the air smells so fragrant and pure that my immediate reaction was to somehow bottle it and preserve a few final reminiscent quaffs for my eventual return to the Big Smoke and the much unwelcome brutalities of the 'real world'. 1850 represents the final word in glamour and is a winter playground where the Beckhams rub skis with Will n' Kate, Roman Abramovich and little known Mr Clooney.

L'Apogée's own tale began at its eagerly anticipated unveiling in December 2013 whereby it represented the Oetker Collection's first foray into the surprisingly competitive and rather crowded world of stratospherically grand ski resorts. L'Apogée's differential was, and unquestionably still is, to quite simply do everything better than its peers.
Not a cent was spared, nor an opportunity for the application of luxury missed, in the making of L'Apogée. The construction of the hotel, nestled amongst the bed linen white snow covered mountains of 'Les Trois Vallées', cost a cool EUR 100m.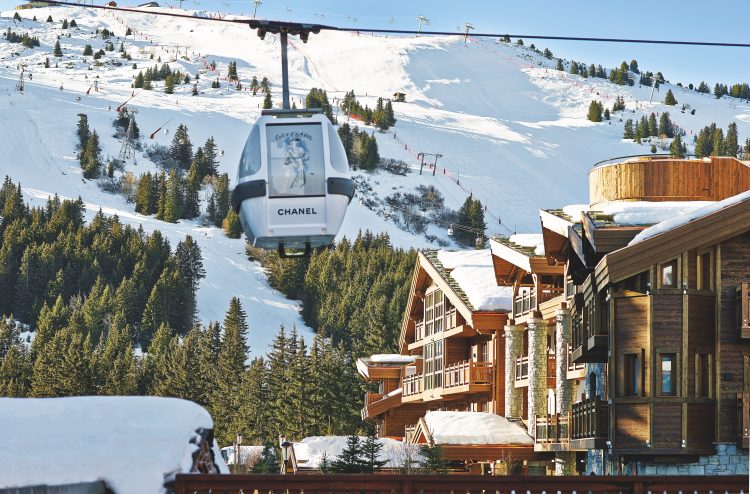 This was a large-scale, committed investment in both splendour and supremacy. The architects of this, the latest addition to the Collection, were India Mahdavi and Joseph Dirand. However, their vision was to create a hotel which was not only awe-inspiring in terms of its grandeur but also warm and welcoming like a mountain mansion retreat or a frost covered family chateau whereby guests would be enticed to return year-in-year-out to feel the same pleasant feeling of soothing familiarity in amongst the hotel's evident beauty. This was successfully achieved in aesthetic terms by the use of soft, dark fabrics, bottle green velvets, eternally roaring fires lit inside wide black marble fireplaces and deep, supple leathers throughout the hotel. You only need to take a few footsteps into L'Apogée's entry foyer to feel richly enveloped in the most 'balm to your soul' way, like a vicuña blanket tucked up under your chin shielding you from the perilous cold of the Alpine Garden in a way which still exudes effortless glamour.

The other key element in creating this subtle blend of splendour combined with warm intimacy is the hotel's service, and my, what pristine service. The hotel has 53 rooms, a four bedroom penthouse and a private chalet, but well over 150 members of staff from the two restaurants, specialists in the on-site ski lodge, treatment staff in the spa, private butlers, ever-charming concierge, the list goes on. The point is that whatever a guest could possibly want is on hand, and the staff at L'Apogée make it their mission to make you feel welcome and comfortable, like their only goal in life is to ensure guests have a truly remarkable experience.

L'Apogée boast two outstanding restaurants. The first, Le Comptoir L'Apogée, is more of a modern European affair with spatterings of recognisable French specialities like foie gras, langoustine and Châteaubriand. Terracotta coloured velvet dining chairs, remarkably attentive service and a spectacular wine list mean that the hedonistic coma, which I came to know rather well during my stay, most certainly abounds in Le Comptoir. On the other hand, there is Koori, the hotel's Japanese restaurant, so named after the Japanese word for 'snow', something which is ever present given the transcendent views out over the mountains which surround and envelop guests as they dine. Koori's sushi masters are hard at work in front of you as you enter towards the restaurant, they can prepare a sumptuous range of crab tempura, sashimi and irresistible california rolls. My advice is to just point and click, everything on the menu is splendid and quite frankly the more time spent deeply pondering means the less time spent consuming.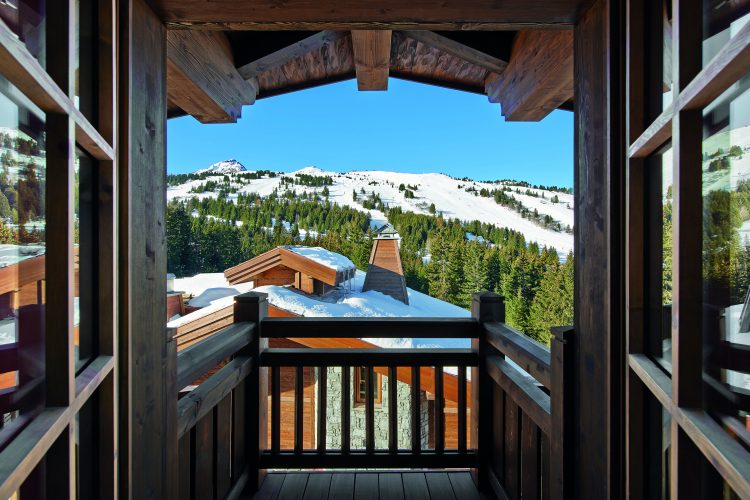 Yet another ace up L'Apogée's sleeve is its spa by La Prairie. When the moment of truth was upon me and the time for my own visit to the spa arrived I was greeted at the hotel entrance by two members of staff, one of whom helped my unclip my skis (I tend to struggle with fairly basic tasks which require an equally basic degree of coordination though of course I vociferously blamed my novice status instead) and slip on a pair of the hotel's own slippers. The other staff member jovially handed me a glass of mulled wine, which was ready, waiting and billowing steam. He had already honed with spectacular precision on my holiday requirements. The spa itself is beautifully sleek and oozes composed tranquility. Dark lacquered wooden panelling and black marble abound throughout and the treatments are every bit as lavish as would befit an environment of this remarkable stature using gold, platinum and caviar to nourish and revitalise guests and external clients. Massages, facials, body treatments are all available and the spa is open all the way until 9pm for its guests, just in case you happen to have dozed off in your enormous bath tub after a tough day shredding powder out on the slopes and awake to find yourself catting for a treatment before supper.

In many ways I wish I had never made it back from L'Apogée. I would prefer an early departure from this world as a result of an overindulgence related ailment, and that way I could have gone out on a high – for my fear is that this was an experience which will be impossible to beat (though of course I have no qualms about spending my remaining years trying). L'Apogée hits the sweet spot between the absolute summit of lavish decadence and blissful warmth, cosiness and familiarity. It is a hotel which holds nothing back in its successful efforts to create a unsurpassably lavish and unforgettable experience for its guests. Put simply, L'Apogée has no weak spots, no achilles heels and no kryptonite. It is a truly flawless expression of luxury ski holiday making.

5 Rue Emile Allais, 73120 Courchevel, France