France has a commitment to perfection which has enabled it to be crowned the queen of everything from wine to haute couture. This even extends to hotels where being 5-star is far from the highest accolade. The French Minister of Tourism introduced the Distinction Palace in 2010 that offers palace status to the finest luxury hotels that boast exceptional qualities that embody French standards of excellence. Among this prestigious collection of hotels is arguably the most magnificent hotel in the world, Shangri-La Paris.
It is impossible not to instantly fall in love from the moment you pull up outside. It was built in 1896 and appointed as an official French Historic Monument in 2009. With its intricate black imposing black wrought iron gates, cream columns and juliet balconies, the building retains its glory and glamour with a façade as ornate as a wedding cake.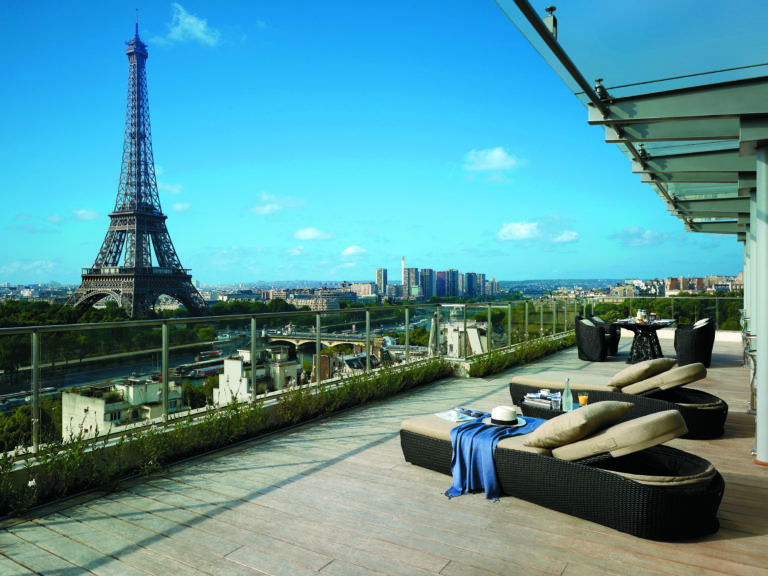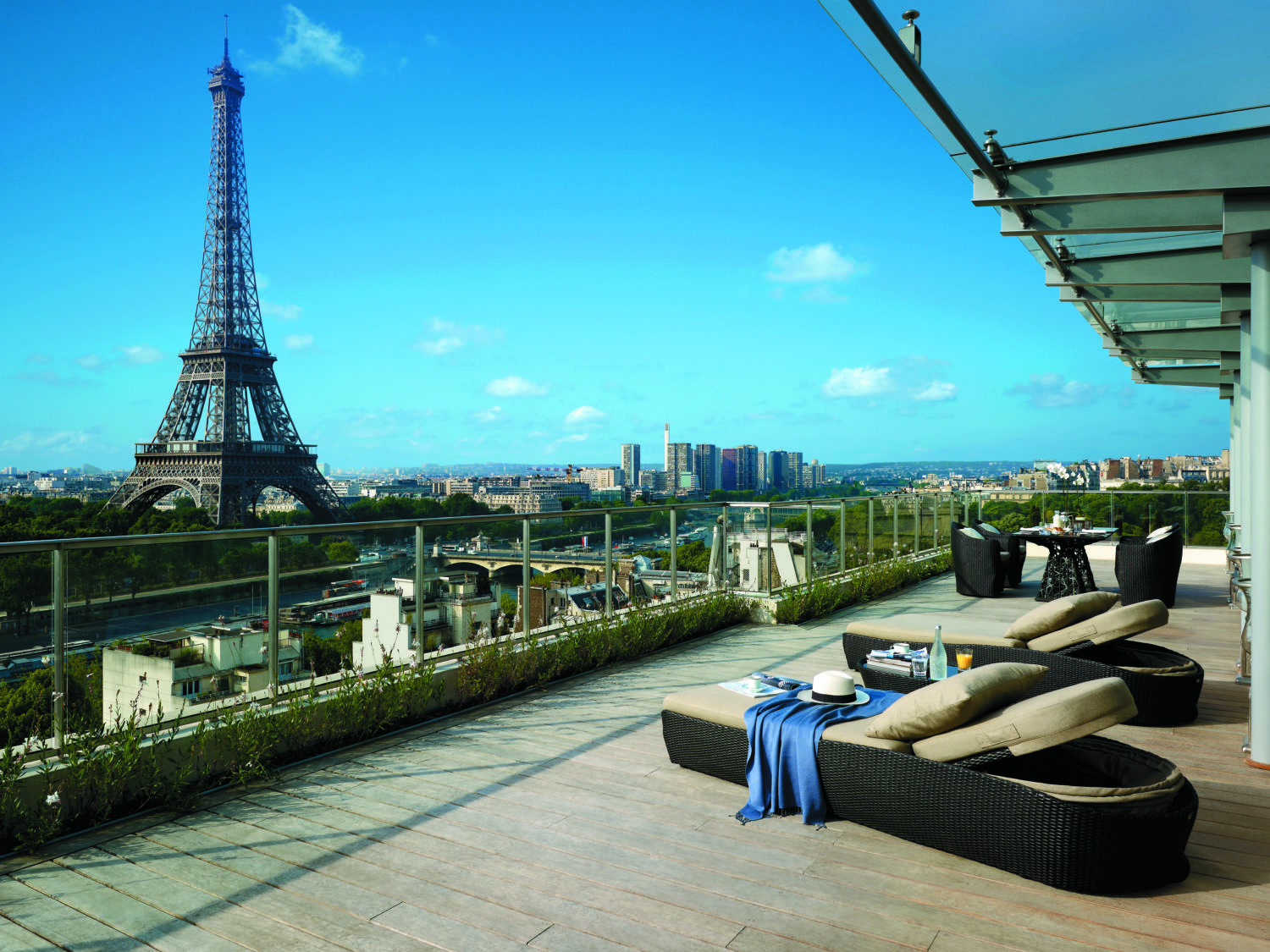 Shangri-La Paris boasts some of the most incredible views of the Eiffel Tower. Located just 500m away across the river, The Iron Lady can be seen illuminated from 60 percent of Shangri-La's rooms.
Stay in a Terrace Eiffel View Room which features a vast bedroom, walk-in closet and spacious seating area draped in duck-egg blue, cream and gold accents. There is a marble-clad bathroom stocked with Guerlain toiletries. It also boasts a walk-in shower, deep-soaking bathtub, mirror-embedded television and heated floors.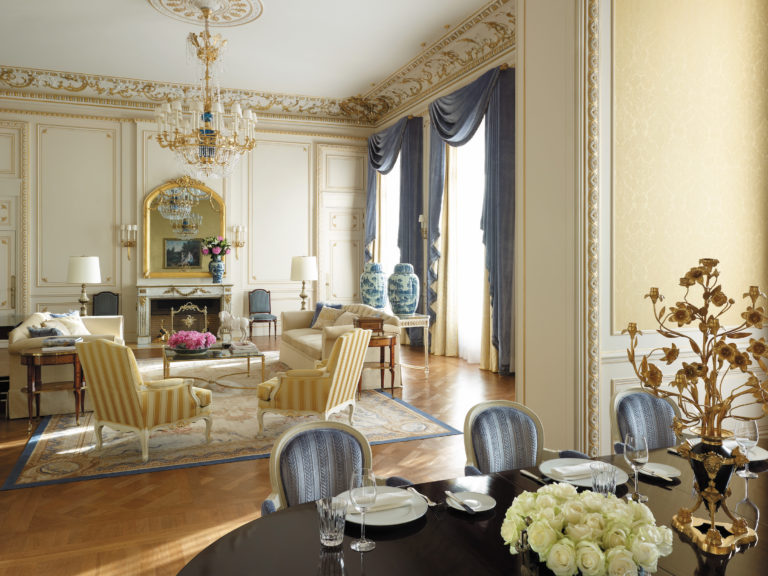 The jewel in the Terrace Eiffel View Room's crown is the private terrace which showcases the iconic Eiffel Tower in all her glittering glory and is the ideal setting for an al-fresco breakfast or a champagne nightcap under the stars.
At Shangri-La Paris no request is out of reach, for a special occasion staff will draw a candle-lit bath filled with fresh rose petals, put a bucket of champagne on ice and fill the suite with a bouquet of red heart-shaped balloons.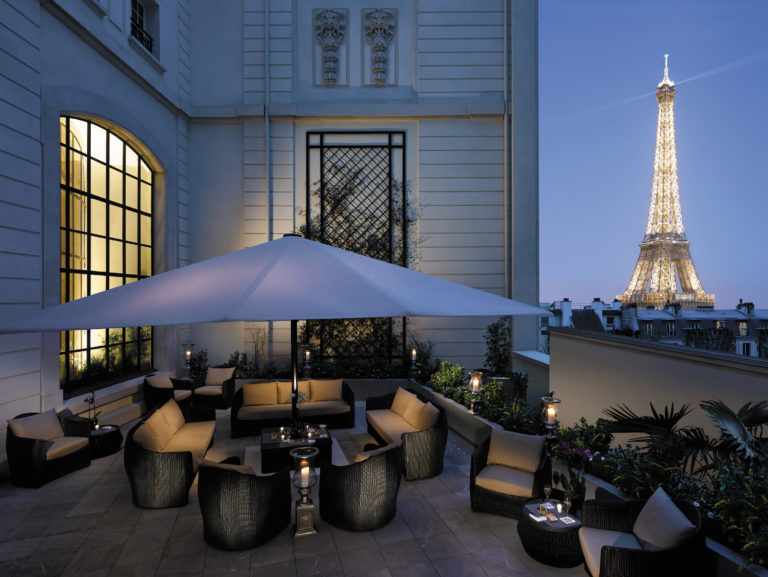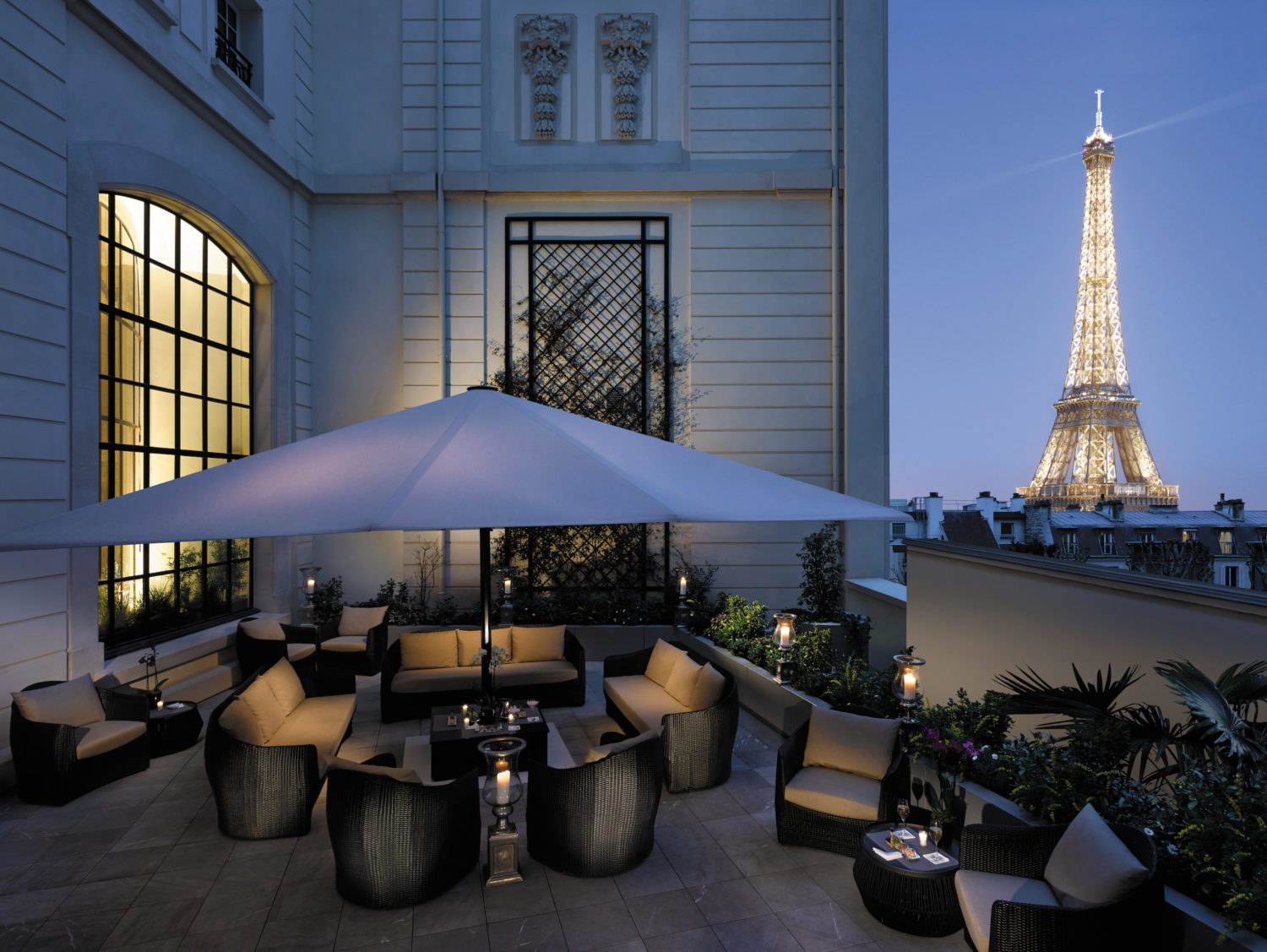 Beyond the polished marble, sweeping staircases and twinkling chandeliers, what makes Shangri-La Paris truly one of the most enchanting hotels in the world is that at its heart it is a home. Expect staff to welcome you like an old friend, at Shangri-La Paris everyone is made to feel at ease, even in the most extraordinary grandeur.
You can't visit Shangri-La Paris and not experience the art of Cantonese fine dining at Shang Palace. The restaurant opened in 2011 and the following year it became the only Chinese restaurant in France to be awarded a Michelin star, a decade later and it still proudly boasts this well-deserved accolade.
Inspired by Southeast China's culinary traditions, Shang Palace offers the finest Cantonese cuisine outside of China. Sip perfectly chilled Bollinger Rosé and dine on an extravagant feast of roasted whole Peking duck, deep-fried Obsiblue prawns and sea bass with sweet and sour sauce.
Lose an afternoon reveling in the serenity of CHI, The Spa at Shangri-La Paris. It is hard to believe that this oasis is in the heart of the city. There are various treatments on offer from facials and massages to yoga and boxing. It also has a vast pool that is bathed in natural light, a terrace and the most spectacular power blue ceiling complete with marshmallow clouds.
This Parisian palace offers grandeur, old-world elegance and Asian hospitality. With its unrivaled views of the Eiffel Tower and the River Seine, it remains the most romantic hotel in the world. If you are looking for a Parisian residence, this grand dame reigns supreme.
@shangrilaparis
shangri-la.com/en/paris/shangrila
10 Av. d'Iéna, 75116 Paris, France