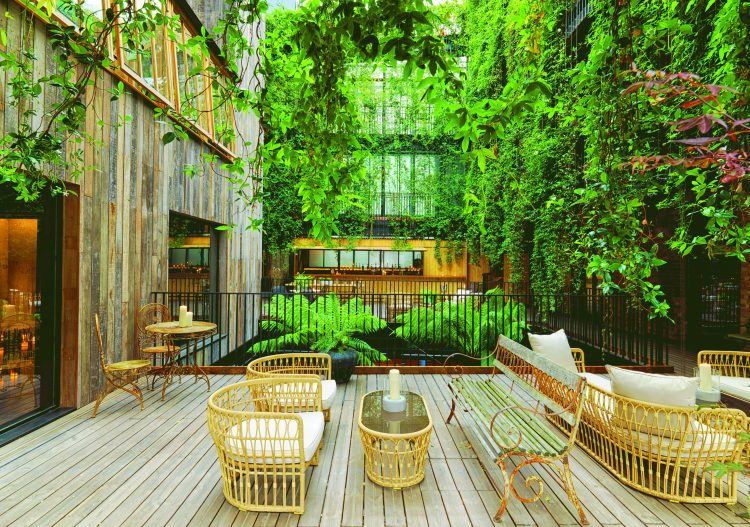 If The Mandrake Hotel were a person, it would be the most mesmerising girl in the room, the wild-eyed girl who dances like no-one watching in heels that are a little too high and a skirt that is a little too short. Its reputation as the beating heart for the art and fashion crowd spreads far beyond its mysteriously dark facade.
On a sunny Thursday afternoon, my black taxi stopped promptly at the kerb directly outside The Mandrake. My driver, Tommy from the Isle of Dogs narrows his eyes as he attempts to peer through the unassuming dark tunnel of a doorway. He said, "What's it like in there anyway? I'm always dropping people off here and they're all bloody cookie cutter cool."
The doorman was in deep animated conversation with a young man with a shock of platinum blonde hair and dressed a pink silk bomber jacket. As I opened the taxi door, he immediately broke the conversation and rushed over to help. The doorman wore a scarlet red shirt, he was gregarious yet intimate. He took my hand and as he led me through to the lobby, he smiled mischievously, "Welcome to the party. You're going to have the best time, I can feel it."
There was none of the formality or sense of pomp and circumstance when initially greeted at the hotel, but I was yet to discover that at The Mandrake no one plays by the rules.
The Mandrake shares its name with a mystical, hallucinogenic plant and this kaleidoscopic theme is the lifeblood of the hotel. It is the brainchild of Rami Fustock, entrepreneur and founder of the 5-star independent hotel.
It is a dark, opulent aesthetic playground and it is no surprise that this is where the 'IT' crowd come to play. It has a rich, hedonistic and decadent ambience with jewel-hued marble tables, luxuriously thick rugs and velvet chaise lounges. Almost homage to Stanley Kubrick's Eyes Wide Shut, it seduces the sense with glittering chandeliers, hypnotic music, and Venetian masquerade masks.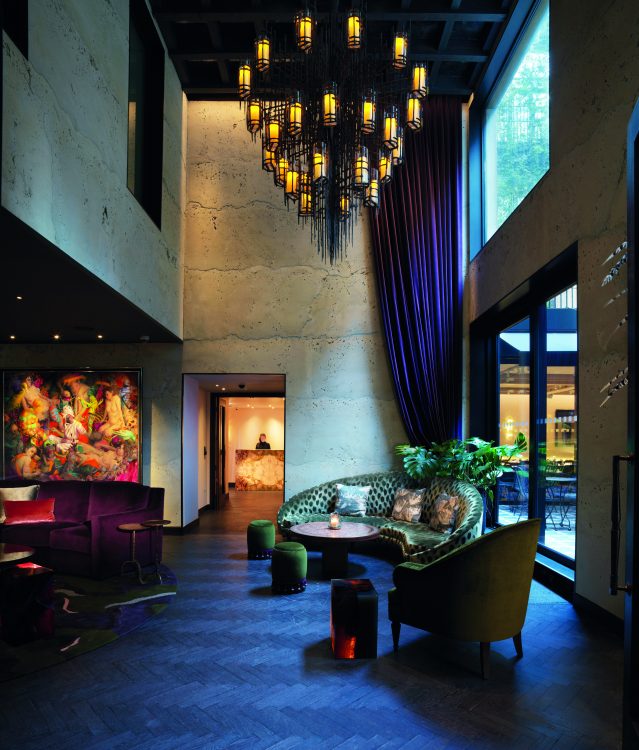 At the heart of the hotel is the lovechild of the Garden of Eden and the Amazon rainforest. It is a sun-soaked open-air courtyard, a vision of wild greens, lined with palm-trees, draped in jasmine and passionflowers and studded with raffia seating. There are four-storeys of mesmerising open terraces, which lead to the bar, the restaurant and the bedrooms.
We stayed in a contemporary Terrace Room, which offered direct-access and incredible views of the magical garden beyond. It had a luxurious king bed dressed in crisp white sheets, with a mattress and topper handmade by Naturalmat, made entirely from organic and natural fibres from sustainable and renewable resources.
There is a flat-screen HDTV with full cable access but it was the tower of stylish coffee table books and the biography of Coco Chanel that caught my eye. There is a writing desk stocked with beautiful intricately branded stationary in blue foil with the all-seeing eye of The Mandrake logo, not dissimilar to the iconic eyes of Dr. TJ Eckleburg à la The Great Gatsby.
The Hammam-style bathroom was a vision of white and dove-grey marble, with a vast bathtub decorated with a vase of wildflowers and a spacious enclosed rainfall shower. The stacks of fluffy snow-white towels are also from Italy and are exclusively at The Mandrake.
It was stocked with the incredible botanical beauty brand Grown Alchemist bathroom amenities, such as the generous full-sized watermelon and vanilla lip balm and orange peel and vanilla hand cream.
The jewel in The Mandrake's crown is undoubtedly its stellar restaurant, Serge et le Phoque, the second outpost of the Michelin-starred restaurant of the same name in Hong Kong. On a Thursday evening, the restaurant was absolutely packed with the bold and the beautiful, it looked more like a Victoria's Secret casting than a restaurant.
Serge (et le Phoque) is an effortlessly chic powder pink dining room with avant-garde oxblood-hued chairs, pink Formica tables, mustard velvet booths and gold-trimmed trolleys. The menu pays homage to Head Chef Frédéric Peneau's Spanish and French heritage with innovative tapas-style sharing plates.
Each dish is perfectly balanced, innovative and many have a whimsical fruit element that perfectly complements the dish. Expect, fresh and creamy Burrata with watercress, coriander and apricot, tender Seared Scallop with peach and artichoke and Gressingham Duck Breast with cherry and endive.
The Mandrake prides itself on the haven of eclectic spiritual wellbeing it offers in the heart of the city. It has curated a program of sensory experiences to inspire people to eradicate their comfort zones and try something new to nourish your spirit as much as your body. On offer are Crystal Bowl Meditations, Gong Baths, Cacao Ceremonies, Sonic Enchantment and Vibro-Acoustic massage to name just a few.
The Mandrake also features a number of world-renown Artists in Residence, up next is iconic Hollywood tattooist to the stars Mark Mahoney who will host a charity dinner in the hotel this September as well as allowing guests to play voyeur from the lobby as Mark treats his VIP guests to a tattoo in the 'Shamrock Social Club' pop-up. Mark Mahoney is the man that Johnny Depp refers to as his brother and Lana Del Rey has appointed as her muse. Mark's client list includes; Adele, 2-Pac, Rihanna, David Beckham and Angelina Jolie.
The Mandrake is a hive of cultural events and tonight is no different. As if on cue, as we finished our final dish, hypnotic music thumps rhythmically penetrate the restaurant and our waiter informs us that a spiritual concert has just begun. I look closely and see a sea of people dancing ethereally as though no one is watching at the heart of the hotel, beneath the velvet black sky decorated with a smattering of stars.
After a long and luxurious sleep, I opted to treat myself to breakfast in bed. Cocooned in the crisp white linens, I indulged in a Danish Basket filled with a croissant, pain au chocolat and buttery brioche still warm from the oven. Next was cool coconut yoghurt speckled with chia seeds, a drizzle of honey and banana. Then there were creamy Eggs Benedict with fresh flaky Cornish crab, accompanied by a fan of avocado and a golden hash brown.
I retreated to the table and chairs on the terrace to enjoy a cup of tea in the sunshine. It wasn't even midday and already the courtyard was full and the air was heavy with animated conversation. No matter the time or day, in the heart of Fitzrovia there is always a party going on and you're invited.
20-21 Newman St, Fitzrovia, London W1T 1PG