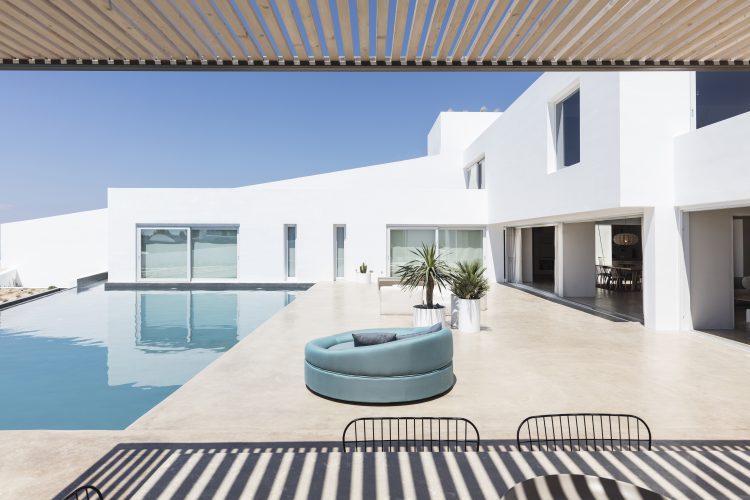 Santorini is one of the most devastatingly beautiful islands in the world, the jewel of the Aegean Sea. A volcanic eruption in the 16th century BC has forever shaped its charming rugged landscape. It has deep caves, blue-domed churches, sugar cube houses that cling to the mountains like pearls on a string and beaches made up of black, red and white lava pebbles.
The Andronis family of five-star hotels has dominated Santorini, offering unparalleled contemporary hospitality to the island across its hotels, villas and honeymoon retreats.
Come to Andronis Arcadia for the perfect long weekend…
Arcadia is the latest addition to the Andronis family, named after the mythical home of the god Pan, Arcadia was a place of natural harmony. Located just a short stroll from Santorini's picture-perfect town of Oia, it offers the perfect marriage of peace and convenience. The resort is situated on a gentle slope that leads to the ocean on the north-west corner of Santorini. It is also home to the best view of the iconic Santorini sunset on the island, people travel from all over to the entrance of the hotel to get a glimpse of the golden orb before it slips into the ocean.
Arcadia has 44 suites but all have private pools and unbelievable views towards the Aegean sea, a win all round. Expect a contemporary cool aesthetic with natural hues and materials. Stay in the Executive Suite, where the privacy of a holiday home meets the opulence of a luxury hotel. The 50 m2 open-plan suite has a sitting room, bedroom, modern bathroom and private infinity pool.
For those with a more substantial budget, the magnificent 600 m2 Eden Villa is nestled in a secluded area and can accommodate up to 12 people. The three-storey villa is decorated in white and sandy tones, with vibrant embellishments of turquoise which pays homage to the glittering sea beyond. It boasts six bedrooms, two private pools, a fitness centre, a spa room and a fully equipped kitchen.
The communal area of the resort has a beach-side island feel, with a sunken bar, bamboo roof, raffia lampshades, loungers and complete with a stunning infinity pool overlooking the ocean complete with a DJ booth. There are often amazing sunset parties with live performances here, set against the backdrop of the candyfloss pink Santorini sunset.
When it comes to dining options, you are covered for a long weekend and beyond. Pacman is a magnificent alfresco space that offers panoramic views of Oia's spectacular sunsets. It serves a range of fresh cuisine, from a vast array of sushi from the Oishii menu to a traditional Green Tavern menu. For breakfast, a Greek-themed Althea menu is served, with beautiful freshly baked breads, exotic fruit platters and table-side yoghurt and muesli service.
For lunch, start with Flame Edamame sautéed with sake, followed by Butterfly Shrimp with avocado cream and Aji Amarillo and crispy Chicken Karaage which is marinated with soya and then deep fried.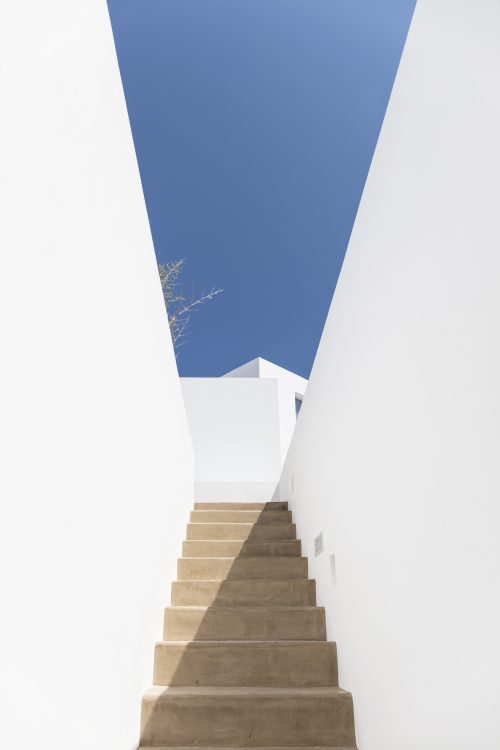 There is an abundance of fresh rainbow-hued sushi but the selection of House rolls are a must-try. Start with the King Crab Roll with avocado, yuzu tobiko and yuzu kosho mayo, then Saba (Osaka style) with marinated mackerel, herbs, garlic and ginger and last but certainly not least, the Peruvian roll filled with king crab, tuna, avocado and aji amarillo.
For the main affair, the Miso Black Cod is as sweet as caramel and the tender Beef Udon Noodles are a dream. Finish with a glass of sake and the exotic Yuzu Castella, caramel namelaka, sponge cake and passion fruits.
Pacman also explores its roots, using ingredients grown in the surrounding gardens to recreate traditional Greek mezze and Mediterranean dishes. Start with a hometown glory classic, the signature Greek Salad loaded with tomatoes, cucumbers, capers, onion and feta. Next, the fried calamari is unforgettable, as is the salt crusted sea bass and the Savoro, fresh fish with rosemary, garlic and vinegar. Finish with the exotic fruit platter and Loukoumades with honey and walnuts.
The culinary jewel in Arcadia's crown is the rooftop Opson restaurant which recreates dishes from the ancient Greeks. This unique new dining experience celebrates the tastes and ingredients of classical Greece, that were beloved by the legendary forefathers. The talented head chef Stefanos Kolimadis worked closely with an archaeologist to devise an incredible historical tasting menu which would have been devoured by the likes of Plato, Omiros and Aristotle. Completely devoid of contemporary staples that have become synonymous with Greece such as tomatoes and lemons in favour of grains, fish, meat and vegetables from Arcadia's garden.
By day there are a range of thrilling activities to keep you entertained, such as sunset cruises, photographic safaris, walking tours, yoga and wine tours. One of the most incredible experiences is the famous Catamaran trips, sailing around the magnificent caldera. The catamaran will stop at all of they hotspots, including the rejuvenating Hot Springs. Finish the trip in style with a decadent BBQ on board with free-flowing local wines.
For those seeking a more relaxed experience, the vast Evexia spa offers the perfect oasis of serenity. The Evexia spa specialises in tailored treatments and traditional massage techniques using luxurious products and soothing rituals. There is no better way to escape the stresses of daily life and surrender yourself to the indulgent treatments on offer by a dedicated and knowledgeable spa team. The team are on hand to discuss your individual needs and develop a bespoke experience just for you or you can choose from the extensive spa menu.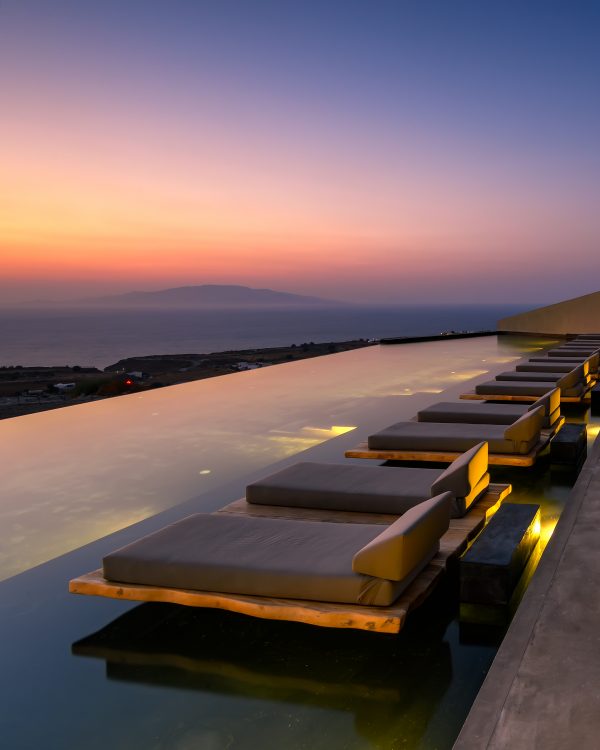 The wellbeing menu has been tailored as the perfect antidote to the stresses of modern life, incorporating Beyond Organic products, herbal tinctures and flower remedies to balance your inner and outer mood and general wellbeing.
Popular treatment includes the Sleep Easy Deep Tissue, a reviving body treatment which draws on Ayurvedic healing traditions where heated pouches filled with medicinal herbs warmed in exquisite essential oils such as pine, amber and frankincense, commonly known as potli are used to rejuvenate and nourish tired and stiff bodies. This massage is ideal for alleviating pain, cramps and stress related tension.
Another signature treatment is the famous Gold Cellular Facial, using ila's Gold Cellular Age Restore Collection. It is a powerful experience, using three types of naturally occurring gold and the rares frankincense from the Gardens of Ethiopia and are applied via cleansing and healing massage techniques. Ila's unique BosTriWell® & hyaluronic extract combined with sonic wave therapy, instantly increases collagen levels and reduced cell inflammation for a completely rejuvenated complexion.
Arcadia solidifies Andronis' stellar reputation as the epitome of contemporary understated elegance yet undeniable luxury. Whether you would like to explore the mesmerising landscape and rich history of Santorini by foot or sea or just relax in the infinity pool with a cocktail in hand, Andronis Arcadia has it all.
@andronis_arcadia
Oia 847 02, Greece