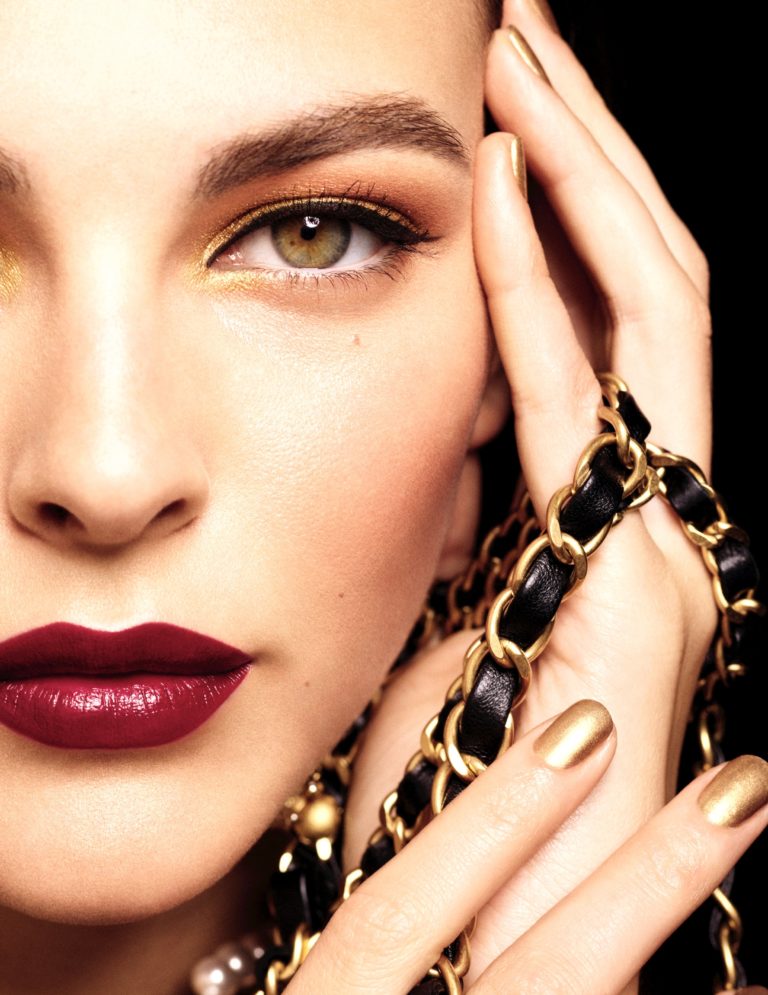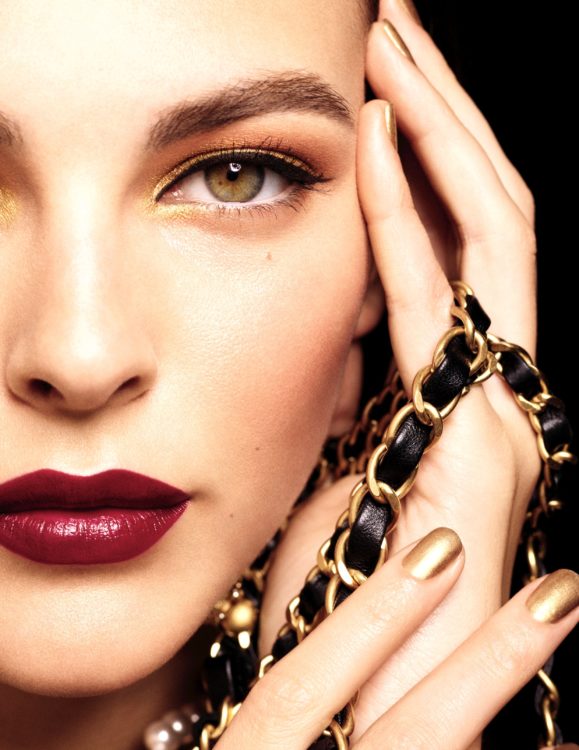 CHANEL Global Creative Makeup and Colour Designer Lucia Pica has spun gold into the CHANEL universe once more with the magical Les Chaines d'Or de CHANEL collection.
Lucia Pica was inspired by one of CHANEL's most iconic symbols, the luxurious golden chains, which were modernized by the house when it was interlaced in a simple yet chic strip of leather, breathing new life into the signature statement.
Now a new icon has been born with Les Chaines d'Or de CHANEL, a signature collection with a bold and beautiful graphic contrast between black and gold as its common thread. Dreamed up by Lucia Pica in collaboration with the Makeup Creation Studio, expect mesmerising eyeshadows and lipsticks sprinkled with platinum or coppery shimmers, scintillating sparkles or bronze-like links and nails coated in antique gold polish.
A glorious festive spirit reigns supreme over the Les Chaines d'Or de CHANEL. We sat down the iconic CHANEL Make-up Artist Zoë Taylor to find out all her tips for the perfect opulent festive look.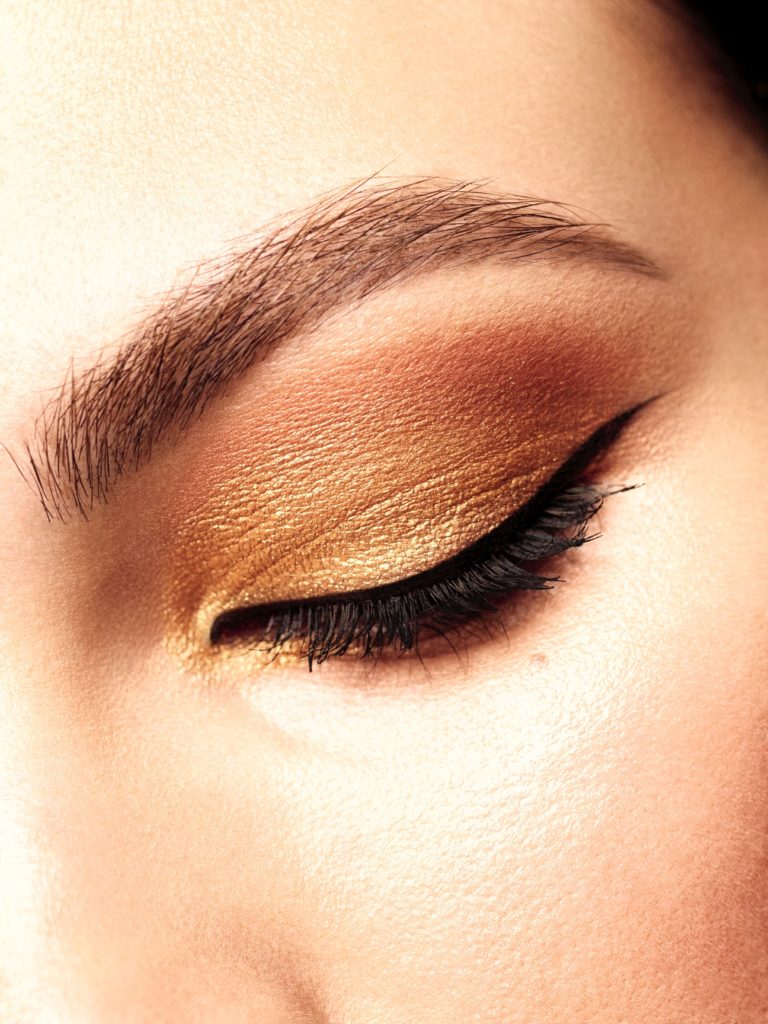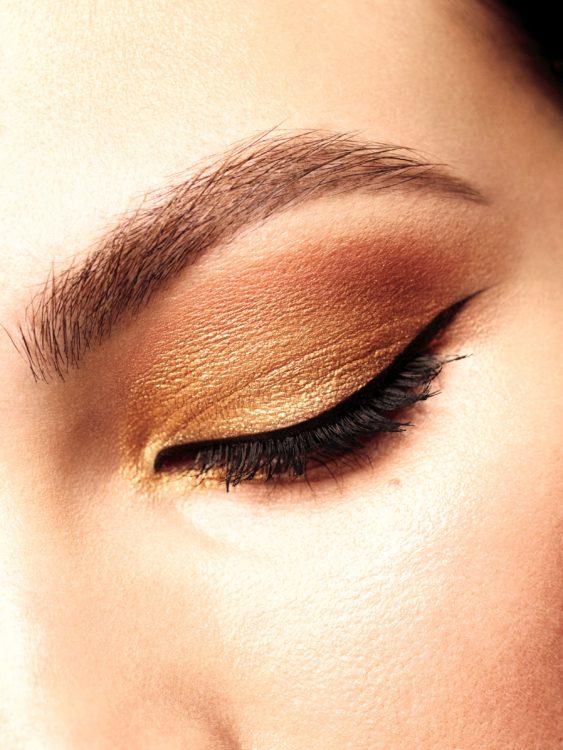 What would you recommend when choosing the right eyeshadow for your skin?
For warm-toned skin, I would choose golden hues, while silver shades compliment cooler skin tones. The new CHANEL holiday collection is rather clever because all of the colours have a little bit of both, making the entire collection universally flattering and very easy to wear.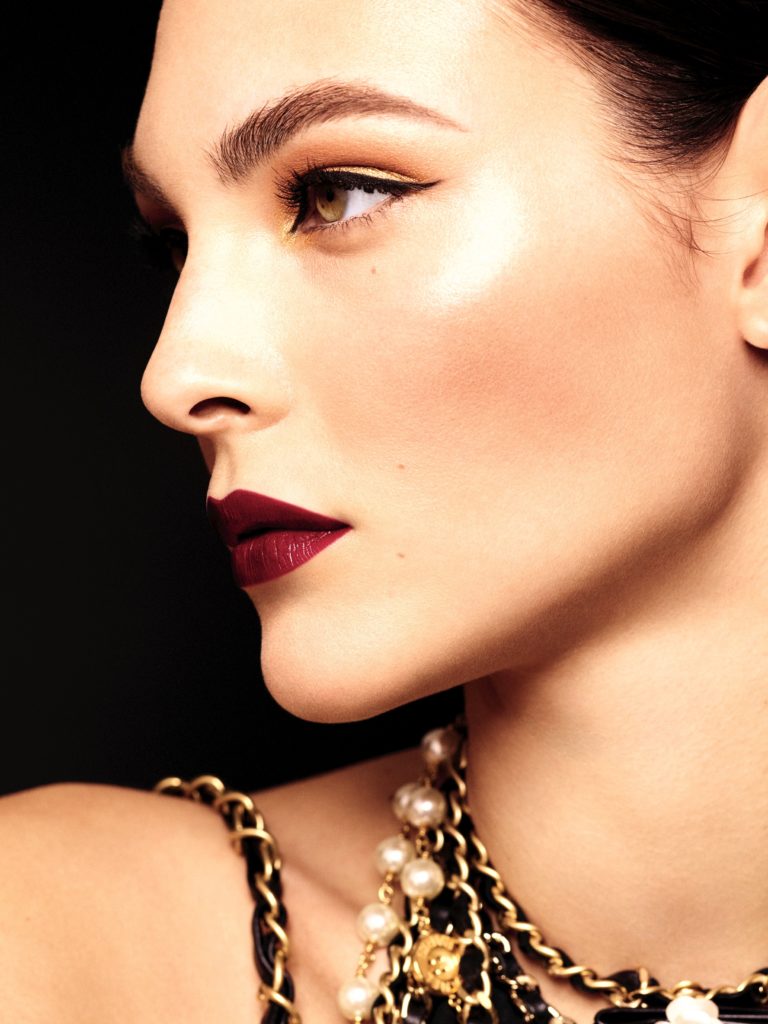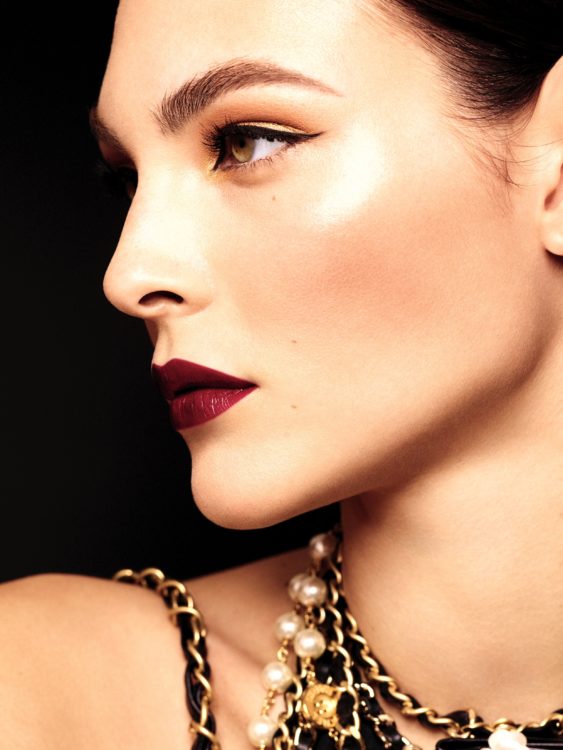 Do you have any tips on applying eyeshadow/glitter correctly? How do you avoid overdoing it? And how to apply it so that it last longer?
Adding a metallic shadow into your regular makeup routine can really modernise your look. Using a flat brush, apply it onto the centre of your lids and blend outwards. This adds light for a dynamic, 3D effect. Also try applying a bit of shimmer on the inner corner of the eyes to really open them up.
If you don't have a brush on hand, you can even apply the colour with your ring finger to build up intensity. I like to use the Ombre Première Poudre in Or Antique over the whole lid and then add in Ombre Première Poudre in Cuir Brun into the socket, to give it a bit of a smoked out look.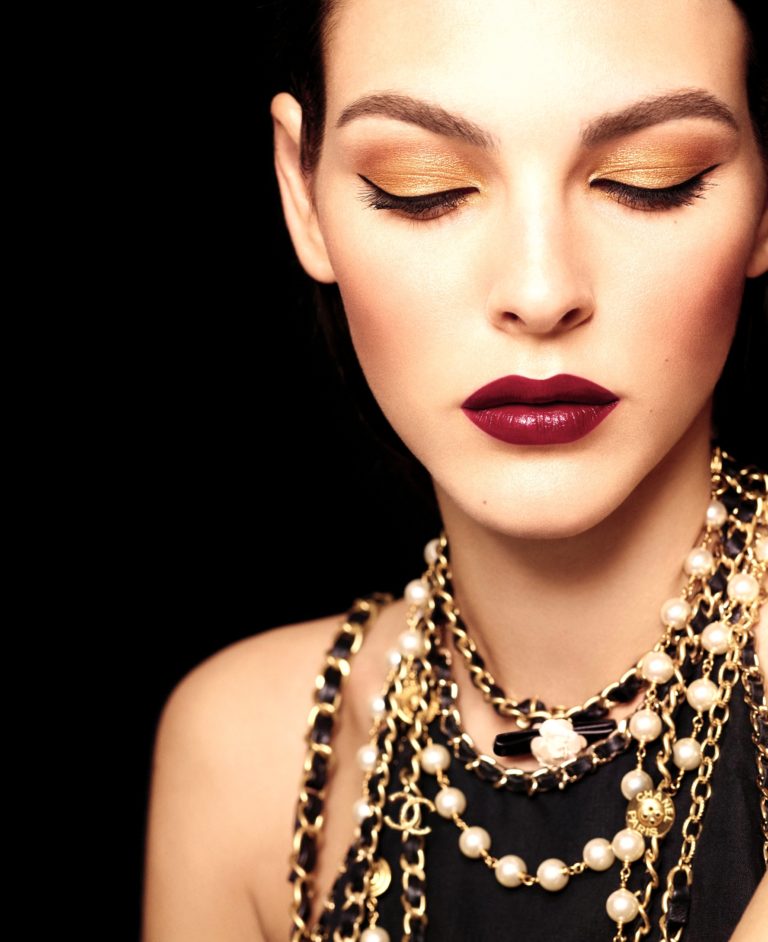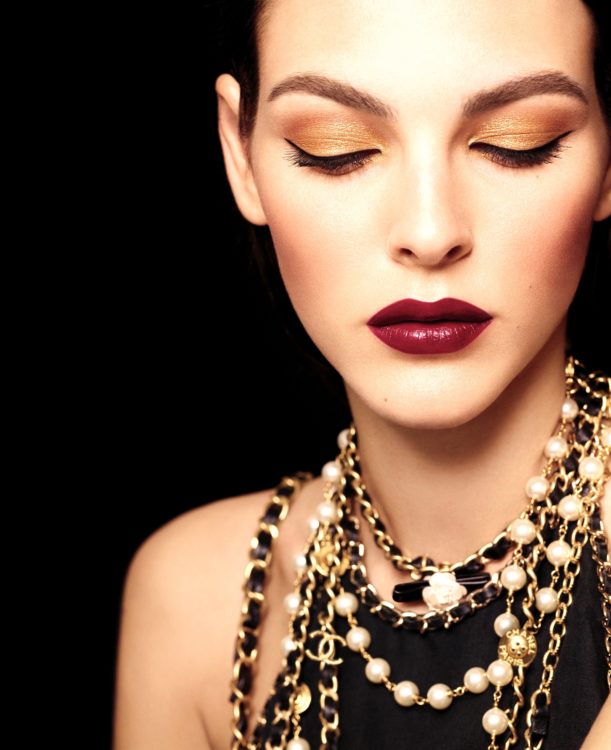 What advice would you give to women who are keen to experiment with their makeup, embrace more playful/bold colours but don't know where to start?
I always recommend starting small. For instance, try out a coloured eyeliner. CHANEL Stylo Yeux Waterproof in Fervent Blue is one of my all-time favourites. Since the formula is waterproof, it is great to use along the water line. Pair with a wash of Ombre Première Poudre in Cuivre Rose on the lids for a super modern look.
It's also important to take your natural colouring into consideration when experimenting with makeup. If you have ashy brown colouring around the eyes, or blue and lavender veins on your lids, try using those colours in your makeup. Since most people have warm brown tones around their eyes, all warm colours, like terracotta, pink, aubergine, and warm browns will suit them.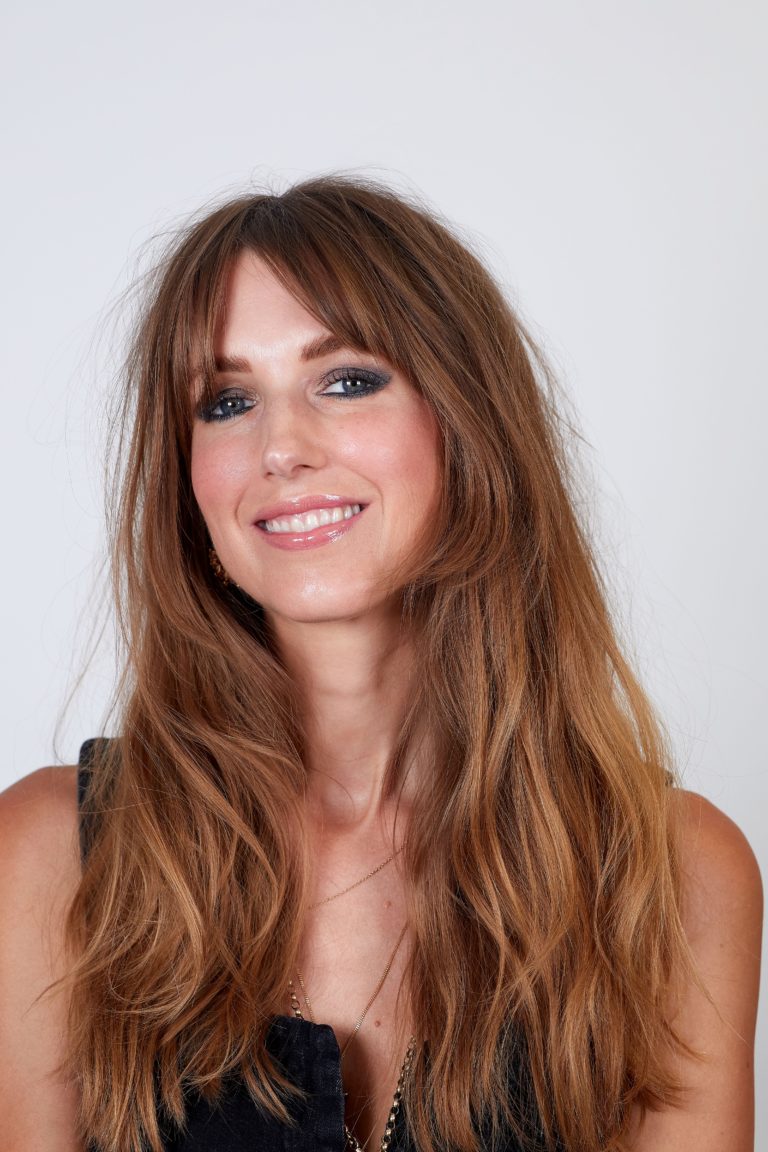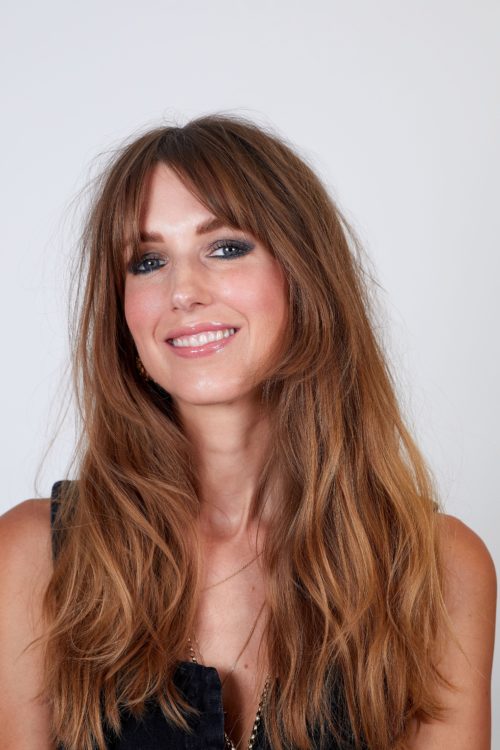 Although we are all likely to be wearing masks this Christmas, what are your favourite matches? If you were going to a Christmas party this year, what would your favourite make-up look for the festive season be?
Even though we are all wearing face coverings at the moment, it is still important to be loving our lips. Remember to prep your lips before any lip colour as this really helps the pigment to stay put and not transfer onto your face covering.
I love Tinker Taylor 3-part lip care sequence: scrub, oil and balm. Tissue off any excess and remember to line your lips. I LOVE a red lip, and the CHANEL holiday collection has the most divine red flecked with gold, called Rouge Allure Rouge D'Or.
To make this lip colour slightly matte and very long wearing, line your lips with a lip liner, apply your lipstick, then pop some powder on top through a tissue. For a touch of old-fashioned glamour, dust Ombre Première Poudre in Or Antique on your lids to compliment the gold in the lipstick.