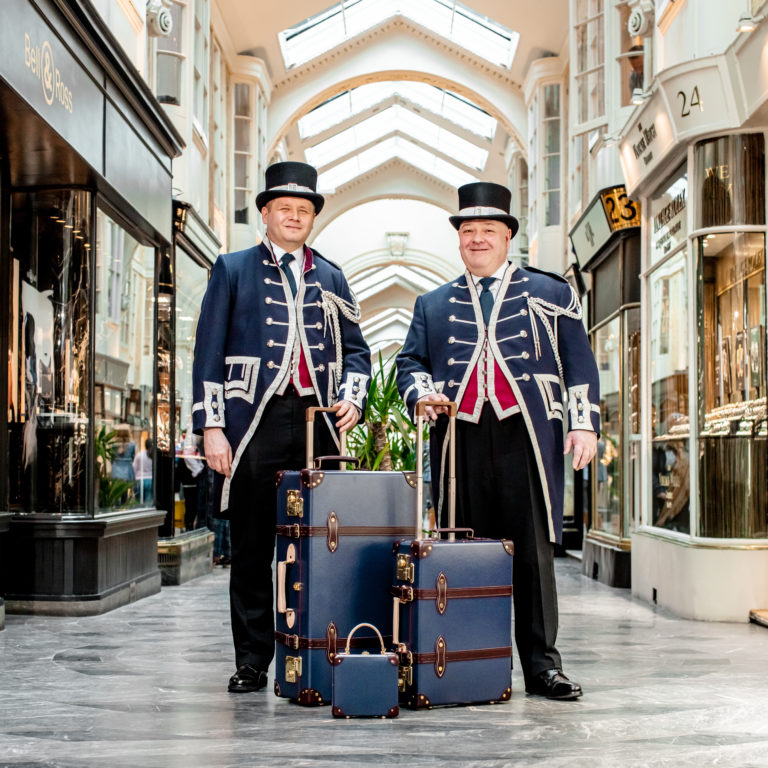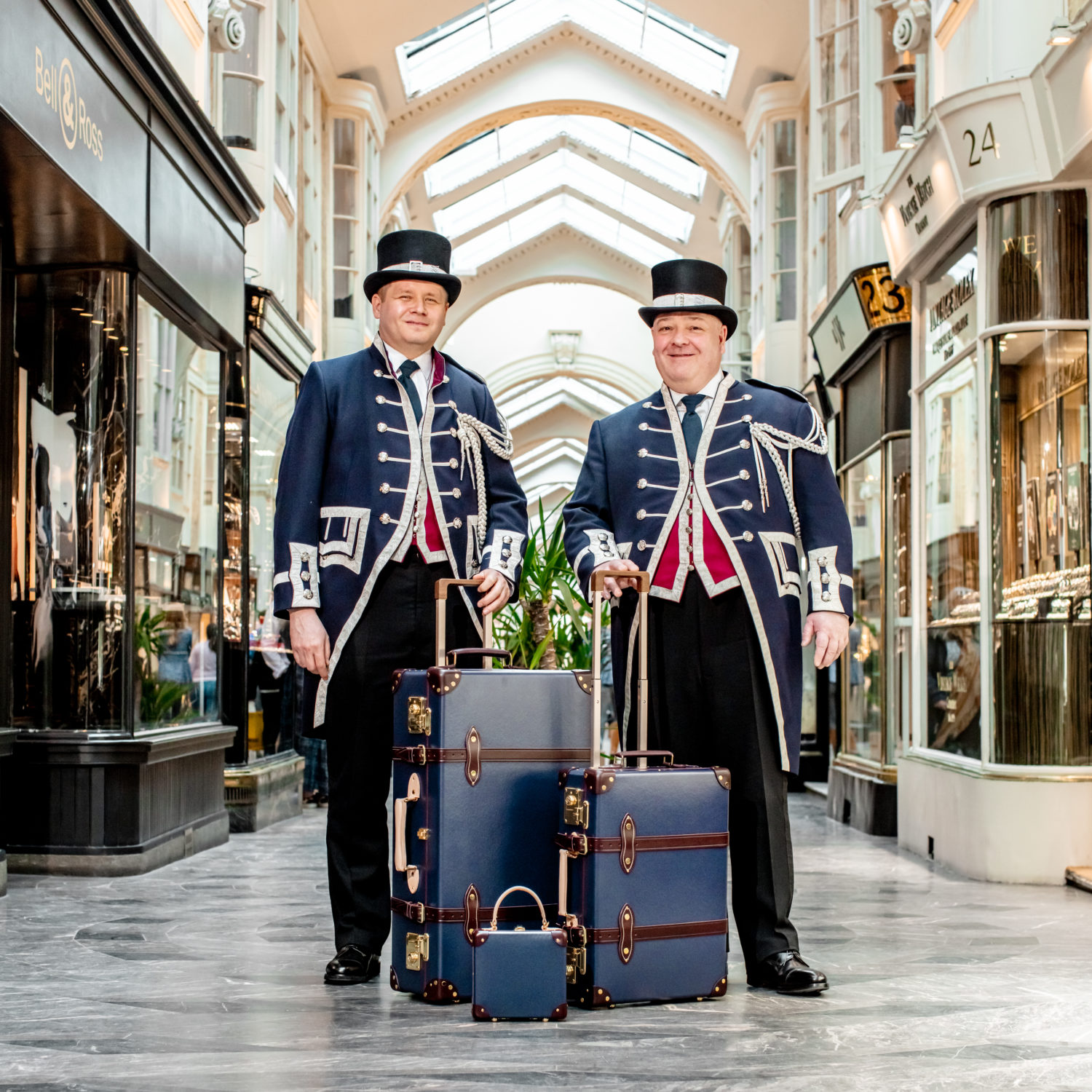 After a challenging year for the retail industry, Burlington Arcade, the historic retail destination in Mayfair, is delighted to welcome shoppers back to the treasured 'jewel of Mayfair' to champion the experiential retail experience that has been missed over the last year.
Burlington Arcade will celebrate reopening its historic Mayfair doors with a bang! The outdoor Arcade will be hosting a drinks evening this May in partnership with Ruinart by LVMH Moët Hennessy, and the award-winning Savile Row Gin – a London dry gin crafted from a blend of 12 botanicals. The event will be held at the Arcade's newly-renovated Globe-Trotter flagship boutique, decked out with a new premium bar and Arcade DJ set by artist Loren Oakley, resident DJ at Blakes Hotel. To heighten celebrations and hone in on the popular lockdown theme of escapism, the event at Burlington Arcade will also champion the launch of Globe-Trotter's new 'Burlington Special Edition' luxury luggage.
Premium luggage in the Globe-Trotter Burlington Special Edition will feature the iconic uniform colours of Burlington Arcade's Beadles – the oldest and smallest private police force in the country. Inspired by the uniform designed by Savile Row tailors Henry Poole, Globe-Trotter has selected a similar colour-way using their Navy vulcanised fibreboard and Cherry and Natural leather trim to pay homage to the iconic establishment. The interior is printed with a co-branded diamond lattice pattern which features the Globe-Trotter 'North Star' logo, together with the distinguished Burlington 'Rosette' motif.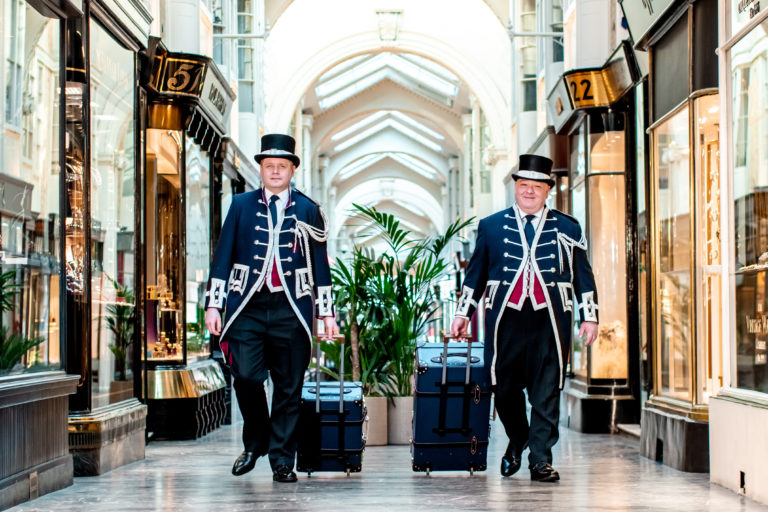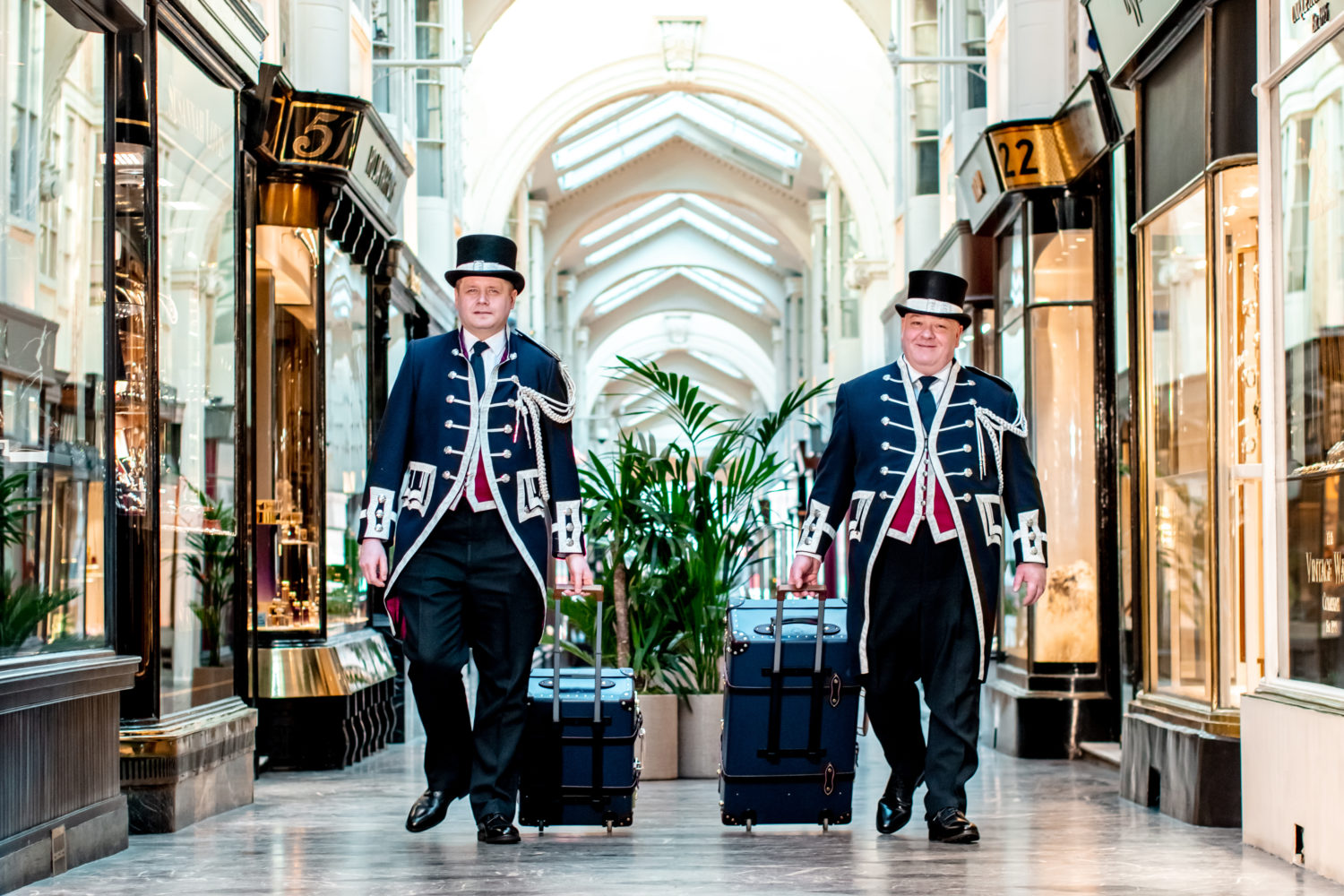 A large leather luggage tag with metallic foil branding in natural leather completes the collection, which will be exclusively available in the Globe-Trotter flagship boutique in Burlington Arcade. Over the years, Globe-Trotter has amassed an enviable client list featuring names ranging from HM Queen Elizabeth II and Daniel Craig, to Eddie Redmayne and Kate Moss.
Consumers can experience a whole day at Burlington Arcade, commencing with Laduree's newly launched breakfast serving delicious croissants at the Arcade entrance. Shoe Shining which is celebrating its 20th anniversary, a visit to Fiona Fleur Studio the florist and Crockett and Jones or Baudoin and Lange for bespoke men's shoes, plus valuations, watch servicing and jewellery polishing, a perfume consultation at Roja Dove, all finished with a 'take home cocktail' from the new bar at Manolo Blaknik's Men's boutique – which is also launching private shopping appointments on request.
Burlington Arcade welcomes four million visitors a year and is renowned as the London destination for Watches, Jewellery and Accessories, but it is also the eclectic, quirky mix of prestigious jewellery, watches, food, swimwear, leather and cashmere that gives Burlington Arcade such a quintessentially British feel.
Recognised as one of London's most iconic landmarks, Burlington Arcade provides a bespoke retail experience within its 202 year old building, home to a portfolio of luxury brands of old and new, combining heritage luxury with cool emerging brands which share a passion for craftsmanship.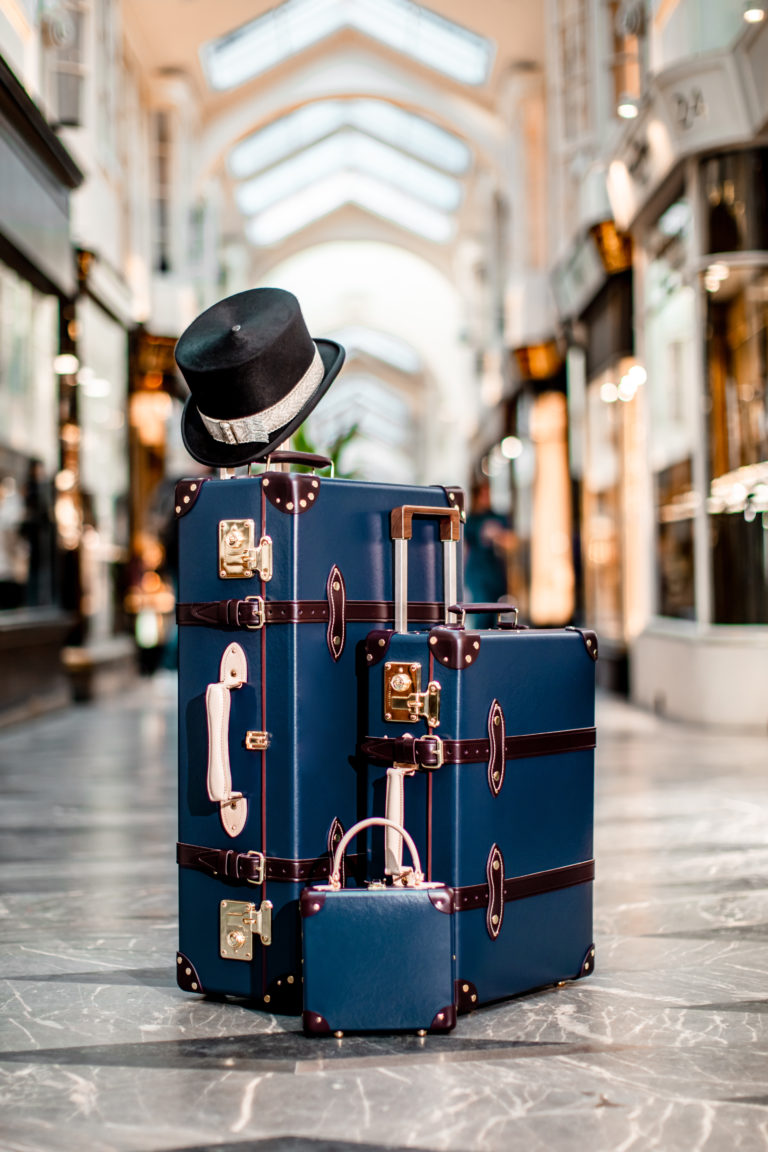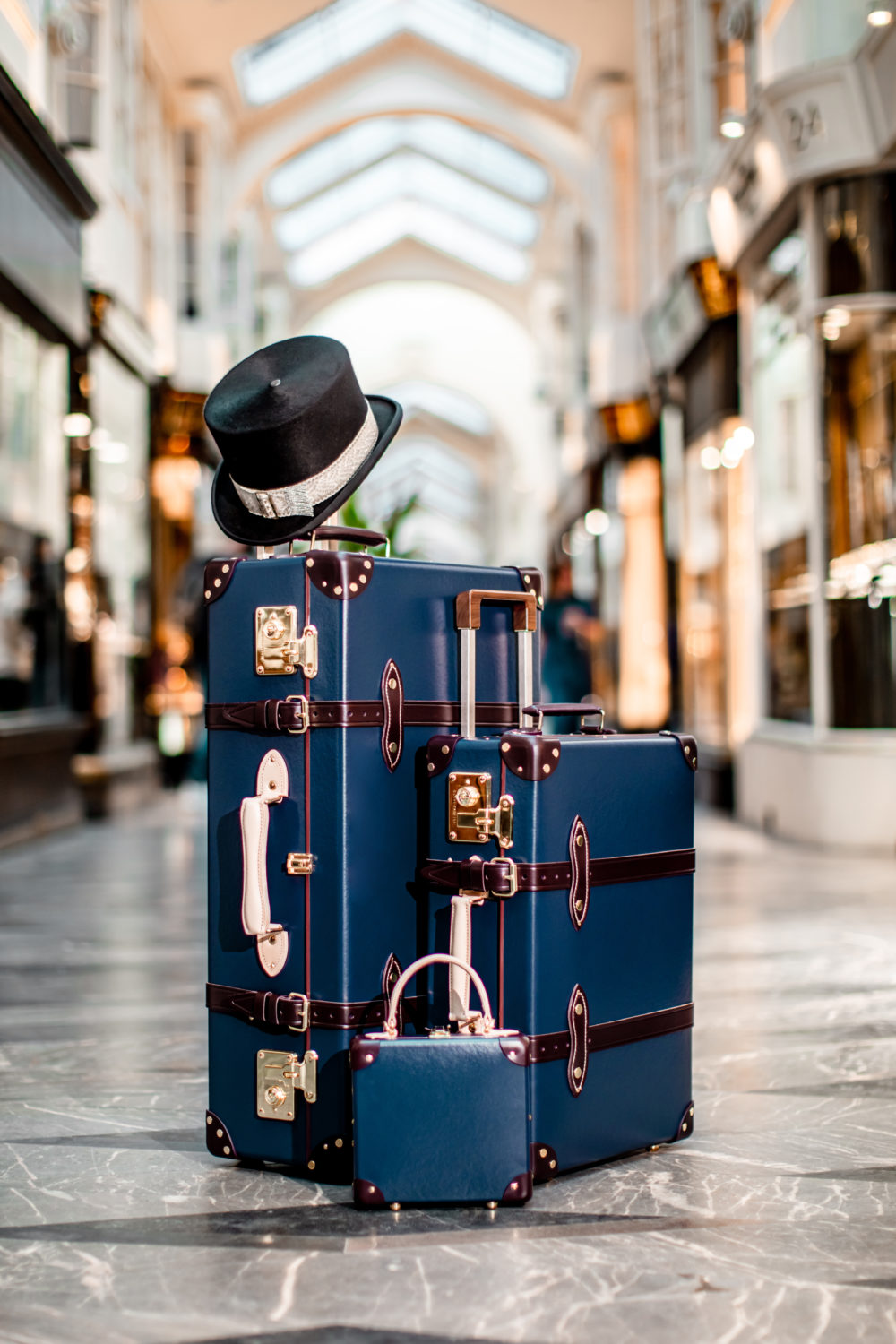 World-renowned retailers include Manolo Blahnik and sought after British bespoke sneaker and apparel specialist Kick Game,  as well as the likes of Lalique, Hancock's, The Vintage Watch Company – which has been trading for 25 years, and has the largest collection of pre-owned Rolex watches in the world with over 2000 references – Roja Parfums, Strathberry and N.Peal, whose cashmere shop has been in the Arcade for 84 years. More recently launched Arcade boutiques include Amrapali Jewels, Mevaris and Diamond Watches London.
The boutiques at Burlington Arcade specialise in exclusive and rare items which sets it apart from the London retail landscape and is also one of the few luxury shopping destinations which is outdoors and dog friendly – ideal for the boom in pet owners. This year, the Arcade is announcing new exciting brand experiences and examples of modern craftsmanship, as well as a range of unique partnerships including DJ figures in the pipeline, for all ages to enjoy in the months to come. 
 51 Piccadilly, London W1J 0QJ