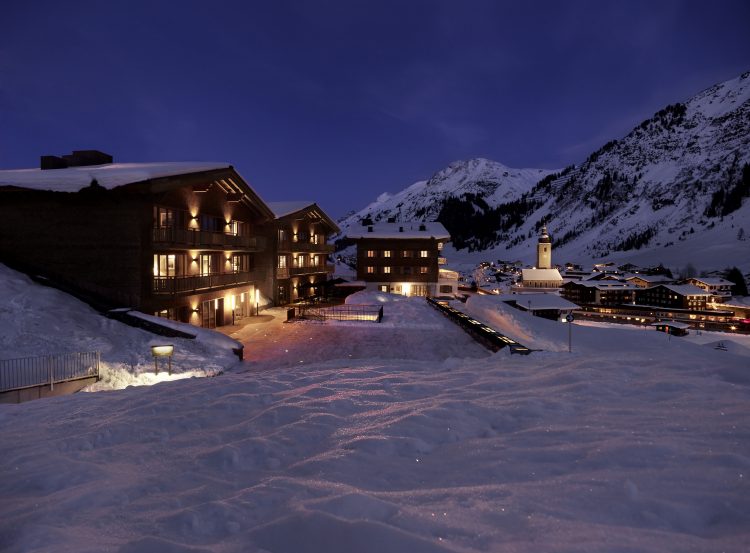 I took my seat by the window and found myself furiously fidgeting before take-off. My anticipation levels were at an all-time high and I just could not wait to get into the sky.
After an hour or so of shuffling around in my seat, the snowy Austrian Alps at last came into view and my heart felt heavy.
When the door of the aircraft finally swung open; I was the first passenger off the plane. I hurriedly tip-toed down the steps and onto the tarmac where I stood for a moment in awe of my surroundings. Powdery white snowy mountains towered above me everywhere I turned. The sun was shining and the glare of the snow was almost blinding. I could not contain my excitement, and so I squealed as I hopped onto the bus that would take me to the main building.
I stood at the carousel waiting for my luggage, and watched endless ski equipment go round and round the conveyor belt. Regular skiers gathered around making small talk with each other as though they were all part of some sort of secret club. The difference between them and I? They knew exactly what Austria had in store for them, and I had no idea.
I'd never skied before, but here I was in one of the most sought-after ski resorts in the world.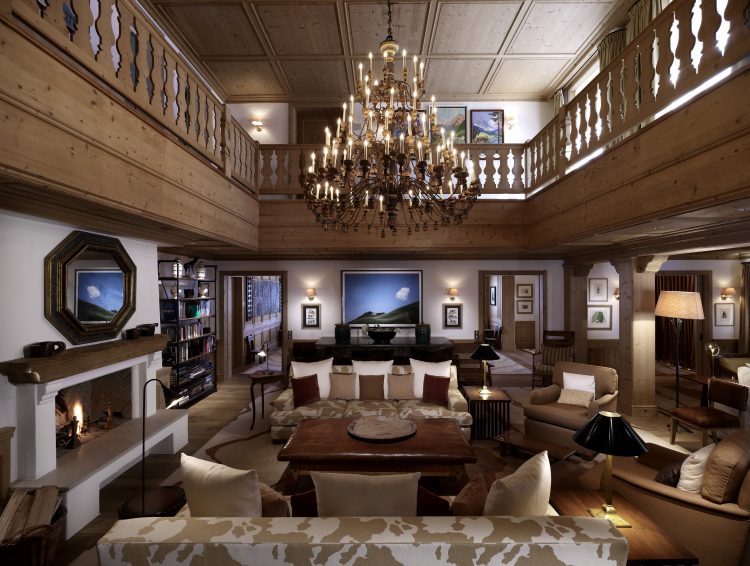 The small ski town of Lech was an hour and thirty-minute drive from the airport; though it didn't feel like it at all. The route was scenic, to say the least. My eyes frantically looked out of the windows; not wanting to miss a single thing. We drove up through the mountains until we finally reached the mountain village of Lech.
At an altitude of almost 1450 metres, Lech is one of the highest ski resorts in Europe, meaning that it has one of the longest winter seasons and some of the most extensive and varied slopes. But best of all? It has lots and lots of snow.
As the car pulled up at the hotel, lots and lots of snow is exactly what welcomed us. I walked warily inside, avoiding slipping on the black ice and hoping that the twenty inch icicles hanging off the roof of the hotel weren't going to fall just as I walked beneath them. Safely inside, I laughed to myself as I realised just how ridiculous I was being. I'd arrived at a luxury ski resort, not hell. Well, I'd hoped.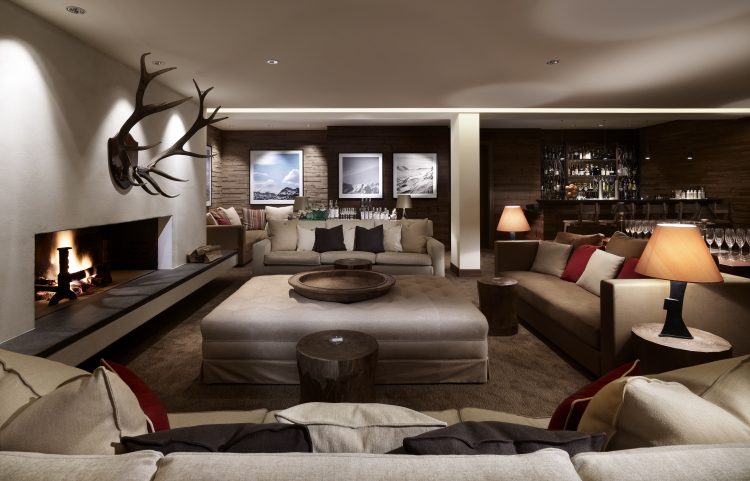 I'd only taken a few steps inside the hotel before the crackling of an open fire caught my attention. I wandered over to the sofas that surrounded it and wrapped myself in one of the hotel's cashmere blankets. No sooner had I laid back into the sofa, a young man wearing a white shirt and waistcoat walked over and handed me a Veuve Clicquot Champagne cocktail, and it was at that moment I was certain that I had arrived in heaven, not hell.
After I had settled into my surroundings, I was eager to go and pick up my ski rentals ready for the days ahead. I wrapped up warm and set off on foot into the mountain village of Lech which was truly like nowhere I'd ever been before. I walked along the quaint river that trickles through the town until I arrived at Strolz, Lech's most exclusive and luxurious ski rental store.
I had two gentleman kitting me out with all the ski equipment I needed; one attending to each foot. I felt like royalty.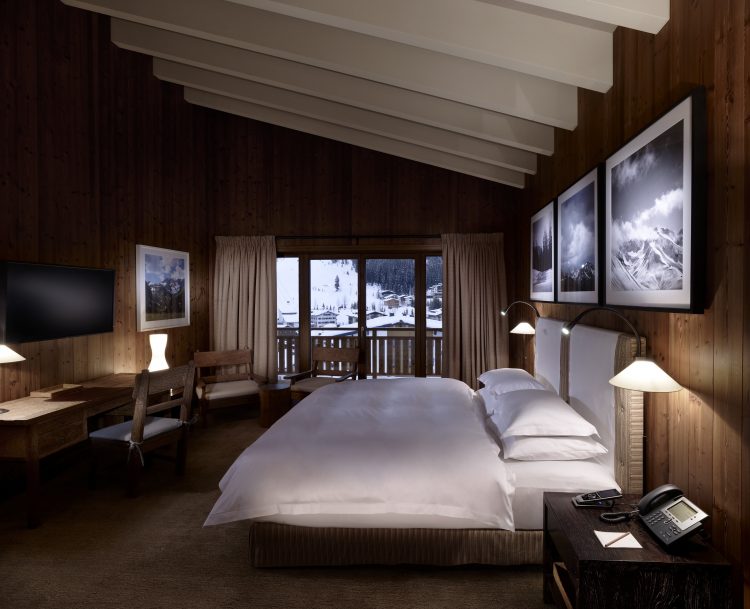 Now all that there was left to do was wait for the skiing adventure to begin and enjoy all that Hotel Aurelio had to offer in the meantime. I spent some time unpacking my luggage and filling up my suite's very own dressing room before getting ready for dinner. I bathed in the state-of-the-art marble bath tub big enough for two and slipped on the softest of slippers and the fluffiest of robes before stepping out onto the balcony – a very brave thing to do in just a robe and slippers at almost minus twenty degrees, I must admit.
There's something about that icy cold air up in the Alps, though. You think it should feel much colder than it does, but it doesn't. At least not for a moment or two, while you stand there in your robe and slippers taking it all in.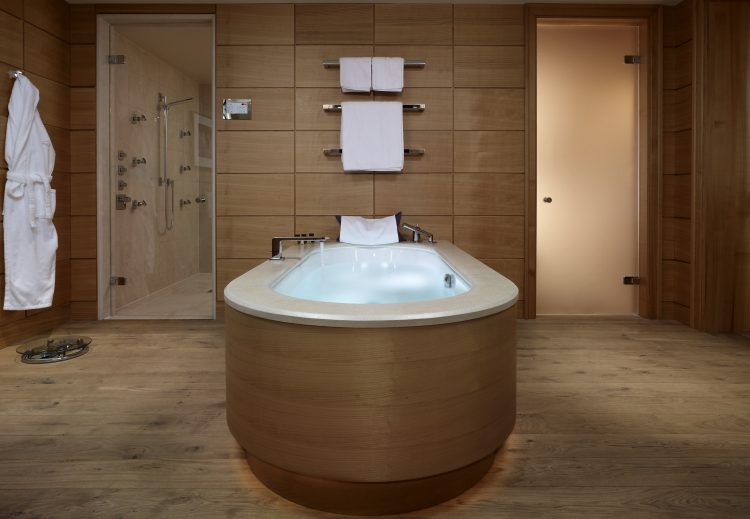 The following morning, I woke feeling refreshed and ready to hit the slopes. There was not a cloud in the sky and I couldn't wait for the sun to rise up higher above the mountains.
I met with my guide who I hoped was going to have the patience of a saint – they were going to need it. They asked what experience I had with skiing, to which I just smiled and raised an eyebrow. After an exchange of smiles, we headed out to the slopes for a day of one-to-one private tuition.
Before midday had even arrived, the sun was shining down on Lech and I was successfully skiing. What more could I have wished for?
Skiing certainly works up an appetite, so I was more than ready for lunch when we arrived at Schneggarei. Ideally located at the bottom of one of Lech's most popular ski slopes, Schneggarei is the go-to lunch spot after a morning of skiing.
The chalet-like restaurant serves both lunch and dinner and turns into a lively bar downstairs during the evenings. With animal skins draped over the furniture and lowly hung lights swinging above the tables; Schneggarei adds a contemporary twist to a traditional Austrian-style restaurant.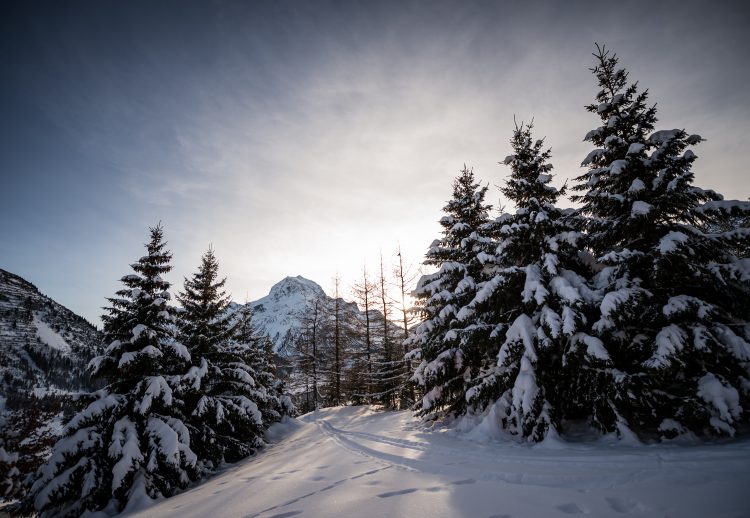 I wanted to choose something traditional for lunch to really get into the swing of ski life, and so I opted for Zwiebelrostbraten. 'What's that?' you ask. It's roast beef, but not as we know it. Tender pieces of beef are cooked in a thick gravy-like sauce with bacon and onions and accompanied by crispy roasted potatoes and the most flavoursome green beans I'd ever tasted. I had no regrets with my decision to try tradition.
It was only right to finish the meal with a traditional Austrian Schnapps before getting back out onto the slopes.
I skied for another hour or so before retiring to the hotel for drinks outside on the terrace. A bright orange Veuve Clicquot pop-up bar currently resides at Hotel Aurelio and it is the perfect pick-me-up after an exhausting (albeit exciting) day of skiing. I wandered over to the outside blanket store and took a pre-warmed blanket out from inside and wrapped it around myself before ordering a traditional hot wine. Admittedly, it's not somewhere you sit for too long before getting cold, but what a place it is to sit for a short while after a day in the mountains.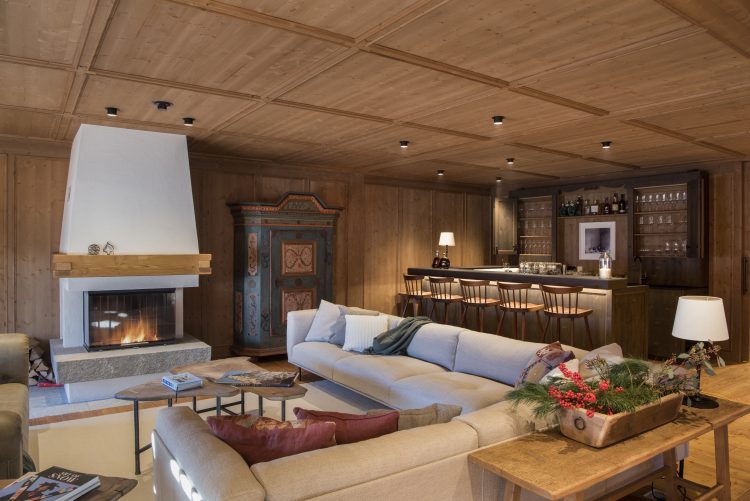 That night, I was chauffer-driven to Chalet Mimi in a Bentley 4×4 for an evening of traditional fondue. The state-of-the-art chalet is situated a little further up the mountains in Oberlech and sleeps up to fourteen people. Exuding traditional alpine style, the ultra luxurious property features six en-suite bedrooms and a spacious dining and living area with an open fireplace. And that isn't all. The chalet is deserving of its ultra luxurious title thanks to its very own cinema, art room, and private library. And let's not forget the heated outdoor hot tub with unparalleled breath-taking views.
When you tire of sipping Champagne in the outdoor hot tub and gazing out at the far-reaching views of Lech and beyond, why not slip back inside and head to the chalet's very own private spa, which includes an indoor pool, sauna, Jacuzzi and massage room?
The chalet is simply incredible, and is best appreciated when dipping bread in endless amounts of melted cheese by the open fire on a cosy night indoors.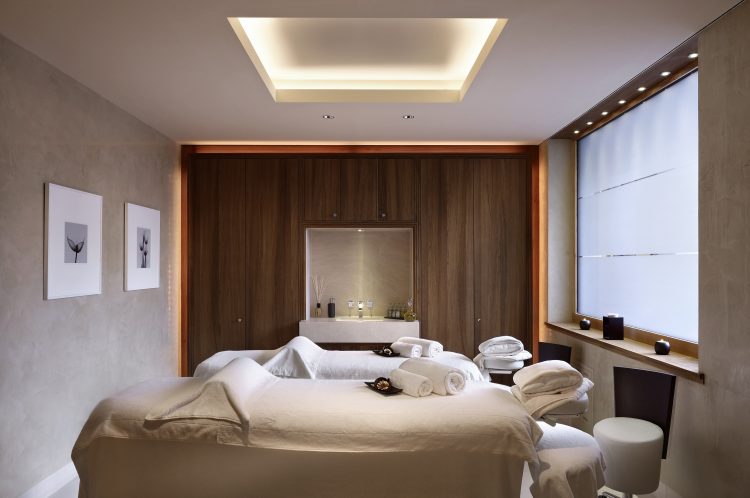 After a very early breakfast the following morning, I made my way down to the hotel spa to soothe my tired aching muscles before another day out on the slopes. I switched and swapped between the Jacuzzi, the steam room, and the sauna, and occasionally took a dip in the ice cold plunge pool. When in Austria, and all that.
I also took full advantage of the Deep Tissue Massage before heading back upstairs to change into my skiwear.
While others skied The White Ring; I stuck to my private one-to-one tuition. The White Ring is considered to be one of the most beautiful and impressive ski runs in the Alps. From the top of the Rüfikopf peak, at an altitude of over 2000 metres, the twenty-two kilometre White Ring runs between jagged boulders before the seemingly infinite majestic mountains appear before you in the distance. Or so I'm told, at least.
Another day; another Chalet.
I arrived at the Arula Chalets for an après ski lunch after another incredible morning of skiing, and I was not prepared for what lay in store for me.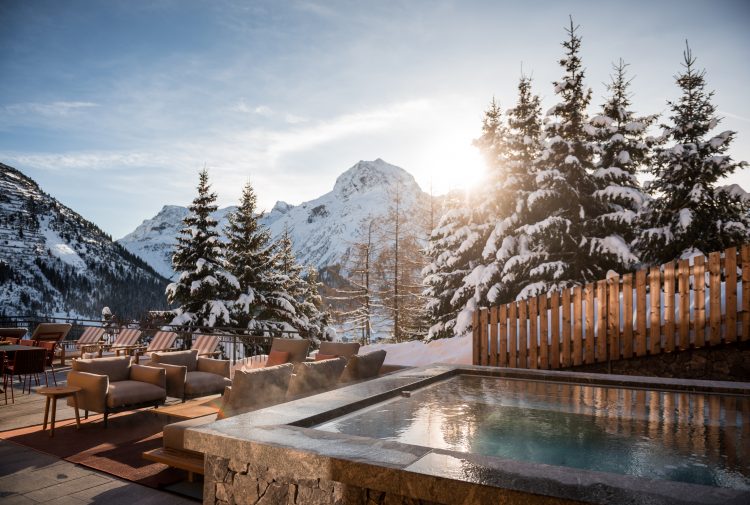 Sleeping twenty-one guests; the first chalet is home to nine bedrooms, as well as a dining and living area that is home to stunning panoramic views of the Alps. You'll also find the chalet has its very own private cinema, party room, wine cellar and ice rink. Oh, and a self-playing piano and a couple of casino tables. The chalet also boasts its very own spa area including a fourteen metre indoor pool, sauna, steam bath, infrared cabin, treatment room, massage room, relaxing area and vital bar.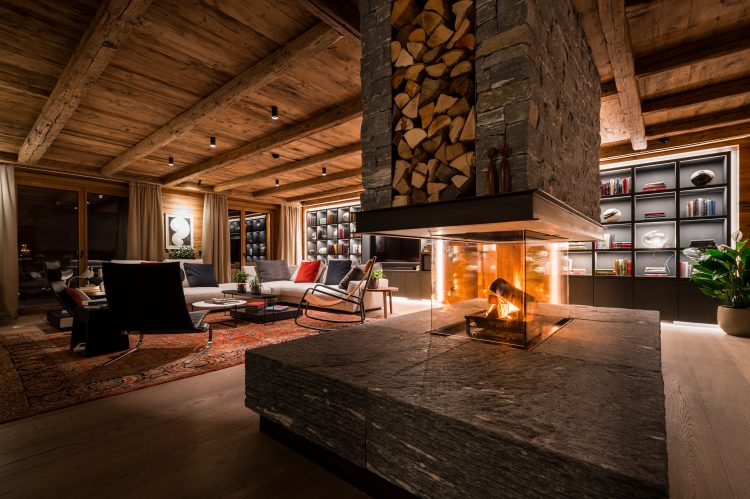 Just next door lies another chalet that sleeps eight guests and has all the same features. The two chalets are separate and entirely independent, but can be interconnected to sleep up to thirty guests. Just imagine.
Not even in your wildest dreams could you conjure up something as incredible as the Arula or Mimi Chalets. Or Hotel Aurelio, for that matter.
@aureliohotel / www.aureliolech.com
Hotel Aurelio
Tannberg 130
A – 6764 Lech am Arlberg / Austria
@chaletmimilech / www.chaletmimi.com
@arulachaletslech / www.arulachalets.com
www.schneggarei.com
www.strolz.at