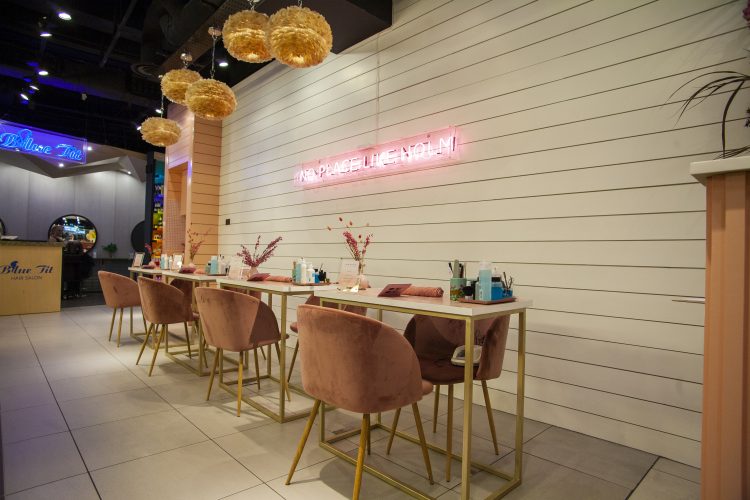 After a record-breaking heatwave over the Easter weekend in the UK, it was time to put away the boots and dig out the summer sandals. The unexpected hot weather might, however, have meant your feet were far from flip-flop ready. We took a trip to House of Lady Muck (HOLM) to get our hands and feet ready for summer.
Next to the braiding bar and tattoo parlour on the basement floor of Topshop Oxford Circus, HOLM is a trendy nail studio that offers a range of manicure and pedicure treatments – from express manis for those in need of a quick 20-minute tidy-up to Shellac gels and intricate nail art.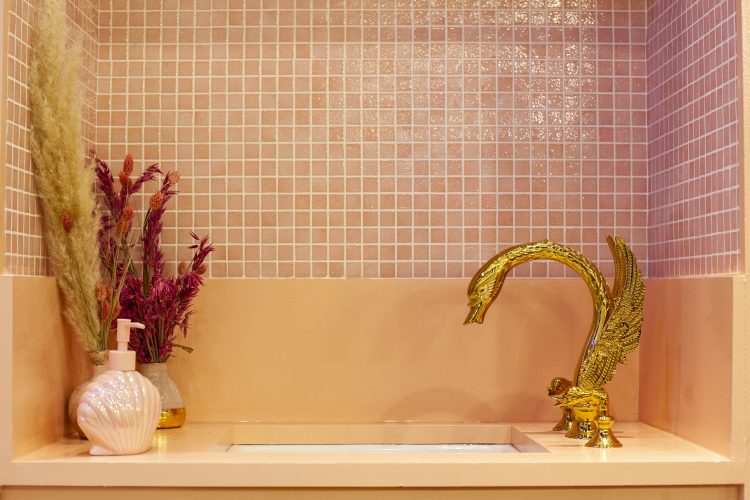 Millennial pink throughout, the chic salon is decked out with comfortable velvet chairs, Persian rugs, sheepskin footstools and flowers on the walls. Above the lined manicure stations is a neon-pink sign that reads "There's no place like HOLM". Completing the Instagram-worthy interiors is a golden goose tap to wash your hands in.
I opt for the 'HOLM Girl', a 50-minute pedicure which begins with my nails being cut and filed into a squared-off shape, followed by a blissful foot soak in a bubbly tub of warm water. My cuticles are then tidied, nails buffed and the hard-skin on my heels removed. A deliciously-scented sea salt exfoliator is applied (cue some more foot-soaking time) to ensure ultimate smoothness before the piste-de-resistance, an indulgent massage – it is so relaxing that I nearly drift off to sleep as all the tensions in my tired feet and legs disappear.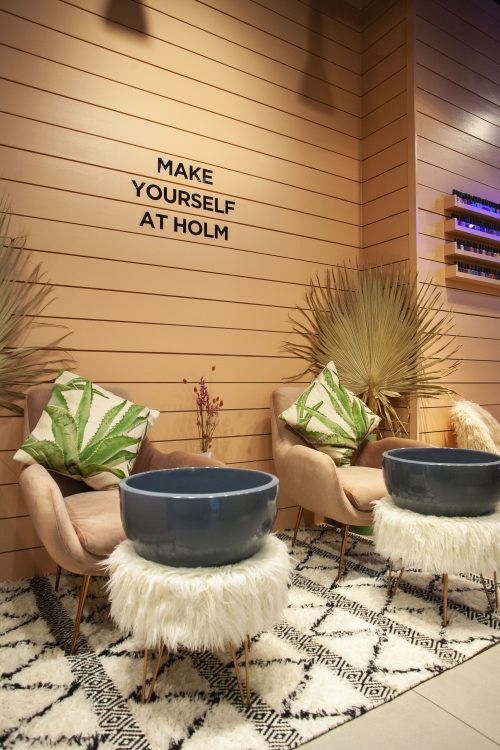 HOLM uses top-quality CND varnishes and there's an extensive choice of colours to pick from – our favourite is the classic 'Wildfire Red', perfect for any occasion. But this time I select 'Shells In the Sand', a bright peachy colour that sings summer and is perfect for my upcoming holiday.
Toes painted, my feet look and feel incredible, and noticeably softer.
After a long day hitting (DELETE "Hitting") shopping on Oxford Street, HOLM is the perfect spot to rest your feet, with a glass of chilled prosecco in hand, and enjoy some pamper time.
@houseofladymuck
214 Oxford Street, Marylebone, London, W1c 1DA
020 7927 7674