Growing around the ascents of mystical Mount Etna are ripe fruits, rare black pigs, verdant pines and ancient grape vines. The active volcano's ash rains down and fertilises the rugged land below, and from it grows superior vegetation, healthy livestock, and the sprawling, ever-expanding estate of Monaci delle Terre Nere.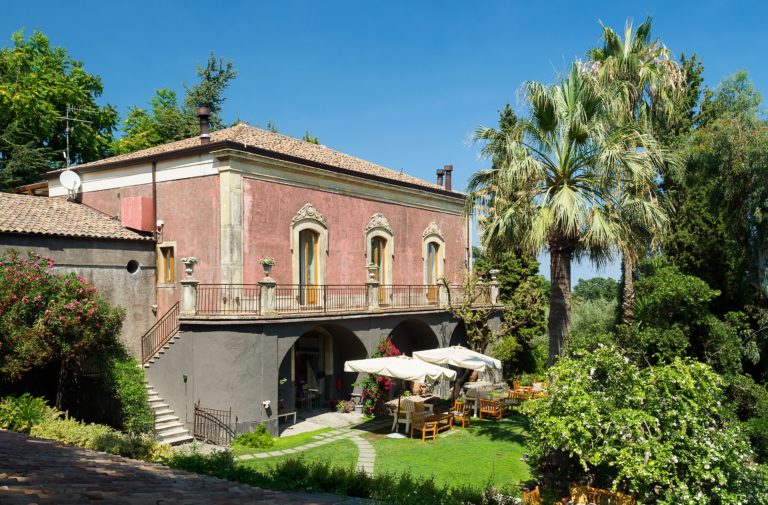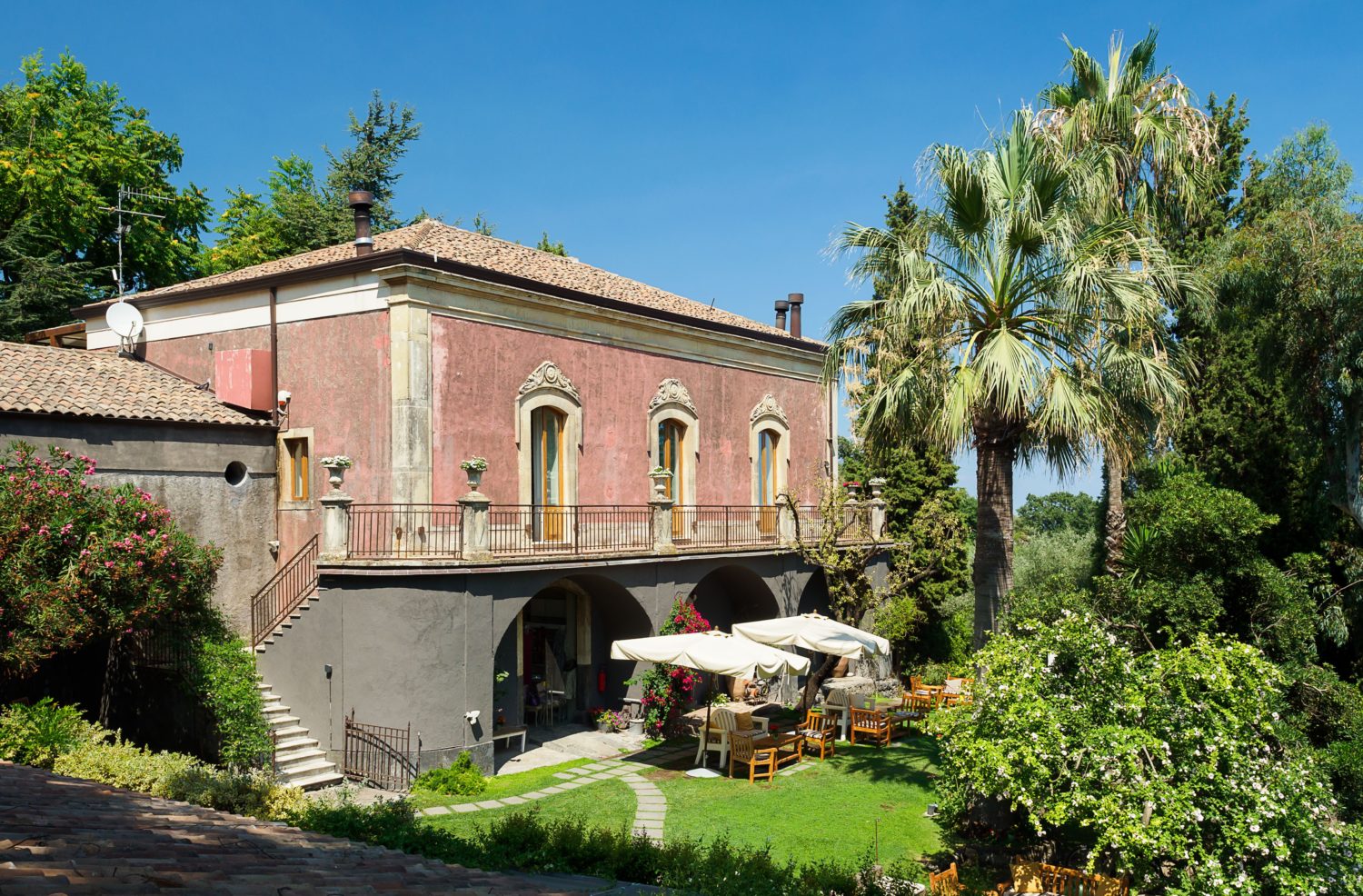 The passion project of owners Federica and Guido Alessandro Coffa, the hotel offers a unique type of vacation for a unique type of clientele; those in search of a soulful stay. The essence created is that of a retreat, not composed of corporate and clinical means, but a true refuge from urban life, into a place totally immersed in nature and successful sustainable living – with a touch of luxury, of course.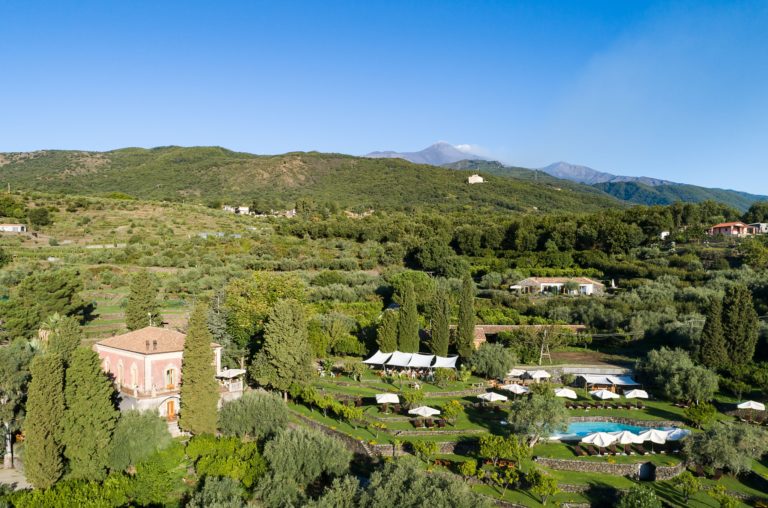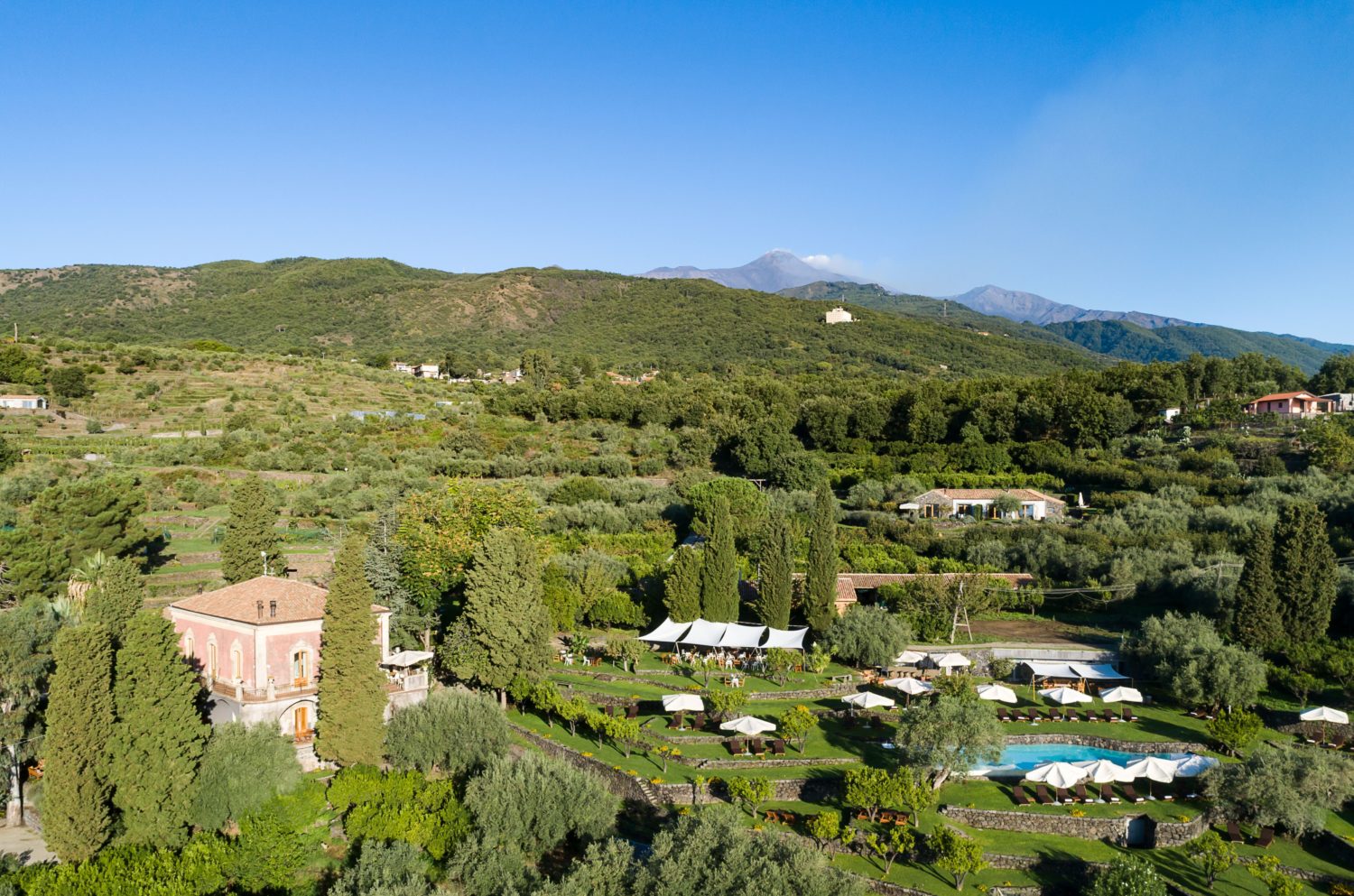 To reach the hotel, just 30 minutes from Catania–Fontanarossa airport, you wind through rugged roads, dotted with aged grand buildings and half-restored churches, all while the mountain looms over you with a growing, watchful presence. Hints of Sicily's world-renowned produce peeks over low stone walls, with vineyards, prickly pear cacti, olive trees and crop fields growing in abundance. All of the nature and history that passes by along the streets of Catania are hints to what will come at Monaci.
Following the journey, through a set of unassuming gates, you enter a protected world that beats with the rhythm of nature. The buildings are restored with integrity. The food is farmed using honest means. The staff treats you like a genuine friend. And you're welcomed into the reception of the historic main house, which is an introduction to the rest of the remarkable estate.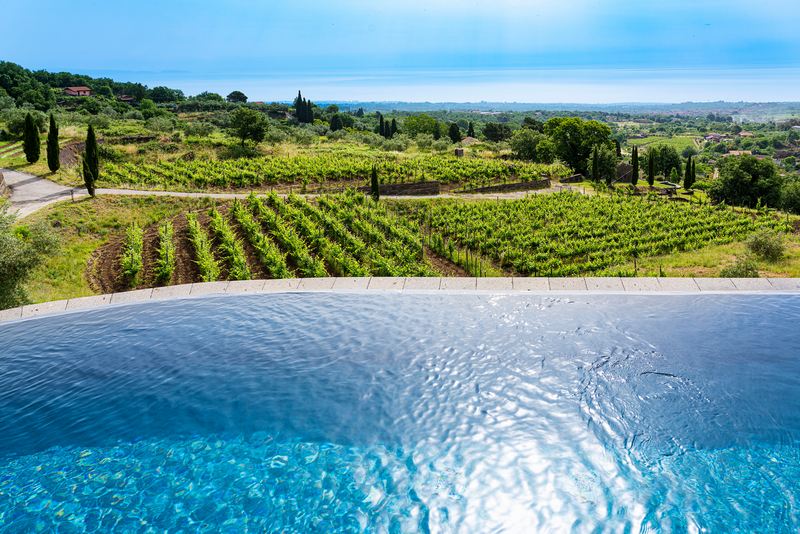 Also within the old mansion is the Convivium bar, decked with a giant chimney and wooden instruments from the building's farming history. By day, the bar is a tranquil, cool space, ideal for an afternoon pick-me-up. By night, the bar becomes a lively and intimate setting for music and congregation, topped off with elaborate and quintessentially Sicilian cocktails, mostly made up of herbs harvested from Monaci's land. A short walk away is also the hotel's fine dining restaurant, Locanda Nerello, which is perched on the balconies of the building, embracing the Italian air. Monaci delle Terre Nere also has an impressive wine cellar underground, made within an old well, accessed via a private dining room suspended on a glass floor.
Next to the main building is a poolside restaurant ideal for lunch, and on the opposite side is where the hearty and authentic breakfast buffet is served every morning, located in a clearing surrounded by pine trees, where once monks would crush grapes. Much of Monaci's nature makes its way onto the plate and glass; herbs from the gardens are used for fresh drinks and tea, and eggs from the chicken coop and fruit from the orchards end up in most of the meals prepared at the hotel.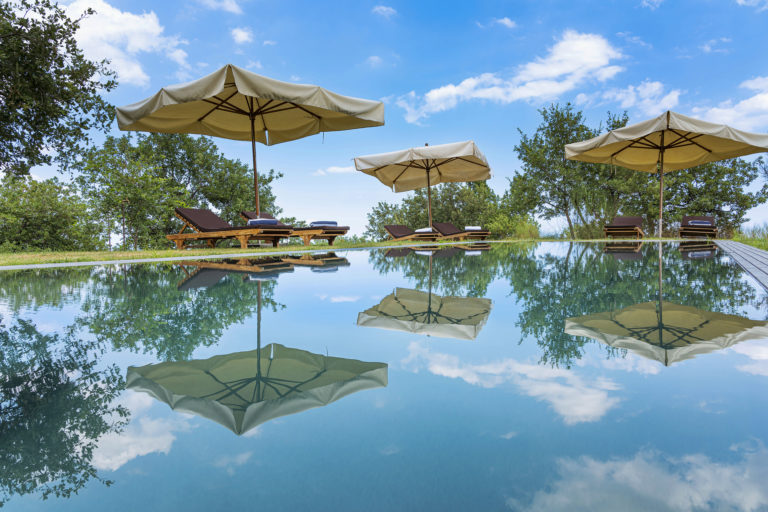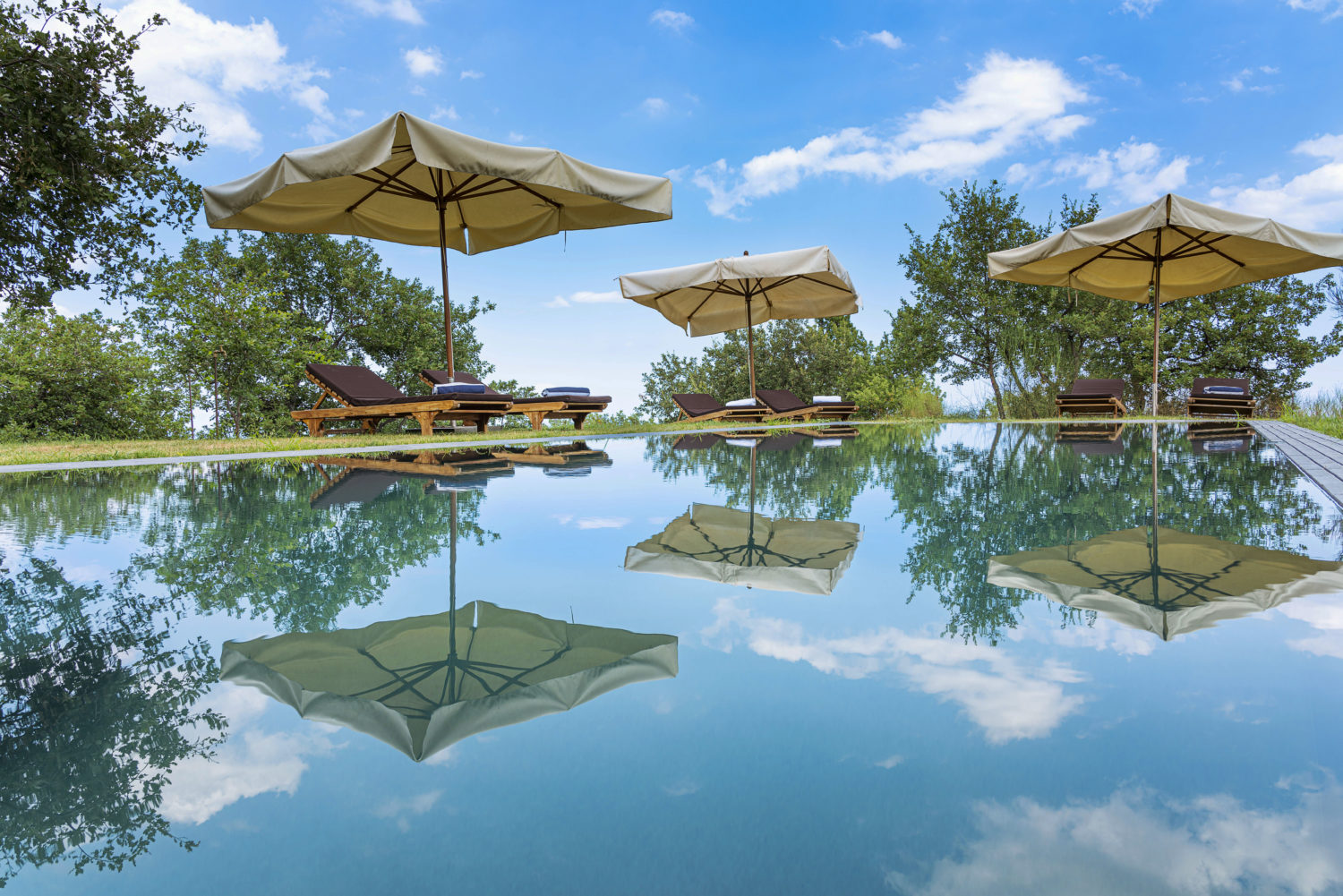 But what's truly special about eating at Monaci delle Terre Nere – beyond the magic of its cuisine – are the picturesque surroundings at every turn. All of the dining settings overlook gardens and vineyards, hillsides and mountains, and ahead in the short distance, the sea.
You can navigate the hotel's 62 acres of unique landscape on foot, or via the free golf cart shuttles provided at reception. For high-flying guests, you could even use a helicopter, landing on the impressive on-site helipad.
In the spirit of things that grow organically, each of the 24 lodgings are totally unique, with no two appearing the same. The ancient horticultural buildings that survived on the land were slowly restored, and newer structures were built tentatively. Most of the lodgings feature their original characteristics, such as ceilings with exposed beams and unplastered stone walls, which add to an authentic charm rarely seen in luxury resorts. The rooms are also equipped with the necessary comforts expected from a hotel of such standards; log fireplaces, large glass doors, contemporary art, Bose speakers, kitchen amenities and stocks of wine, private pools and ocean, garden or mountain views (usually all three).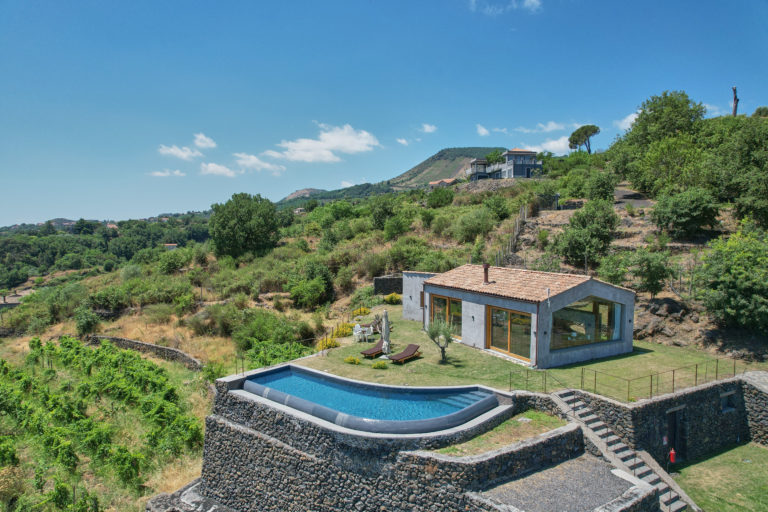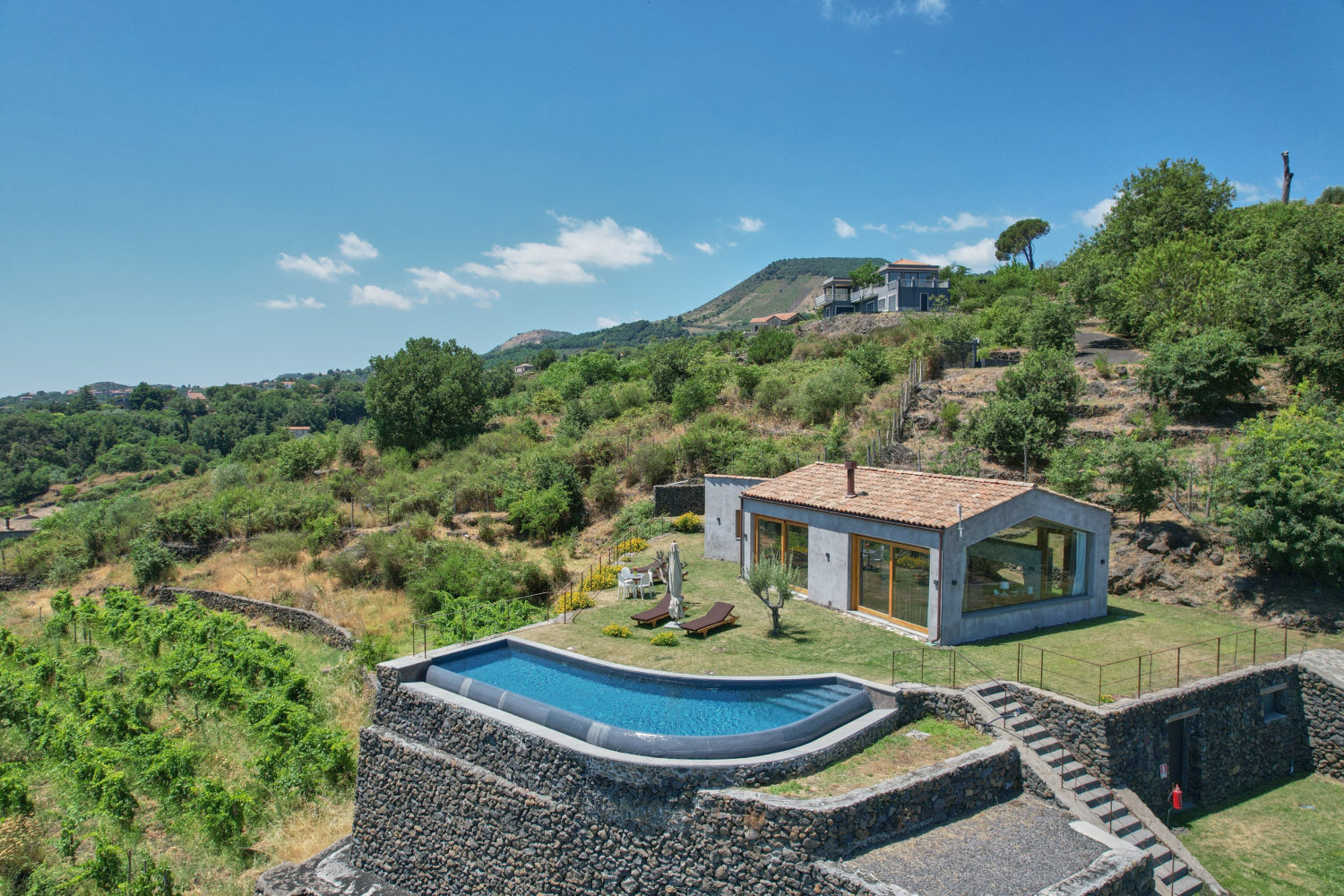 On-site there are plenty of activities to keep you occupied, such as cooking and cocktail making classes, which include harvesting herbs for alchemy and eggs for pasta. There are pockets of lawns that host games for children, and soon to be added is a spa, which makes Monaci a place for all the family.
If you want to venture further afield, you can take a helicopter tour of Mount Etna, or stay closer to the ground with visits to the local towns like Taormina, Siracusa or Catania, or even La Villa del Casale, in Piazza Armerina, which contains one of the most treasured Roman mosaics in the world. Other elemental adventures you could have to complete the trinity of earth, air and Ionian Sea, is a visit to the Alcantara Gorges: a canyon of basalt rocks carved by the Alcantara river. Also nearby, for fans of The White Lotus, is the recognisable San Domenico Palace, filming location for season two of the cult series.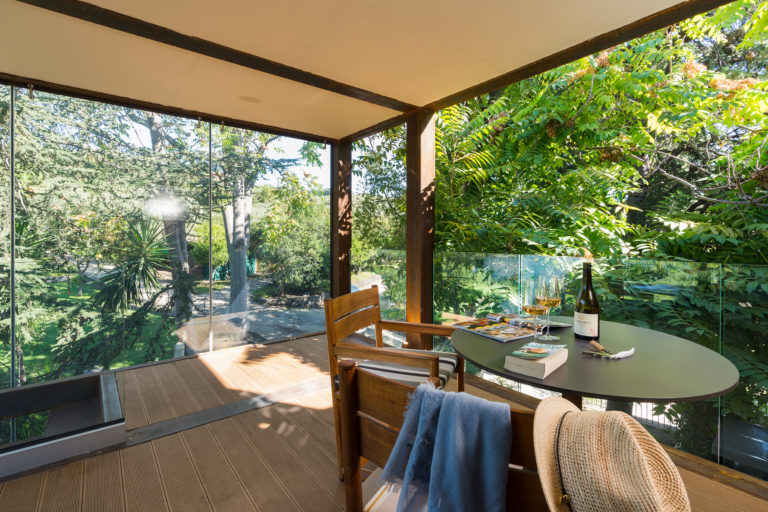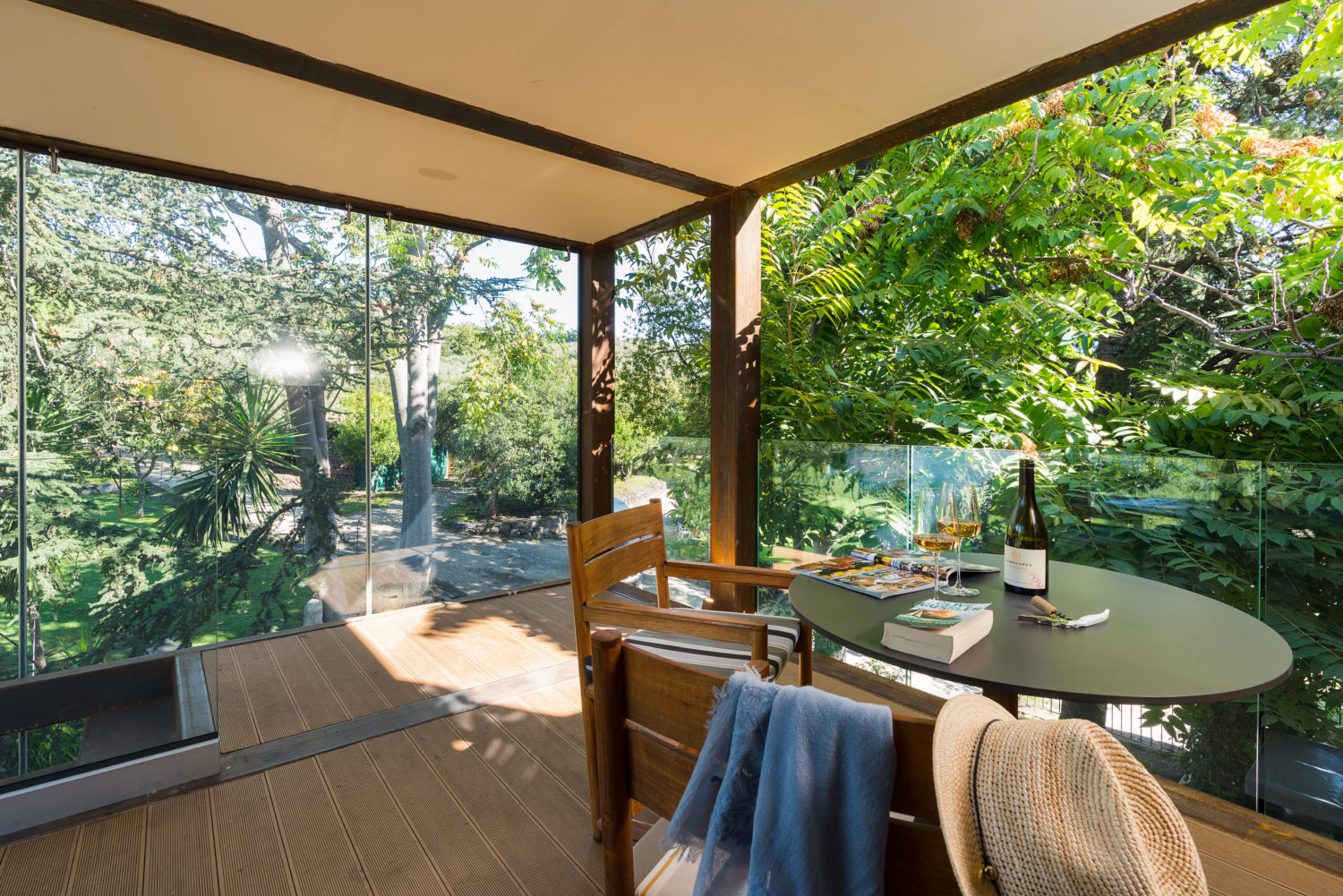 But whatever you do, when you return to your woodland accommodation and settle on the chair, with a wood-burning fire lit and a glass of Etna wine in hand, you'll feel a sense of peace unlike anything you could find elsewhere.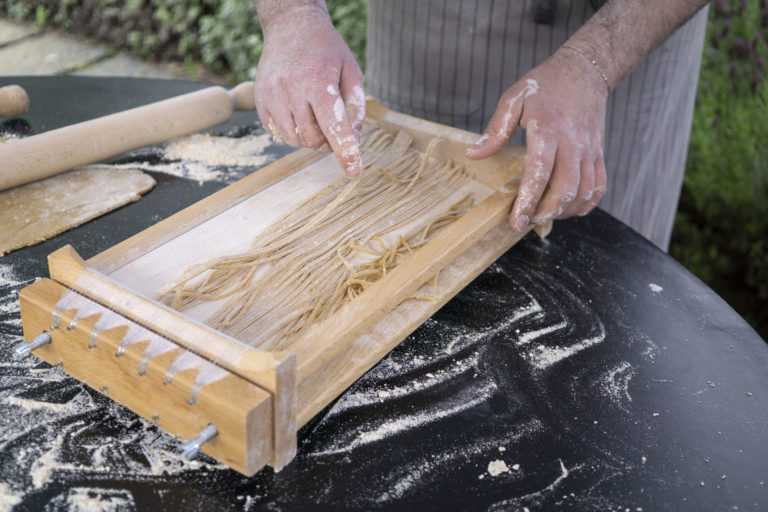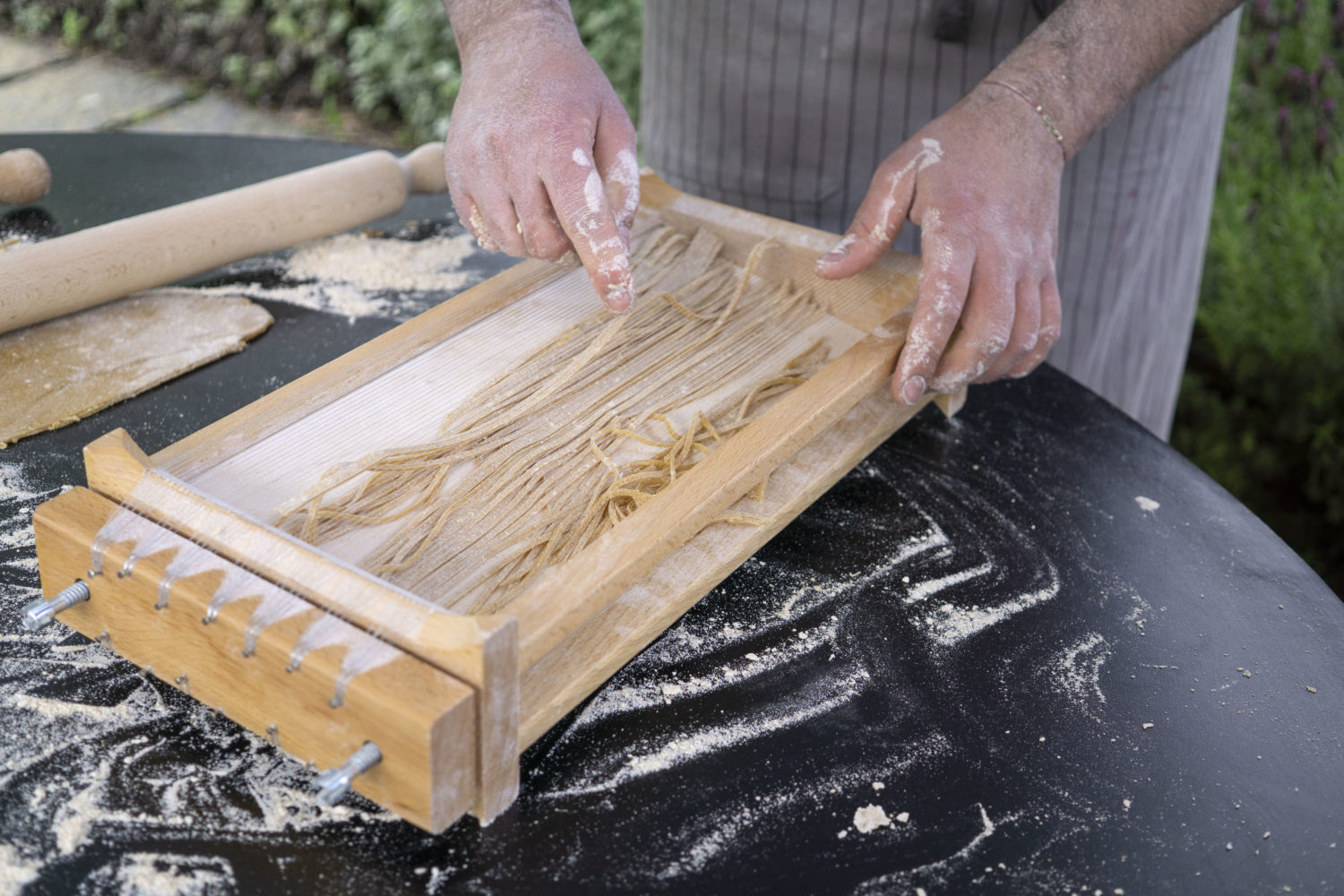 There are legendary murmurings that the volcano is a host for a great energy; one that you can feel as you sleep on the mountainside. Things seem to live and grow differently in the shadow of Mount Etna, and just like the locals, you will also feel drawn to the mountain, which, like a compass, is the guiding force of all who live in Catania. Time at Monaci delle Terre Nere will force you to live and grow differently too: surrounded by untamed nature, nourished by unpolluted produce, and baptised in healing waters. And just like the slow, earthly methods used to nurture the land, you will return to a nurtured self – healed and reconnected and pure.
monacidelleterrenere.icastelli.net
Via Monaci, Via Pietralunga, sn, 95019 Zafferana etnea CT, Italy