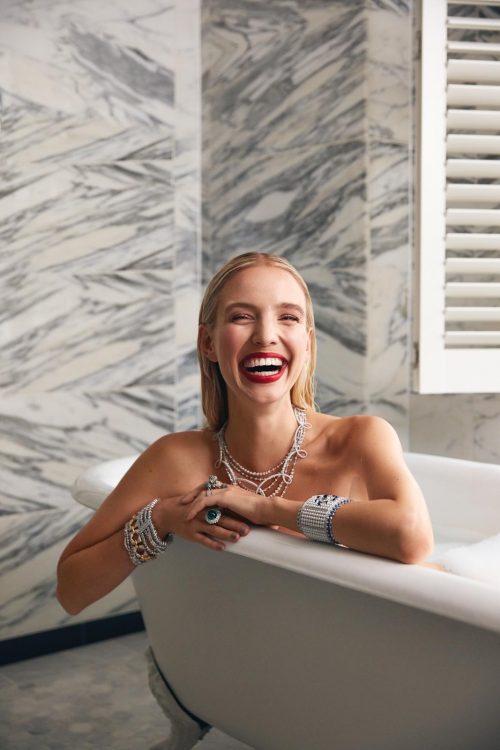 Leonie Hanne is one of the hardest working women in the industry, famed for her stellar work ethic as well as her heart of gold. We caught up with the super influencer and entrepreneur to find out about her life in isolation…
Where do you live? What does isolation look like for you there? How has your local community been affected?
I've been staying home in my Notting Hill apartment. After weeks inside, it seems smaller than before, but I'm grateful to have a balcony so I can enjoy the sunshine!
The surrounding neighbourhood is so quiet compared to how it usually is, the famous bustling market has disappeared and it's really made a difference to the whole atmosphere.
Can you talk us through your daily routine in isolation?
I still try to get up early to maintain a sense of routine. I start every day with a quick at-home workout and a homemade acai bowl, before starting work on emails and content creation. I've been getting really into TikTok lately, it's funny and keeps me feeling energised!
How has your life changed since being in isolation?
Pre-pandemic life for me involved a lot of travel, as most of my work is centred around events and face-to-face opportunities, none of which are possible at the moment.
Fashion weeks and other large global events have been postponed, if not cancelled, so instead I've been focussing on topics that will be the most helpful for my followers during this difficult time, as well as adjusting my overall business strategy.
What has been the biggest lesson you've learnt during this time?
Community is key! The people you surround yourself with are more important than ever, as we are all trying to find ways to stay connected without being physically present.
Speaking to people either on the phone or through social media can shift your mindset and motivation more than ever before.
What are your self-care tips at home?
Do something every day that brings you joy. Even if that means having something small to look forward to, like having your favourite snacks around the house or changing into an outfit that makes you feel good about yourself.
What advice would you give to others that may be struggling?
Even though it's hard and not really human nature, try to take each day as it comes. Thinking about the future in these uncertain times will only lead to more worry and stress, and that won't be beneficial to you.