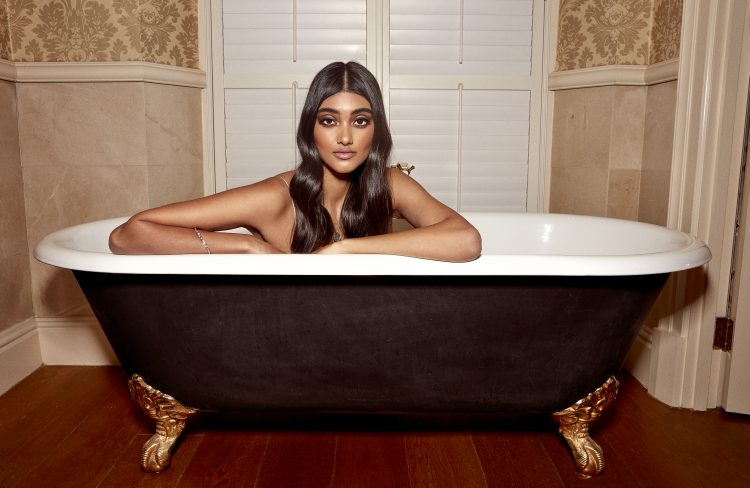 Fashion is an evolutionary industry, from the mannequins of the 1950s to the supermodels of the 1990s and 'Social Media Supermodels' of today. The role of the model has been ever-changing but even out of the richest and most beautiful models, few can say that they have revolutionised the fashion industry.

Supermodel Neelam Gill has done just that, shattering glass ceilings with ease and emerging from the shadows and into the spotlight. She is a pioneer with a career which spans a sea of firsts.

In 1988 Naomi Campbell was the first black model to appear on the cover of French Vogue, Heidi Klum was the first German model to be cast as a Victoria's Secret Angel and Neelam Gill has followed suit in the Supermodel Hall of Fame.

She is the first Indian model to be the face of Abercrombie & Fitch, the first to appear in British Vogue and the first British Indian face of L'Oreal UK. She is also the first Indian model to be shot for a Burberry Beauty campaign.

Throughout her teenage years, Neelam had been firmly focused on education and hadn't foreseen herself becoming a model in her wildest dreams.

At just 14-years-old, Neelam had been hanging out in Birmingham's Bullring in her finest Saturday night outfit of a bandage dress and heels when she was scouted by a modelling agency, over the years she would be scouted multiple times by agencies eager to sign her.

Neelam confessed, "Each time it felt surreal. Becoming a model was never something I even dreamed of. so every time I got scouted I actually thought it was a scam!"

When her peers at school found out, vicious jokes spread around like wildlife, "Oh, Neelam's a model—she's a foot model! Maybe she can be a hand model!"
However, the opinions of others outside of her own family have never phased Neelam. Luckily, her family were always incredibly supportive of her modelling career, providing that she completed her education first. She passed her A-levels with flying colours, achieving a phenomenal 4 A*'s.

She revealed, "They were always supportive because I completed my studies first and they knew I had the option to go to university in the future."

At 18-years-old with the comfort blanket of a stellar education under her belt, Neelam signed with Models 1 which has managed the careers of some of the original supermodels, including, Twiggy, Kate Moss and Naomi Campbell.

Her first ever job was with Burberry and it would turn out to be the making of her but things could have turned out very differently.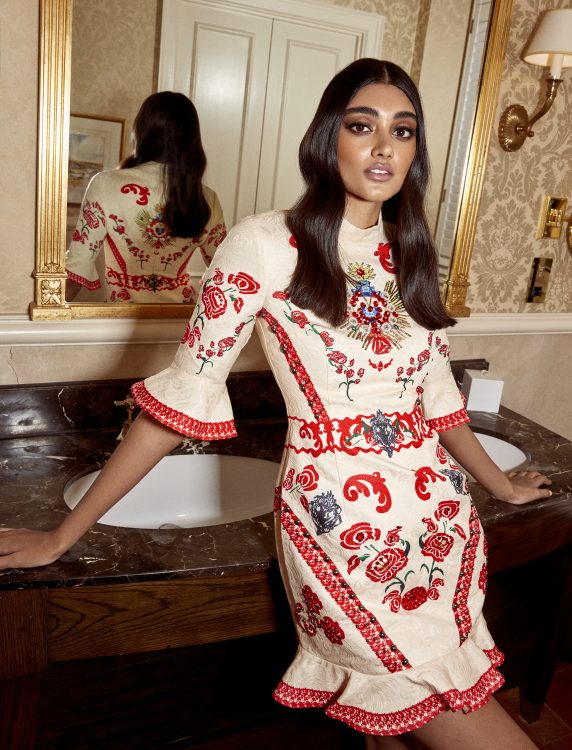 Neelam recalled, "I didn't even bother going to the casting at first because I couldn't afford it and I never thought I would get the job! At that time I was working in Hollister, getting paid £25 a shift and a last minute train ticket to London was completely out of my price range."

Luckily for Neelam, the stars aligned and Burberry called the following week to request another casting. Her agency explained that Burberry is one of the most influential and lucrative jobs in the industry. Neelam scraped the money together and hopped on a train to London for another shot at a job that would later change her life forever.

She said in awe, "I realised the magnitude of the job, but never in my wildest dreams did I think they would end up booking me as a global exclusive for 2 years."
This was back in 2014 when the fashion world was experiencing a British invasion. The likes of Jourdan Dunn, Cara Delevingne and Edie Campbell were dominating the headlines but none of them were creating waves quite like Neelam Gill.

Neelam has had an illustrious career with the Burberry, made her catwalk debut for Spring/Summer 14', followed by a Burberry Prorsum and then a Burberry Beauty campaign, which would become a groundbreaking moment in fashion history.

When the campaign was revealed, Neelam became an overnight sensation.

Neelam recalled, "My agency called me in to tell me the news and I started crying. The first time I saw the campaign was at Heathrow. I had just landed from a modelling job and my face was spread across the whole terminal! I'll never forget that feeling, looking up and seeing myself on such a huge billboard."

The trailblazer set the fashion industry alight, first as a muse for Burberry, representing a fresh version of the 'British It-Girl' for a new generation and later as a protege for Kanye West. She walked for Kanye West's Adidas show in front of some of her musical idols, including; Big Sean and Drake.

She graced the cover of fashion's most influential magazines, from Elle to Wonderland and was flying all over the globe for work. Neelam should've been on top of the world but instead she slipped under a veil of darkness and admitted to struggling with anxiety.

Neelam confessed evocatively, "My life went from 0 to 100. I went from being a normal girl living in Coventry, getting the train to work my shift in Hollister, to traveling the world by myself – and in the process, growing up very quickly."

She added, "I was definitely thrown in the deep end and found it difficult to manage, not only my career, but also the industry and finding genuine friends and people who I could trust."

She continued, "Over time I have realised the importance of taking time for myself. I still think I have a lot of room for improvement because I'm a workaholic, but I recognise when I am feeling overwhelmed."

Neelam confessed that she seeks solace from her tight-knit group of friends, she said, "I also have a small circle of friends who I can rely on. I don't have many people in my life, but the few I have are my lifeline. They keep me grounded and remind me of what's truly important in life, because it's easy to get caught up in this whirlwind."
Not only is Neelam one of the great British supermodels of our generation, she has shattered the glass ceiling and become one of the leading models of Indian heritage in the world.

She said frankly, "It was only a few years ago that I was still living in Coventry. I'm so proud of everything that I have achieved. I hardly get a chance to stop and think, but when I do reflect on my journey it honestly gives me goosebumps…"

She revealed, "My parents got divorced when I was young and I would say that had a big impact on me. It brought me closer to the family I did have and it also taught me to appreciate every moment."

She added, "Growing up, my Mum struggled and we didn't have a lot of money. But, I feel like that happened for a reason because now I am blessed with so much success and I'm able to cherish every little thing. If I didn't go through that then I may have taken certain things for granted. My life has never been easy but I wouldn't change it for the world because it has made me who I am."

Neelam is a chameleon, she is as comfortable in a tracksuit and trainers quoting 2Pac lyrics as she is making the Queen giggle at Buckingham Palace or dressed in a sheer gown, being the only person in the room to make Prince Charles blush at The Prince's Trust reception earlier this year.

It is a rarity that models are more captivating in person but Neelam is exquisite. From first-glance she has all the trademark paint-by-numbers attributes of a supermodel, a willowy frame, impossibly long legs and cheekbones sharper than a shard of glass, however, up close she is truly a sight to behold.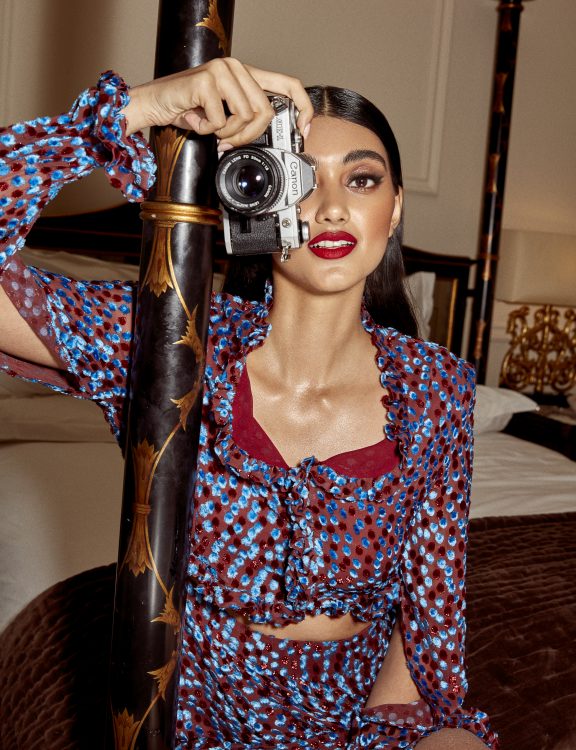 Her hair is as black as midnight and cascades down her back like water, her lips are full and almost heart-shaped. Her features are as a delicate as a china doll, with eyes as dark as onyx that shine with an almost childlike innocence but don't let that fool you.

Neelam is not phased by what society deems to be beautiful, she is a woman who knows her own mind and will not hesitate to tell you so. Throughout her childhood she dealt with colourism in her community and constantly struggled with the notion that being fairer skinned made you more beautiful.

She said, "It means the world to me because I feel proud that I am doing something to help break barriers. Growing up I felt ashamed of my skin colour and wished I was paler, because that's what society deemed to be beautiful, but now I know I can be a good role model for my younger sisters and other people out there."
She continued, "Every single person in this world is beautiful. I know that sounds cheesy but it is so true. True beauty starts from within."

She added, "I'm surrounded by stereotypically beautiful people on a daily basis, and the ones who stand out to me are those who are kind. Looks fade, and everyone's perception of beauty is different, but what truly matters is what's inside."

Following by example, Neelam's kindness shines like a beacon. Take the day of the Arcadia cover shoot for example, in a suite at The Kensington Hotel, Neelam took time to speak to every person on the team one-on-one. She was patient, enthusiastic and although softly spoken, you would be a fool to perceive that as shyness or weakness.

Neelam Gill is a powerhouse, this is particularly prevalent when fighting against racism. With all the talk of inclusion and equal opportunities in the media, it is easy to dismiss the idea that racism is alive is ever.

However, looking at just one of Neelam's Instagram posts, it is with a heavy heart that I had to witness disgraceful racist comments aimed at Neelam and her friends. It was thrilling to see Neelam's zero-tolerance approach, she immediately publicly called out the account.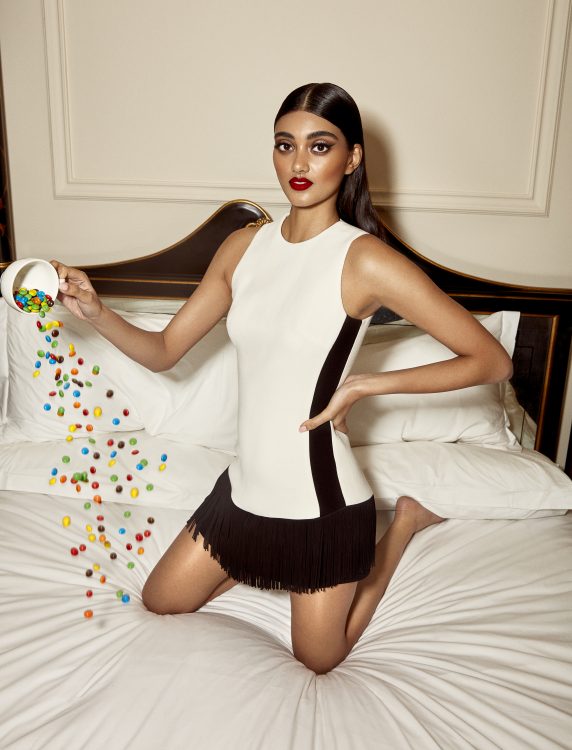 She stated passionately, "I hardly respond to trolls online, but when someone is racist I can't sit back and ignore it. Part of my job is being able to take criticism and I've developed a thick skin from it, but one thing I do not tolerate is racism."

She added, "Everyone is entitled to their own opinion. If you don't think I'm pretty, that's your opinion. But if you are going to be racist towards me, I will stick up for myself and educate you in the process."

Neelam concluded, "Social media has definitely changed the industry. I know a lot of people have mixed opinions on it, but I think it can be used in a positive and productive way. For me, I use it as a tool to spread my work and also use my voice on issues I feel should be highlighted. I do think there needs to be a better vetting system. I love the fact that Instagram has now allowed you to 'block' people from commenting certain keywords on your posts now."

Neelam Gill's stratospheric success may seem like it began overnight but four years on from her iconic Burberry campaign and her star is still rising. Last year, she was announced as a face of the Balmain and L'Oreal collaboration alongside Doutzen Kroes, Lara Stone and Cindy Bruna.

This year, at just 23-years-old, she has gained a coveted place on the prestigious GG2 Power List. The accolade celebrates Asian achievement and it is the second year running that Neelam has made the cut, this year she rose 25 places and is in good company alongside Riz Ahmed, Zayn Malik and Dev Patel.

In 2018, she was invited by Naomi Campbell to open her iconic Fashion for Relief show, starred in L'Oreal's 'Just Can't Get Enough' and the Elvive campaign shot by Rankin.

This Christmas she fronts campaigns for Puma and H&M. Who knows that the new year will bring but one thing we know for sure, this wide-eyed girl from Coventry will continue to rise, like a rose from the concrete.

Neelam is represented by NEXT Model Management worldwide and First Access Entertainment.