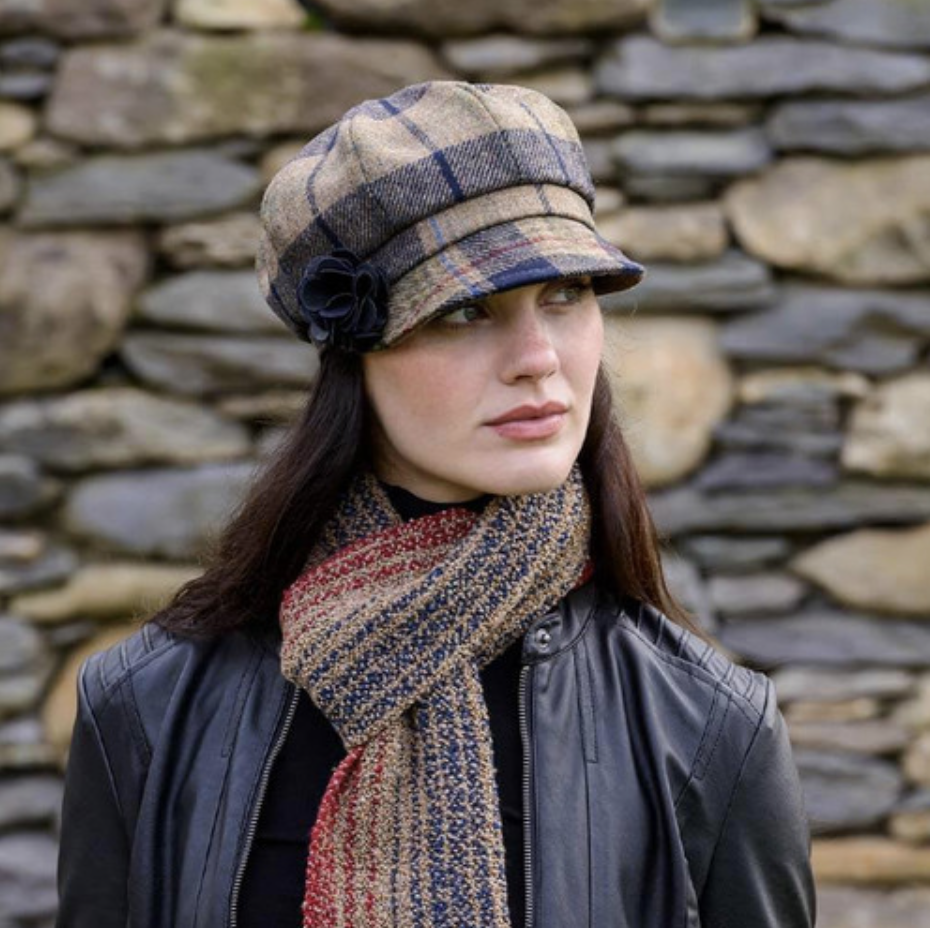 An Irish cap is a type of traditional headwear that was first popularized in the late 19th century and that today is considered to be one of the greatest contributions the Irish have made to the fashion world. What makes it so great is definitely its versatility, since it can be worn with all kinds of outfits, regardless of how casual or formal. Back in the day, Irish hats were exclusively worn by men, but today they're widely appreciated by women as well and in this article, we want to show you how you as a woman can wear your heritage in a fashionable way while staying warm and comfortable.
Casual Fit 
To start off with something basic, use a warm but lightweight base layer, such as a white linen shirt or blouse and then add on some dark trousers to the ensemble. Then, wear your favorite pair of stylish ankle boots and accessorize your look with some classic jewelry pieces like stud earrings or a silver bracelet, and don't forget about the iconic Irish cap in a neutral color that will top off your outfit. This look is perfect for a relaxed day out, as it makes you feel comfortable while not being "too much".
Autumnal Elegance 
Irish caps can be beautifully worn with more feminine garments such as skirts and dresses as well. To create an outfit that would be great for a day in October when you feel like dressing up a bit, start with a lung knit dress in an eye-catching color like burgundy or burnt orange. Add some thick and warm black tights, a pair of knee-length leather boots, and a statement necklace to make the outfit seem more interesting. Finally, a tweed Irish cap from this latest women's collection https://www.shamrockgift.com/womens-clothing/womens-hats-headbands in a colorful plaid design will make the perfect addition to your attire. 
Smart Look 
For the third look, let's switch things up a bit and put together a more professional looking outfit. A crisp white button-up shirt and some tailored trousers will make the base of your outfit and give it a classic touch perfect for a formal setting. Some loafers or classic beige pump heels will be the best choice of shoes, while an oversized blazer will make the look stand out. To complete the outfit, wear a wool Irish cap in a gray or charcoal color with intricate embroidery details that would add texture and visual interest to the ensemble.
Relaxed Chic 
The fourth look is another wonderful outfit for casual days when you don't feel like spending too much time on your attire but still look chic. All you need is a comfortable but stylish top such as a lightweight sweater, an oversized graphic t-shirt, or a cute blouse that you can pair with some dark jeans, white sneakers, and a knit cardigan. A cotton Irish cap will be the best choice for the said outfit, as it will give it an effortless yet modern vibe and make the look feel more cozy and comfortable.
Bright and Bold 
Finally, for the last outfit, let's create something bright, bold, and playful that is sure to make you the star of the show no matter where you wear it. To put together such a look, you need a vivid top, for example a patterned blouse or a vibrant colored sweater that you can wear with a maxi long denim skirt or some slim fit trousers. Then, add some statement shoes and accessories to your outfit, be it a small clutch, platform sneakers, or big hoop earrings. Lastly, finish the look with a brightly colored Irish cap in different shades that match the ones of your garments.