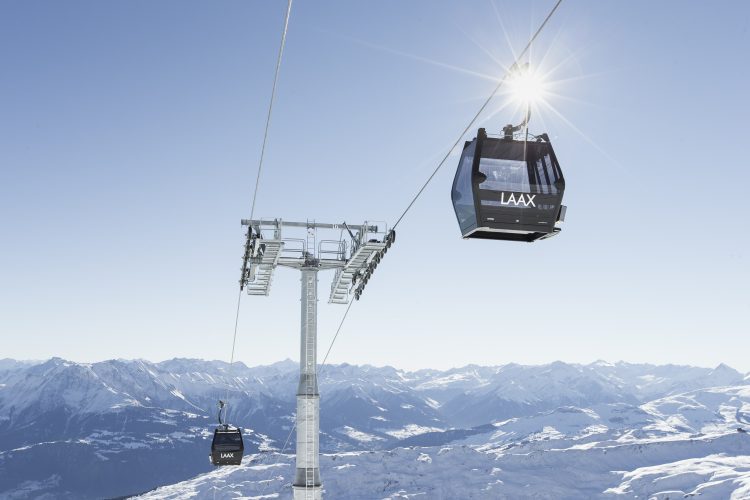 LAAX has made a name for itself with frightening rapidity and this is not the short lived success born of sleek branding or eye catching advertisements. Rather, it is an explosion of popularity which emanates from a truly stellar offering.
The resort of LAAX sits in the East of Switzerland, towards the border with Liechtenstein and is easily accessible via Zurich airport, which itself is a short hop from London (around 1 hour 40 minutes). Swiss International Airlines run extremely frequent flights and are as slick as you'd expect, with special baggage provisions helpfully made for skis and general slope accoutrements.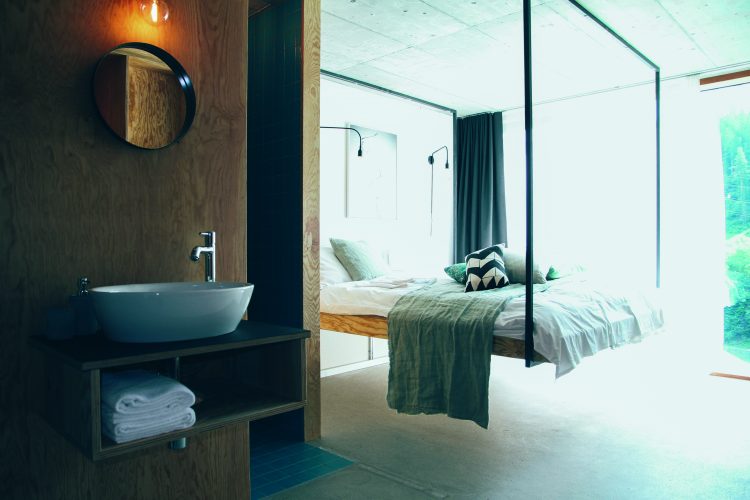 The resort itself has positioned itself very strategically as being somewhere which is about more than just shredding powder, getting blasted and listening to ceaseless schlager music whilst brandishing your sixth stein like a medieval weapon. The resort is a beautifully branded, accessible hipster haven, but manages to be family friendly at the same time. The origin of these 'on trend' hipster roots come from LAAX's evident strength in the snowboarding sphere.
I was reliably informed that sometimes skiing aficionados can be a little snobby about snowboarders, whereas LAAX went the other direction and made the resort more than 'boarder' friendly and welcomes this community with open arms. Another of LAAX's proudest boasts is its free styling, and free riding – which also neatly fits in with the pro boarder aesthetic. I pretended I knew what these terms meant whilst asking subtle, Poirot-esque questions to deduce the answer without looking like a novice who's totally out of his depth, which is very much the reality.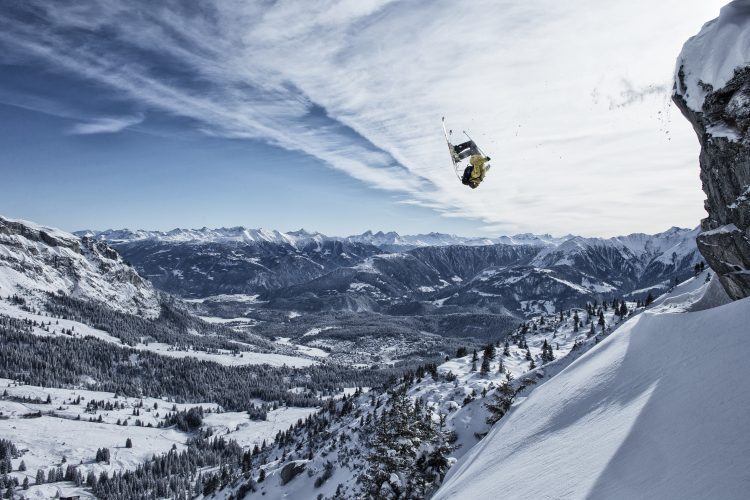 I eventually managed to piece together that free styling is the technical art of using boxes, half pipes and a general assortment of man-made objects to demonstrate gravity defying tricks, flips, spins and jumps and sometimes all of the above at once. In fact, LAAX is home to the world's largest half pipe which looked utterly titanic and unconquerable to my amateur eyes. Free riding is another prevailing feature of LAAX, yet another impressive art of off piste skiing combined with equally impressive tricks.

Nestled right in the heart of the action is the on message 'Riders Hotel'. I have quite a few young, energetic Swiss friends all of whom registered great excitement when I told them that I would be visiting LAAX – it is quite clearly 'a happening' place.
This image that Riders has created for itself has been curated with the utmost care by offering a place to stay and a service which is simultaneously very trendy but also chic, sleek and aesthetically pleasing. Bare brick walls, exposed filament lighting and bare wooden floors which are covered by well worn Kilim rugs gives the impression of a Millennial's home from home.
However, don't be fooled, it might be a haven of well-serviced tranquillity during the day, but come the evening the impressively stocked hotel bar is alive with the cheery buzz of ruddy-faced snow sports enthusiasts who are fresh off the drop dead gorgeous slopes of the Swiss alps. The thudding of ice-caked snow boots on wooden floorboards and thick, terracotta coloured rugs is drowned out by gentle House music. The merriment reaches its climax when live music begins and the raised area in the lounge, which was previously a snug view point by a floor-to-ceiling window neatly circled by armchairs, is transformed into a mini-stage.

The daily skiing foray is delightfully easy from Riders as the hotel is a moment's walk from all the ski hire stores right by the gondola at the base of the mountain. Lessons with top notch instructors can be easily arranged via the hotel, my own instructor Jordan Schorno deserves special commendation based on his endless patience with my ceaseless incompetence.
Highly competitive rates also be arranged for larger groups, a handy offering if you're part of a gang whose nascent interest in learning to ski is just starting to blossom. For those who are along for the ride, but not looking to hurl themselves down the frosty slopes there is the 'Galaaxy' mountain station which offers a splendid cafe, workstation and the most breathtaking 360 view which I have ever have the privilege to see.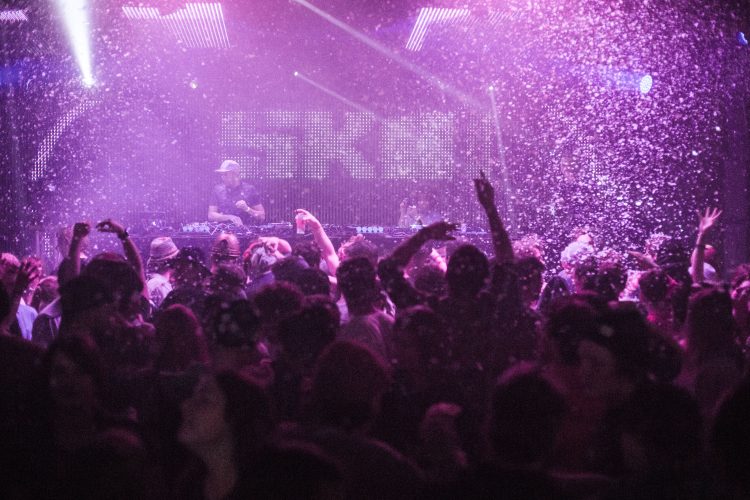 Come Saturday night the hotel's own club which conjoins the building welcomes globally renowned djs and the glitterati of the LAAX scene. The club gives London's own hipster brainchild, Fabric, a run for its money though with the added benefit of attendees being able to step out into the crisp night air of the Swiss Alps which aids an immediate return to sobriety.

Hotel rooms at Riders are stripped back and minimalistic, but effortlessly cool with a neutral colour palette which is brightened by bold patterned scatter cushions. A pale light pours into every room as sun reflects off the snowy drifts surrounding the hotel and tactically placed pot plants give an organic feeling. It feels somewhere between a cool Brooklyn apartment and a wayward photographer's studio. There are four room options at Riders, a double (which can be easily split into a twin), a King where the bed is suspended from the ceiling but wrought iron posts at the far corners of the bed, A Riders Four with bunks for those piste hungry larger groups and finally a handful of Studios with their own kitchens and well considered little living spaces.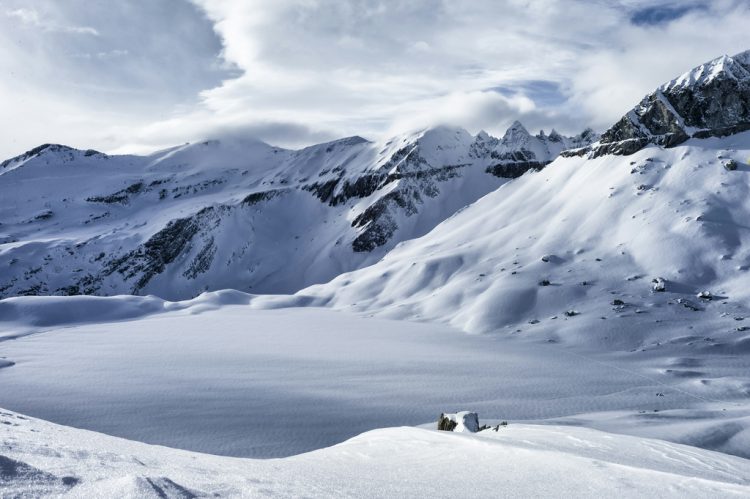 The hotel also boasts a new yoga studio with regular classes, a gym and a waxing room (NB not, as I had thought, a salon for a quick beautician session but rather the more practical area where boards and skis can be treated before a day of rigorous usage). Riders serves a sumptuous breakfast with piles of fresh fruit, omelettes and of course the obligatory full English options for visitors like me who viewed the healthy options with a degree of trepidation. By night the restaurant evolves into a vegetarian, fine dining experience with a small but extremely well considered menu offering healthy and wholesome options such as a nourishing Jerusalem artichoke soup and an irresistible mountain cheese gnocchi.

LAAX, Riders and all of the ancillary services is a welcoming and easily accessible environment even just for a weekend trip. Its strength is in is marvellous attention to detail given that it is a place where convenience, efficiency and accessibility means it is equally good for a family of avid skiers as it is a bolt-on pal looking to get a bit of work done during the day and enjoy a few tipples by night. The views are sublime and the effort which has gone into creating something cosy and perpetually enjoyable is admirable.