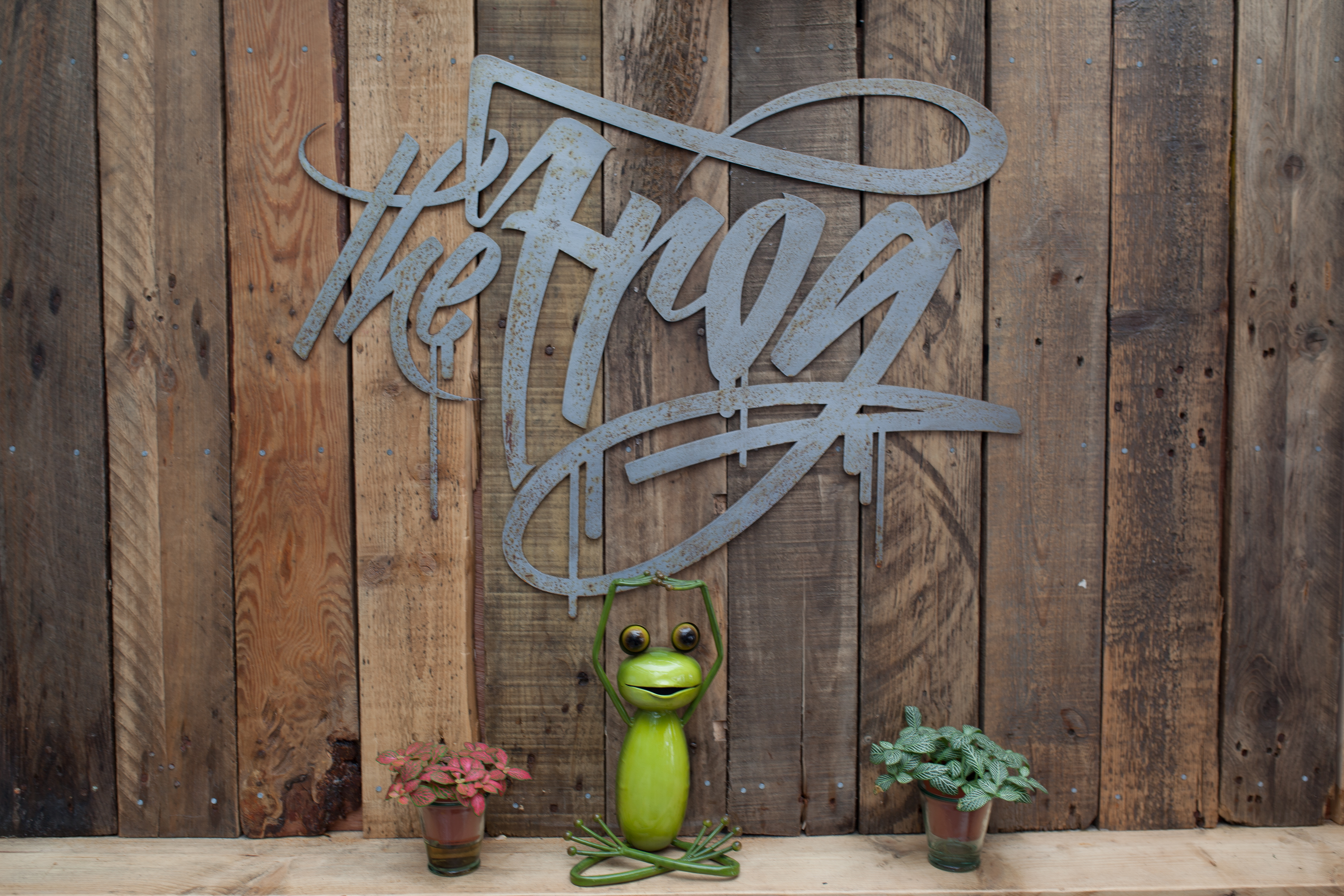 The last few months have been remarkable for Adam Handling. In June his Shoreditch restaurant, The Frog E1, celebrated its first anniversary, September saw him launch his second  – and now flagship venue – The Frog in Covent Garden and just a few weeks later, the tireless hard work at his original venue gained the recognition it has been worthy of since the day its doors first opened in 2016. To the absolute delight of everyone involved, The Food & Travel Reader Awards not only crowned The Frog E1 by Adam Handling 'Best London Restaurant of the Year', but also saw the venue accoladed with 'Best Overall Restaurant of the Year'.
For the 29-year-old Scottish Chef, this was a huge achievement. He said: "Words can't describe how proud we are to have been voted not just the best restaurant in London but the best restaurant overall. The nominees in our category are all outstanding restaurants and to just be nominated alongside them was an honour – to win is just out of this world. I'd like to thank all of our wonderful guests for taking the time to vote for us, and my incredible team who have been working so hard over the past 15 months to make sure the first restaurant was a success."
Imagine what he felt, then, when his labour of love was awarded 3 AA Rosettes just weeks later. Naturally, we simply had to experience this uncompromising level of culinary excellence for ourselves…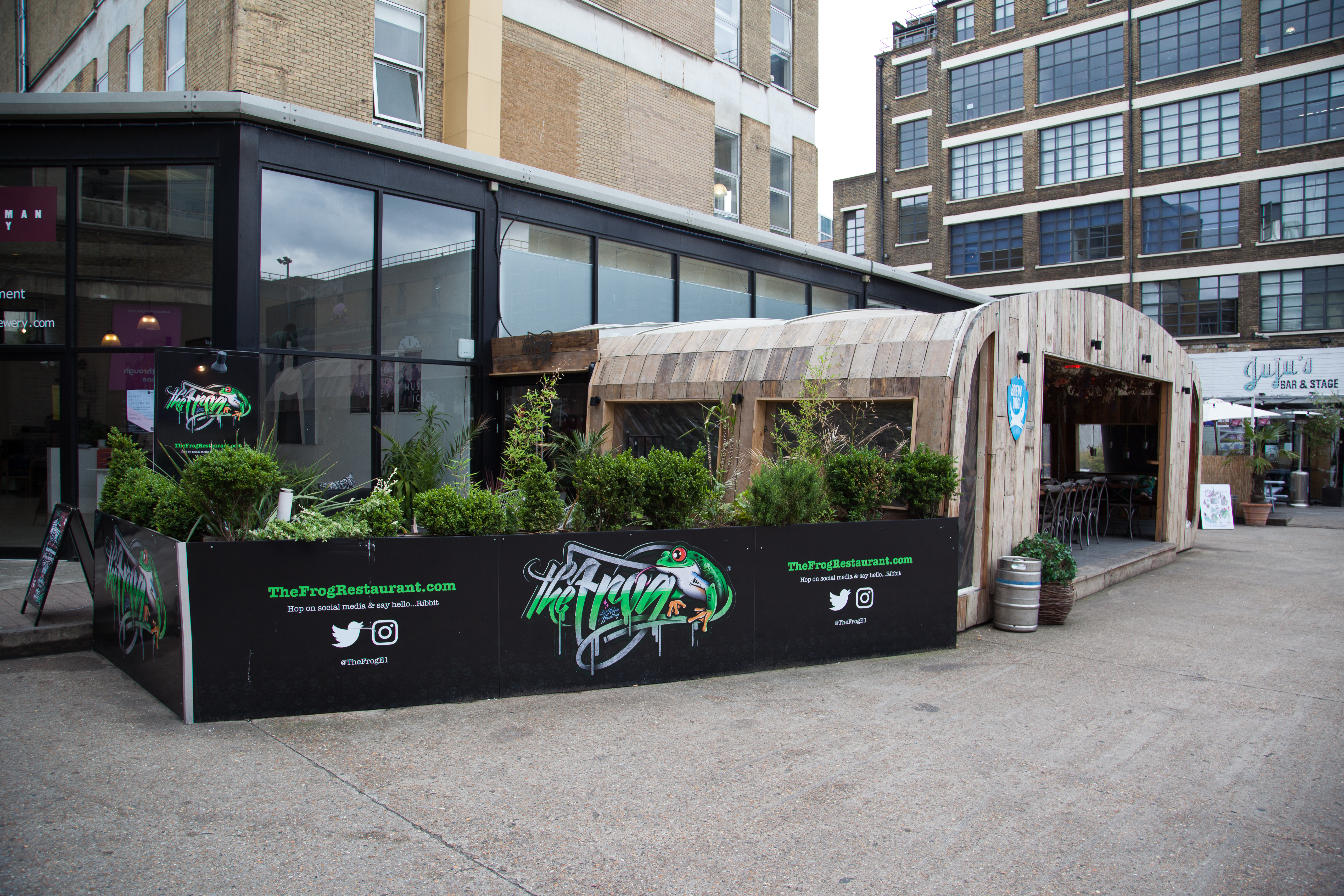 Nestled at the edge of Ely's Yard adjacent to the Old Truman Brewery, with graffiti-style 'The Frog' artwork at it's entrance, the former Masterchef finalist's restaurant provides a relaxed setting for the most indulgent of experiences. Its external conservatory style area in decorated with dried lavender, roses and wheat woven into its ceiling, with swing-seat benches accommodating diners at the edges and minimalist tables throughout the rest of the part indoor, part al-fresco space. The same 'The Frog' graffiti artwork is evident all around, from the exterior walls to the hand-written drinks list on the large blackboards behind the bar, all the way through the open kitchen when Adam and his team have tagged their names onto the walls at its entrance. This is typical of Handling's approach: He firmly believes that the job should be something fun; something truly enjoyable and rewarding – a belief that is true right down to his latest cookbook, entitled Smile or Get Out of the Kitchen.
Sat in the al-fresco section of the restaurant (a short while ago whilst it was warm enough to enjoy the full outdoor dining experience) we were greeted with two palate cleansing cocktails, a subtle serve of peach, rosemary and gin in quirky coloured lightbulb as we began to peruse the tasting menu, a 10-course offering comprising 3 appetisers, 4 tasting dinners, a cheese course, a pre-dessert and a dessert. Remarkably though, all of this would only set you back £50 per person, and can be expertly paired with soft drinks for £20pp; beer from the truly extensive A4 list (including an IPA served in a brown paper bag) for £30pp; or (our choice) wines for £45pp.
Over the next four hours, we would embark on an indulgent journey bursting with flavours, textures and the downright stupendous. Never have I been to a restaurant where every single course held a surprise for me – and those surprises weren't just great. They were bloody fantastic.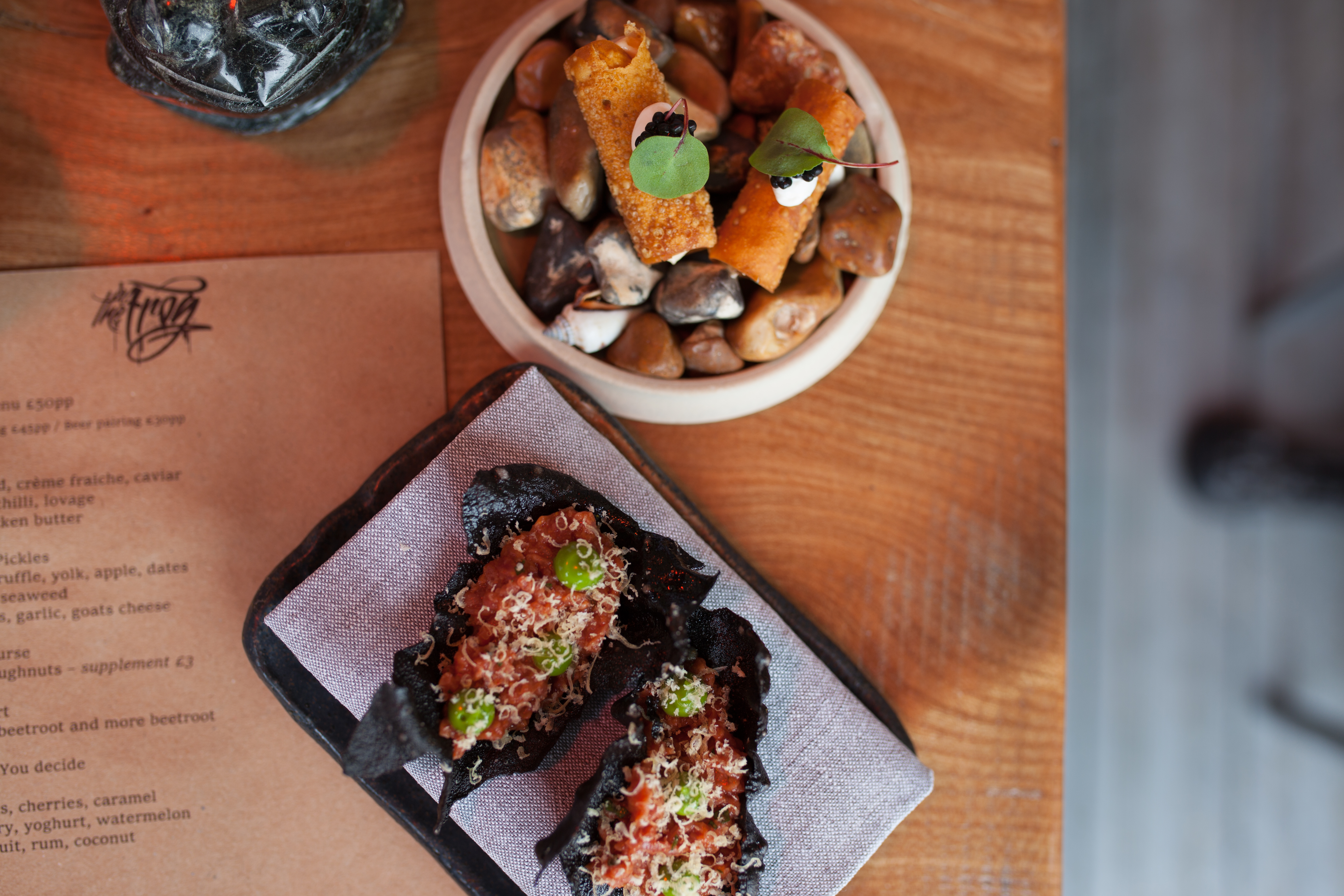 Interestingly at The Frog the chefs are also the waiters, and soon the first arrived at our table to present our three sharing appetisers, the first – which exploded with flavour – a creamy Smoked Cod in creme fraiche served in a crispy lovage bread wrap and topped with luxurious, mouth-coating caviar. Either side of this dish were a BBQ Beef on black lovage bread, warmly spiced with chilli; and (one of my favourite dishes of the day) a sensationally simplistic Chicken Butter, an infused-butter served with charred, homemade sourdough and crispy chicken skin. The result of the latter was unbelievable.
With appetisers well-received and cleared, the restaurant began to get busier and a playlist of alt-rock gems had ensued, with the dulcet tones of Alt-J, Tom Odell and James Bay providing an equally laid-back soundtrack. Many places of this calibre seem to try to hard to live up to the old-Michelin fineries and many seem rather stuffy, but there is no place for stuffiness at The Frog. Instead, the food speaks for itself.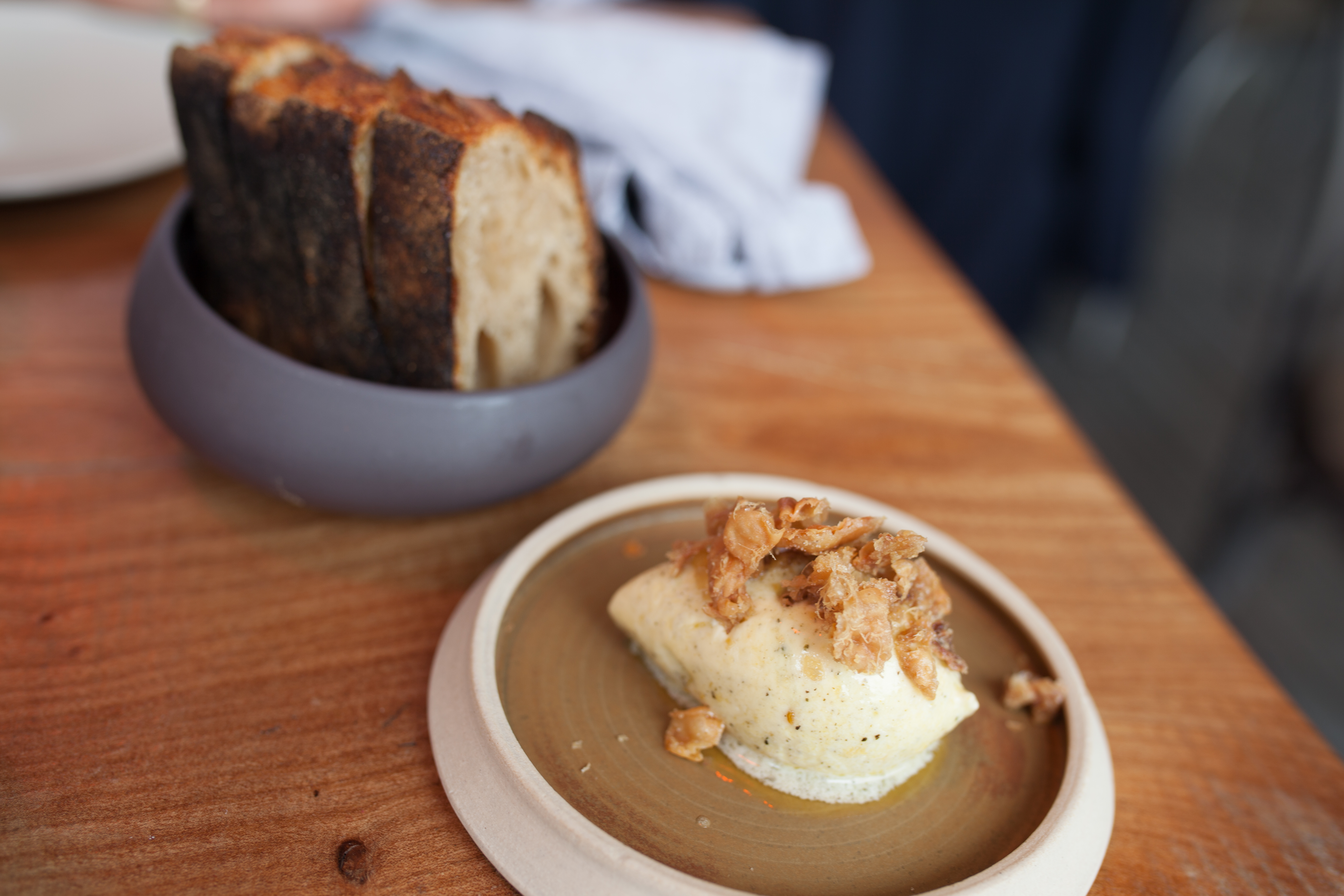 As our white-coated friend arrived back at the table a sommelier approached simultaneously, bringing with him a bottle of sparkling wine. Although guests only get a glass per course, the bottle is brought to the table and your sommelier will tell you about the wine, its origins and its tasting notes – and even why it has been chosen to accompany the course (this is the same for beer and soft pairings). The food component, Salmon & Pickles, was a feast for the eyes and the palate: light, fresh and delicate salmon was accompanied by pickled shallots, radish and red onion, with creme fraiche adding creaminess and sliced and balled apple adding crunch.
Our sommelier returned, this time to serve an ultra-light Sauvignon Blanc, the flavours of which danced to complement a rather complex Celeriac dish. It's not often that celeriac can be described as beautiful, but this conical construction that gave way to apple, sour lime sediment and a single egg yolk that coated the inside of your mouth completely was definitely an exception to this. Elsewhere, truffle sat nicely in the background and dates provided a sticky, chewable element.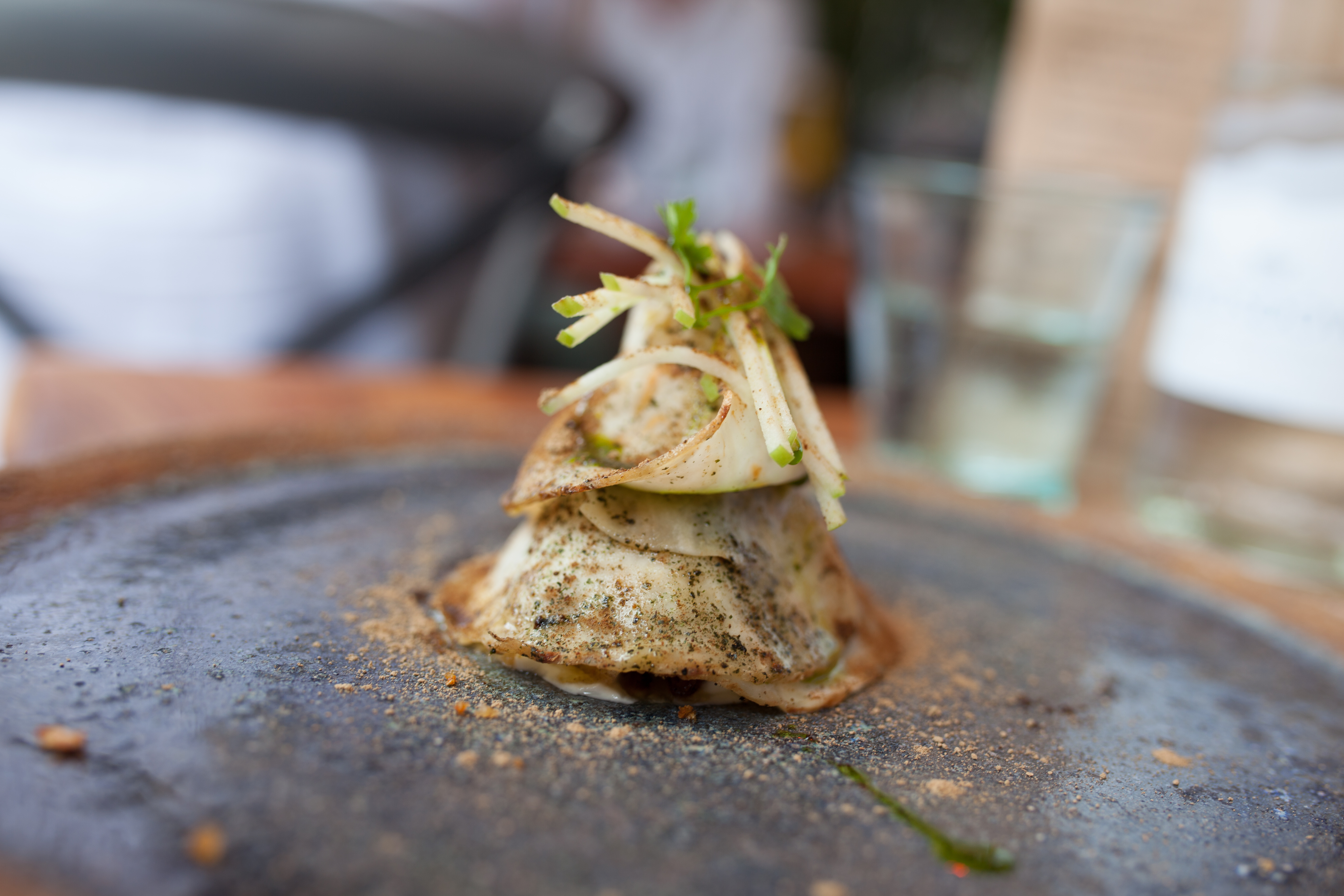 The next wine paired perfectly with the course that followed, its notes of tropical stone fruit giving way to the salty Mediterranean flavours of Cod with smoked potato purée, flavourful broth and crispy salt & vinegar seaweed that Gary Lineker would be proud of.
Around half way through a meal which now resides in my top three – another of which is coming soon to ARCADIA – we prepared for the main event, Laguiole knives and a 2013 Limestone Malbec arriving tableside. Much fresher than your average Malbec, we were told, "Limestone will even pair with Barbecued Octopus". As it turned out, it will even pair with a surprise Macaroni and Cheese course…
Individual tubes of Macaroni are assembled on a plate, brushed with butter and blowtorched before an airy cheese velouté is poured over, giving birth to the most luxurious Mac & Cheese in existence. If you try one dish this month, I urge you to try this one. Especially once the chef arrives with an Adam Handling inscribed box presenting £250 worth of Australian Black Truffles, before a generous portion of one is grated over the top: Indulgence never smelt so good.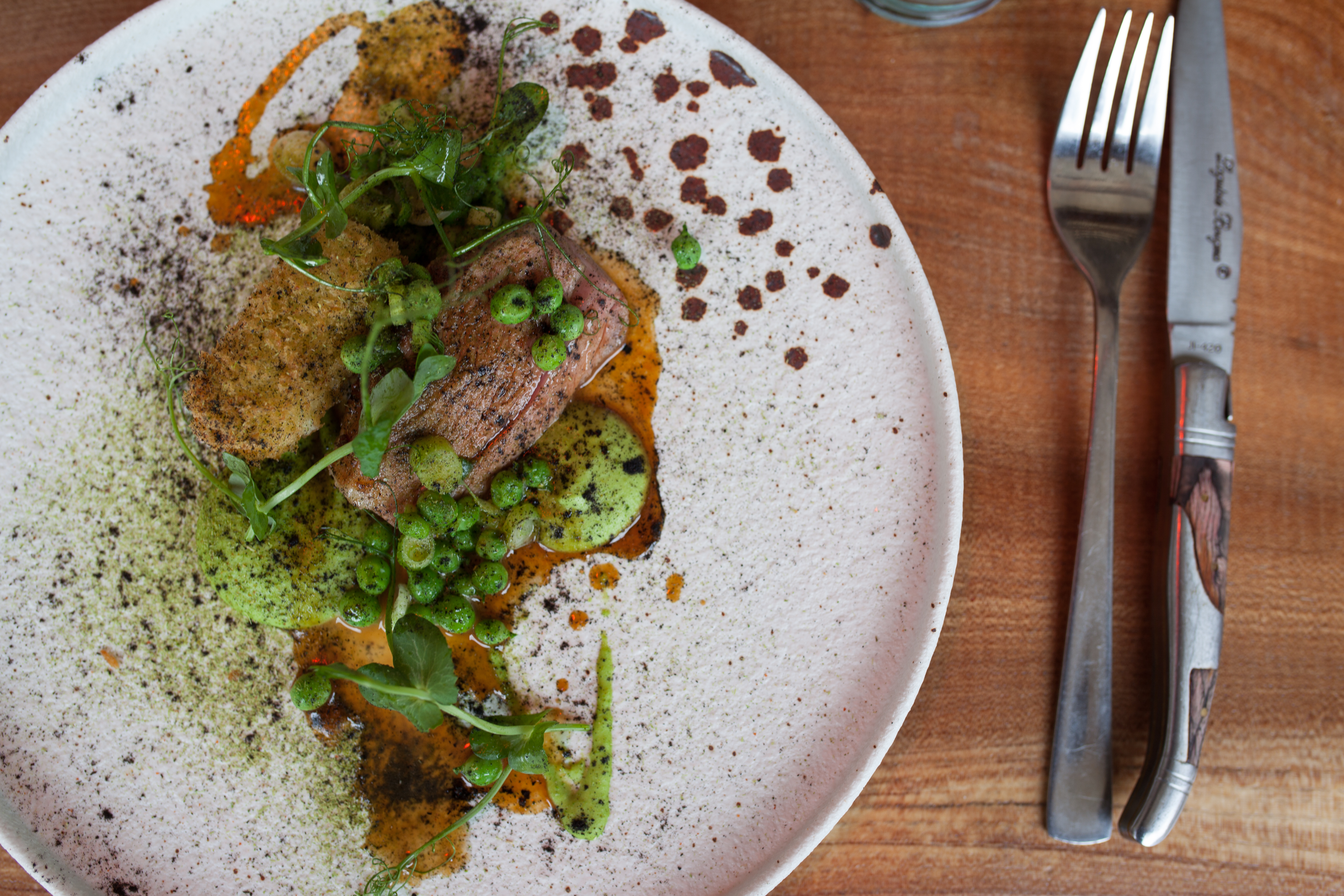 For the next main event a full, thick skinned and heavily tannin-ed red wine arrived – Blaufrankish, an Austrian wine made by a Portuguese wine maker. Like a punchy Amarone in mouthfeel and flavour, the deep red provided a perfect accompaniment to the tender pink Lamb that arrived just after. For the first time that afternoon, we ate in complete and utter silence. Goats cheese coated the mouth; al dente peas crunched; and juicy lamb melted whilst a burnt herb ash added a fantastically different approach to seasoning.
Now when it comes to a cheese course, one things of creamy roquefort, intense blues and mellow cheddars. Of course, that would never be the case here. Adam Handling takes the ordinary and picks it apart before coming up with his own unique take. Two cheese doughnuts were next to arrive, topped with fluffy parmesan and filled with a mild, melting cheese. Who needs a cheese board when all this flavour is in one bite? An additional benefit? You don't even need to endure the celery.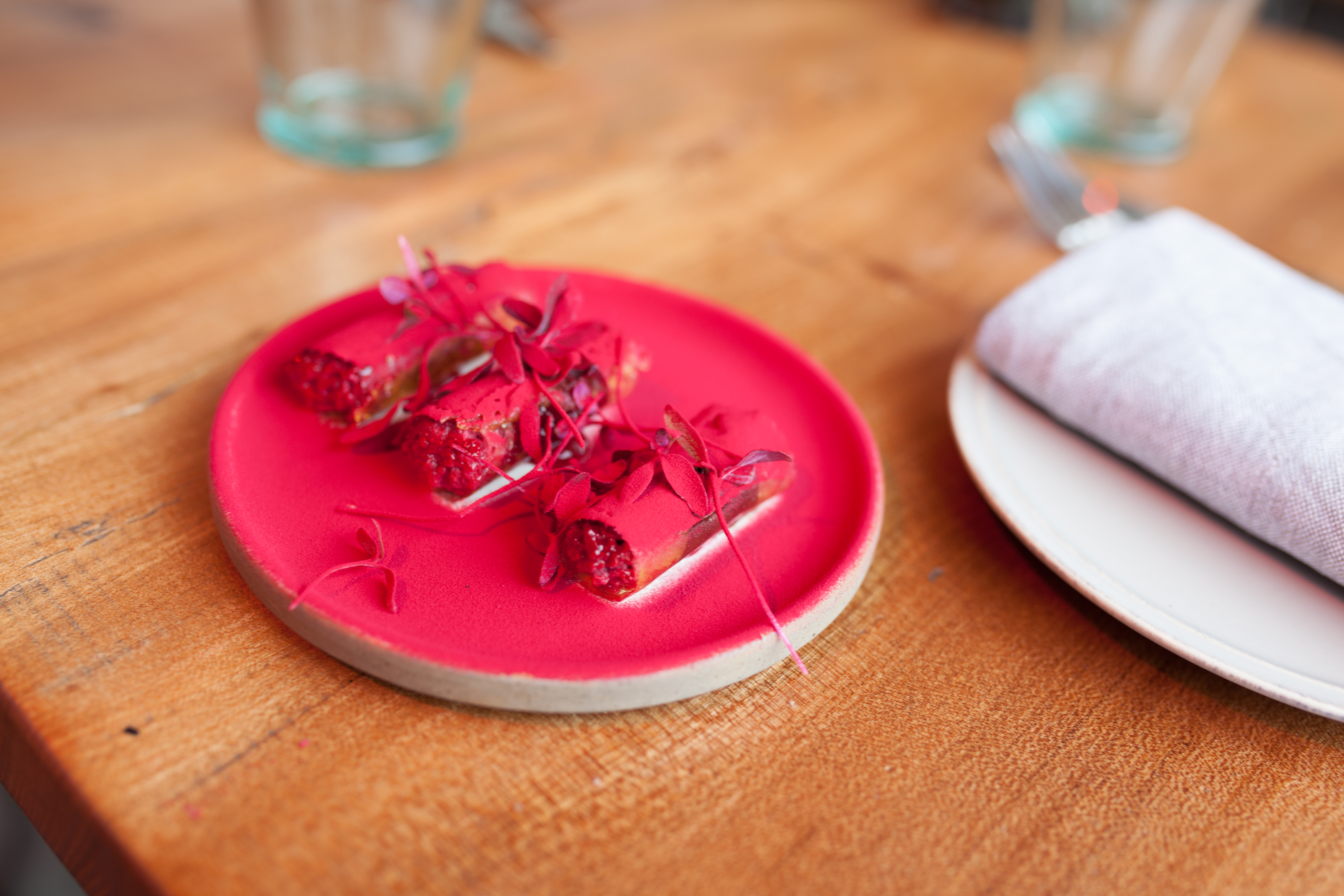 Handling's pre-dessert course is designed to bridge the gap between sweet and savoury, whilst at the same time heightening the senses. Beetroot, Beetroot and More Beetroot does exactly what the name suggests. Beetroot is dried and blitzed into a deep pink powder that coats the dish (and your hands… do NOT wear white); a wrap of the same texture as the appetiser is filled with an almost caramelised beetroot; and beetroot flowers are used to garnish. In my opinion, the official collective term should be 'a triumph of beetroot'. Handling took something so simple and has created something wondrous.
No meal like this should ever have to come to an end, but Handling promises to finish with the same flair, style and substance that has got him to where he is today. The dessert wine was nothing short of spectacular, a fortified champagne style finished in cognac barrels giving a nutty, caramel biscuit taste and a dark, almost orange colour. Similarly, the three desserts (we were really spoilt and the ten-course tasting menu became thirteen) were fantastic.
'Strawberry' offered savoury basil-infused strawberries; watermelon-compressed strawberries and bittersweet wild strawberries accompanied by a light sorbet (you guessed it) and a sponge like shortbread which added texture. 'Chocolate' exuded an intense caramel which melted from the middle of a hard shell, engulfed by a dark chocolate mousse and a fresh cherry gave a surprisingly light sweetness.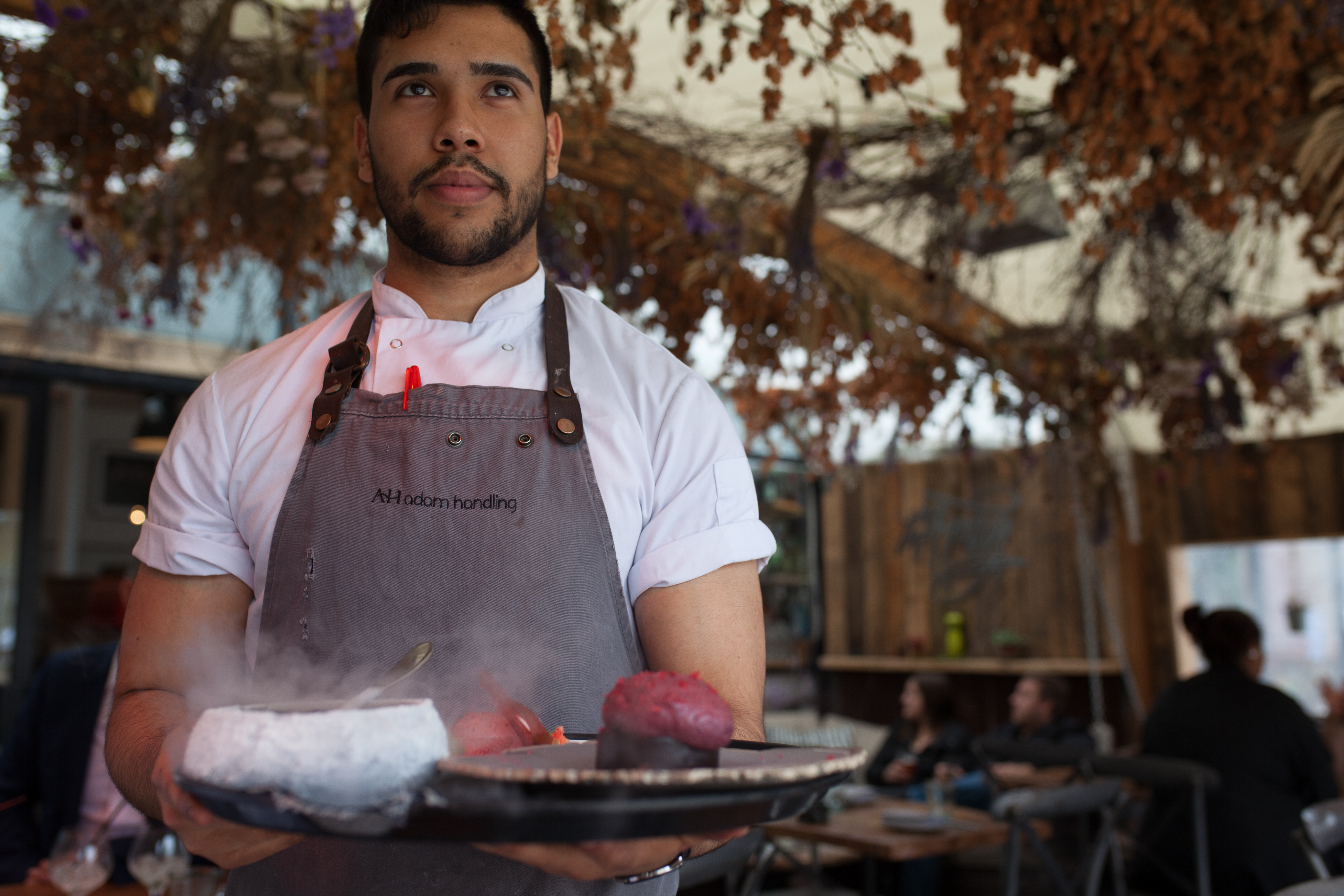 Our favourite dessert, however – in terms of taste and presentation – was 'Passionfruit'. Brought over on a cloud, pineapple chunks, delicate strands of saffron, a hint of rum and salted caramel was frozen into shape as liquid nitrogen was poured over at the table: a spectacle to behold and a really experience for the tastebuds, too.
The Frog by Adam Handling is truly a destination restaurant, and one that should be experienced by any self-respecting foodie. Following the accolades and awards of the past few months, you really don't need me to tell you why you should go… But if it helps, then you really should go. Adam Handling is a master of flavours and one of the most talented, creative chefs in London today and, if The Food & Travel Reader Awards are anything to go by, he just may be one of the most impressive chefs full stop.
The Frog E1
2 Ely's Yard, Old Truman Brewery, Hanbury St., London, E1 6QR