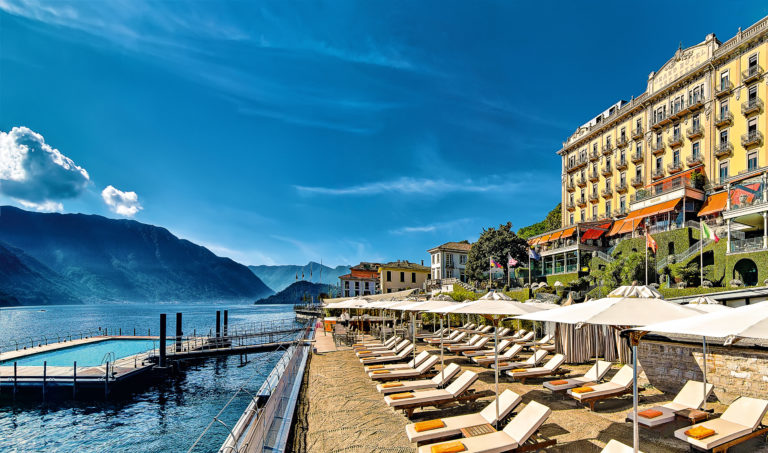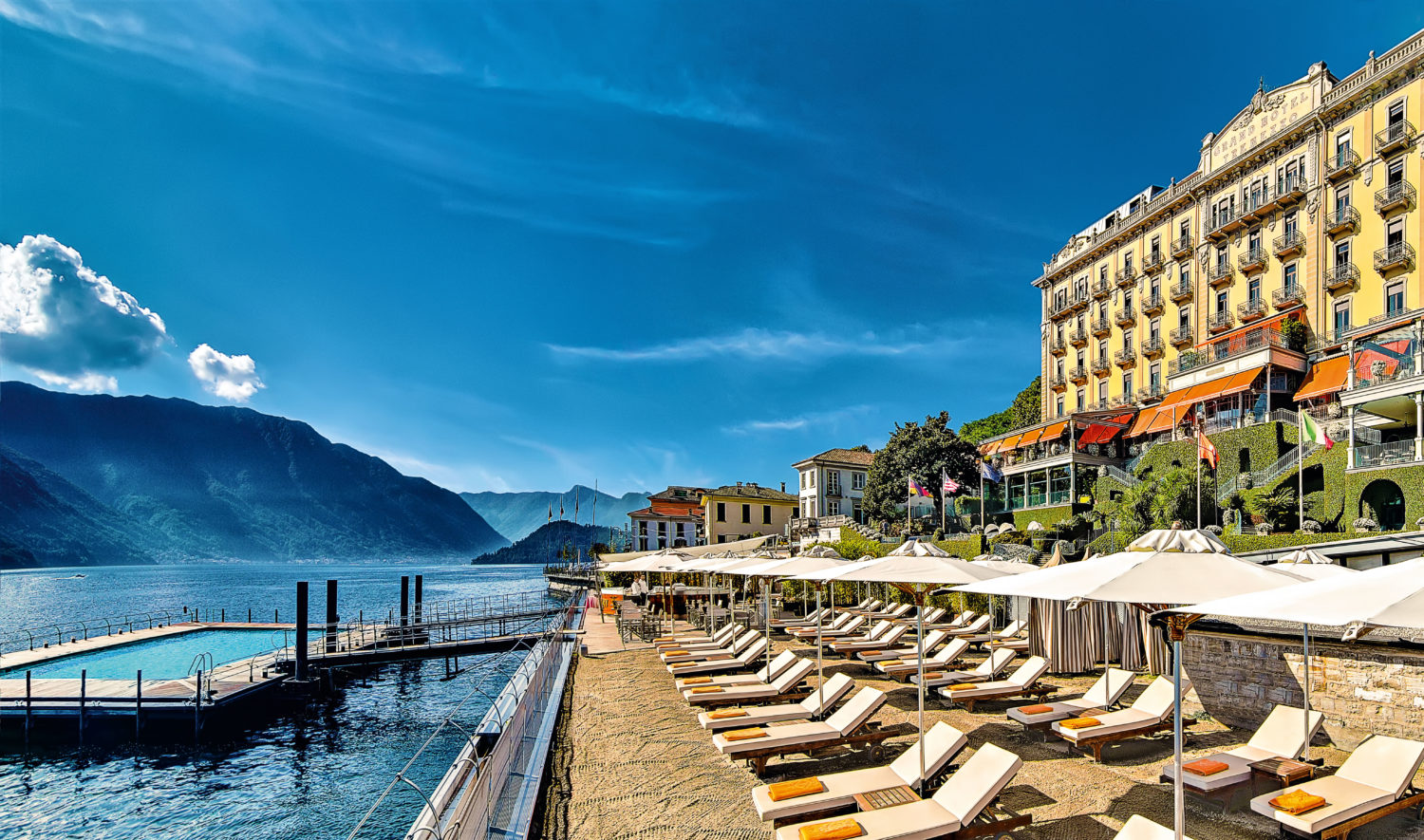 Built in 1910, over a century later and The Grand Hotel Tremezzo remains one of Lake Como's great icons. It is located at the very heart of Lake Como, on the Azaleas Riviera. This family-run grand Art Nouveau palazzo stands magnificently on the lakefront, near the private residences of George Clooney and Donatella Versace. It offers the most incredible panoramic views across to the picturesque historic village of Bellagio, known to locals as 'The Pearl of Lake Como'.
With its attention to detail and reputation for providing guests with an extraordinary experience time and time again, Grand Hotel Tremezzo is one of the most glorious hotels in the world. Relive the glory years of the Belle Époque inside this historic palace. La dolce vita!
Here is our curated itinerary for a perfect day spent at Grand Hotel Tremezzo…
Journey
Fly to Milan's Malpensa Airport and from there it is only a 60-minute drive to Grand Hotel Tremezzo. The second closest airport is Milan's Linate Airport which is a 100-minute drive away. From Milan's Malpensa Airport you can take a helicopter to the closest Helipad, just a 20-minute car ride from the hotel.
The most wonderful way to reach Grand Hotel Tremezzo is by car, whether you hire a car from the airport or a luxury Maserati with a driver through the hotel's concierge. The views are staggering, a winding road takes you along the majestic lake and through quaint pastel villages. We dare you to find a more unforgettable drive anywhere in the world.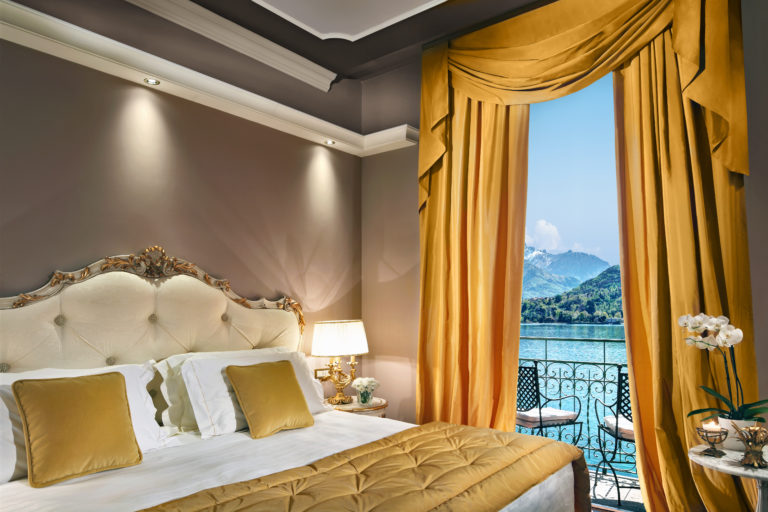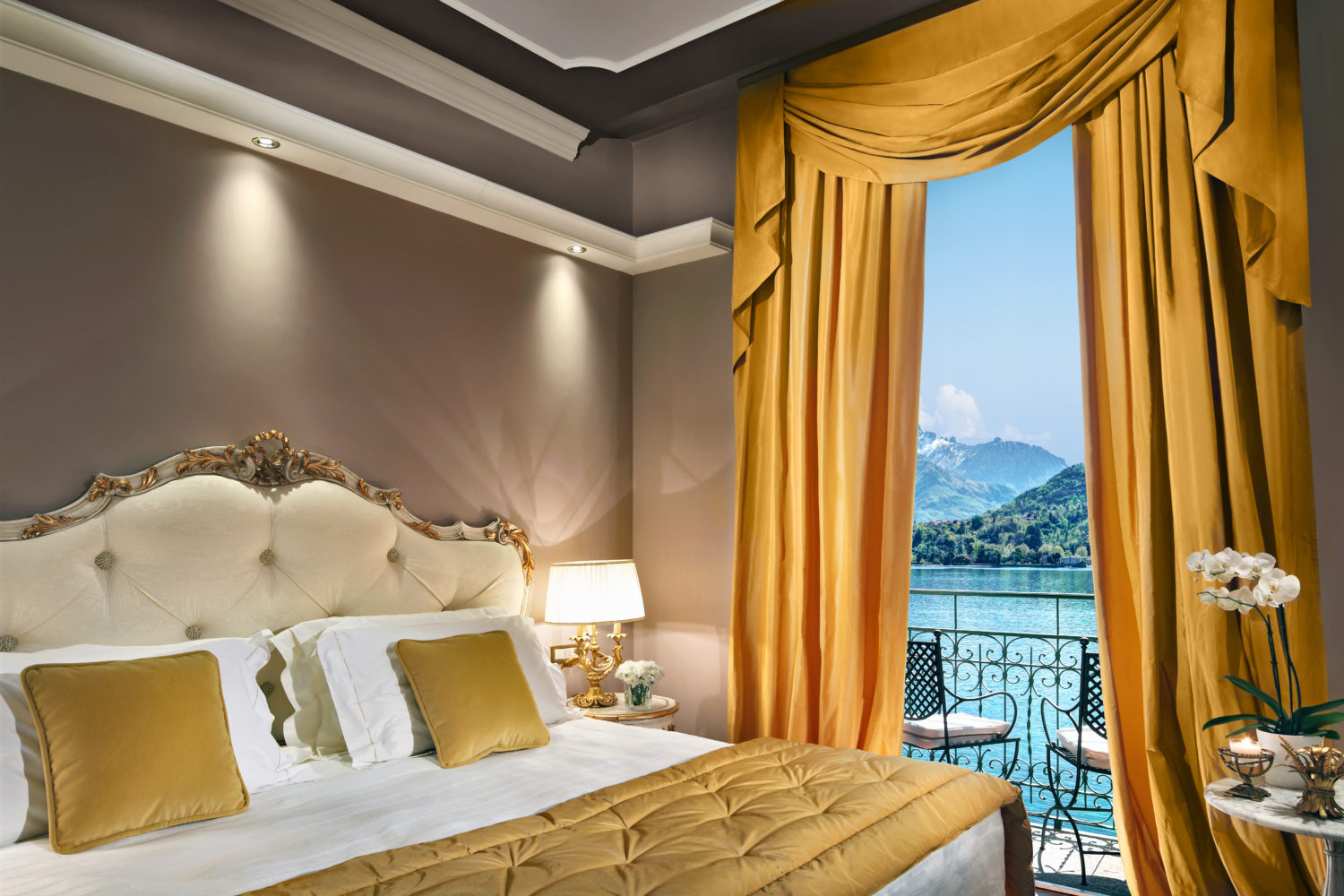 7am – Wake up in a Roof-Top Suite
The Roof-Top suites are situated at the top corners of the palace and offer astounding views from every room, especially overlooking the lake from the Cedarstone marble jacuzzi in the bathroom. The beautifully-designed suites feature carefully-curated Italian antiques from Grand Hotel Tremezzo's private collection. There is also a stunning corner terrace, complete with outdoor seating and a whirlpool tub which is a perfect place to enjoy your morning coffee or a glass of champagne under the stars.
8am – Enjoy an Italian Buffet Breakfast
A delicious Italian Buffet Breakfast is served every morning on the panoramic terrace, where you can see the rise over Bellagio and then dance on the lake's surface like diamonds. There is a dedicated chef to make bespoke omelettes and silver towers laden with fresh pastries, fruit and even chocolate doughnuts. Service is flawless, look out for Yusef who was exceptional and made breakfast a memorable affair.
10am – Visit Villa Carlotta
Grand Hotel Tremezzo couldn't ask for a better neighbour than Villa Carlotta. This majestic lakefront 17th century villa is the perfect marriage of art and nature. Visitors flock from all around the world to see its wonderful botanical gardens and impressive art collection of statues, masterpieces and original neoclassical furniture with their own eyes.
1pm – Private cooking class
Nonna's across Italy have handed down the art of pasta making through the generations, including top chefs that interited many of their skills from their grandmothers. Enjoy a private cooking class, with a glass of champagne in hand and fresh bruschetta whilst you cook up a storm with one of Grand Hotel Tremezzo's top chefs in the spectacular lakefront kitchen.
3pm – Relax at Water on Water
At Grand Hotel Tremezzo you are spoilt for choice when it comes to water wonderlands. The Flower Pool is tucked away in the peaceful tranquility of the palace parkland. Flanked by mature Riviera palms, banana plants and a rainbow of blooms from every flower you can imagine that thrive in this special microclimate.
Grand Hotel Tremezzo's star attraction is Water on Water, a sparkling azure oasis on the lake. The floating pool sits beautifully on the lake's surface and is accompanied by a classic lido with the hotel's signature tangerine and white striped parasols and sunbeds perched in golden sand.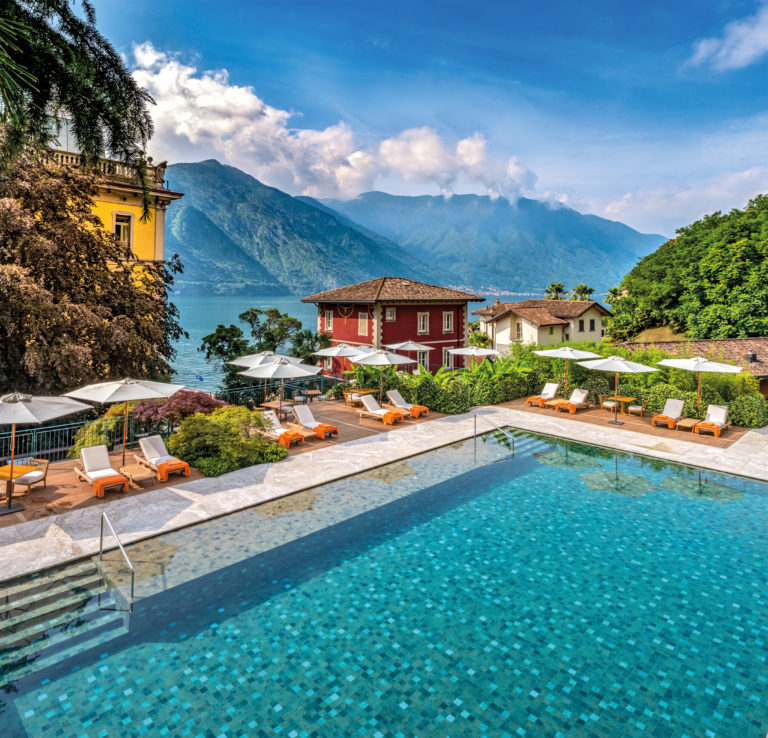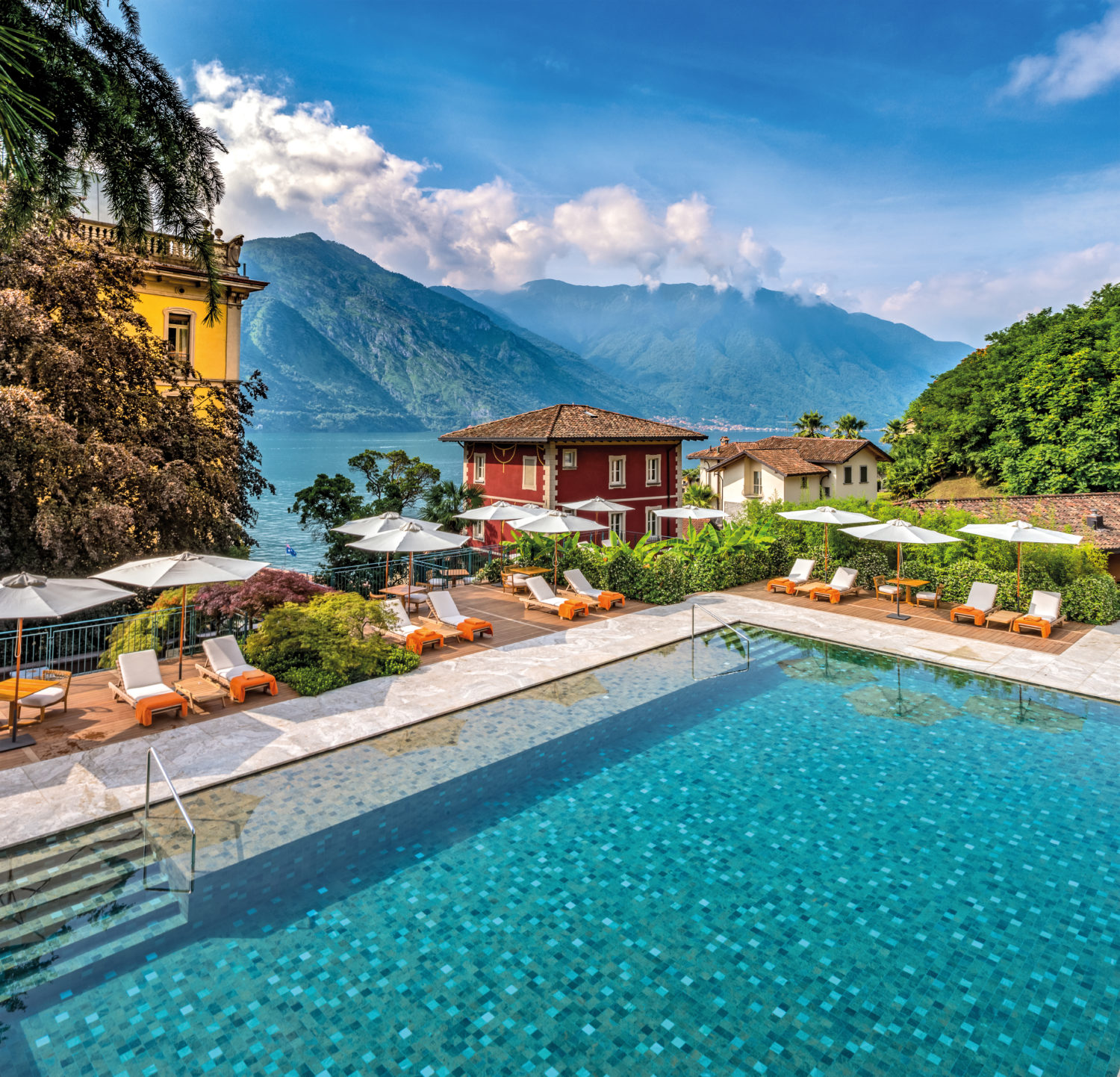 5pm – Bellagio Water Limousine Tour
There is no better way to experience Lake Como than by taking to the water on a spectacular Bellagio Water Limousine tour. This local family-run company has their magnificent water limousines custom built with hand crafted mahogany and during the winter they are lovingly restored in their own boatyards.
Skippered by experienced captains, choose from an award-winning shared or private tour. Shared tours run for 1-hour, 2.5-hours, 3-hours or half-day and private tours run for 1-hour, 2-hour or half-day.
The tours offer a range of experiences, from visiting the magical Villa Balbianello which has been a location for Hollywood films, such as 007s Casino Royale and Star Wars to the enchanting waterfall of Nesso.
Arrive at the iconic Villa d'Este for lunch by boat or admire the beauty of Bellagio and Varenna. Glide along these romantic mirrored waterways for the quintessential Italian lake experience.
8pm – Dine at La Terraza
Italian's have an incomparable love affair with food and with five restaurants and bars, Grand Hotel Tremezzo thoroughly celebrates all types of authentic Italian cuisine. In the garden is the relaxed T Pizza which serves delicious wood-fired pizzas, T Beach offers grilled meats and fresh fish by the lakeside, T Bar has the perfect cocktails and light bites and L'Escale Trattoria and Wine Bar serves traditional local dishes in an ancient wine cellar.
Last but certainly not least is the iconic La Terrazza Gualtiero Marchesi. This fine dining restaurant is the custodian of world famous Chef Gualtiero Marchesi's legacy. He is credited as the founder of contemporary Italian cuisine. This candle-lit fine dining restaurant could not be more romantic, offering adventurous dishes, beautifully-served overlooking the lake.
Choose from a four or five-course menu with perfectly paired wines. To start, opt for the scallops with Riesling wine and pink pepper or squid and carpet-shells with tomato, basil and squid ink, a tribute to Jackson Pollock.
For the first course, the signature decadent saffron risotto with gold leaf is essential and the ricotta cheese tortellini with porcini mushrooms and black truffle. For the main course, the chateaubriand for two is divine. For dessert the passion fruit soufflé with chocolate sauce is a wonder, as is the signature zabaione with Marsala and crunchy fried rice spaghetti, an ode to Salvatore Sava.
Via Regina, 8, 22016 Tremezzo CO, Italy