This spellbinding city at the mouth of the mighty Mississippi has always been leagues apart from other American cities, the sweet spot of the deep south, if you will. It's so easy to blow it when visiting the Big Easy — to spend all of your time on Bourbon Street drinking 'hurricanes' and dancing in a below average jazz bar, and what a misstep that would be.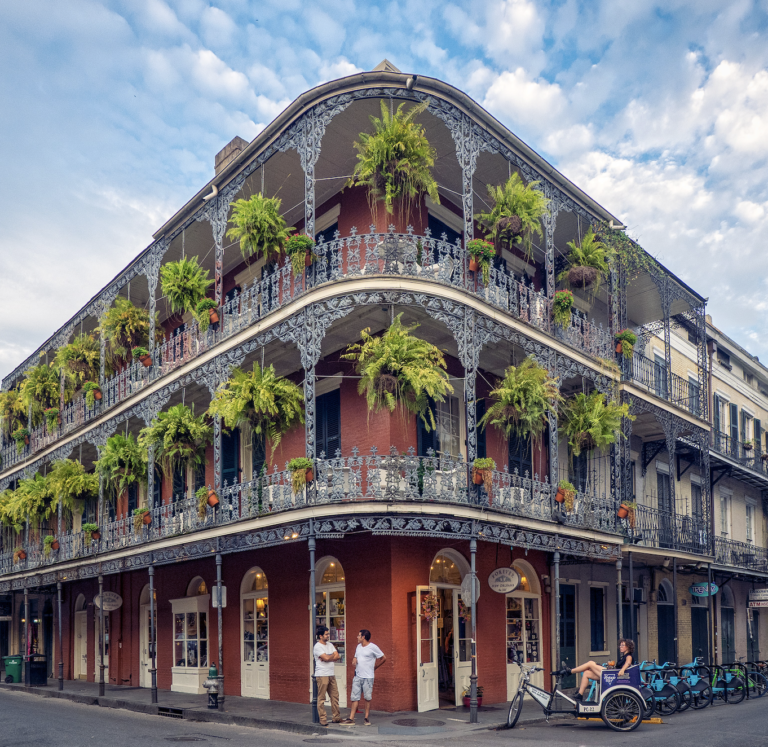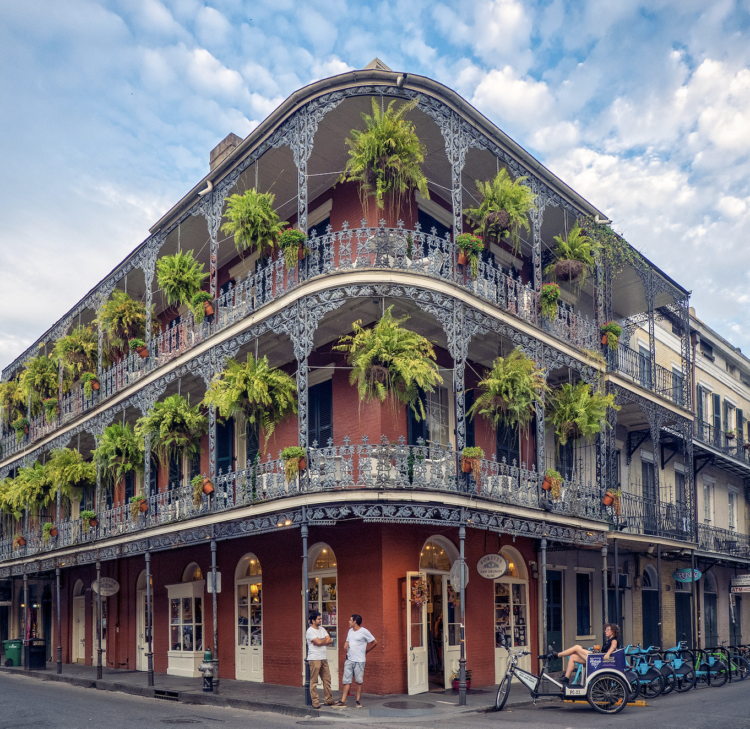 With its distinctly Carribbean-meets-European feel, orange buildings and rich history, New Orleans is like no other city in the U.S. Old-fashioned street cars crawl from one neighbourhood to the next, world class jazz musicians busk on the streets, po'boy shops occupy every corner of the city, and locals pound the pavements in the morning with beignet sugar all over their faces.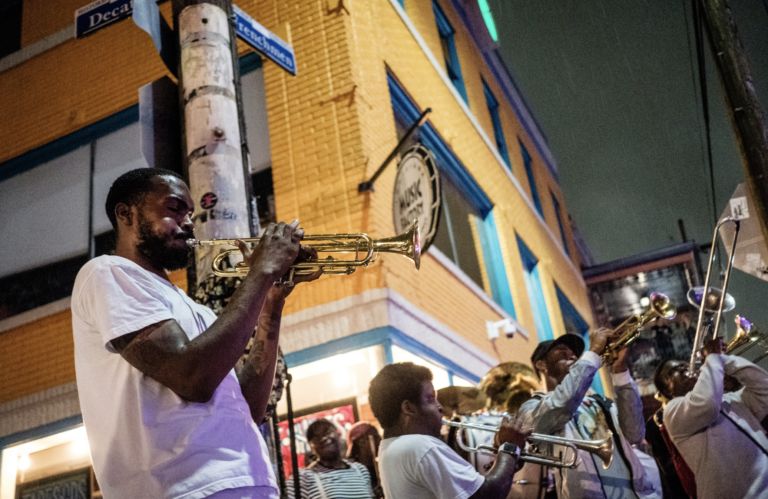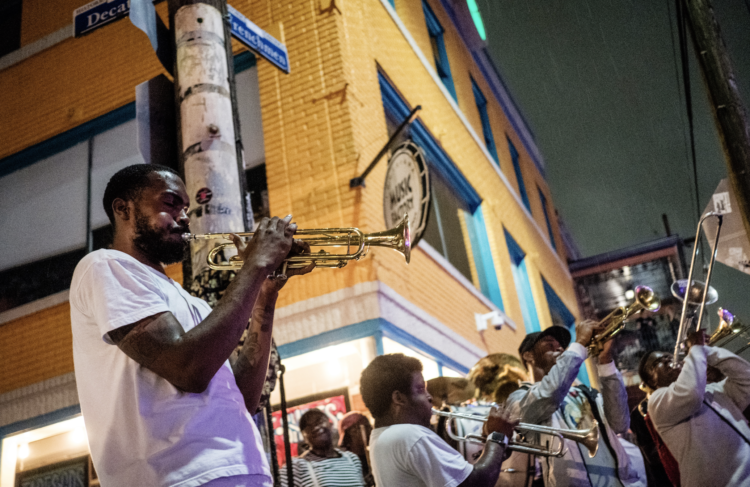 New Orleans is a city of excess and believe me, you want to try and experience it all, but as I planned our visit to the city known worldwide for its vibrant live-music scene, hedonistic nightlife, 'witchcraft' roots, and rich, spicy food —all of which is thanks to its French, Spanish and African ancestry — I endeavoured to never feel like a tourist in a city that is swarmed with them. In saying that, we arrived during Mardi Gras, but that's a story in itself.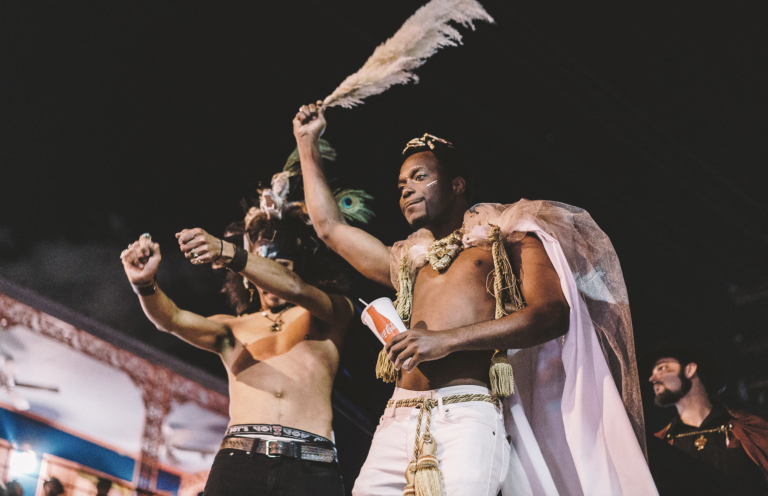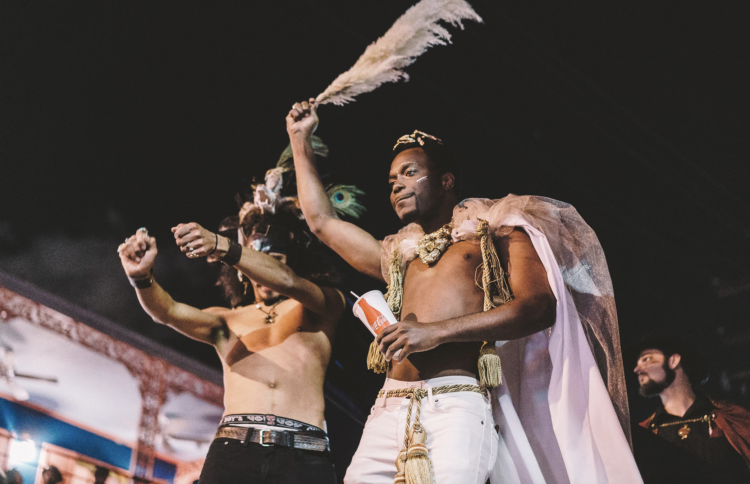 To misuse your time in what is arguably one of the best cities in the world is to do yourself an injustice. Take this guide, allow yourself to wander and be curious — planning is pointless, just ride that NOLA wave.
Wake Up Here
The Drifter
The Drifter hotel is both inspired by and designed for confident outsiders and curious travellers. A roadside motel fuelled by nonconformity and the abnormal, this is quite possibly NOLA's coolest hotel — not least because it truly represents life in this quirky southern city. This locally owned spot is all about pool parties attended by colourful eccentrics, celebrating local art, hip cuisine and great music. There's one policy that guests must adhere to and that's the good-vibes-only culture. Ready to check in? thedrifterhotel.com
Hotel Peter and Paul
It doesn't get much more typically NOLA than Hotel Peter and Paul. There are many boutique hotels in the city, but this one gets under the skin of New Orleans culture. The revived former 19th Century Catholic Church, convent, schoolhouse and rectory in the bohemian Marigny neighbourhood, just a stone's throw from the trumpet licks of jazz-hive Frenchman Street, is playfully austere and gives guests an insight into New Orleans life during European rule. hotelpeterandpaul.com
Culinary Hotspots
You don't know Southern comforts until your belly is round after a piled-high plate of New Orlean's best dishes. There are a plethora of gastronomic influences that have aided in New Orleans' culinary greatness. Cajun, Creole, French, Italian, and the age-old soul food recipes from mothers' kitchens all across NOLA blend together to offer the USA's most singular cuisine. Dishes like beignets, po' boys, oyster Rockefeller and muffuletta were born here, after all. Opt for one of the French Quarter's institutions or one of the new restaurants bringing fresh flavours to NOLA favourites; there's no denying that this is one of the world's greatest food towns.
Shaya
What place does Israeli cuisine have in New Orleans, you might wonder? Well, that's until you've tasted the southern fried chicken hummus or the spicy Seafood Chermoula at Shaya. Named one of America's best restaurants — an accolade we wholly agree with — Shaya breathes fresh Mediterranean air into the NOLA dining scene by marrying Israeli classics with Southern flavours. The more the merrier when it comes to the menu, fashioned for sharing and complimenting the NOLA tradition of a long, lazy lunch. Celebrating the abundance of Louisiana and the ever-evolving dishes of Israel, some personal favourites include the light, incredibly creamy and extravagantly topped hummus bowls, the fluffy, thick wood-fired pittas, and the olive oil and salt-roasted cauliflower. The atmosphere is relaxed, the food is high-end, and the neighbourhood is a favourite of New Orleans locals — all in all, an absolute must-visit. shayarestaurant.com
Broussard's
French-Creole elegance is served to diners at Broussards, a NOLA institution since opening its doors in the French Quarter in 1920. Crawfish ravigote, bronzed redfish and duck and alligator gumbo are standouts on a menu made up of elevated classics that you're sure to remember fondly for years to come. Push for a seat outdoors if possible, opt for the Jazz brunch if you're in the city on a Sunday, and say hi to Lionel from us if you're lucky enough to have him as your server. broussards.com
Cochon Butcher
This is the place to pig out, literally. Cochon Butcher is a tribute to Old-World butcher and charcuterie shops, serving up a selection of cured meats, sausages and fresh cuts for its meat-happy patrons. The laidback, sandwich-centric menu is the sister spot of the more refined Cochon, but behind the overpacked sandwiches is the same commitment to high-quality, in-house food production. Here you can enjoy one of the city's best muffalettas and a monstrous tower of deliciousness, Le Pig Mac. If you didn't get your fill of meat while there, take home some prime cuts from the butcher counter. cochonbutcher.com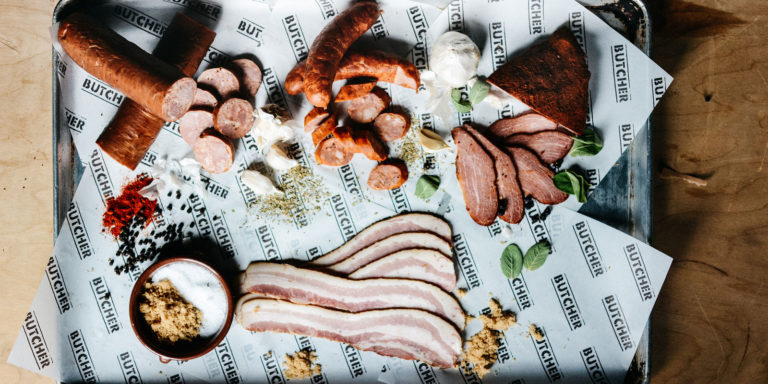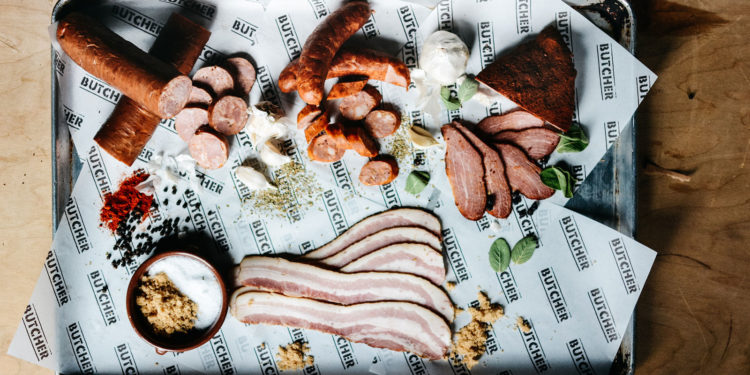 Mother's Restaurant
Picking the best po'boy in New Orleans isn't an easy task, it's about as easy as choosing a new Netflix series after you've binged the same one for a month. In the Big Easy it's almost impossible to get a lousy po' boy, but as with anything, there's top tier lineup and Mother's Restaurant is the gold standard. Mother's is a Cajun institution serving up no-holds-barred Southern breakfast, messily delicious po' boys and heavenly fried chicken from its cafeteria-style CBD premises. Mother's is old school — 1930s decor is peppered with photos of celebrities wrapping their lips around Mother's delights, including Beyoncé, who says this is her favourite spot in NOLA for po' boys. Go all out here — we opted for the combo shrimp and oyster po' boy, the Famous Ferdi special, rice and beans, and of course, a big helping of gumbo. mothersrestaurant.net
Best Boozers
Bar Marilou
If you can stop yourself from photography the interiors of this hotspot, you'll find a spirited sanctuary for craft cocktails and natural wines located in the Warehouse District in New Orleans at Maison de la Luz. Bedecked with books, eccentric curiosities, inventive, sophisticated cocktails and elevated French classics. Inspired by romance, rebellion and high spirits with effortless elegance, everyone is welcome — long, leisurely nights encouraged. Santé. Barmarilou.com
Arnaud's French 75
Servers in white tuxedos welcome guests in to the compact, tiki style bar at Arnaud's Restaurant. Inspired by France, but profoundly New Orleanian, The French 75 bar was originally a "gentlemen only area", but the bar is now lined with curious cocktail lovers drawn by the allure of the bar's seductive cocktail list. The bar's handcrafted cocktails are classically focused, using locally sourced ingredients, home-made syrups, drams and liqueurs. Only the iPhone's whipped out to photograph the too-pretty-to-drink cocktails spoil the illusion of being here in the 1920s. arnaudsrestaurant.com
Blue Nile
A groovy little music club offering live performances from famous and up-and-coming jazz, blues, rock and funk acts, Blue Nile's laid-back dancing crowds often pour onto the streets, welcoming in tourists and locals alike. bluenilelive.com
The Spotted Cat
A quintessential jazz bar in the heart of the Faubourg Marigny District, 'The Cat, as locals affectionately know it, has gained international recognition as a destination for hearing some of the best jazz musicians in the world. Expect to listen to clarinets and saxophones marry big, soulful voices as the crowds struggle to stay in their seats.
spottedcatmusicclub.com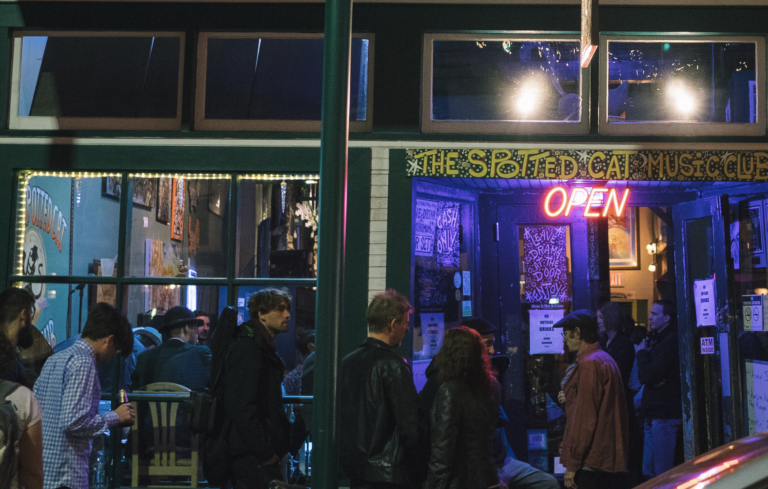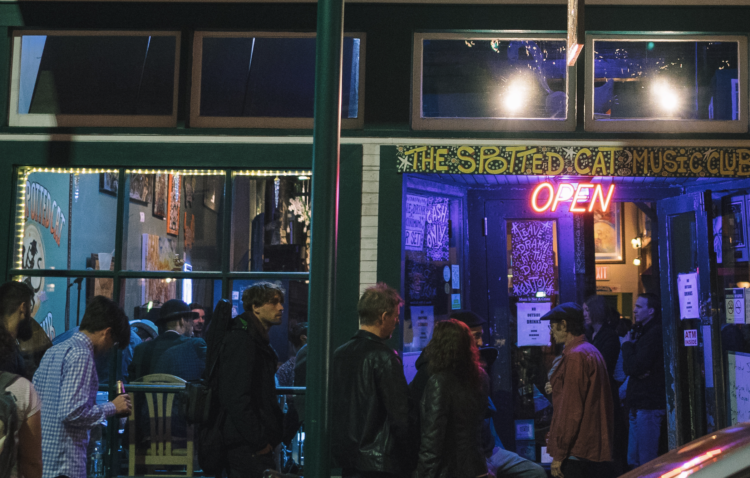 Don't Miss
Magazine Street
This six-mile stretch from Uptown to the Lower Garden District is easily accessible from the St. Charles Avenue streetcar and is the ideal for those who want to experience life as a NOLA local. Independent boutiques, galleries, flea markets and eateries line this vibrant street, so it's best explored on foot. The eager adventurer can feast their eyes on some of New Orlean's most extravagant Antebellum homes if they venture off this popular thoroughfare on any given side street.
Steamboat Natchez
The well-loved and established steamboat sits proudly on the Mississippi River, welcoming guests for daily harbour cruises, jazz dinner and Sunday brunch cruises. It is one of the most unique ways to learn about the history of New Orleans, so follow the sound of the calliope organ playing from the docked vessel. steamboatnatchez.com
Palace Market Frenchmen
A popular nighttime art market with rotating artists bringing their wares for visitors to peruse on a weekly basis. The market has a ramshackle look, almost like someone's living room, making it a charming and relaxed setting to find some art and handicrafts you're unlikely to find elsewhere in the country.
French Quarter
Well, of course, you have to visit the French Quarter. We'll permit one night spent on Bourbon Street but look beyond the neon lights and hedonism to see the area that has been the heart of New Orleans for all 300 years of its existence. Vieux Carré is home to the iconic Marie Lavaeu's House of Voodoo, the humble and delicious treats at Café Beignet, the weird and wonderful Pharmacy Museum, the historic Napoleon House, and the star of the show, Jackson Square. A wander around the French Quarter could last all day as around every corner is another marvellous spectacle — be it the architecture, the world-class clarinet player, Doreen Ketchens, or the fresh $1 oysters in the French Market. To get a grasp of how this incredible area is pivotal to New Orleans culture today, we recommend taking a walking tour with Two Chicks Walking Tours — they have stories of New Orleans that you'll never find in a guidebook. twochickswalkingtours.com
For more information and tips for planning your trip, visit louisianatravel.com / neworleans.com.
Planning a road trip? America As You Like It features a host of fly & drive options for those hoping to get the most from their holiday.
If you're more of a self-planner, strap in for an epic road trip behind the wheel of America's iconic cars with the American Collection from Hertz.