Follow us on the ultimate UK road trip, from London to the very north of the country, St. Andrews.
The Trip
476 Miles
Four Days
Tesla has created the holy grail of electric cars and has revolutionised the charging experience, Superchargers take around 20 minutes to charge to 50% and whilst you are taking a break over lunch, the Tesla app will inform you when the car is fully charged. During the road trip, stop at Grantham and Gretna Green Services. Teslas are great as you can charge overnight at home or at a hotel's destination charger, so you have all the power you need for the journey ahead.
The Car
The Model X is the SUV version, complete with impressive and futuristic falcon doors that open upwards and will guarantee curious questions and looks of awe from anyone nearby. The avant-garde doors are equipped with motion sensors that will adjust themselves for tight spaces. Eco-friendly in every way, it is pollution-free inside and out.
The Model X will comfortably fit up to seven people, with copious amounts of space for luggage. The interior is slick with leather sports seats, a massive 17-inch touchscreen that gives you full control of the car and an impressive UV-tinted panoramic windscreen, so you feel like you are in a cockpit. The most groundbreaking feature of all is the autopilot capability; it can match speed to traffic conditions, keep within a lane, automatically change lanes, exit the motorway and self-park.
With free integrated 4G and WiFi, it enables the car to update overnight automatically whilst charging or scheduled at your convenience and can also be serviced remotely. The climate control feature within the app allows you to heat your car up or cool it down prior to you getting in. Another highlight is having Spotify; this ensures that music will be covered throughout the entirety of the trip. The sat-nav will curate a bespoke route with charging points en-route and will even recommend what speed you should travel at to ensure that you maximise your mileage before your next charge, as well as detect traffic and provide a better route.
The Model X has brought the fun and excitement back into driving. It glides along the roads seamlessly and has been given the 5-star safety rating. Don't be fooled by the fact that it is electric; there is immense power in this innovative beauty, the P100D goes from 0 – 60 in 2.9 seconds. The 'Smart Air Suspension' allows you to raise or lower the vehicle to adjust to the road conditions.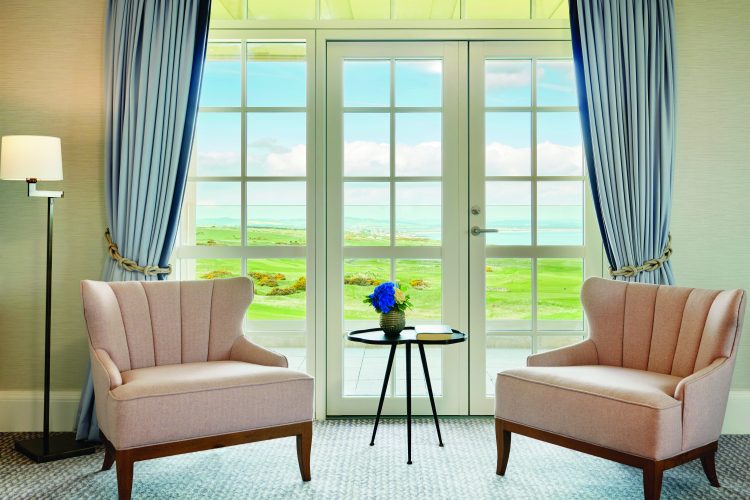 The Destinations
Rudding Park Hotel
This beautiful Grade I listed Regency-style country house is the idyllic first stop after a morning on the road. Unwind in their stunning award-winning contemporary spa; their rooftop features a hydrotherapy infinity pool, panoramic sauna and herbal bath steam room. If you don't fancy going so far afield, check-in to one of their luxurious Spa Rooms which offers all the amenities of a beautiful bedroom but complete with a steam room, sauna or spa bath and beauteous courtyard gardens.
Enjoy dinner at the Clocktower restaurant. We recommend the King Scallops with cauliflower, samphire & bergamot to start, the Sea Bass Fillet with tiger prawns, giant couscous in a vibrant champagne sauce and the delightful Honey Parfait with milk sorbet and crunchy honeycomb.
Be sure to get a good night's rest, the adventure is just beginning.
Rudding Park Hotel, Follifoot, Harrogate, North Yorkshire HG3 1JH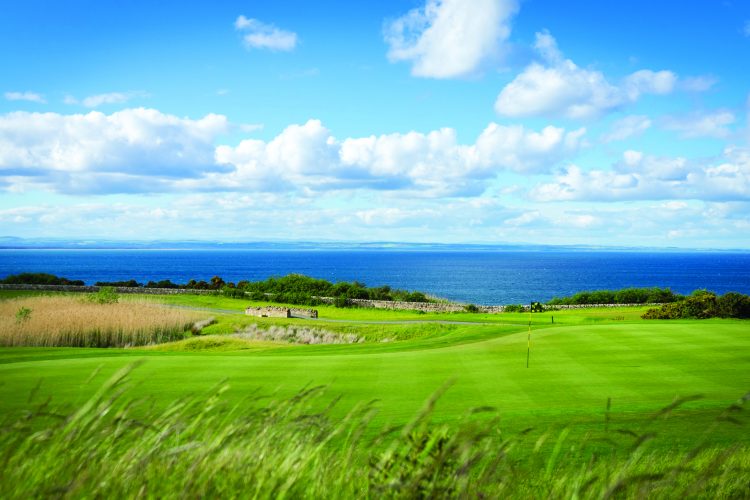 Fairmont, St. Andrews
The drive from Harrogate to Scotland could not be more picturesque, relish in the winding country roads with emerald-green rolling hills set against the powder blue sky.
Have dinner at St. Andrews Bar & Grill; with floor-to-ceiling windows offering unrivaled panoramic views of the golf courses and St. Andrews Bay. Take advantage of the vast seafood offerings and end your meal with the deconstructed traditional Scottish dessert, 'Cranachan', made with plump raspberries and fresh cream with honey, whiskey, and toasted oats.
After dinner, enjoy an al-fresco nightcap of Scotch whiskey on the decked seating area outside, with a fluffy blanket to keep you cosy. Watch the sunset, a glorious fireball, painting the sky orange as its glittering reflection dances across the calm sea. It is a remarkable place, where you feel as if you are on the edge of the earth.
In the morning, enjoy a spot of golf with exquisite sea views or explore the charming historic town centre which is filled with an array of shops and cafes. Visit the private beach on the edge of the Fairmont St. Andrews compound. There is a small narrow path enclosed in luscious green foliage that leads you to the heart of paradise. The cool blue water lulls against dark grey rocks, there is nowhere more magical to read your book in glorious solitude.
Fairmont St. Andrews serves an iconic Las Vegas-style International Sunday Brunch in its open atrium, decorated with 20,000 delicate metal disks that cascade and glitter from the glass roof. The brunch serves dozens of dishes from all corners of the globe, from a ruby red Thai Beef curry to a full Sunday Roast. For dessert, there is an ice-cream man with a cart filled with an array of freshly made ice-creams, and a chocolate fountain with warm waves of melted chocolate ready to descend on fluffy marshmallows and strawberries.
This road trip is an exploration of some of the United Kingdom's most beautiful destinations and there is no better way to experience it than in a Tesla Model X. It is the car of our generation and beyond. Welcome to the future.
St Andrews, Scotland KY16 8PN, United Kingdom