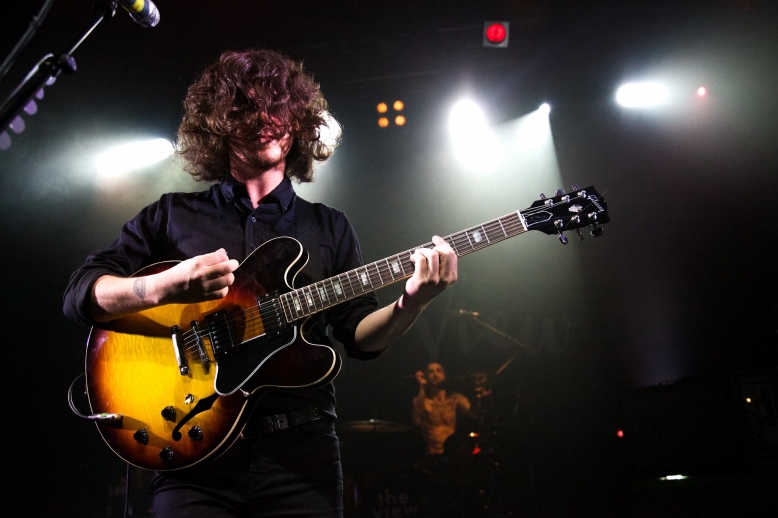 On Wednesday night (8th April) the frequently graced walls of Camden's Koko played host to three incredibly gifted bands: one from the Midlands, another from London and the headline act of the night, The View, hailing from Dundee, Scotland. The View were always going to be incredible, but I wasn't quite expecting them to blow me away this much.
On the thirteenth day of their tour, first to the stage were Easy Life who played a short but energetic set with an abundance of strobe lighting and some incredibly upbeat riffs and beat patterns, at times sounding almost funky, and making for an extremely pleasing start to the night. Earlier that evening, the band posted on their Facebook page: "Day 13. Watching soundcheck – Koko is huge. Gonna create some theatrical vibes tonight". Safe to say, the Midlands-based quartet delivered.
Then along came London-based Dexters, who absolutely smashed it. Soloing through microphone-related technical issues, the 5-piece soared to an almighty climax, initialed by vocalist Tom Rowlett's tambourine led tempo change and reaching absolute perfection through skilled bassist Jamie Harris' saxophone fills. After only three songs, and with a few more to come, some looked to each other in dazed amazement, as if to question if The View could actually top them.
Apparently, they could – the crowd's chants of "The View, The View, The View Are On Fire!" resonating throughout the band's utterly flawless set. As said set progressed, frontman Kyle Falconer meandered through countless catchy, highly dance-able classics, his audience fully captivated as he introduced some pretty great mosh-able ones too… if only I didn't have my camera!
Needless to say, drummer Steven Morrison promptly threw his shirt off the second he reached his kit, revealing a tattooed torso to an eruption of applause, the photographers in the pit waiting for some form of lingerie to fly over our heads – surprisingly, none made an appearance tonight! The fans must've come commando.
If you missed them, Dexters are back at Koko for a headline show on 24th April.
The View will release their latest album, Ropewalk on 8th June through Cooking Vinyl. Produced by Albert Hammond Jr & Gus Oberg (The Strokes) and mixed by Justin Gerrish (Vampire Weekend), you can pre-order a copy now here
Photographer: Sam Dibley.