Heads turned as Lola Coca bowled into the bar at The Dorchester hotel. She wore a bright bubblegum pink fur coat with khaki trousers; she looked like the love child of Barbie and Missy Elliot.
Lola's playful outfit was a stark contrast to her dark and striking features. I had never seen a face quite like it: she had razor-sharp cheekbones and slanted eyes that had a seductive feline quality. With a face like that, it's not hard to see why Lola has made a rather impressive name for herself as a model.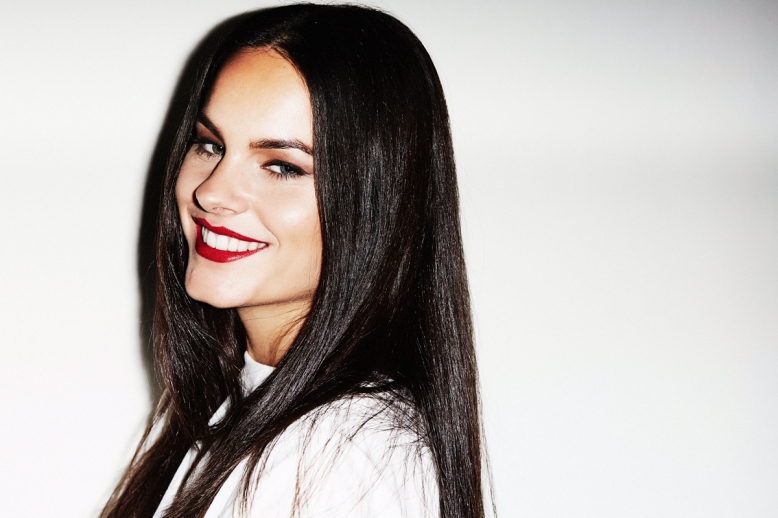 At 18-years-old, Lola moved to London from her hometown of Southsea in Portsmouth to attend university and pursue modelling opportunities. Prior to that, she had been travelling back and forth to London since being approached to work as a hair model at just 14-years-old. It has now been seven years since she arrived in London and Lola is represented by Nevs and has carved a phenomenal career as a model.
Lola revealed that her proudest job was a global campaign that she did for Esprit. She smiled at the memory and said: "My most well-paid and shortest job was for Esprit. I was only there for two hours! When it was released it was all over the underground, it was a crazy moment for me."
She added: "It was street cast, so my agency didn't even set it up, it just kind of fell into my lap. They basically didn't put any make-up on me and I wore comfortable clothes. It was sick, I didn't have to wake up at 5am or do something crazy."
Esprit asked Lola to write down a wish, she wrote that she would love to visit Rio in Brazil. Before she knew it, she was on a plane headed for Rio, Esprit had made her wish come true.
She said passionately: "I love Rio, it is my favourite place ever. As soon as I stepped on the sand, I felt like I was home."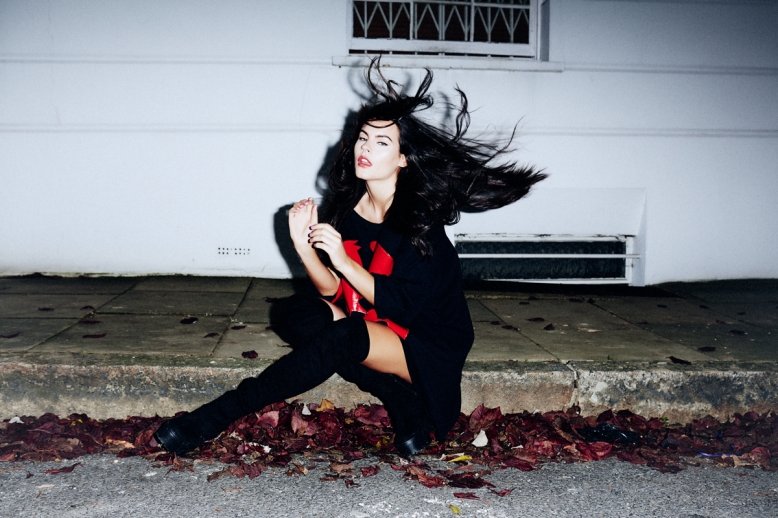 T-shirt: Year Zero
Lola is the first to admit that modelling is a very polarised industry. She revealed that one of the biggest advantages of her career was making contacts, which are crucial for her future plans.
However, it is no secret that the demands of models are exceptionally high and there is a physical pressure, which doesn't exist in most other professions. With Lola's tall and athletic physique, most would struggle to believe that she was ever under fire for being over weight or issues with her height.
She threw her head back and laughed long and hard, then said: "Listen, I'm 5'7 and slightly over weight for the fashion world. I like doughnuts too much to stay in it. I am too short to be a model. "
Lola revealed that she often felt self-hatred during her modelling career.
She shrugged nonchalantly, then said: "A disadvantage of modelling is the constant criticism and self-addressing you get but you also get to know yourself really well."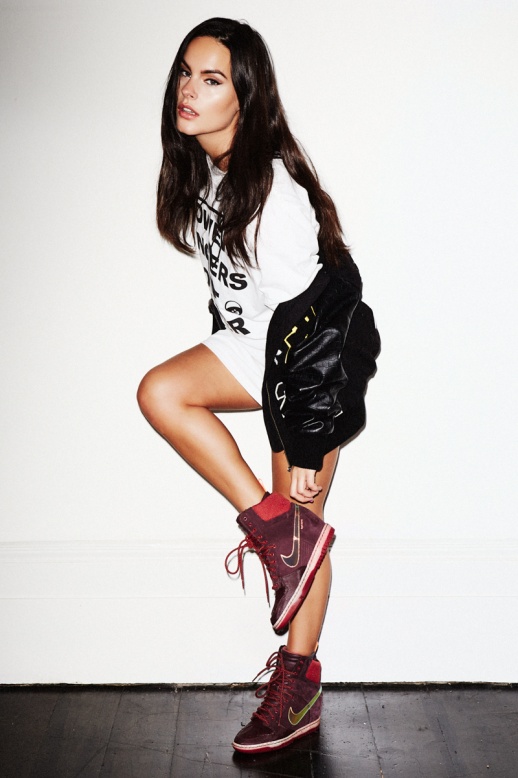 Jacket: Rita Ora for Adidas     T-shirt : Year Zero      Trainers: Nike
The thick skin that Lola has developed during her time as a model is sure to be advantageous as she delves into the equally cutthroat music industry. However, for now her focus is on finishing her debut album.
Lola took a sip of her Granny Smith cocktail and tucked a strand of glossy, ink black hair behind her ear as she did so.
Lola revealed that she is reluctant to call herself a singer due to unrealistic expectations and intense pressure.
She said: "I'm a songwriter and an artist. I feel more comfortable as an artist as it keeps more doors open. I'm really apprehensive to say singer or rapper, because if I say I'm a singer I'm up against Mariah Carey."
As she spoke about her eagerly anticipated release, her eyes ignited with passion.
She said: "Essentially I'm working towards making an album. I kind of fucked myself over a little bit, I live in the UK but record in LA, so I have to go back and forth. However, I feel like I've found the people I've got my musical chemistry with."
Lola has an incredibly impressive team behind her. She is currently working with singer/songwriter Neil Ormandy, songwriter/producer Stefan Skarbek who has worked with Amy Winehouse, The Spice Girls and Lily Allen. Lola is also working closely with legendary Grammy award-winning producer Tony Maserati, who has sold over in excess of 100m records and worked with the music industries elite, including; Beyoncé, Jay-Z and Tupac.
Lola revealed that working with such industry heavyweights is a great honour. When they met, Stefan Skarbek asked Lola what kind of sound she wanted to make, she replied 'jazz chord with hip hop drums', to which he laughed and replied, "that's exactly what Amy said".
Lola's large blue eyes widened incredulously, she shook her head in disbelief, then said: "It was like, fuck he is talking about Amy Winehouse. He's put me in her shoes all of a sudden and I don't know how to deal with it. I kind of lost my cool a bit."
She added: " The chemistry between Stefan, Neil, Tony and I is really strong, we are all on the same page. Stefan has written for so many strong female pop artists, so he understands what I want, as well as Maserati who is a hip-hop legend."
She sat thoughtfully for a moment, running her index finger across her full lips. She said suddenly: "Luck is my only answer. Literally, I knew that I wanted to make this kind of music and life gave me the perfect people to make it with."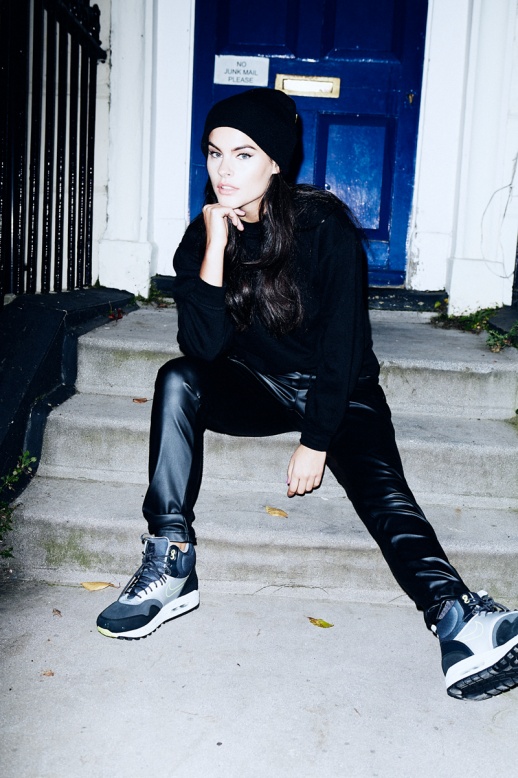 Jumper: Own     Leather Joggers: Adidas     Trainers: Nike
Suddenly, Lola pulled the headphones from around her neck and offered them to me. I put them on and was instantly lost in the frank, outrageous and glittery words of Lola Coca.
I don't want to give too much away but honestly, this girl is serious talented. The sound is undeniably contemporary but somehow fuses jazzy sounds to create something classic and captivating. Every word that falls from her lips is sharp and extravagant. The first comparisons that come to mind are Lily Allen-meets-Pharrell-meets-MIA. Lola Coca has an attitude problem and I fucking love it.
What makes Lola's music even more intriguing is the way that she wears her heart on her sleeve. Her lyrics play on the ideals of love, fame and pain. In one lyric, she declares, "tell me that you love me or I'm never going to leave your house." It is this demand to be loved, this frank honesty and moment of sheer desperation that will resonate in the hearts of many. This explicit approach to matters of the heart is sure to gain her many of fans one day, of that I am sure.
Lola revealed that she initially struggled with showing vulnerability in her music. She drummed her long slender fingers on the table and said: "I was worried about coming across as vulnerable, I wanted to be Beyoncé, I wanted to wave the flag. There are people out there who are equally enslaved by love. Especially now with social media, it's a constant cry for love."
She added: "I learnt that it's ok that those are my real feelings. I've got to that point where I've been so crazy about someone that I'm literally screaming 'LOVE ME!' That was one of the truest moment in my life, a moment when I realised who I really am."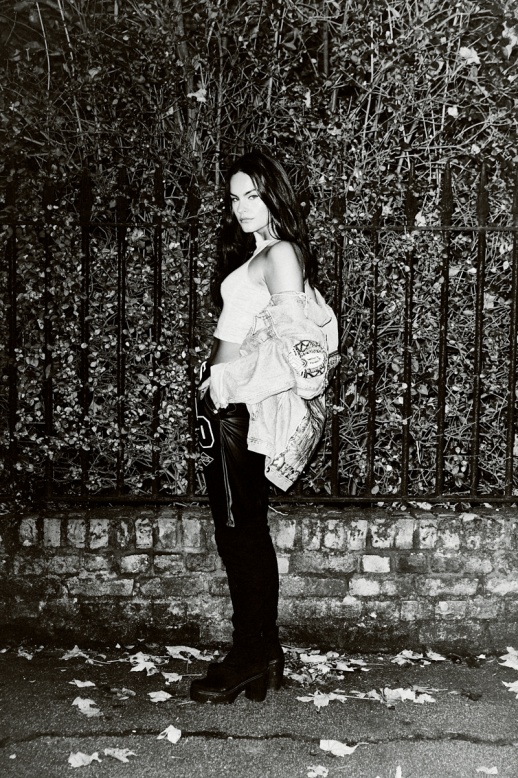 Denim Jacket: Hannah Beth Fincham     Leather Shorts: Adidas
2015 is a frightening yet exhilarating year for Lola. She is putting her modelling days behind her and focusing all of her energy on her music.
She said: "I've been so revealed in my modelling career but now I get to reveal the things people are scared to reveal. Being a white female that raps won't be easy either. It's almost like a lesson to myself; it's time I put myself out there. I just want the result to be equal to how hard I've worked."
She added: "It's funny, when you're a model you're everyone else's creative idea. Now I'm my own creative project. I've been represented by everyone else for so long, now it is time to represent myself."
A small but unmistakable smile played on her lips, she said: "It is super freeing. When you are a model, they want you to be someone super strong and sexy. That is okay, but so is being vulnerable. I am so used to people looking at me, now I want them to actually listen."
Although Lola is grateful for her modelling career, she strongly believes that it de-authenticates her product.
She admitted: "How can I be writing lyrics like, 'Fuck you, I'm not going out with you even if you're on the cover of GQ', then I am actually in GQ! It's a contradiction. Modelling and mouth never really go together."
All will soon become clear. No matter what she turns her hand to; I have no doubt that Lola will excel. Some people were born to be great, Lola Coca is one of them.
Lola Coca will be premiering her debut track on The Arcadia Online soon. Watch this space.
Ten Questions We Ask Everyone
1. What did you want to be when you were younger? 
A professional rounders player. I would still give up all aspirations in life if there was a premier league for rounders.
2. If you could offer advice to your twelve-year-old self, what would it be? 
Shut the fuck up and play the piano like your mum said. I started piano and I gave it up because I hated it but that bit me in the arse later.
3. You have 24 hours with no travel restrictions, how would you spend it? 
Fiji. I just want to go there and chill. Then Havana, I literally want to get drunk and fall in love in Havana.
4. What is the most exciting thing that has happened to you this year? 
I nearly cried when someone said there's a potential slot on Kelis' tour. The 12-year old girl in me was like "waaaahhhhhhh".
5. The film you can watch over and over yet never tire of? 
Showgirls, now that shit is a car crash. It's basically about some 90s strippers, it's so sleezy but so brilliant.
6. The song that always makes you emotional?
Two Amy Winehouse songs do it for me, either 'Some Unholy War' or 'Between the Cheats'.
7. If you could spend an entire day with anyone uninterrupted, who would it be? 
Angelina Jolie
Monicha: What would you do with her?
Lola: What wouldn't I do with her?
8. It is Friday night at midnight, where are you most likely to be? 
I'm shit at knowing what's going on but my best friend knows the hot shit of the minute, so I'm wherever she is. If not I am blatantly reading.
9. What is your biggest vice? 
I love the wrong type of people.
10. How would you like to be remembered? 
For being a G.
Follow Lola Coca on Instagram: @LolaCoca
Photography 
Steven Read
Stylist
Jay Best
Make Up
Jessica Hunte using Giorgio Armani Cosmetic
Stylist Assistant
Misty Griffiths