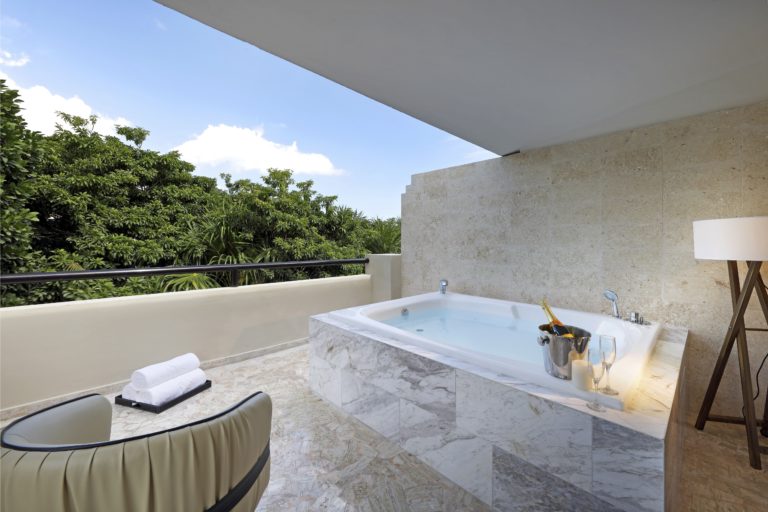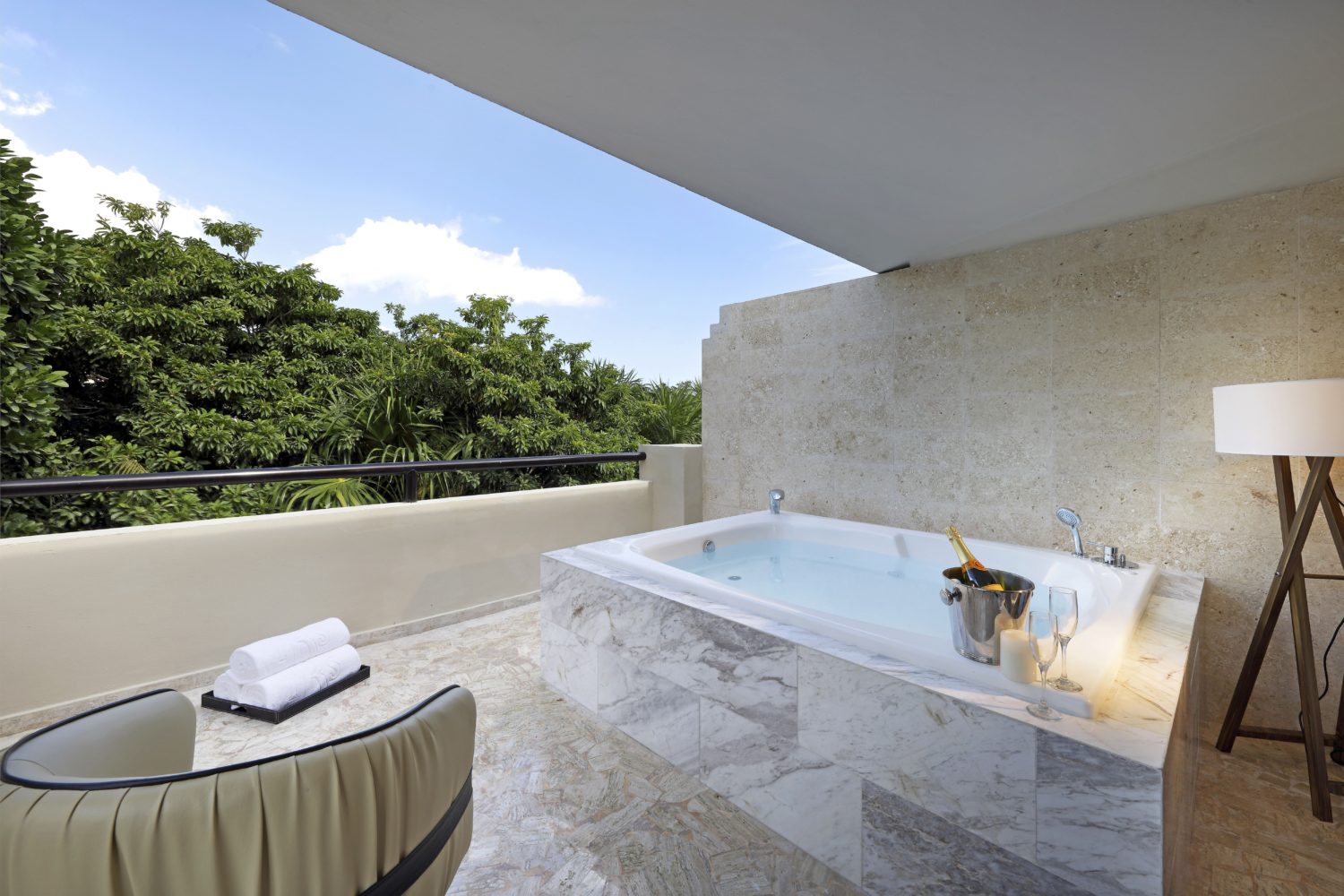 Where the past inspires the present…
Powdered sandy beaches create a beautiful white hue adjacent the turquoise waters of the Riviera Maya. As you take a deep breath of fresh air, it seems to replenish you that much more. The shade of the palm trees adorn, and the soft cool sea breeze rests on your skin.
Tucked away in this serene and stunning haven lies the TRS Yucatan Hotel, one of the most lavish accommodations within the Palladium Hotel Group. Decorated with contemporary style, elegant furnishings, and opulent amenities, it provides an opportunity for palatial retreat, perfectly balancing luxury, comfort, and adventure. Positioned on Mexico's Yucatán Peninsula where verdant mangrove forests meet the calming waters of the Caribbean Sea, you will find yourself in a truly unforgettable landscape.
With an innate admiration for life's exquisite pleasures, it will be the attention to detail in the variety of stunning suites on offer you will adore. With 24-hour butler service, nightly turndowns, pillow and aromatherapy menus, and even tailor-made minibars for those late-night treats.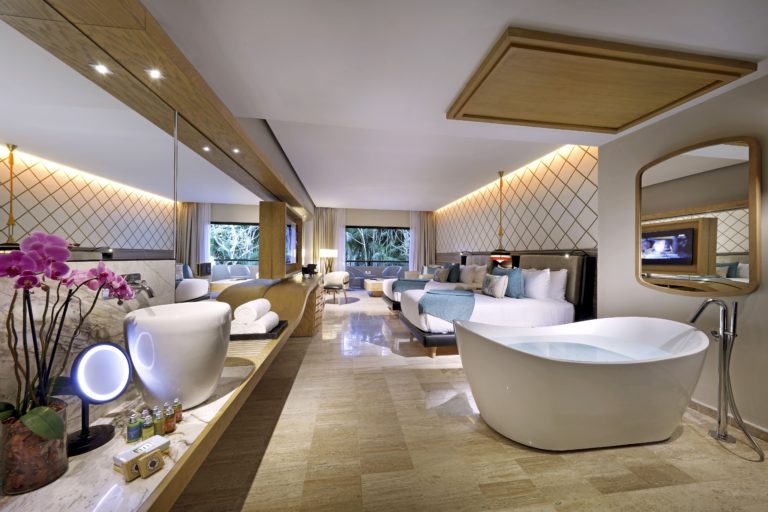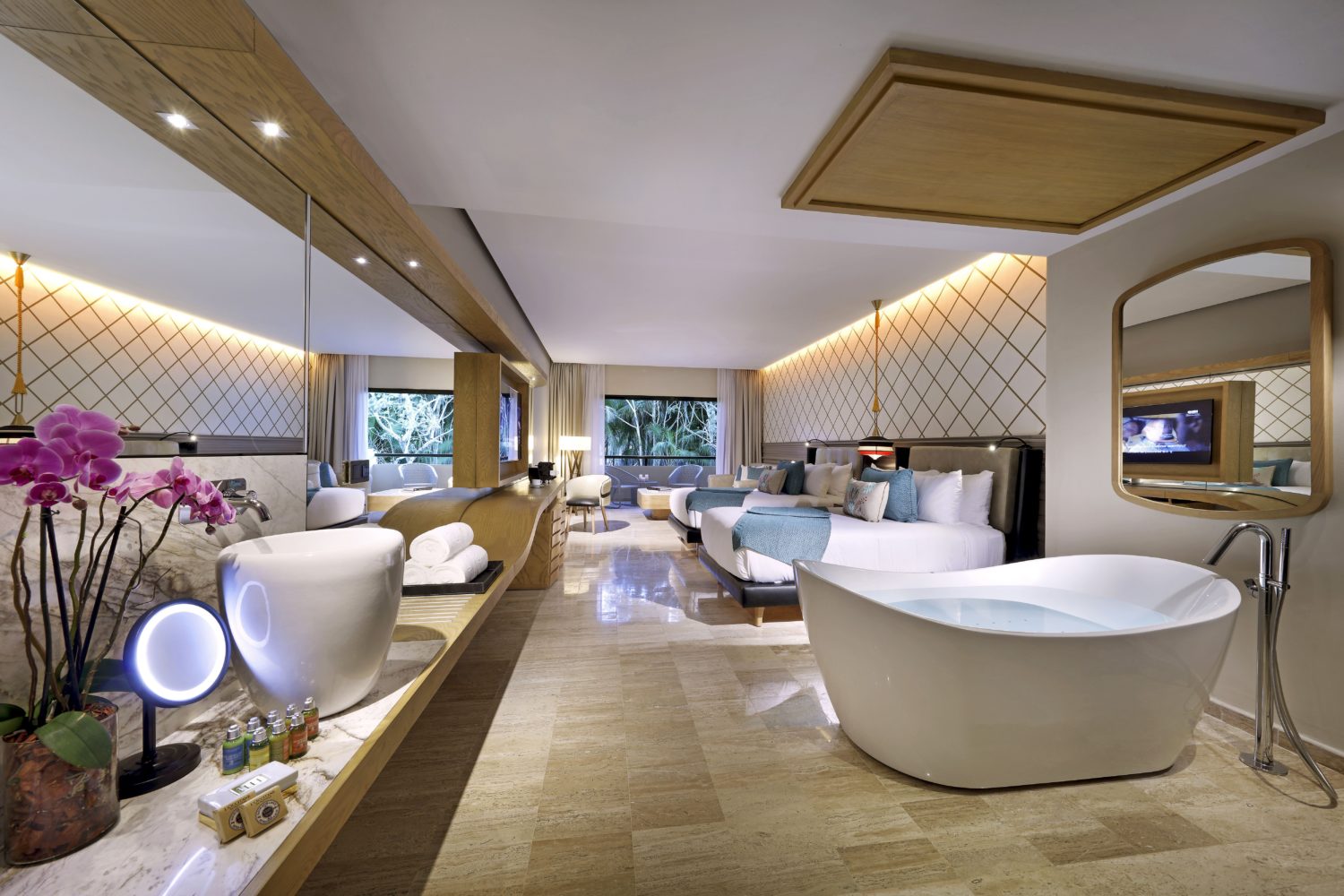 Stay in the luxurious junior suites or magnificent swim-up suites with direct access to the pool. A romance bungalow is even an option (for you love birds out there). The private poolside suite allows you to immerse yourself in nature with an 18m2 private pool and stunning views of the mangrove forest. Plan your day with personalised butler services over breakfast on your private terrace, while taking in the morning sunlight.
From vibrant colours and textures to the chic and sophisticated settings, you can indulge in a delectable dining journey at nine exquisite à la carte restaurants. With a global fusion of gastronomic choices ranging from smoky and savoury flavours of authentic Argentinian cuisine, at El Gaucho; the romantic French brasseries of La Bohème; to the zesty and spicy notes of traditional Mexican dishes of La Adelita to highlight a few. Be sure to tantalise your taste buds and enjoy the oceanfront Helios' lobster dishes, exclusive to TRS Hotel guests.
Through a seamless blend of lavishness and cultural elements, the property pays homage to ancient history and culture, providing an unparalleled retreat for those seeking a truly immersive experience.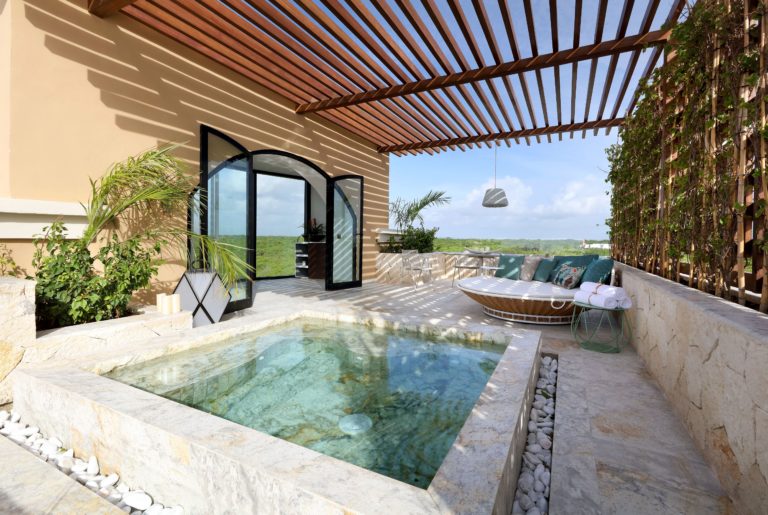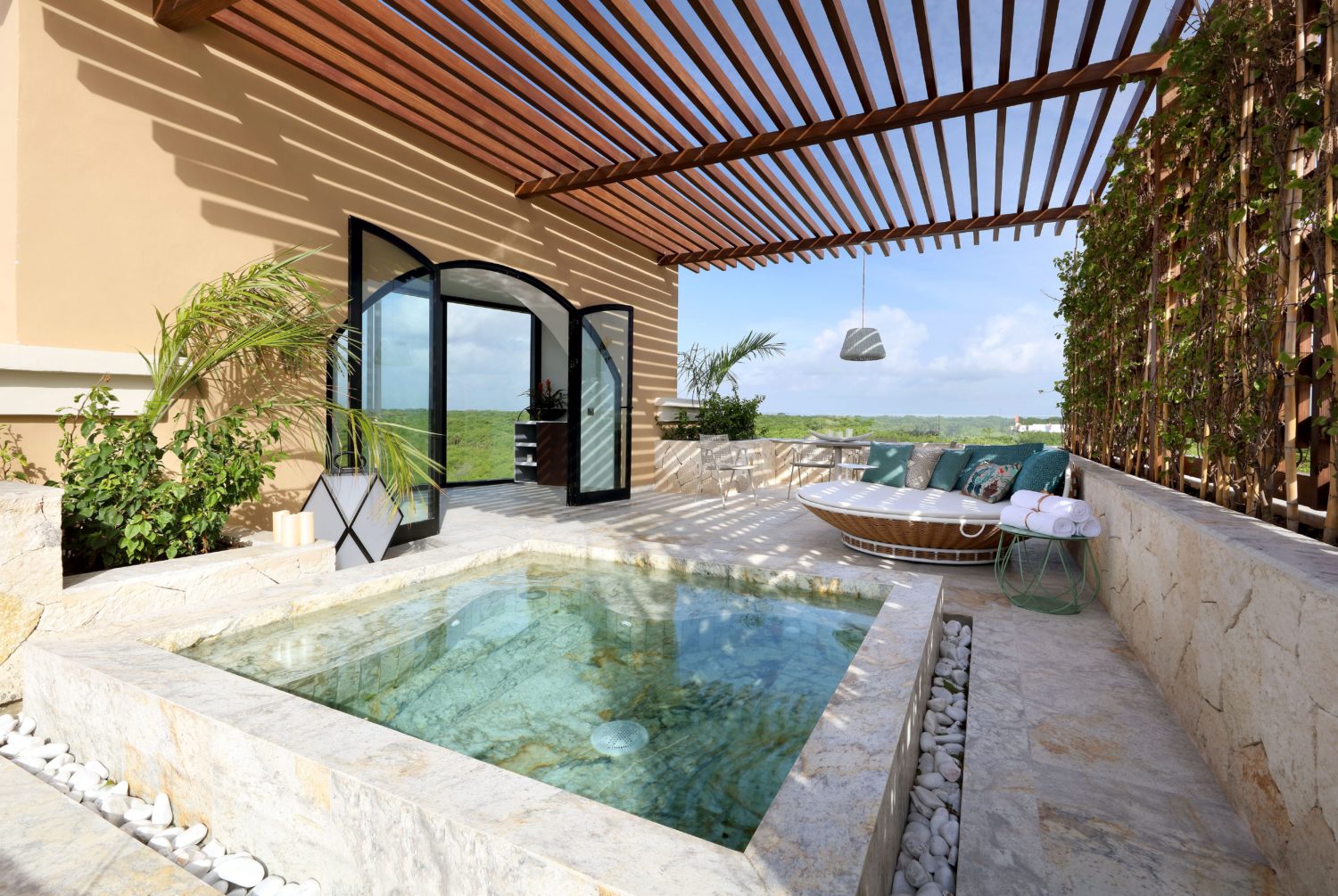 With six fabulous pools to choose from, the hotel has something for everyone. If you're in the mood for some family fun, the giant pools and children's water park provide all the splashing and holiday fun desired. For those seeking a more relaxing atmosphere, dedicated pools provide a peaceful sanctuary to soak up the sun and enjoy a refreshing drink.
The private beach areas offer a tranquil oasis to bask in the beauty and luxury of your surroundings. If you're feeling adventurous, explore the ocean on a Luxury Yacht or Catamaran, taking in the breath-taking views from the freedom of the ocean. And who doesn't deserve to finish off a good day by unwinding and indulge in some well-deserved pampering at the elegant Zentropía Palladium Spa & Wellness centre. 
The hotel is perfectly located close to the historic site of Tulum – ideal for those seeking a day of exploration. Originally named Sama, meaning Sunrise, it is poised atop a towering cliff that overlooks a shimmering expanse of white sand beaches and glistening waters. Here, the illustrious Mayan civilization, renowned for their remarkable grasp of mathematics, astronomy, and architecture, once flourished.
The Palladium Groups' vision to create luxurious accommodations embedded in paradise destinations has been realised. The TRS Yucatan Hotel stands as a testament to their dedication to lavishness, excellence, and hospitality. A symphony of opulence and delight, this oasis offers an escape into the heart of the Riviera Maya, where a fusion of the ancient and the modern is expertly woven.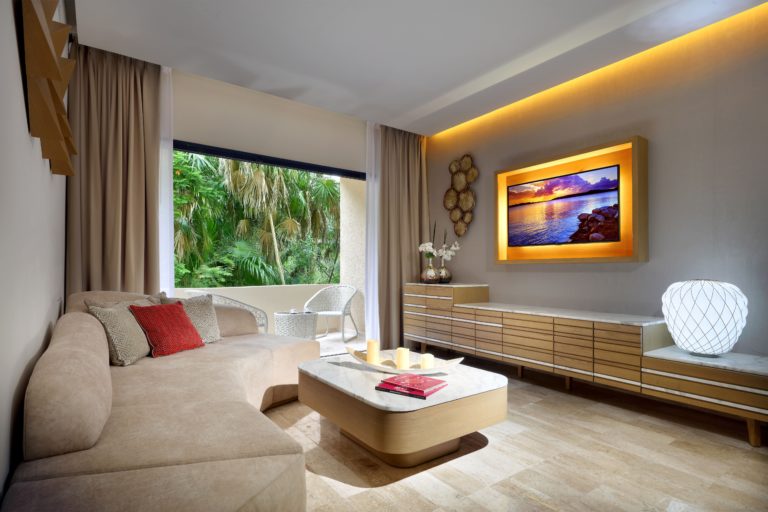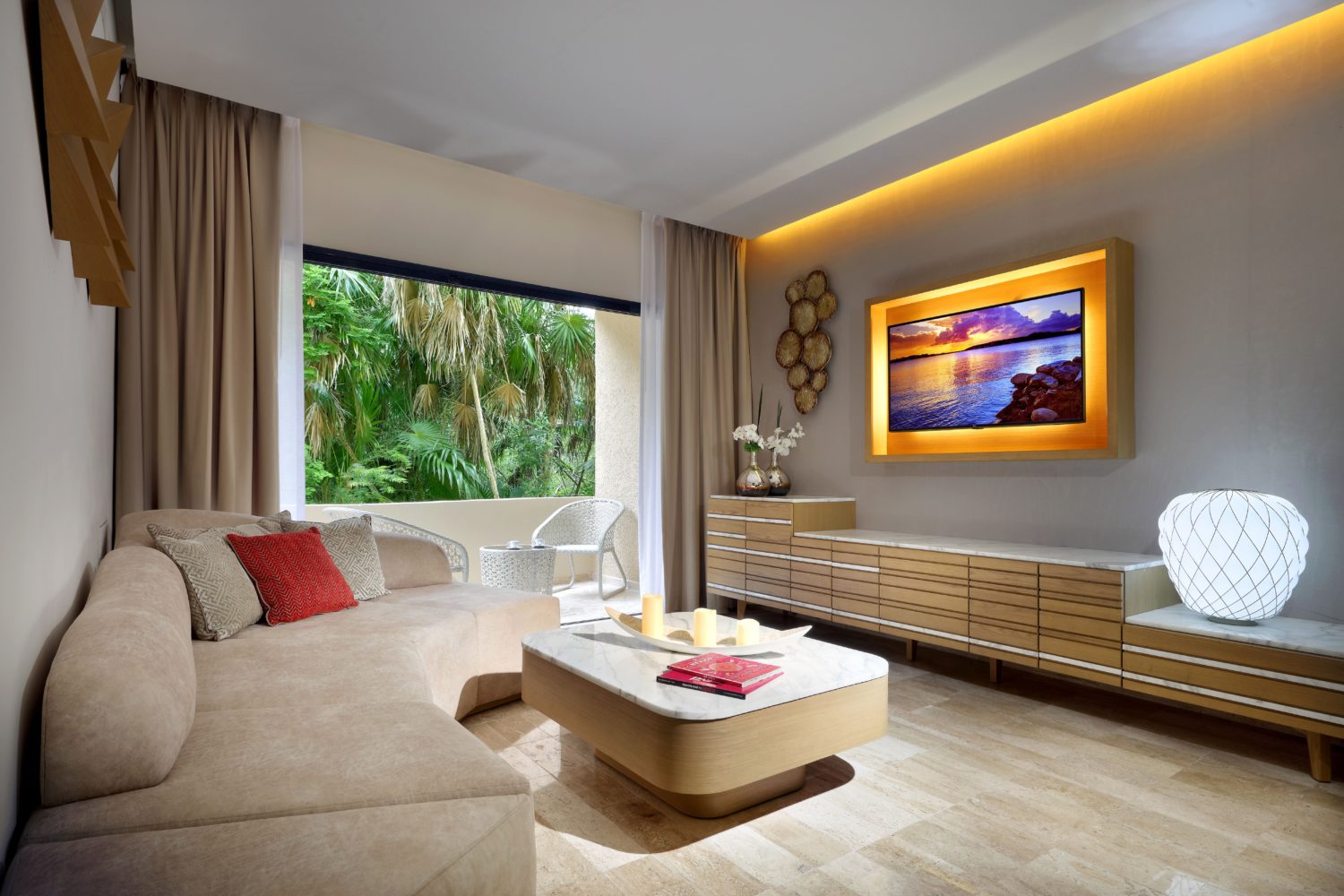 TRS Yucatan Hotel – Junior Suite Garden View from £417 (based on two adults sharing on an all inclusive basis with butler service).
Carretera Chetumal-Puerto Juárez,Km. 259-100 Solidaridad – Akumal, 77710 Playa del Carmen, Q.R., Mexico