Situated where the Tennessee and Ohio Rivers meet, Paducah perfectly blends southern charm, natural beauty, and creative culture into one engaging destination. From exploring the riverfront to discovering the arts scene, Paducah offers memorable experiences and hidden gems just waiting to be uncovered. When visiting this Western Kentucky city, there are many rewarding things to do in Paducah, Kentucky. 
What to Do in Paducah
Outdoor recreation in Paducah centers around the scenic rivers and parks found throughout the city. The riverfront not only provides gorgeous views, but opportunities for activities from laid-back to adventurous.
Start by strolling or cycling the 10-mile RiverWalk along the Ohio River, keeping an eye out for river wildlife and beautiful sunsets. Relax on sandy beaches at Paducah Riverfront Park between dips in the water. Sign up for a guided paddle boarding or kayaking adventure down the river for a new perspective from the water.
On land, enjoy over 30 miles of biking and hiking trails that link parks and forested areas around town. Rent a boat or bring your own to launch from the boat ramps into the Tennessee River for a day of fishing. From the riverfront to lush parks, Paducah's outdoor options entertain visitors with any interest.
Next, explore Paducah's thriving arts and cultural scene, from museums and galleries to performing arts venues.
Visit the National Quilt Museum to see outstanding quilts from across the eras and around the world. At the River Discovery Center, learn about the region's ecosystem through interactive exhibits. Catch a show at the Carson Center, home to Broadway performances, concerts, and productions from Paducah School of Art and Design.
In the historic LowerTown Arts District, browse the colorful converted bungalows filled with galleries, studios, and shops selling locally made art, crafts, jewelry and more.
With creativity woven into the city, Paducah's arts and culture create engaging, inspiring experiences for visitors.
What to See in Paducah
Between the activities, Paducah rewards visitors who take time to admire its unique architecture and sights around the city.
Stop into the 1905 Coke Plant, where a vintage Coca-Cola bottling plant now houses retail stores and restaurants. See downtown historic architecture like the red brick Dixie Greyhound Lines building and Market House, the oldest existing market in KY.
Walk across the striking blue cantilevered Irvin Cobb pedestrian bridge over the Ohio, or catch views of the riverfront from the RiverPark Center's rooftop garden. At Noble Park, see the log cabin museum, statues, and other monuments dedicated to Paducah's past.
Visitors who wander away from the main attractions will discover Paducah's quirky secrets, like the wall murals spread throughout LowerTown or the historic markers denoting the city's importance.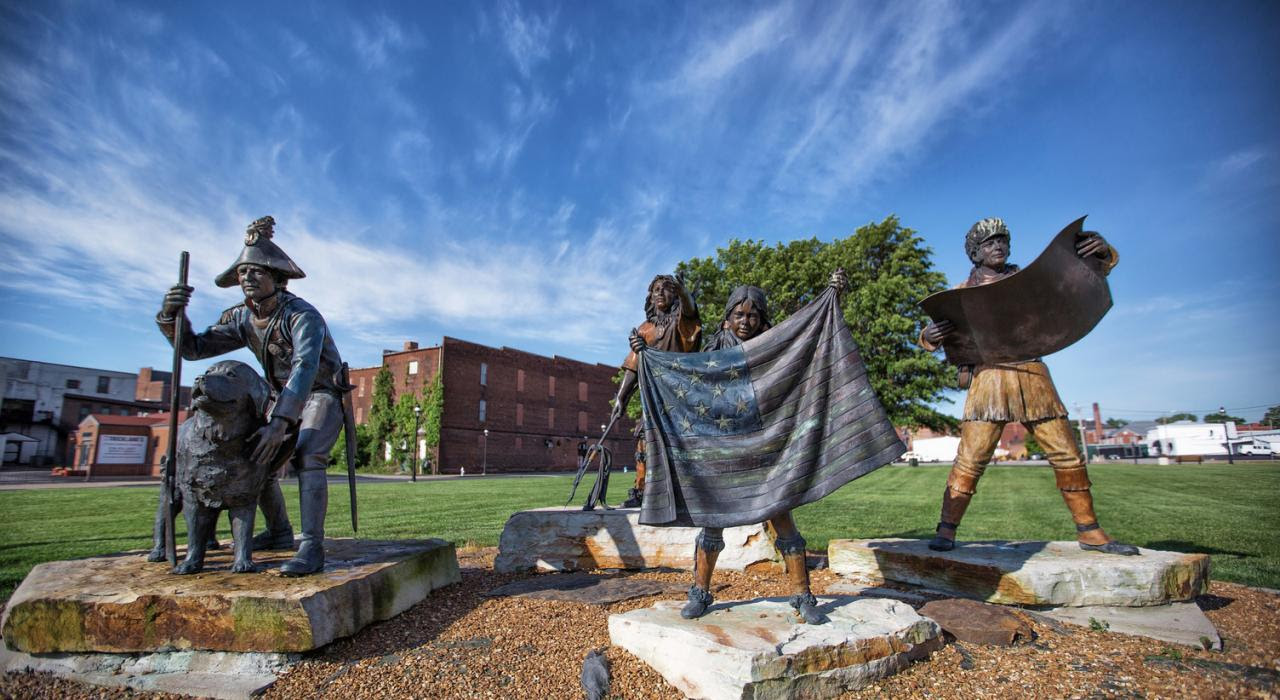 Where to Stay in Paducah
With so much to experience, Paducah has lodging options aplenty to fit any budget or style during your visit.
The Coleman House Bed & Breakfast provides a restful oasis in a Victorian mansion filled with antiques near downtown. For extended stays, TownePlace Suites offers apartment-style suites with kitchens. There are familiar chain hotels like Hampton Inn and Holiday Inn Express that provide reliably comfortable rooms and amenities.
Located right on the riverfront, The River House offers well-appointed suites with great views along with event space. The recently restored French-inspired Wine Valley Inn provides a quiet retreat set among 22 acres of vineyards.
From cozy B&Bs to convenient hotels, Paducah's lodging choices help visitors fully enjoy the city's attractions.
How to Get to Paducah
Paducah enjoys a convenient location at the crossing of Interstates 24 and 57 in Western Kentucky. Whether driving or flying in, getting to Paducah is a breeze.
By car, Paducah is about 2 hours south of Evansville, IN, 2 hours west of Nashville, TN, and 4 hours north of Memphis. From Louisville or Lexington, take I-24 west.
Visitors can fly into nearby Barkley Regional Airport or into Nashville International Airport just over 2 hours away.
Once in Paducah, get around by car, ride the public bus system Paducah Transit, or call a cab or ride share service like Uber.
With accessibility by road and air, getting to Paducah to enjoy this charming river city is simple from any direction.
Conclusion
With unique attractions from the National Quilt Museum to the LowerTown Arts District, rich history, and scenic views of the Ohio and Tennessee Rivers, Paducah provides engaging experiences for visitors of all interests. Outdoor recreation, fascinating museums, vibrant arts scene, and historic architecture make Paducah a rewarding getaway destination. Wonderfully walkable and friendly, Paducah invites visitors to unwind and enjoy the blend of culture, creativity, and natural beauty that makes this river city special. When seeking things to do in Paducah, Kentucky, you'll find this small city overflows with possibilities.