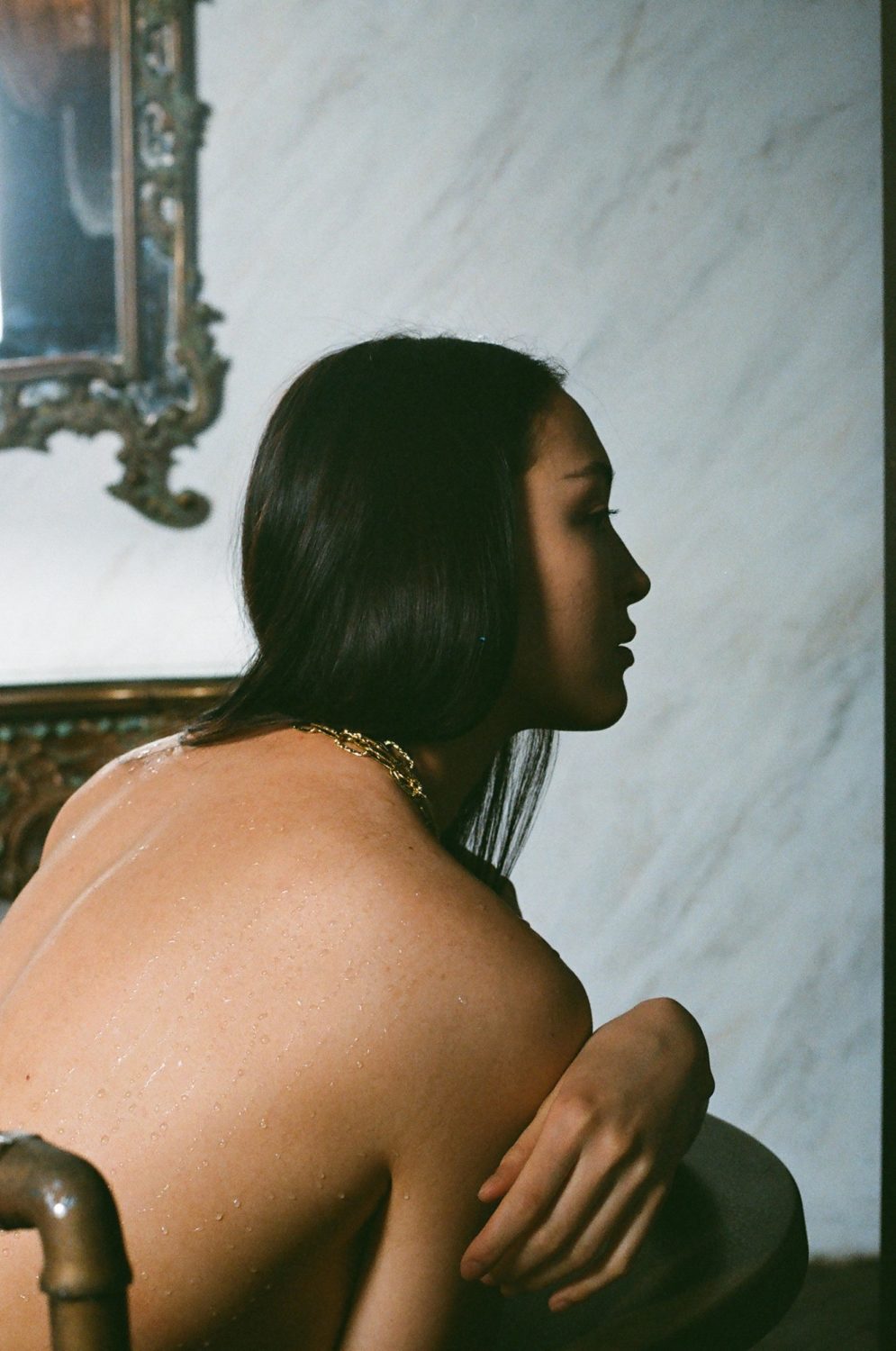 Remember that episode of Friends where they go to Barbados, and the humidity hits Monica hard, so she gets her frizzy hair braided? I've been there (without the seashells). I have chronic frizziness – and it's not just humidity that causes it. Whether I'm in the jungle in Vietnam or a drizzly town in the UK, my hair likes to be unruly.
My natural texture is wavy (which I love), but I've always struggled to tame it while retaining its volume. Unless I use straighteners, which I'm not a big fan of, or get a blow-dry at a salon, I rarely achieve smooth and shiny. Over the years, I've learnt to embrace the frizz and flyaways – but I'll admit, sometimes a girl just wants sleek hair, you know?
So why does hair go frizzy? According to renowned hairdresser John Freida, the main cause is lack of moisture in the hair: "Dry hair absorbs moisture from the air, causing frizz, which explains why humidity can make it even worse."
Over-brushing, bleaching, drying your hair with a towel and using too much heat are all common mistakes that can make your frizz worse. I try to let my hair air-dry most of the time and avoid tools, but without using the right prep and products, there's little shine and plenty of static wiry strands.
Sure, I've tried a lot of products over the years – conditioning hair masks, special brushes, smoothing serums. I've spoken to top hairstylists (I had my hair done by J.Lo and Kim K's stylist Chris Appleton once) and absorbed their every tip and trick. But I've still struggled to style my hair at home.
For years I'd pile on taming products, only to result in a build-up of product and greasy roots – meaning I'd need to wash my hair more. Washing your hair more often can leave it fluffy, dehydrated and, you guessed it, frizzy. So how do you break the cycle?

STEP 1 – CONSIDER MORE REGULAR HAIR CUTS
Some hair – especially curly hair – tends to break easily which can make it look frizzier. Split ends that expand up the strand have the same effect. Consider having regular trims every two months to help your hair look sleek and healthy.
STEP 2 – ADJUST YOUR CLEANSING REGIME
Look at your cleansing process. Pick a gentle and moisturising shampoo that hydrates instead of strips. Hairstylist to the stars, Jen Atkin, advises washing your hair in lukewarm or cold water: "Hot water can strip your hair of its natural oils, leave your scalp dehydrated and make hair look frizzy and staticky. A quick rinse of cold water on the other hand will help lock in moisture, and your hair will also look shinier as a result."
STEP 3 – HYDRATE, HYDRATE, HYDRATE
Frizzy hair is often dry. Find a mask that works for you and treat your hair to it once a week for a boost of moisture. Most brands will recommend leaving the product in for at least 20 minutes, but if you're like me and struggle to find the time (and patience) for this, applying a mask for even five minutes once a week will make a noticeable difference to the shine of your hair. Let your hair air-dry and then apply a cream or oil sparingly on the ends to avoid greasy roots.
Best Beauty Products for Frizzy Hair
It's taken me years of being a beauty journalist and testing hundreds of products to find the ones that really work. From budget buys to splash-out treats, here are the 11 best products for treating frizzy hair.
Christophe Robin Cleansing Purifying Scrub, £42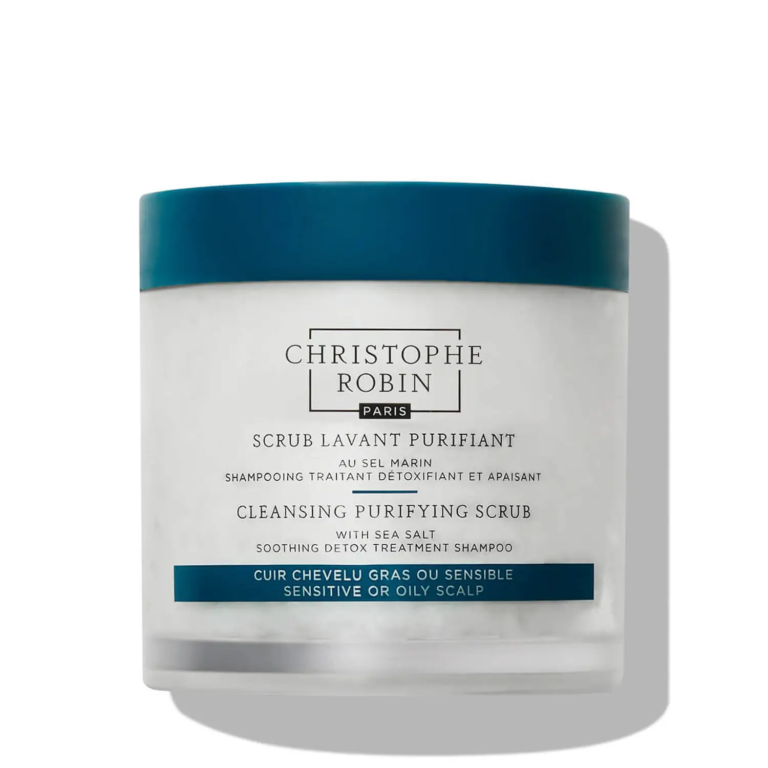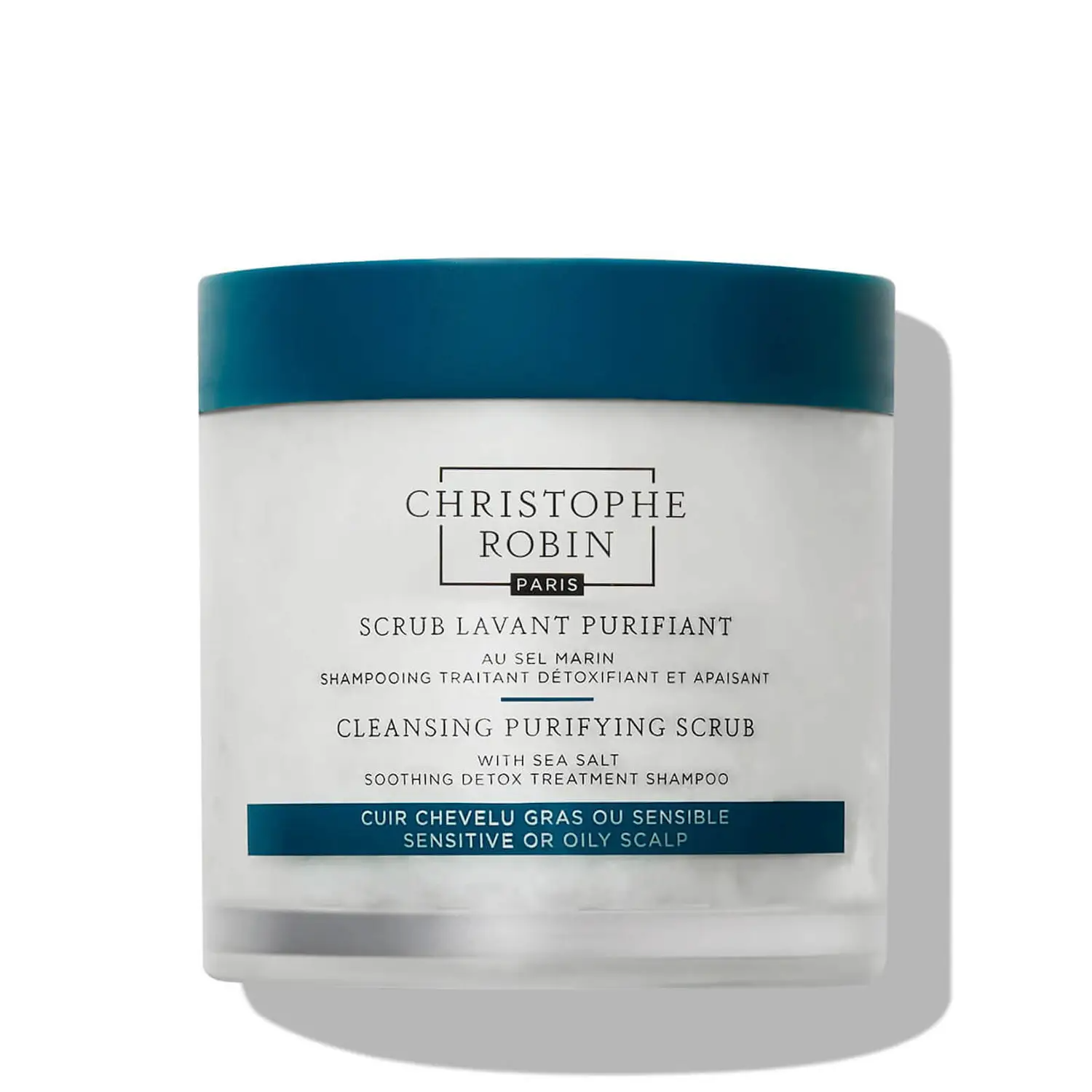 When it comes to getting rid of product build-up, this scalp scrub is my go-to. Formulated to detoxify and soothe sensitive or oily scalps, this grainy scrub with sea salt crystals removes build-up and gently exfoliates. Apply generously to wet hair once a week as a first shampoo, then rinse.
Philip Kingsley Elasticizer Deep-Conditioning Hair Treatment, £35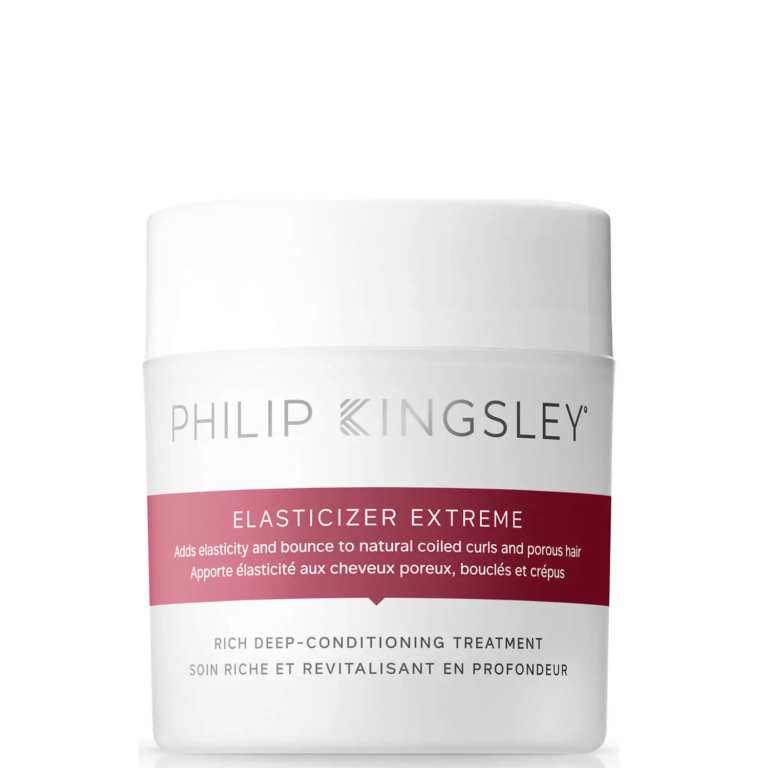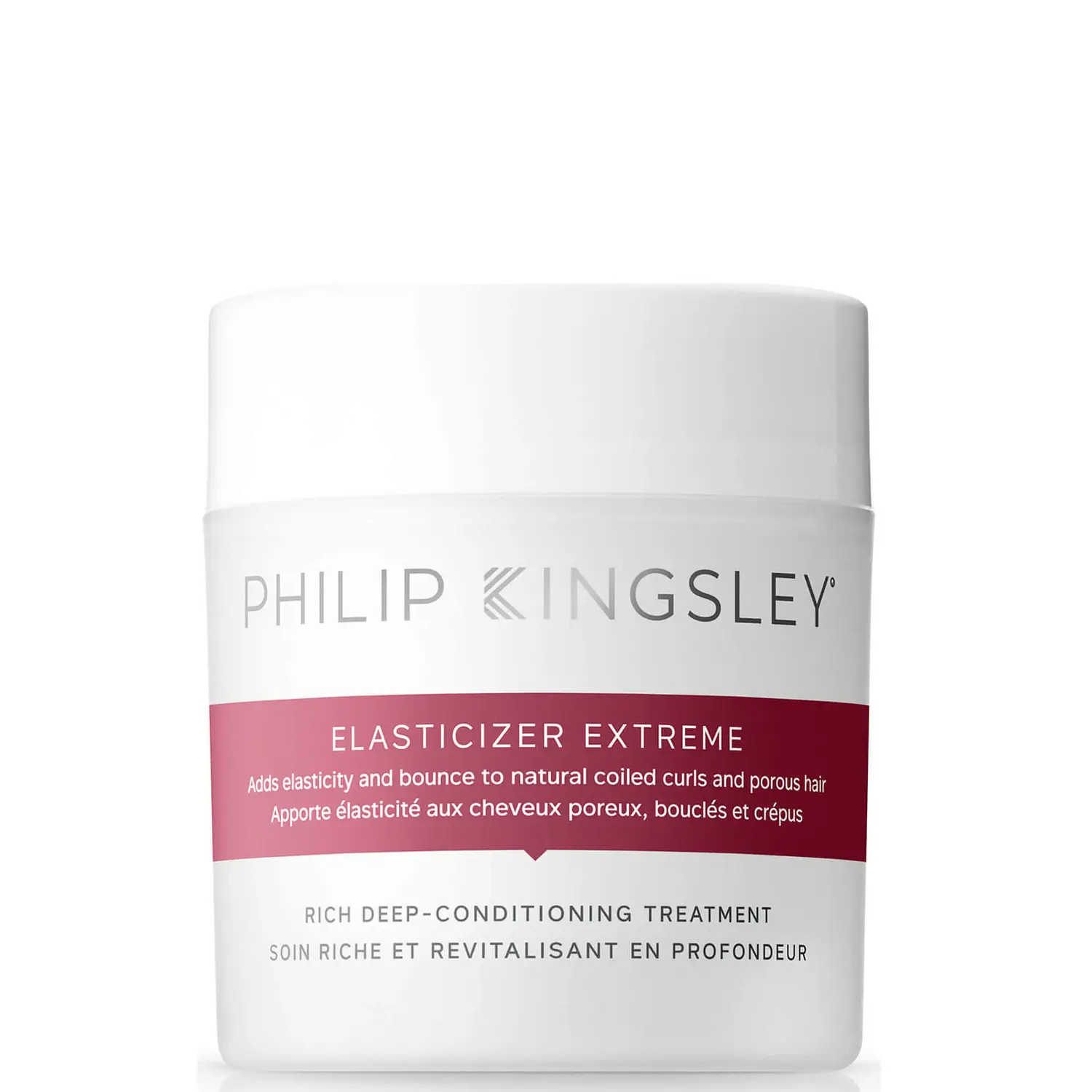 In my experience, there's one haircare brand that beauty editors swear by more than any other, and that's Philip Kingsley. So it's no surprise that one tub of its Elasticizer Deep-Conditioning Hair Treatment is sold every minute. Expertly formulated by leading trichologists, this conditioning mask helps restore damaged hair. Leave it on for 20 minutes for a dazzling shine, or even better, use it as an overnight conditioner.
Living Proof No Frizz Shampoo, £24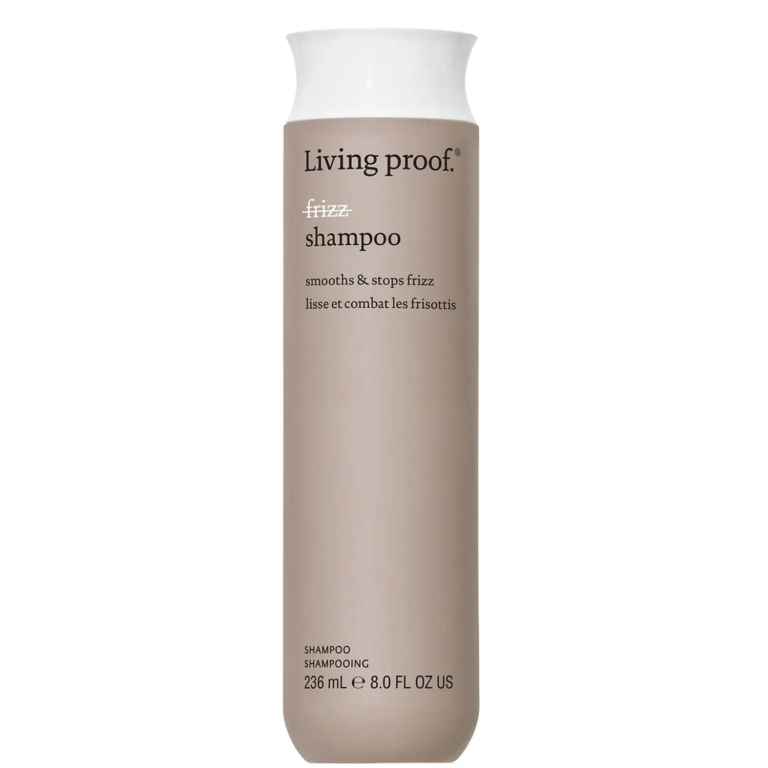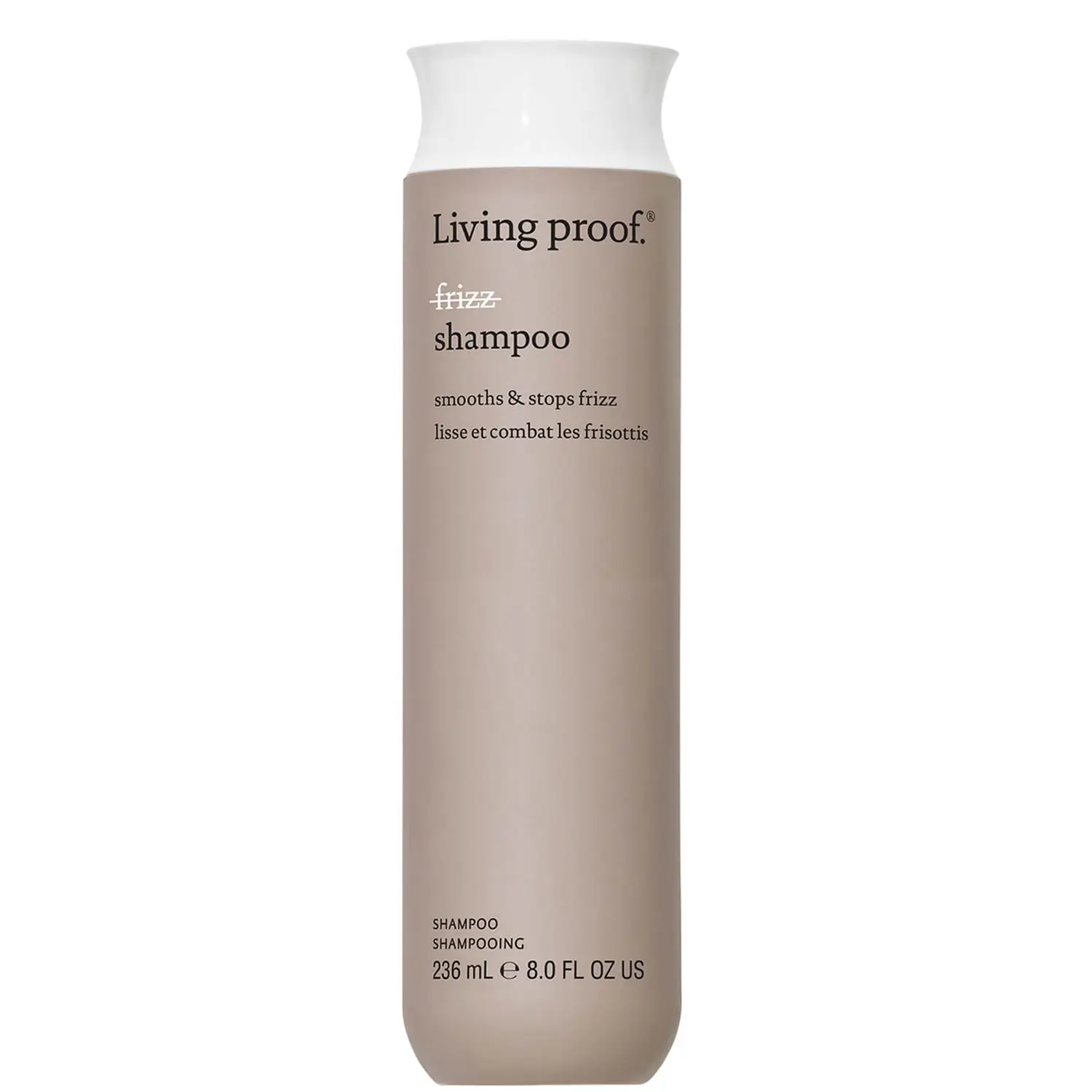 Yes, it's expensive for a shampoo but it really is worth the money. I've been a big fan of Living Proof for years. PETA certified as "cruelty-free" (meaning its products aren't tested on animals), the brand steers clear of using parabens, sulphates and silicone in its products. Its patented formula for No Frizz Shampoo helps to block humidity, smooth hair and repel oil.
John Frieda Frizz Ease Brazilian Sleek Shampoo, £6.99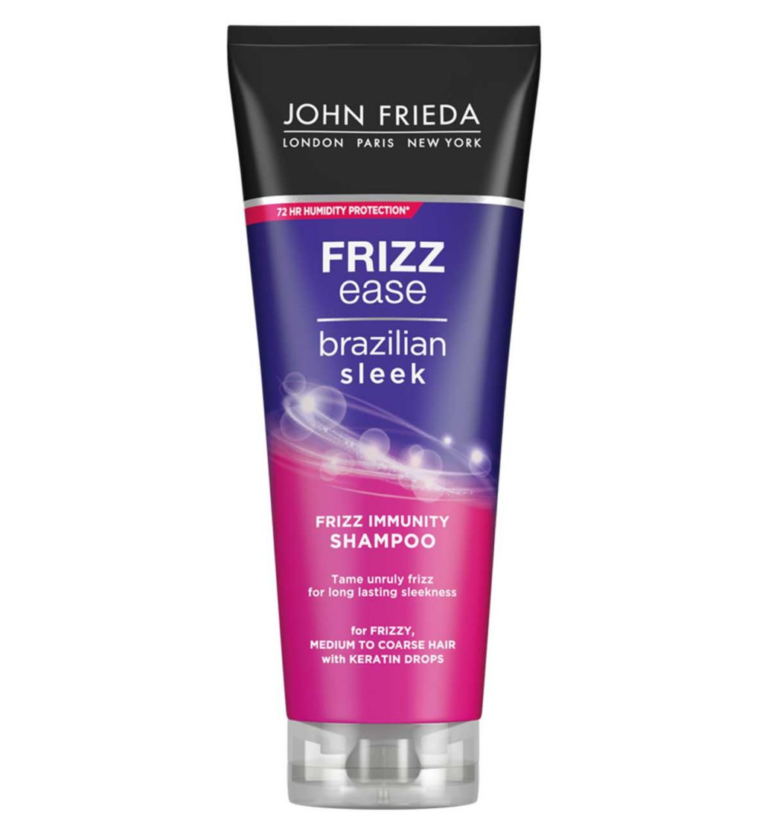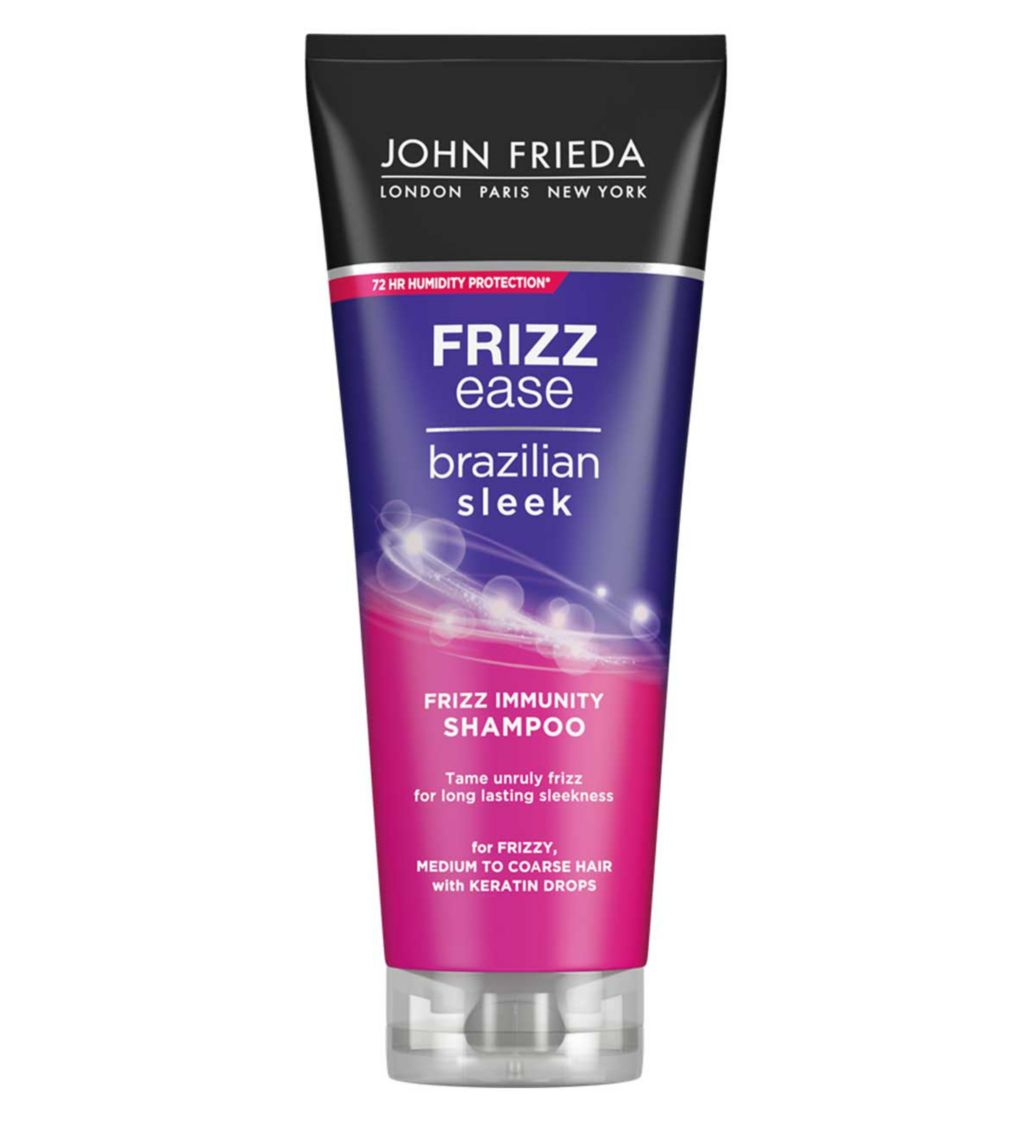 Believe it or not, this budget buy packs an impressive punch. Not only does the shampoo lather up well and gently cleanse hair, but it also helps to tame frizz and gives a wonderfully sleek result thanks to the inclusion of keratin in the formula.
Aquis Coppersure Rapid Dry Hair Wrap, £30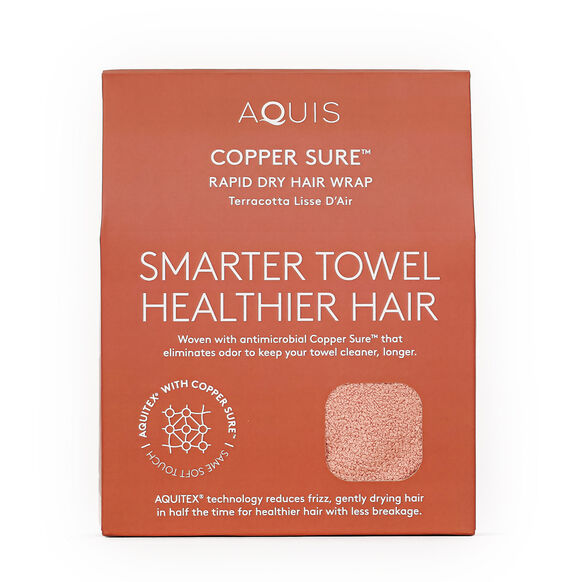 Using an abrasive towel to dry your hair can be worse for frizz than using a hairdryer as it strips away oil and moisture. Ever since I was sent my first Aquis microfiber towel, I haven't looked back. The antimicrobial wrap helps hair to dry more quickly, reduces breakage and protects hair while it's wet, making for a shinier and healthier look.
Bumble and Bumble Hairdresser's Invisible Oil Heat/UV Protective Primer, £25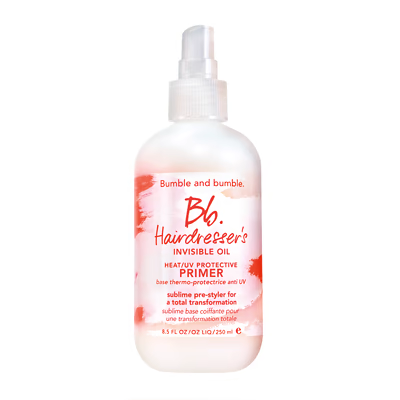 If you're going to use heat or be out in the sun, protect and prime your hair with this lightweight oil. With a blend of six oils, including coconut, argan and macadamia nut, this spray helps to soften hair, defrizz and detangle. Best of all, it's suitable for all hair types. Plus, it comes in a conveniently-sized 60ml bottle – perfect for taking with you on holiday.
Dyson Airwrap Complete Styler, £399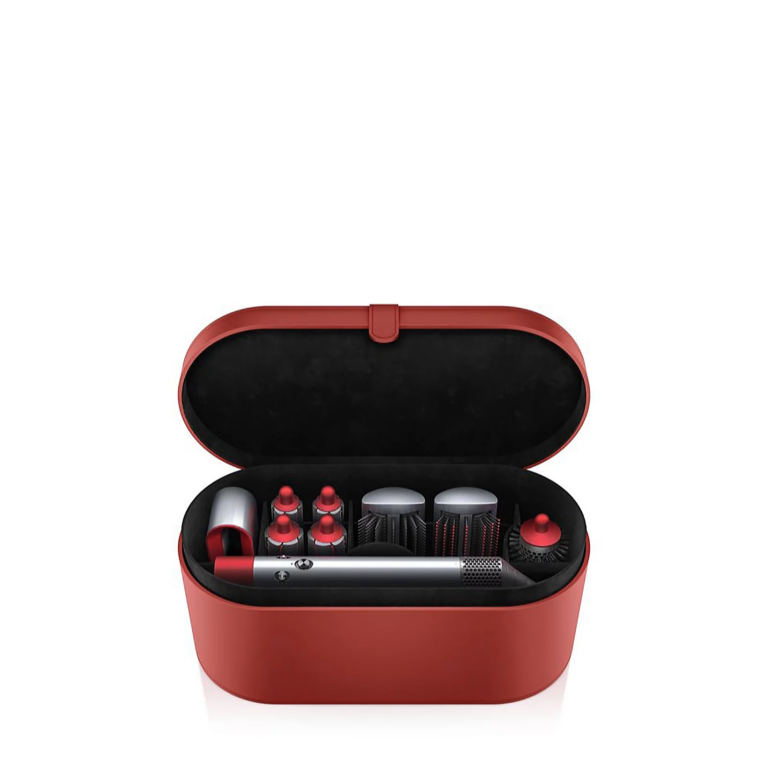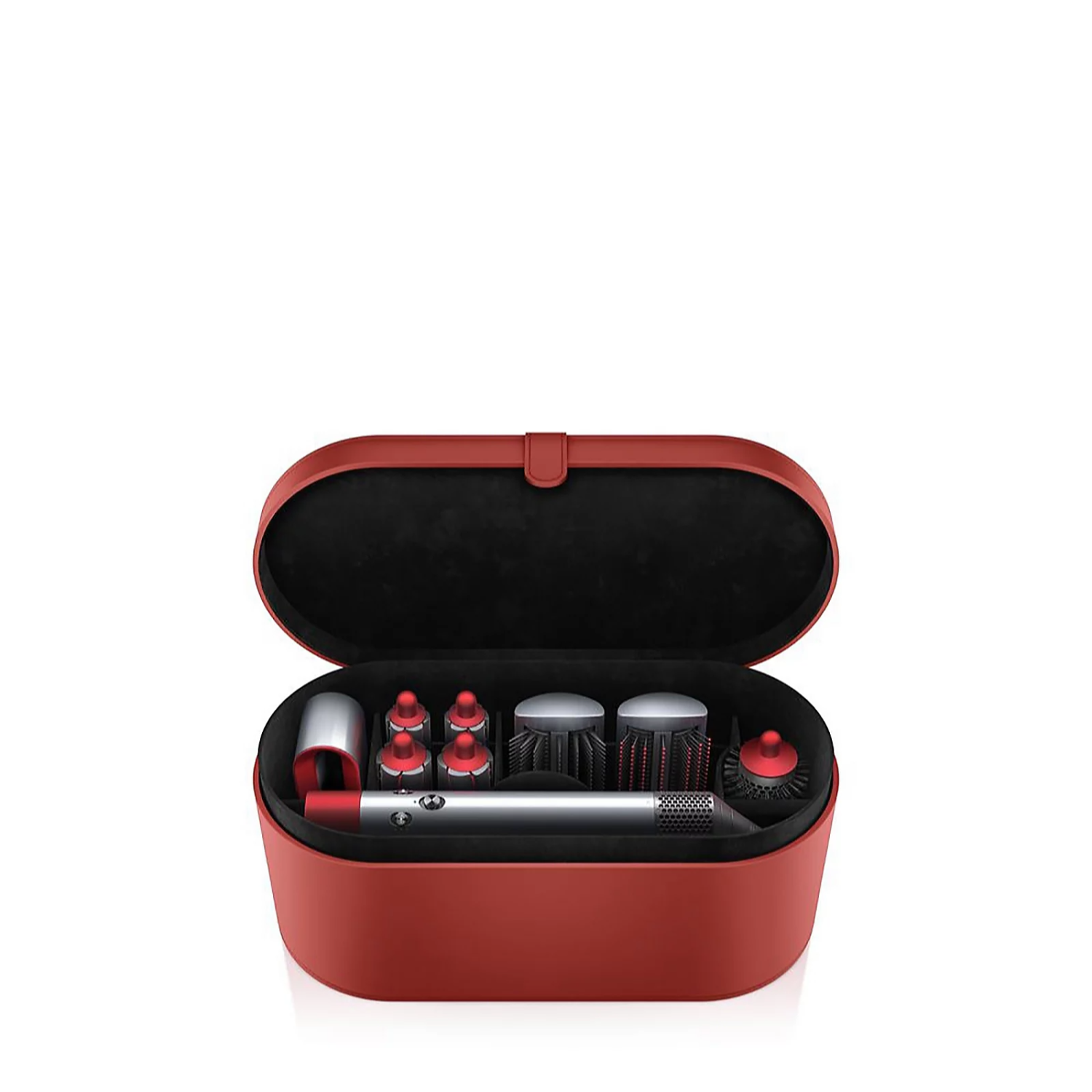 I'm not going to lie, it took me a long time to build up the courage to buy an Airwrap. They're not cheap and I wondered if the result would be worth the money. Was all the hype just clever marketing? After saving some birthday dosh and waiting for weeks for it to come back in stock, I took a leap of faith – and I haven't looked back since. The innovative airflow system isn't as harsh on hair as a regular dryer and styling tools. It's an investment for sure but one that I'm pleased I made as my hair feels and looks noticeably healthier and sleeker.
Hershesons Almost Everything Cream, £10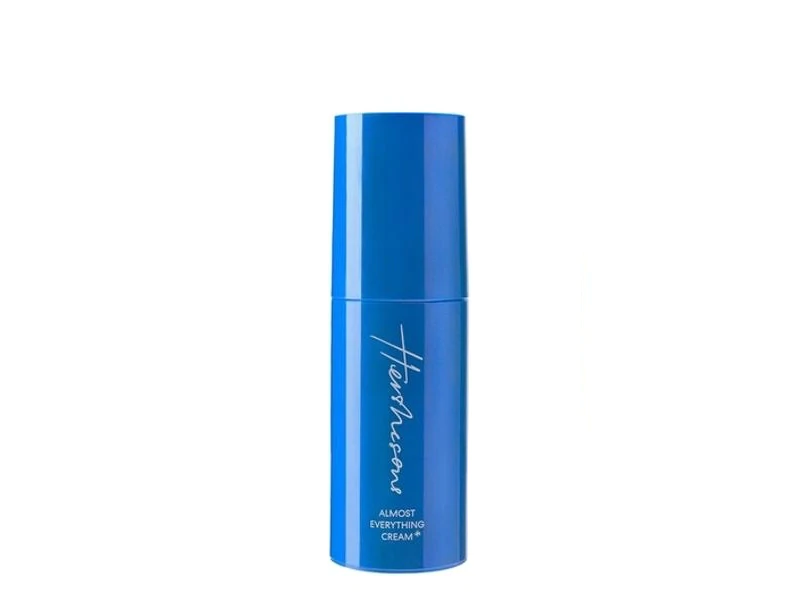 This one tube has replaced a whole collection of products on my dressing table – it's an all-rounder that tames stray hairs, conditions, smooths frizz and adds shine without leaving my locks greasy. Whether you've got curly, dry, fine, thick or Afro hair, a little dollop of cream on wet or dry hair gives it a smooth finish.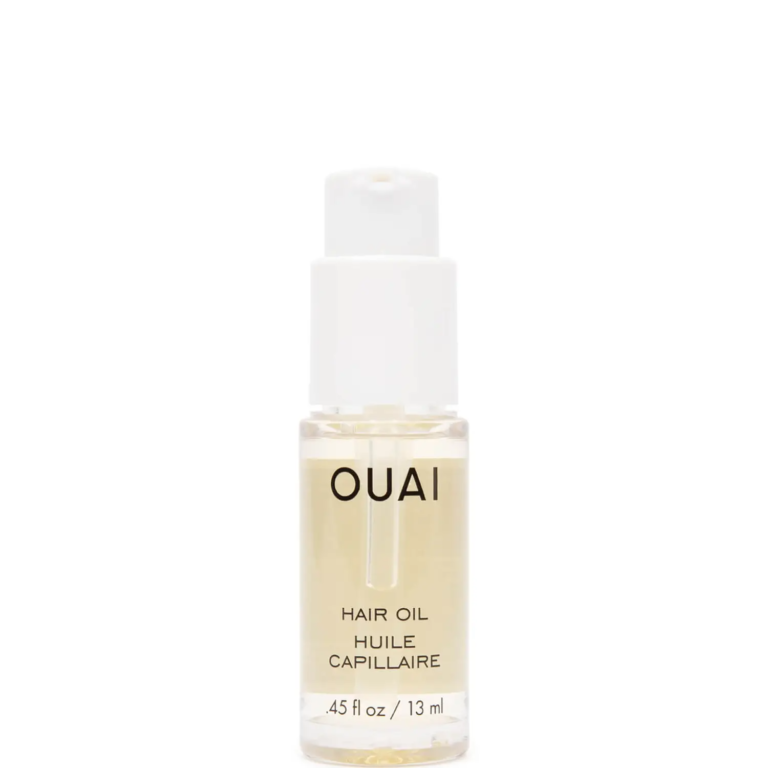 I'm not usually the biggest fan of oils – I find they can make my hair look greasy, even when used sparingly on just the ends. But this one from Ouai – the creation of celeb hairstylist Jen Atkin – has won me over. It helps to control frizz and smooth knotty split ends. It smells amazing, too.
L'Oreal Professionnel Fix Anti-Frizz, £11.50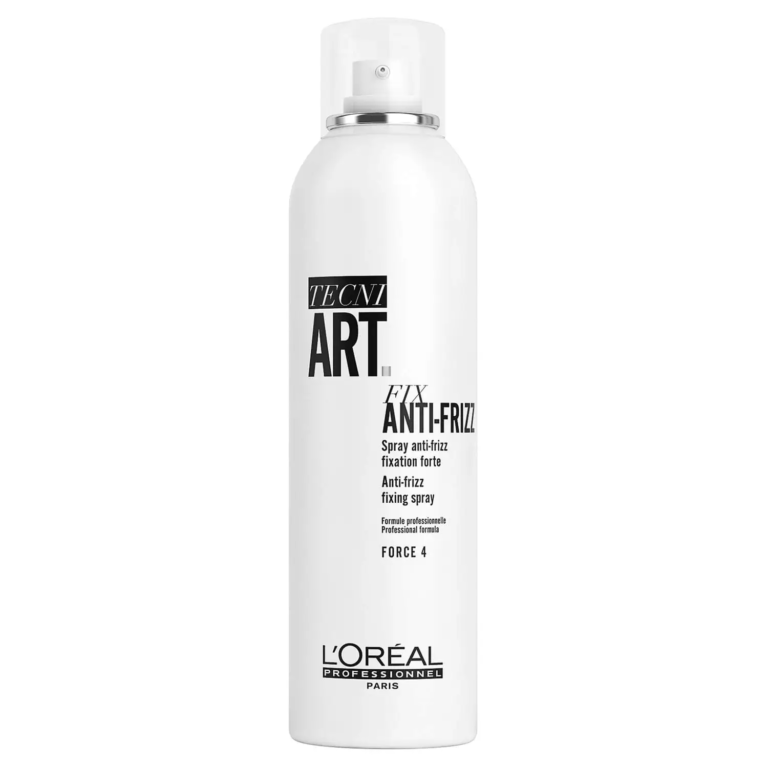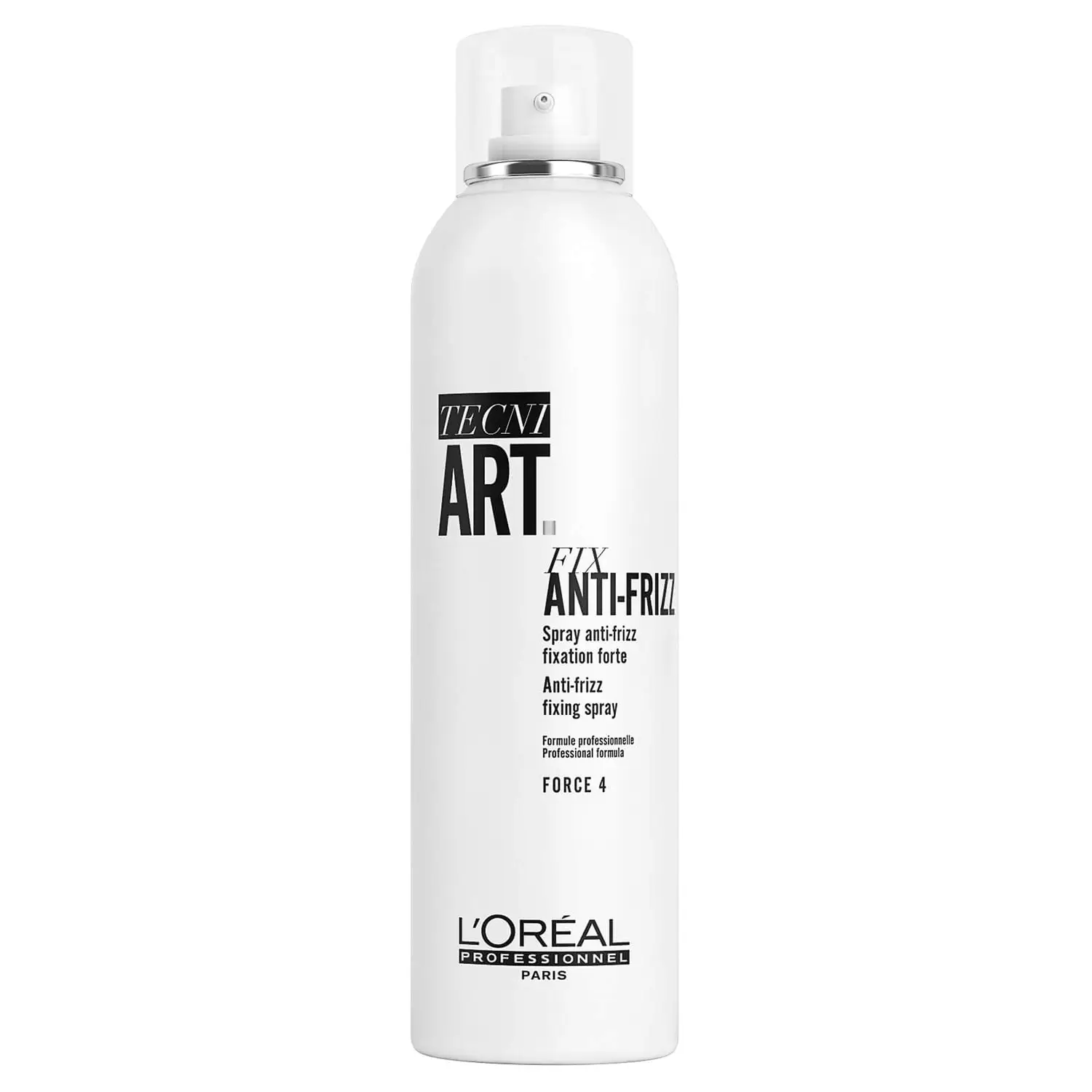 I'm lucky that I get to meet a lot of beauty and hair experts in my job, and I always learn something new from listening to their tips and recommendations. So, when two top stylists told me to try this anti-frizz fixing spray, I had to give it a go – and it worked. Apply to damp or dry hair to tame frizz and flyaways and help protect against humidity. Forget crunchy sticky sprays – this one is lightweight and soft on your locks.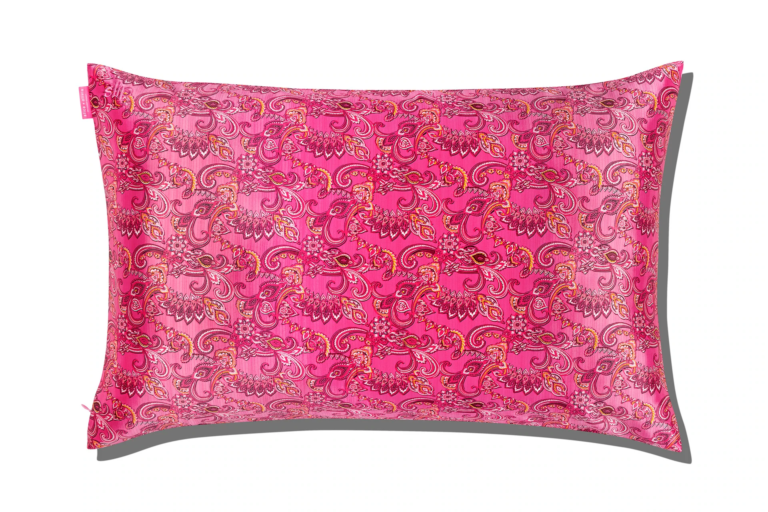 A favourite of hair stylists, dermatologists and celebrities, Slip Silk pillowcases reduce friction by 43% compared to a cotton case, which can pull on your hair as you turn in your sleep. I love mine, especially in summer – it's cool on your face, and helps to prevent frizzy bedhead hair.