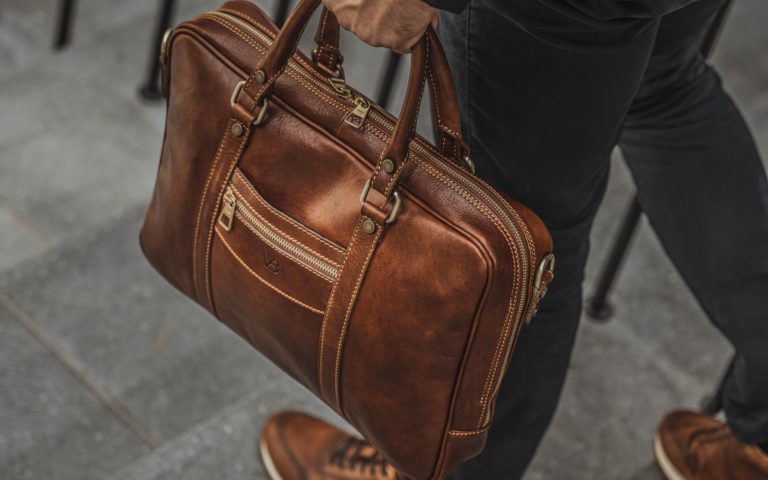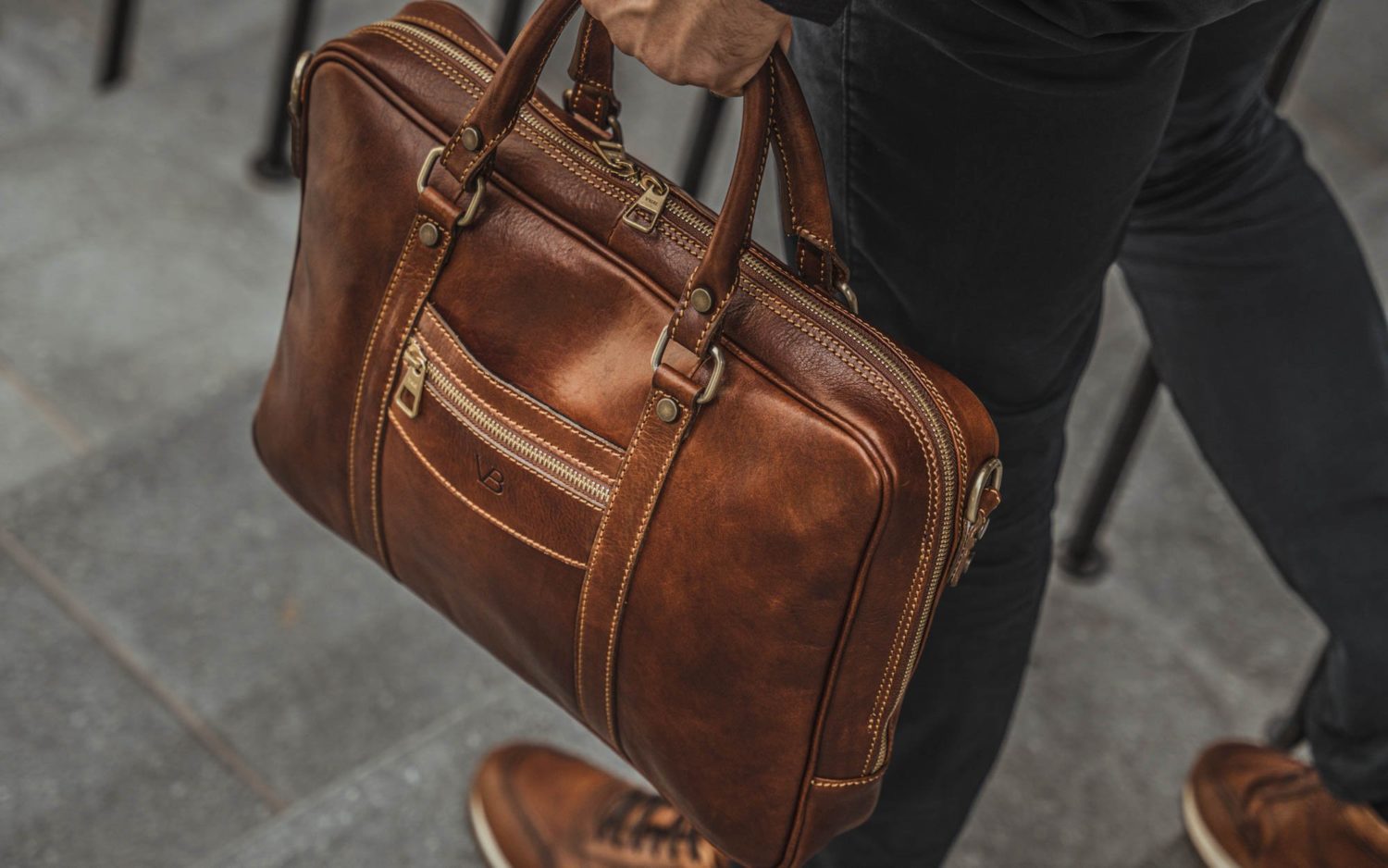 With so many options for work bags for men, you might feel like you're drowning in a sea of choices. So many styles, colors, and types—buying one can be a bit overwhelming. Whether you're buying for yourself or for a man in your life, choosing the right work bag is essential. You need a bag that will not only look good but carry everything you need to take you through a workday.
Read up on these 11 things to consider when buying men's work bags. The more research you do before making a purchase, the better informed of a decision you'll ultimately make.
Types Of Bags
There are different types of bags that you can choose from if you're trying to get that perfect men's work bag:
Leather Laptop Bags
Since laptops come in different sizes from the very small to the relatively bigger ones, it only makes sense to get a bag that's large enough for your specific device. Otherwise, it'll be inconvenient to carry around, especially if you travel often.
The other added bonus of getting yourself a laptop bag is that they're usually not limited to just storing laptops. You'll also most likely be able to fit all sorts of other things into them as well if you choose right.
There are two main reasons why you should consider buying a laptop leather bag. The first one is the fact that there are lots of different styles out there. It means you should have no problem finding one that suits your needs perfectly.
The second reason is their durability. They are made to carry a device as fragile as a laptop without it dropping, so they're designed to be pretty strong.  So, if durability is important to you, then this could be the right bag for you. When it comes down to it, the best men's leather bag is the one that seamlessly merges style, functionality, and durability. Prioritize a leather bag that showcases your uniqueness while fulfilling your practical requirements.
What To Look For In A Leather Laptop Bag
Make sure that whatever one you decide on goes well with your fashion style. Just remember that it's always better to go with something classic. Also, make sure that it can fit in professional settings, especially if you work in a corporate field
The material in which your laptop bag is made is going to make all the difference as well. Leather might be the most durable among the pack. It could be a great investment to make as work bags made with leather are durable and long-lasting. You won't need to buy a new bag in the years to come.
Another thing to look out for is space for more than just your laptop. You want something with a much broader functionality than that. It will need to have a compartment or two to help you carry other things you might need for work. If you need to bring your tech into work with you, then you can't go wrong with a genuine leather laptop bag from VonBaer.com. A good-quality leather laptop bag will be durable and will look classy and professional.
Military Bags
While most people think that military bags are only used by our brave troops, this couldn't be further from the truth. In fact, they're actually a great choice for anybody working in any type of industry because they can easily hold all of your stuff while allowing you to function at high speeds. However, there are some other factors that you need to consider before making a purchase.
What To Look For In A Military Bag
The very first thing that you should do when buying a military bag is to make sure that it has lots of separate compartments within for easy access to your things. This has two benefits: it makes things easier when you need to get your tools out quickly without unpacking. It also allows for more organization as everything has its own place.
Take note of the bag's material. You want something made with high-quality and durable material so the bag can carry all of your things securely and for a long time.

Business Briefcases
A business briefcase is always a good choice since it can carry all of your important work-related items. It can also be used for keeping everything safe and secure when you're on the road which is great if you're traveling a lot.
What To Look For In A Business Briefcase
To start, you need to check how much room there is inside. This will determine the number of files and other items you'll be able to keep with you at any given time. Try not to go too overboard because these types of briefcases aren't designed to be weighed down with too much on the inside since that might cause some damage during your commute.
In addition, you also have to take a really good look at the design of the briefcase itself because not all briefcases are actually business briefcases. So, if you want that seamless professional look, make sure you choose a bag to match.

Backpacks
The main advantage that backpacks have over standard work bags is that they go well with casual clothing. Even though they can be used for work, it depends on the person who owns them as well as their profession. This is because there are some careers where it wouldn't be that appropriate to use a backpack as it can be deemed unprofessional.
What To Look For In A Backpack For Work
Fabrics are the first thing that you should pay attention to when looking for a backpack to use at work. Make sure that whatever fabric has been used is not only comfortable but will also be able to stand up to wear and tear even if you end up putting some heavy-duty items inside of it daily. The fabric should also be easy to clean.
Make sure that your backpack comes with plenty of storage compartments before deciding on whether or not this is the right buy for you. If possible try buying something that has some zippers aside from Velcro. This allows you easy access instead of having to fumble around with the item trying to get it open.
Something that may seem like a small detail but is very important is getting something with padded straps. Padded straps add support to your shoulders and make carrying the backpack for longer periods more comfortable. This may be a standard with most brands, but still, make sure to check.

Messenger Bags
As the name suggests, messenger bags are worn across your body just like how a courier would carry their deliveries. It might remind you of a wallet, but bigger and quite possibly better. They're very easy to hold and carry. So, if you're looking for something you need to use daily, then this is probably the best choice.
What To Look For In A Messenger Bags
There are several things that you need to pay attention to when making this purchase, including how it looks. You might want something that is functional but still looks professional and sleek. Going for a bag with neutral colors also makes it easier to pair and style it with any clothing.
The other important factor is the number of pockets and compartments. If it doesn't have compartments, it might limit the items you can store and carry around, which means less flexibility.

11 Things You Can Consider In General When Choosing A Man's Workbag
Aside from the things that are specific to the type of bag you're trying to choose, here is a further guide on how to choose the right work bag for you or that special man in your life:
Determine Your Budget
First and foremost, you should set a spending limit for yourself. It's a good idea to have a price range. This way, if the bag falls under your budget, great! If not, rule it out and move on to something else.
Decide What Type Of Work Bag Suits Your Profession
There are different types of bags suited for various job roles. For example, electricians need storage space for their tools and materials, so they might benefit from buying an electrician tool belt rather than just any old messenger bag or satchel. Make sure to keep your or your man's profession in mind when buying.
Make A List Of Your Necessary Features
Once you have a solid price range and a general idea of the type of work bag that is good for you, sit down and make a list of all the key features that are important to you. List down all the key features you want in a bag so you can refer to them as needed. For example, if you want a laptop bag, take note of your laptop's dimensions so it can fit inside the bag you'll buy. Aside from that, take note of the number of compartments you want, if you want it waterproof, and the like.
Determine The Style And Appearance
In addition to deciding on all the key features, determine whether or not appearance matters to you. Do you want a brightly colored messenger bag or something simple-looking? Maybe more of a backpack man? What type of material do you want? Think about what appeals most to you and write it down.
Check The Dimensions
Now that you have your list of necessary features and what style or appearance you like, measure each product's dimensions to make sure that they will suit your needs. This is especially important for satchels so you can put in all the items you need for your work, such as files, your work laptop, your personal belongings, or your tools.
Think About How Easy Or Difficult It Would Be To Pack Up And Move Somewhere Else With It
This is another factor that really depends on personal preference but is certainly worth thinking about. How easy would it be to pack your things up? For example, if you worked in a coffee shop, how much time would it take for you to get your things back in the bag? If you're a traveler with not much free time, this could also be something to take note of when shopping around.
Are There Any Additional Features Or Accessories That Would Be Beneficial To You?
There are bags with lots of little compartments and extras. Some, on the other hand, do not have such features. So, it's worth thinking about whether or not these would help you out. Some men like having lots of pockets for an organization while others don't mind keeping everything together in one big compartment. Think about what your preference is and write it down.
Do Your Research Online First Before Going Shopping
It should go without saying, but always do a bit of research on the product first before buying it. Look for online reviews and comments from those who have bought the bag. Are they satisfied? Do they have complaints? Based on those reviews, you can decide whether to keep that bag on your list or not.
Think About The Durability Of The Product
If there is one feature that should be at the top of your list when it comes to buying a work bag then this would have to be durability. If it's not durable enough then you are just going to end up wasting money by having to replace it over and over again. You should look for something you can use for a long time without breaking.
What Kind Of Material Is The Product Made From? Is It Suitable For What You Need?
Ensure that whatever material has been used in making the product meets your needs. For example, if you're looking for something heavy-duty then don't buy one that's made out of cheap cloth because it clearly won't hold up.
Look For Additional Accessories Or Add-Ons That Can Help To Increase The Functionality Of Your Work Bag
If you travel a lot, it might be wise to look for a bag that has security and anti-theft features such as cut-resistant fabric, locking mechanisms, and the like. If you face the elements frequently, a bag that can withstand inclement weather without much trouble might be needed.
Conclusion
Taking the above factors into account will help make your work bag buying experience easier and less stressful. If you're not sure whether or not a certain product is worth purchasing, then it's always best to consult friends and family members for their opinions before making the purchase.