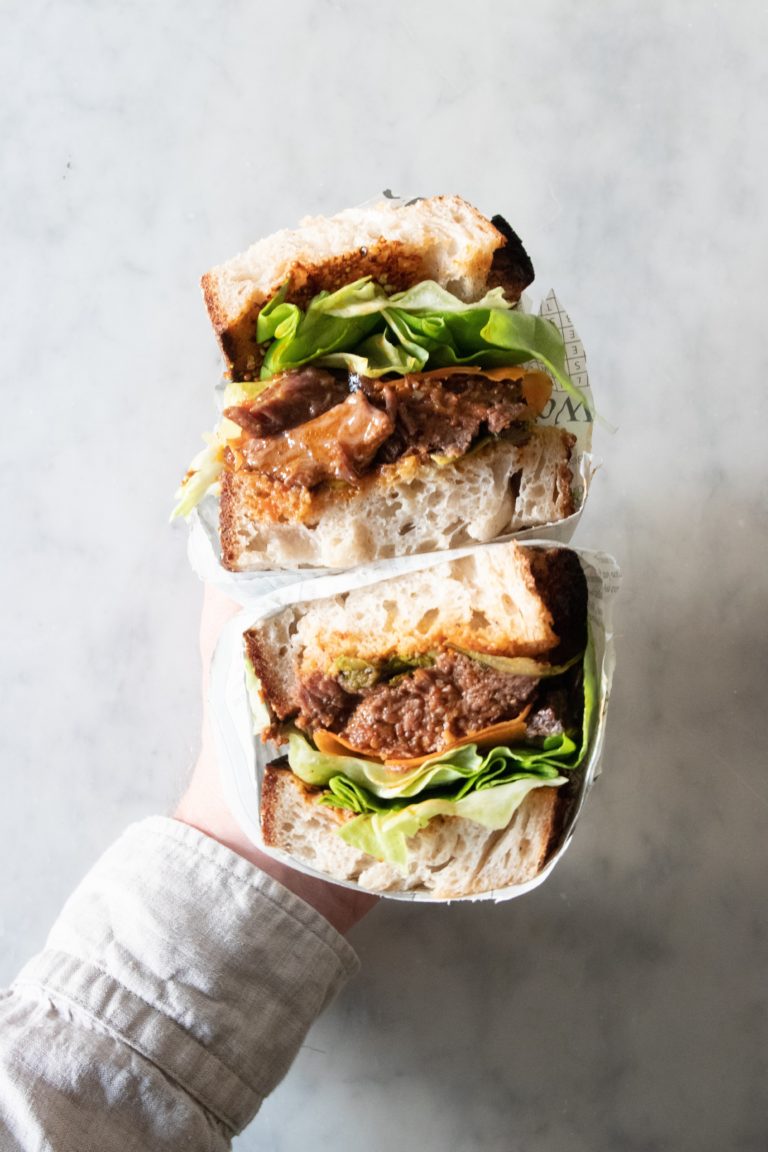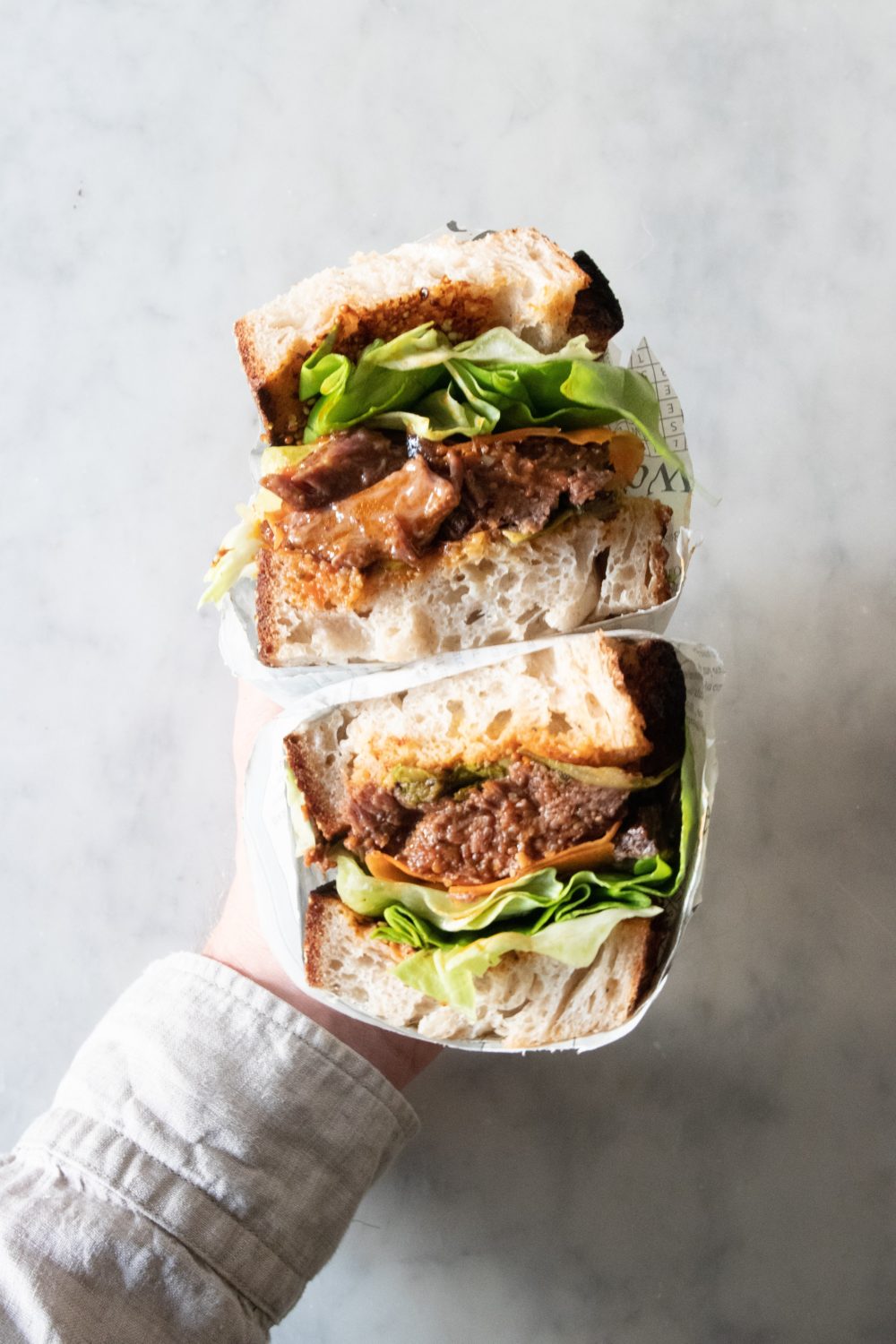 A sandwich is a food item consisting of one or more slices of bread, with various fillings such as meat, cheese, vegetables, and sauces. The filling can include almost anything but the most common are meats like chicken, ham, or roast beef. Sandwiches can be served at different times, but also make for a great evening meal when you don't want to cook. You can get them anywhere from your local deli to fast food chains like Subway or Quiznos. But there are times when you'd want to try to make it yourself. For when you do, here are tasty sandwiches that'd satisfy your hunger.
Vegan Pulled Pork Sandwich
This is a vegan version of pulled pork, made with seitan. It's surprisingly tasty and won't leave you feeling unfulfilled. It's very easy to make and tastes great too!
Ingredients:
2 tbsp olive oil (30 ml)
1 tsp (5 ml) liquid smoke (optional)
1/4 cup (60 ml) vital wheat gluten plus 3 tbsp water – let rest about 10 minutes
1/4 cup (60 ml) barbecue sauce plus extra for serving
Directions:
-Preheat oven to 375°F (190°C). Lightly oil a small, rimmed baking sheet. Combine the 2 tbsp olive oil and liquid smoke in a large bowl if using. Add seitan, mixing to coat. Sprinkle 3 tbsp of gluten over the seitan, stirring to combine. If the seitan doesn't clump easily then gradually mix in the remaining 2 tbsp of gluten until it coheres into a ball then set aside.
-On a lightly floured surface, roll or pat dough into a chubby 14 by 4-inch (36 by 10-cm) rectangle roughly the size of your prepared baking sheet.
-Pour 1/4 cup (60 ml) barbecue sauce over the rolled dough and spread it around evenly, leaving a small border on one side where you can seal it up later.
-Slice the seitan slab in half lengthwise then lay both halves on top of the barbecue sauce, cut side up. Spread a little more sauce on top.
-Starting from the long edge with no border, roll seitan into a log then tightly pinch the seam closed and place it, seam side down, in the center of the baking sheet.
-Bake 25 minutes then gently turn the seitan log over and bake until lightly crisped and browned, about 20 minutes.
-In a small saucepan over medium heat, warm the remaining 1/4 cup (60 ml) barbecue sauce until a little runny with bubbles around the edge. Remove from heat and set aside for serving.
-Meanwhile, slice the seitan log into thick sandwich slices then place it on a plate that you can serve it on if desired.
Irish Sandwich
This is a traditional Irish breakfast in sandwich form. I'll warn you in advance, it's very filling!
Ingredients:
2 tbsp vegan mayonnaise – 30 ml
3 tbsp chopped white or red onion – about 1oz.
1/2 cup arugula or watercress (or both!) – about 4 oz.
4 slices of bread
Directions:
In a bowl, combine all ingredients except for the bread. It's almost the same ingredients in a hot dog too so you could switch it up if you want. Assemble sandwiches by spreading half of the mixture on two slices of bread then stacking cheese in between. Top with another slice of bread. Enjoy!
Mexican Tofu Scramble Sandwich
These easy and healthy tacos taste great hot or cold. I like to make a big batch of the "scramble" and reheat it for quick meals throughout the week. It's also great wrapped up in a tortilla with some fresh greens; you can even put some vegan cheese on top.
Ingredients:
7 ounces firm or extra-firm tofu, crumbled (200 g)
2 tbsp olive oil (30 ml)
1/4 cup onion, diced (about 1 oz.) – 30 g
1 tbsp nutritional yeast flakes – 15 ml
1 tsp turmeric – 5 ml
1 tsp garlic powder – 5 ml
2 tbsp soy sauce or tamari – 30 ml
Salt and pepper to taste
Directions: 1. Crumble the tofu into a medium-sized bowl with your hands.
2. In a large frying pan, sautee the onion in olive oil until translucent. Add the crumbled tofu to the pan along with all of the other ingredients. Cook over medium heat, stirring occasionally until heated through and slightly browned (about 5-10 minutes).
3. Serve on your favorite bread or in a tortilla.
Baked Potato Sandwich
A healthier version of a sandwich you might enjoy at a deli, this is easy to make too.
Ingredients:
2 medium potatoes (or 1 very large one) – approx. 8 oz.
1/4 cup diced onion – about 1oz.
3 tbsp vegetable broth or water – 30 ml
Salt and pepper to taste
2 tbsp vegan mayonnaise – 30 ml
4 slices of bread of choice
Directions:
Preheat the oven to 375°F (190°C). Wash and scrub the potatoes then pierce a few times with a fork. Bake for about 40 minutes or until very soft.
While the potatoes bake, sautee the onions in a pan over medium heat until they start to soften. Add the broth and cook until most of it has evaporated (about 2 minutes). When the potatoes are finished baking, slice them open and smoosh them up with a fork until they are fairly smooth.
Add the potatoes to the pan with the sauteed onions and mix thoroughly. Season generously with salt and pepper. Spread the vegan mayonnaise on one side of each slice of bread then pile high with potato filling. Top with another slice of bread then enjoy!
Sandwiches are a great way to enjoy lunch at work or school, on the go, for dinner with family and friends. They're also easy to make if you know how! Try one of these recipes next time your craving hits.