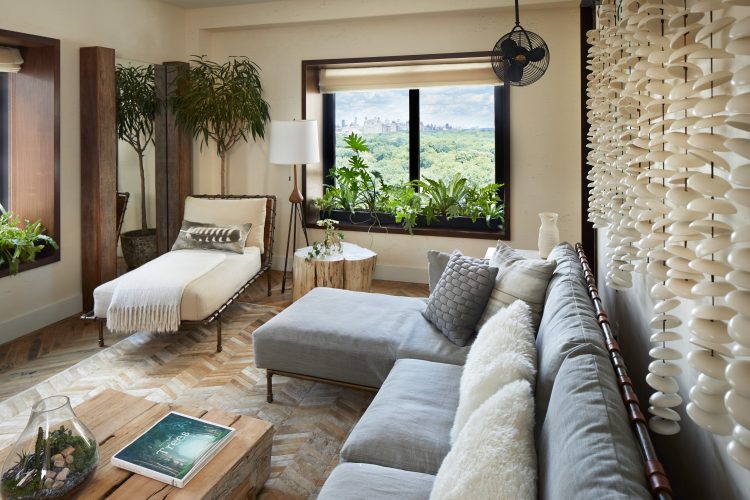 It's hard to even conjure up the notion of anything remotely 'eco' in the thick of Midtown Manhattan, with the area recognised as the largest central business district in the world. Archetypal plumes of steam rise from manholes that are almost as representative of New York City as the iconic skyscrapers. The City has too many people, too little space, and not nearly enough patience.
In the frenzied heart of it all, though, just steps from Central Park, close to Carnegie Hall, and within a 15-minute walk of the Theatre District, Times Square, MoMa and prime Fifth Avenue shopping, rises the fiercely eco-friendly, 18-storey 1 Hotel Central Park. A three-storey exterior – more specifically, a living green ivy wall – is immediately recognisable on the corner of Sixth Avenue and 58th Street. I am later to learn that this entire wall planting was designed to be 100% 'green'. Every component is recyclable, including the pots, stainless steel structure, and irrigation system.
Stepping inside the lobby, I'm met with planted pots, hanging terrariums, including a quirky looking kokedama, and a lot of wood. The salvaged oak ceiling is accented by suspended nature-inspired art, with a piece of driftwood taking centre stage on one wall, while beautiful Brazilian Nacarado Quartzite stone complements a Belgian Blue Stone floor bordered by wood upcycled from old barns and factories in New York.
Sofas and pouffes set against exposed brick walls are modern and chic, yet earthy, with a very clever use of texture layering and warm, autumnal colours. I am told that the interior designer, AvroKo Hospitality wanted to 'bring the outside in', using only natural, organic and, where possible, reclaimed materials. This rings true, as so many of the LEED-certified hotel's building materials are organic: the front doors are crafted from tens of thousands of twigs; floors and walls are made from stone, wood, bricks marble and locally-sourced glass; and there are over 20,000 plants inside the hotel (and this without counting the ivy climbing its façade). 1 Hotel Central Park feels truly alive – a refreshing change from nearly every other urban luxury hotels today.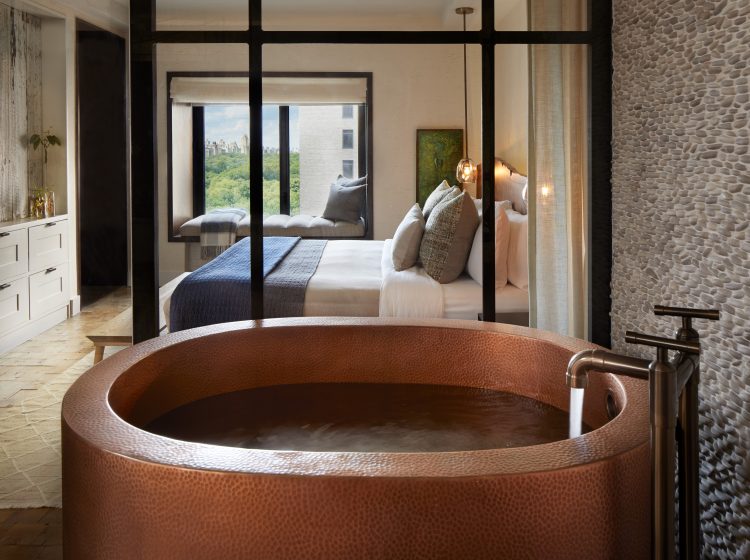 Checking in to one of the 229 rooms – I am in a City King – I am drawn to a floor-to-ceiling living green moss wall in the hallway niche by my door ("to boost guests' mood as they enter the space"). Much like the lobby and public spaces, the nature theme continues inside, with more overhanging live plants, a sprawling desk crafted from reclaimed timber, a 100% organic hemp-blend Keetsa mattress, and very welcome full-sized, refillable and recycled glass toiletries containing 1 Hotels' own brand of naturally derived cedar and vetiver lotions and potions – none of that miniature stuff. The Napa-style paned walk-in shower, beautifully constructed in Breccia Capraia marble, mushroom wood, concrete tiles and with rustic copper fixtures, even has a five-minute egg timer to subtly encourage guests to be mindful of their water use.
Unlike almost every other hotel I've ever set foot in, when reaching for a pen and paper to begin my ritual 'tourist to do list' for the day, I notice there aren't any notepads in the drawers or by the bed – instead, replaced by chalk boards for doodling. Inside the wardrobe, there isn't a plastic hanger in sight, but rather perhaps my favourite feature of the room: compressed cardboard clothes hangers made from recycled diaries, maps, old homework, wrapping paper and love letters lost. Each one describes its former function: "Pressed into this hanger are sweet nothings, fond remembrances, passionate longings – anonymous lovers' secrets are safe with us."
Absolutely everything in the room has been given a genuinely thoughtful eco touch. I knew before my arrival that 1 Hotels described itself as a "luxury lifestyle hotel brand inspired by nature" promising "eco-conscious design and sustainable architecture," but in today's climate, it's the sort of statement we're hearing all too often. I am quickly understanding though that this hotel has truly sincere and impressive eco-credentials, surprisingly without detracting from its authentically luxurious feel. The muted taupe-coloured window bench for example is all too cosy, charming and comfortable from which to perch high above the streets of Manhattan, and perfectly captures the natural light as it floods in through the vast windows.

Back downstairs, the hotel is home to Jams; a restaurant and bar showcasing market-fresh, local organic food. The Chef, Jonathan Waxman, is a real 'name' in the New York culinary scene, hailed by gourmands across the state and beyond. Waxman describes the cuisine at Jams as his "version of the best that California represents: a taste of Italy, a smattering of Mexico, a solid foot in French cuisine, a touch of Asia and a bit of the Mediterranean, coupled with basic American cooking and emphasis on seasonal items." Jams at 1 Hotel Central Park is in fact a resurrection of Waxman's original beloved 1980s Jams, formerly located on the Upper East Side in the mid-80s. It is today a standalone dining venue in its own right with a separate entrance on Sixth Avenue, open daily for breakfast, lunch and dinner. An open kitchen drives the energy of the room, and the kitchen also supplies the self-service, locally-sourced fruit stand in the lobby – complimentary for all guests.
Owing to the fact that we were in one of the gastronomic capitals of the world, we only sampled breakfast at Jams from the comfort of our in-room window seat. The portions, unsurprisingly, were quintessentially all-American: hand-rolled 'Everything' bagels smeared with lashings of cream cheese, maple-roasted granola with a rainbow selection of fresh fruit and fluffy scrambled eggs with Vermont butter, all washed down with the millennial New Yorker's signature: cold-pressed green juice.
In a city so chaotic as the one that never sleeps, never has such a natural sanctuary felt so welcome. There's something in the air at 1 Hotel Central Park – likely owing to the abundance of flora and foliage throughout – that made me feel invaluably rested for a day of exploring, after a surprisingly excellent sound-proof night's sleep. The hotel is so perfectly positioned for exploring Manhattan on foot, however for travellers with limited time in the city, it also offers free trips within a 15-block radius in a super smart electric Tesla town car – one which I, naturally, accepted when making my way Uptown to my next destination…

@1hotels
1414 6th Ave, New York, NY 10019, United States