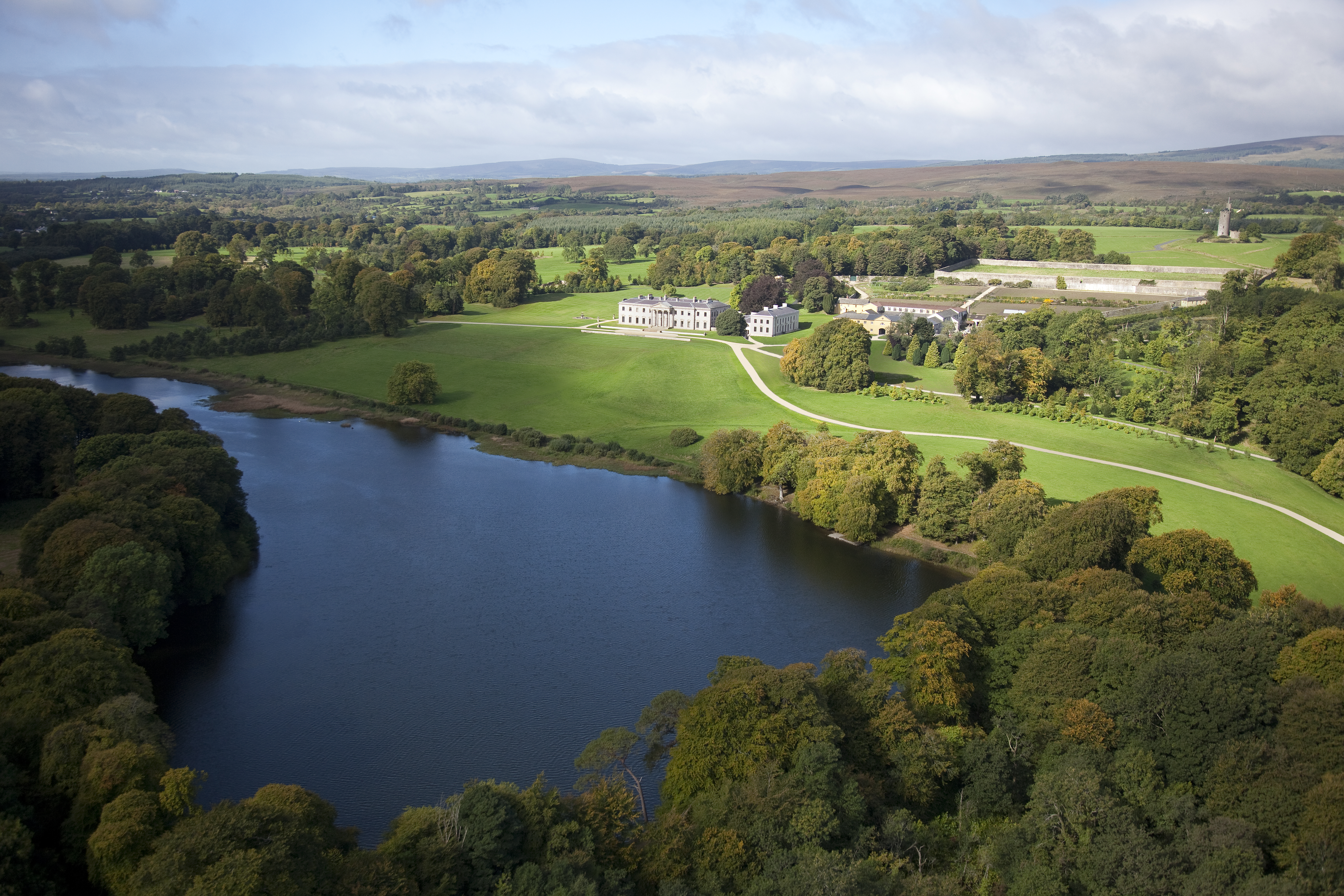 Internationally acclaimed author Marianne Williamson once wrote, 'We may have bad weather in Ireland, but the sun shines in the hearts of the people and that keeps us all warm'.
The Irish are as famed for their warmth and hospitality as they are for their electric sense of humour. Ballyfin is the perfect example of this, where guests are welcomed and cared for like family.
The 5-star mansion is located on a completely private 614-acre estate in the heart of Ireland, at the foot of the Slieve Bloom mountains. The estate is enclosed by a sprawling stone wall and is closed to the public, so once the vast gates of the estate closed behind me, I felt as though I had been extended an invitation to the most decadent and exclusive club.
Nothing could prepare me for seeing the house for the first time. As our chauffeur crawled up the sweeping driveway through luscious green woodland, I could just see brief glimpses of the house through the trees. As we approached, I was completely in awe; it is a place of great history and romance, of tranquillity and phenomenal natural beauty.
It is clear to see that Ballyfin was built to host guests on a generous scale; the house has a natural flow that encourages guests to explore without being completely overwhelmed. It has been lovingly restored to the original Neoclassical and Empire periods and creates a space that perfectly toes the line between grandeur and comfort. Everything at Ballyfin is to be enjoyed and nothing is off limits, a rarity for such an extraordinary house. Warmth radiates from every room and it is impossible not to feel completely at home.
The walls of Ballyfin are heaving with artwork from some of Ireland's most prolific eighteenth and nineteenth-century artists. The artwork provides a fascinating exploration of Ireland's art, history and high-society, reflecting the splendour of the Great House and generations of family portraits of the Cootes family, who built the house in the 1820s and enjoyed it for over a century.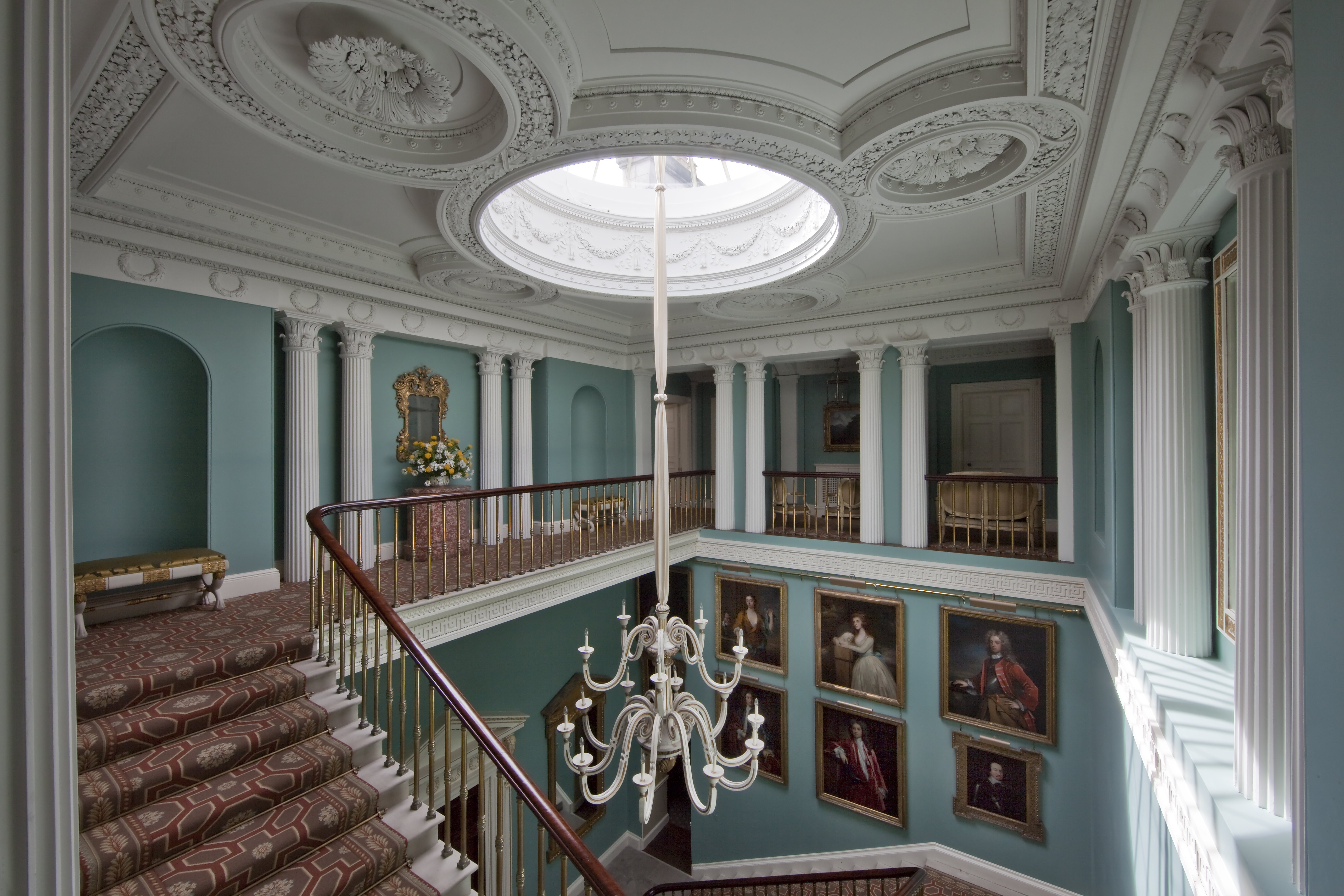 Although the house is vast, there are only 20 beautifully appointed and individually designed guest bedrooms. We had the privilege of staying in The Butler, which was originally the bedchamber of Lady Caroline Coote's private suite. It is an opulent room that spans 355 sq. ft. and offers spectacular views of the rolling emerald parkland and the lake.
The suite is decorated in deep red wallpaper that has been carefully restored to its original proportions. A four-poster bed draped in decadent oxblood fabric stands proudly opposite a black marble and gilt fireplace. It boasts Georgian furnishings that are predominantly made by the hands of Irish artists.
The marble bathroom overlooks a picturesque courtyard and spans 140 sq. ft. It is beautifully presented with a separate toilet, walk-in shower, double vanity sink and a deep bath. In the evening, I enjoyed a romantic bath for one, carefully prepared with aromatic oil-infused hot water, with fresh red rose petals that danced on the surface and a glass of chilled champagne.
When it comes to gastronomy, the kitchen at Ballyfin need look no further for inspiration than in the grounds. There are eight acres of walled gardens that provide a rich variety of fresh fruit, vegetables and herbs all year round.
The kitchen uses only the most exceptional local ingredients. Meat is from Ireland, Mary Walsh supplies free-range duck and Patricia Butler provide chickens from their farms in Co. Kilkenny. Fish is landed on the South Coast and delivered by The Duncannon Fish Company, butter is from Glenilen Farm in Co. Cork and Adrian Meuller makes the seeded sourdough in Mountmellick.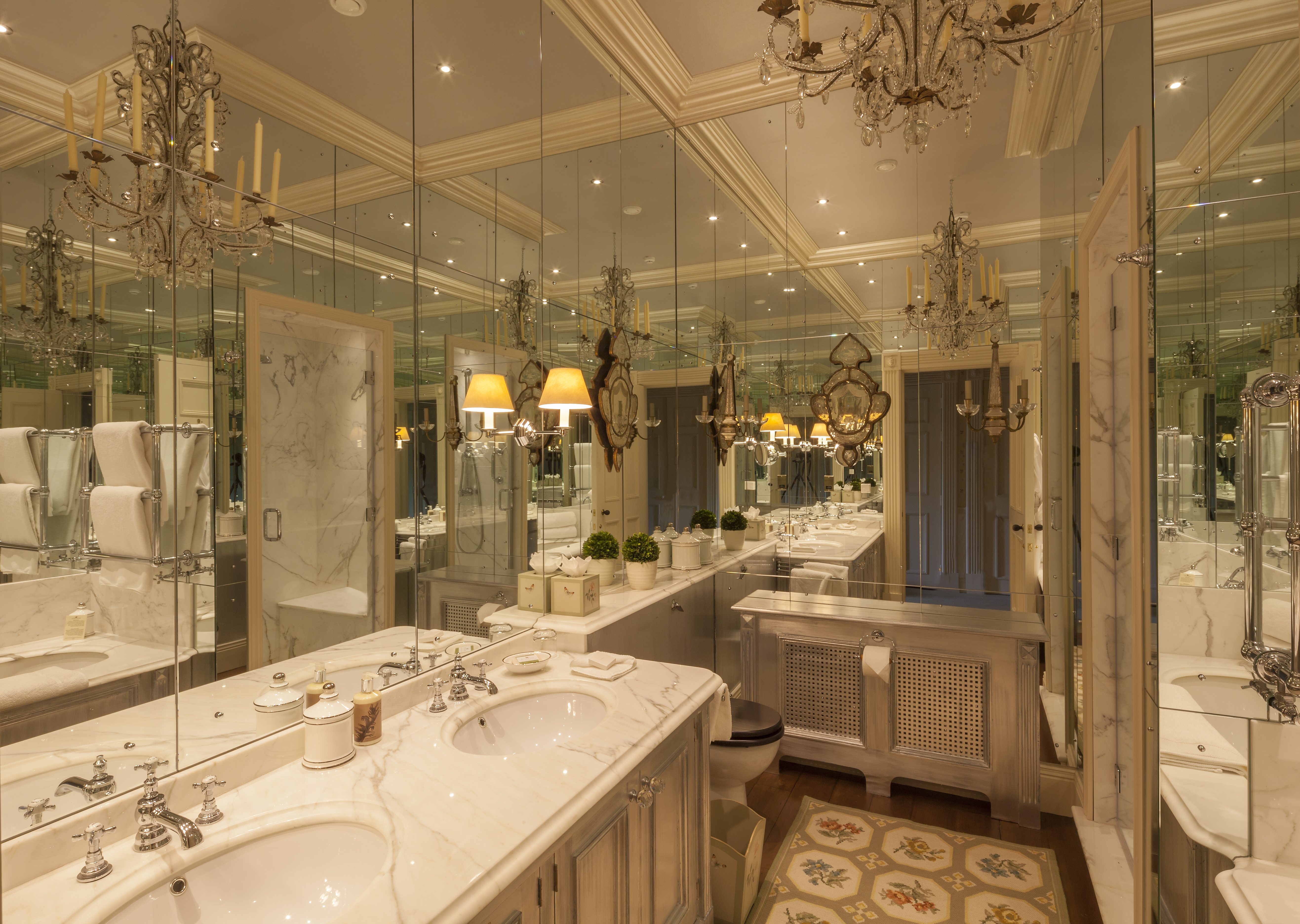 The kitchen especially shines during dinner, which is served in the opulent State Dining Room overlooking a dramatic cascading water feature. Unmissable dishes include Ballyfin Hen's Egg with onion confit and black truffle in a rich gravy to start, followed by Native Dexter Beef with confit potato, onion, wild garlic and Madeira Jus and Caramelised Banana with crème mousseline and salted caramel ice-cream for dessert.
Ballyfin offers a carefully curated itinerary of activities that means there is really no need to venture outside of the estate. Guests are given complimentary use of a collection of golf buggies to explore the sprawling grounds. For the more adventurous among us, there is clay pigeon and air rifle target shooting, archery, falconry, mountain biking, fishing and horse riding. For those that seek more tranquil exploits, there is boating on the lake, majestic gardens and a contemporary spa, complete with a gym, 14m heated indoor pool and sauna.
On a particularly sunny afternoon where the sky was a vivid cobalt blue and completely cloudless, my guest and I were collected in style by a decadent red velvet carriage pulled by two beautiful white horses; playful siblings named Kitt and Ben. We were taken on an extensive tour of the incredible grounds by our driver, John, who explained that Ballyfin was a family affair, with generations of his family having close ties to Ballyfin; even his own children worked there alongside him to this day.
Our final destination was the secluded Picnic House that offered panoramic views of unspoilt countryside. It had been lovingly prepared for our arrival with a decadent picnic-style lunch with an array of sandwiches, platters of fresh fruit, salad, a cheese board and warm homemade scones with clotted cream and jam. We spent two glorious hours on the sun-soaked deck devouring our feast and feeling as though we had stepped out of a page from Jane Eyre.
Despite the undeniable grandeur and phenomenal beauty, Ballyfin's true magic lies within the dedicated staff, some of which have inherited their position from their parents or grandparents and work harmoniously to envelope guests into their inner-circle with an intimacy that is only shared with family. During our stay, we encountered more genuine kindness than in any other hotel I have stayed at, especially by Andrew, who gave us a surprisingly fun tour of the house; he has a wealth of knowledge and passion for Ballyfin that spans beyond his years and the Managing Director Jim Reynolds, the heart and soul of Ballyfin and a 'true gent' as described by all that know him.
It is hard to believe that places as magical as Ballyfin still exist in the modern world. It is a real-life fairytale and we are so lucky that it has been preserved, restored and lovingly enjoyed over generations like the most precious family heirloom, so that we can continue to adore it for generations to come. Ballyfin is the Queen of Ireland, long may she reign.
Instagram: @ballyfindemesne
Ballyfin Demesne, Ballyfin, County Laois, Ireland