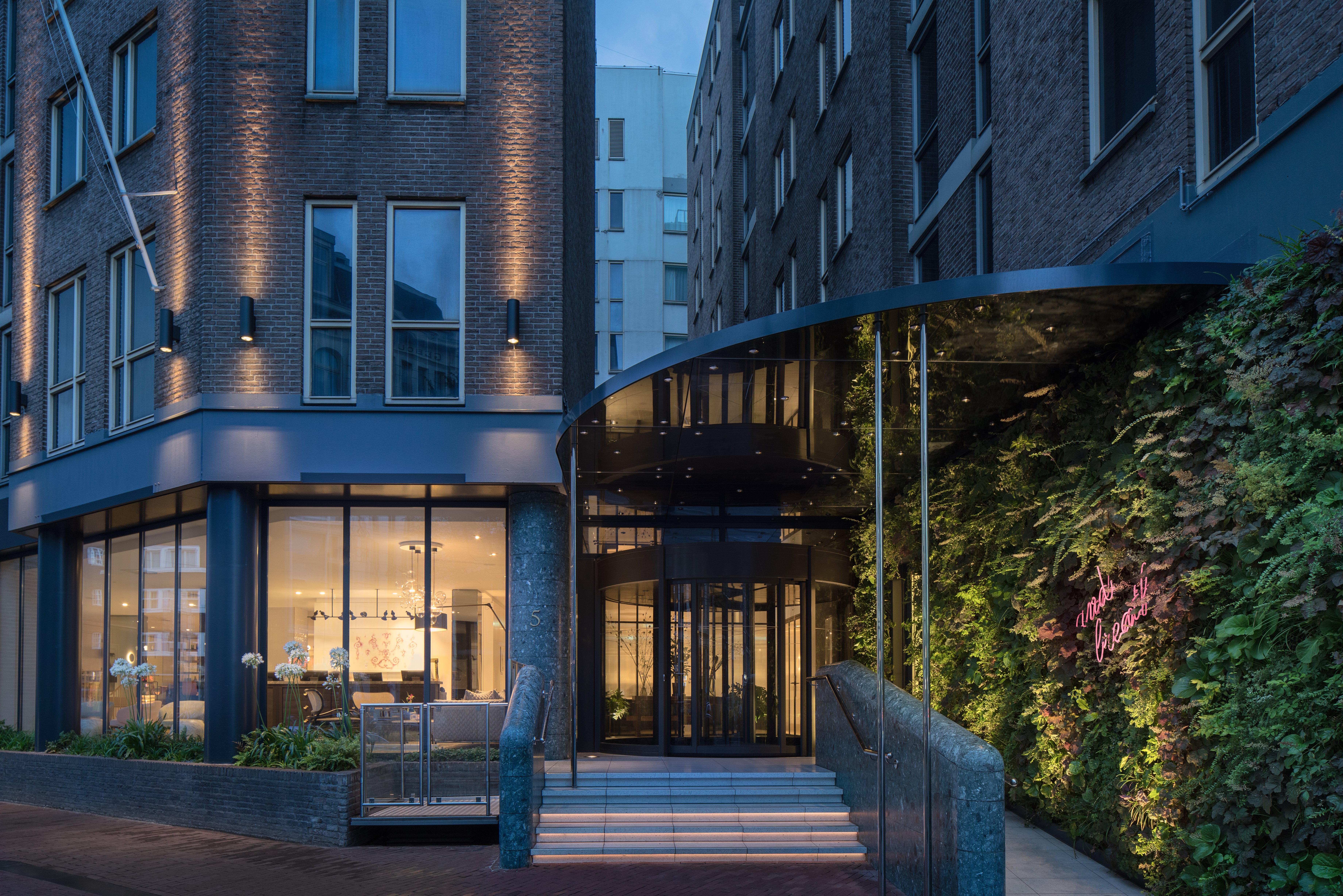 For Kimpton's first venture into Europe, there couldn't have been a better location than Central Amsterdam. The laidback little sister of the behemoth InterContinental Hotel Group, Kimpton presents itself as "a different way to stay, where inspired travel begins" and its newest venue, Kimpton de Witt, is an absolute testament to this…
Resonating a relaxed and modern approach to luxury, the experience begins the moment you walk towards the tall glass doors at its entrance. Passing a luscious, living garden wall on which a deep pink, neon message instructs: 'and breathe', you are subconsciously put at ease before reaching the cool marble counter of the reception desk.
Eager to explore Amsterdam, we were met by attentive yet unobtrusive staff, who checked in our bags and imparted their top tips for a first time in the city, suggesting that we should explore it like a local on one of Kimpton de Witt's complimentary Van Moof bicycles. As we pedalled down winding backstreets and cobbled lanes, we discovered just how perfect a fit Amsterdam was for Kimpton: laid-back; full of culture; and breathtakingly beautiful, the city and hotel were one and the same, besides a few red lights here and there.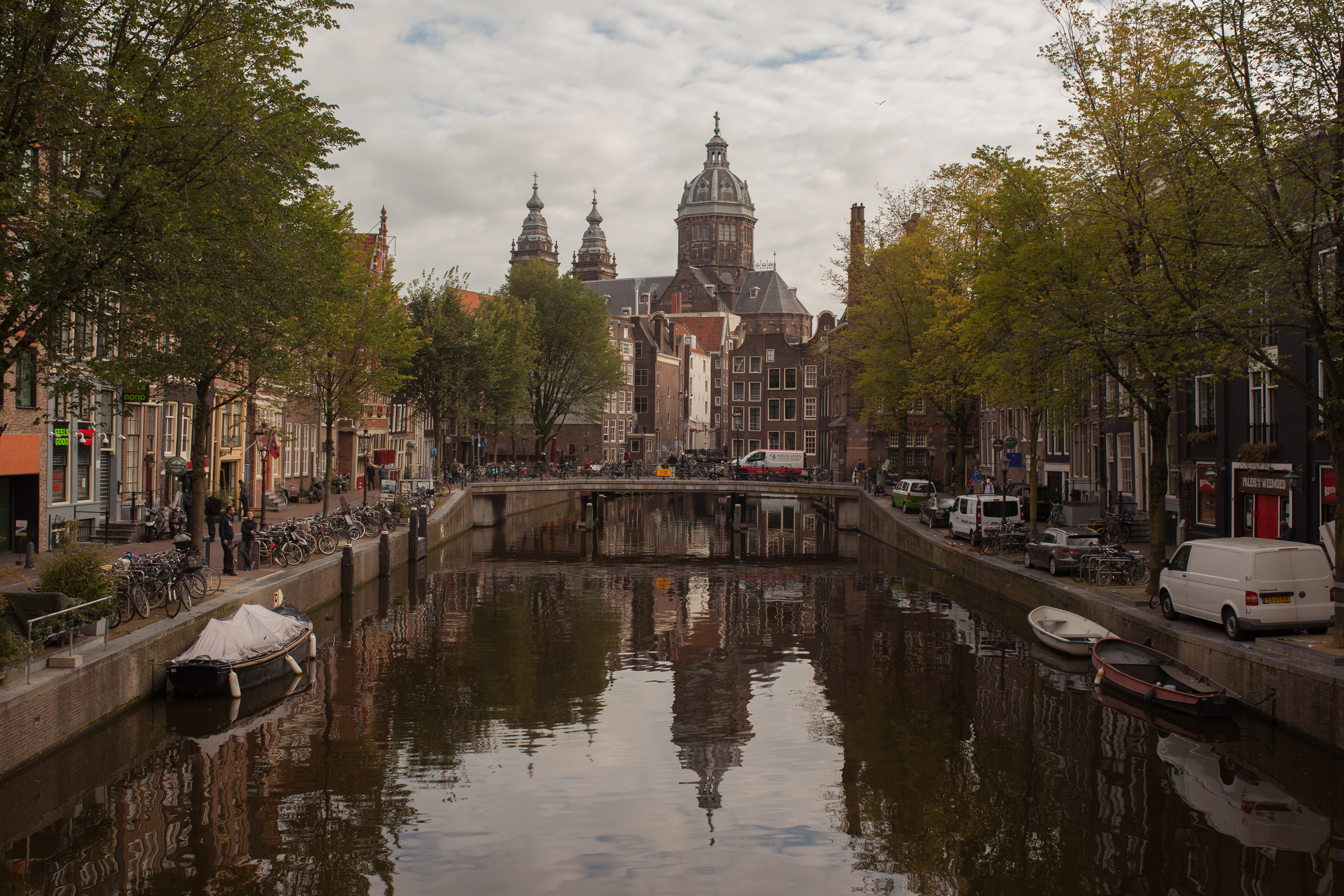 Strolling alongside Amsterdam's infamous canal, decorated with trees – their leaves beginning to turn – I questioned why I hadn't visited sooner. Amsterdam provides the perfect balance between relaxation and exploration, and Kimpton de Witt is the perfect base to experience it all from.
Culture really does flow throughout the hotel: its warm interiors, with their redesign overseen by Kimpton's Creative Director, Ave Bradley, are inspired by the city around them, with vintage wooden panels sourced from nearby building interspersed through modern flourishes of opaque dividing glass, and indoor swing seats in a leafy garden conservatory adding a little touch creative flair.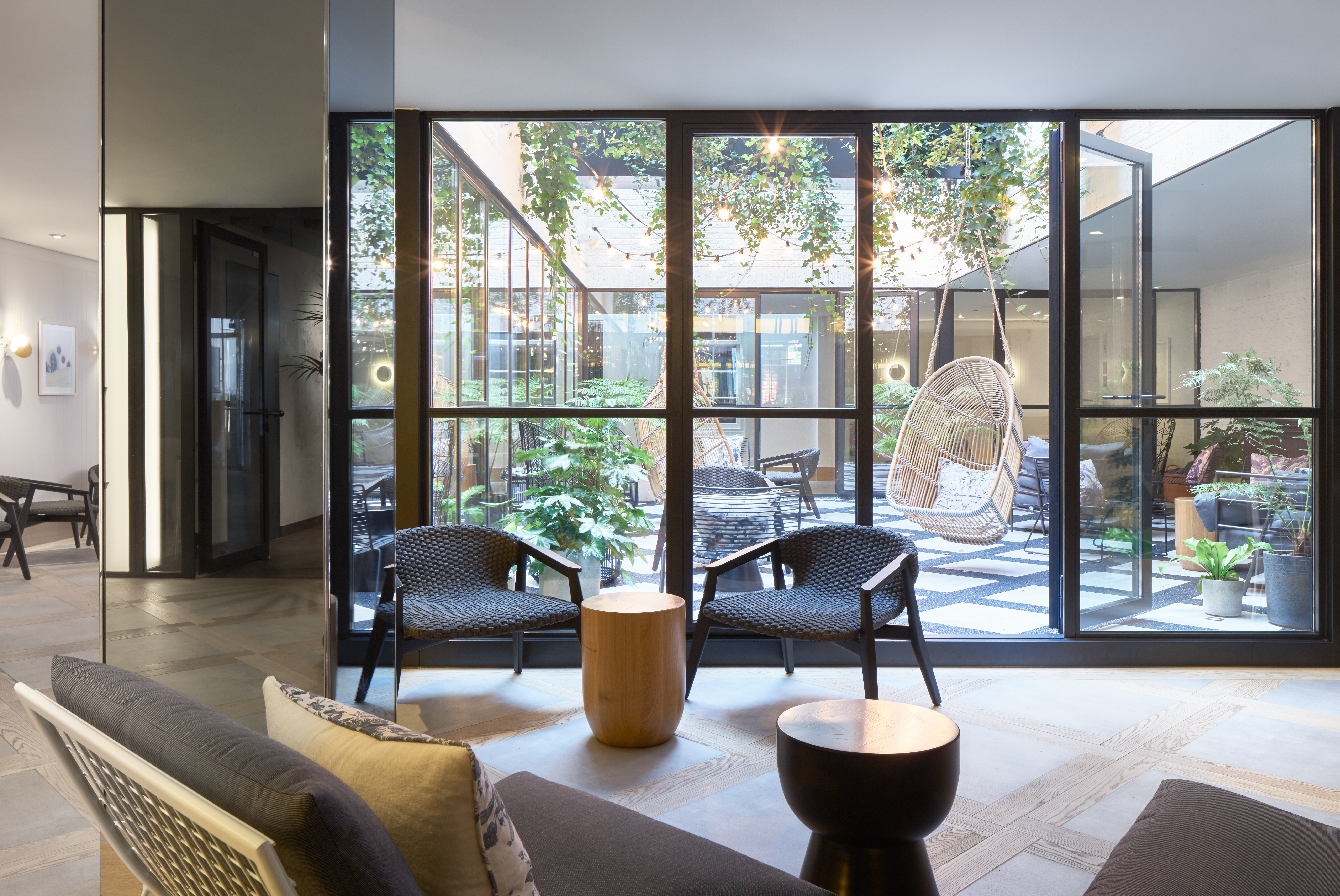 Now back at the hotel, we were escorted to our room. With de Witt's proximity to nearby transport links – just a three minute walk from Centraal Station and a 30 minute train journey to Schiphol Airport – it serves a unique base for culture-seekers, creatives, romantics and business travellers alike. As such, each state-of-the-art boutique room offers a light, airy space complete with a large built-in desk and a corner armchair with quirky reading light above.
Luxury is added by large, incredibly comfortable beds, Dutch artwork and a drenching raindrop shower, which is more Amazonian monsoon than English drizzle – truly invigorating – and persuading you to leave the warm, steamy wet-room, Kimpton provides bespoke, woollen bath robes in partnership with Frette, the Italian luxury linen specialist.
Showered and refreshed, we were ready to explore the hotel; and there was certainly a lot to explore – Kimpton de Witt is a sprawling maze of playful luxury, and Chef Sam 'Sammy D' DeMarco brings his Brooklyn-influenced food and infuses it with Dutch delicacies: the result, by the way, is magnificent, with highlights including Lollipop Chicken Wings, delicious burgers and an extensive local craft beer, wine and an inventive cocktail list sitting alongside. Joyfully sampled during the daily complimentary wine hour in the foyer from 5pm, the hotel invites its guests to get to know each other a little in true, inclusive, Dutch community spirit.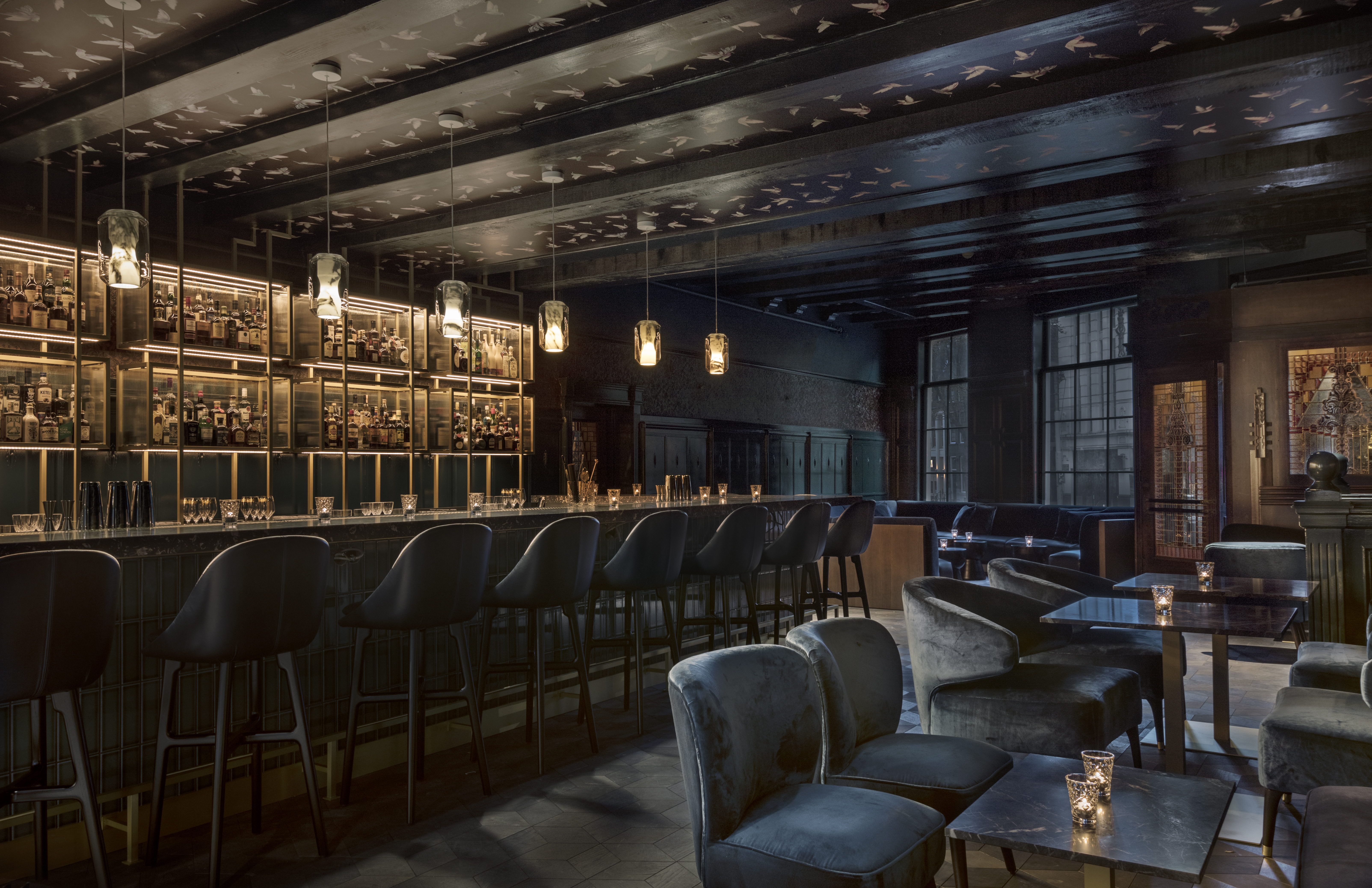 Staying at the hotel for its decadent launch party – and on the eve of my birthday – celebration was certainly a key theme throughout the night, and we indulged in Sammy D's creative canapés and, perhaps overindulged a tad, in the extensive cocktail list, with classic gems including countless Negronis, punchy daiquiris and ultra-smooth Old Fashioneds.
That night the hotel was buzzing, awash with well-known guests including luxury model Winnie Harlow, Saturdays' star Vanessa White and talented guest DJs Emmanuelle Vos and Satin Jackets took to the decks of Wyers, an open kitchen in the corner where Chef Sammy D provided masterclasses for the ultimate Lobster Roll on a custom live-fire grill, lending a kiss of smoke and a smattering of pure American indulgence.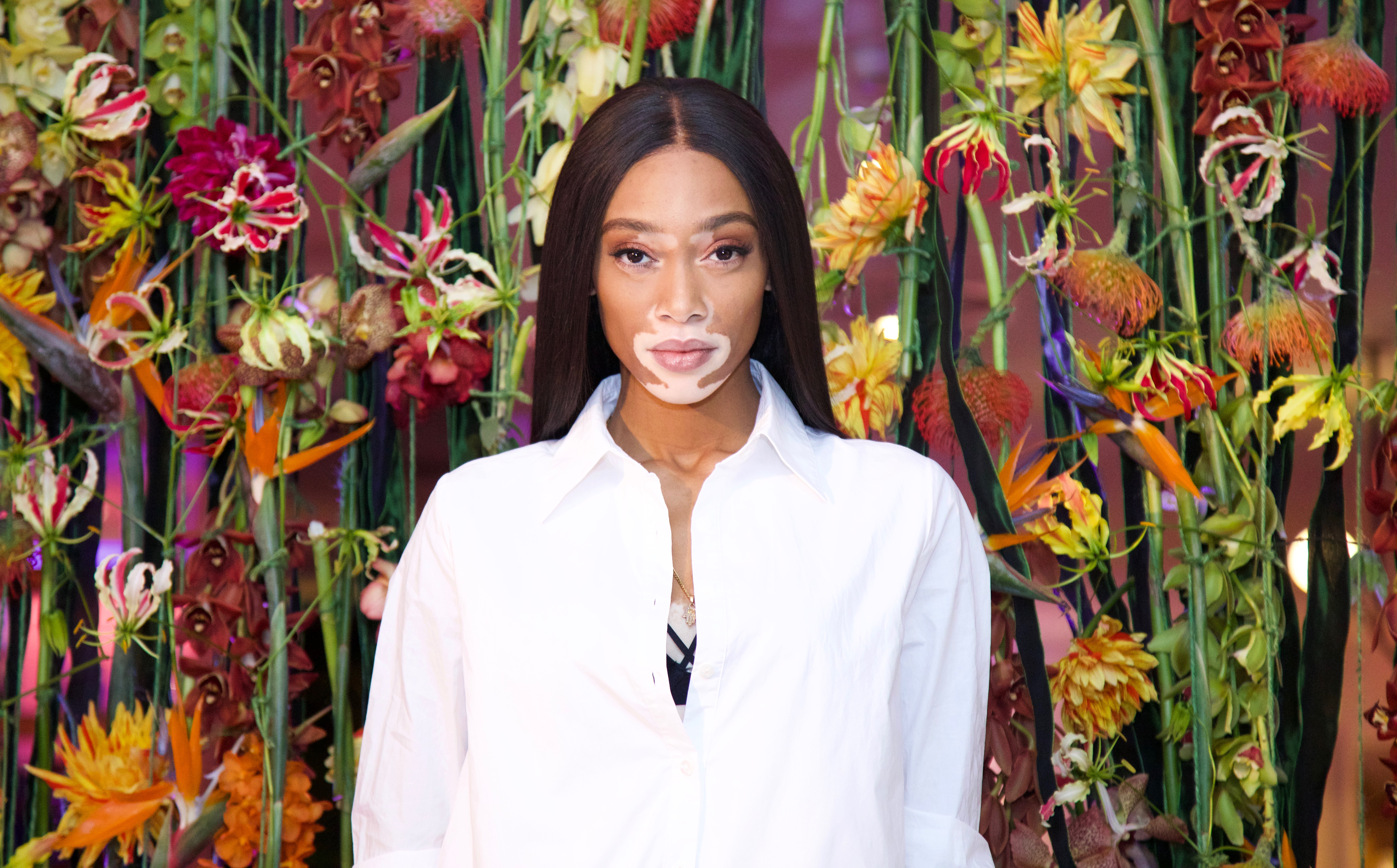 That, however, was not the only masterclass of the evening. Rubbing shoulders with the likes of Winnie Harlow, Vanessa White and Lady Mary Charteris – we explored the hotel, popping into side rooms to create bespoke leather luggage tags (relieving any stress as we hammered our names into freshly cut leather) and becoming a little closer to nature as we arranged flowers into crowns before getting a rather sparkly makeover from the talented girls at Shine Shack.
As the night whizzed past us, cocktails in hands and a tasteful explosion of glitter on faces, Kimpton introduced itself to Amsterdam as a buzzing, socialite haven. People laughed, people danced, people drank and people most certainly celebrated. Kimpton didn't just get the recipe right at de Witt, but they smashed it out of the park. Bidding Goedenacht to the most opulent party in Amsterdam, we retired to our room, finally collapsing into that perfectly soft bed, asleep in moments.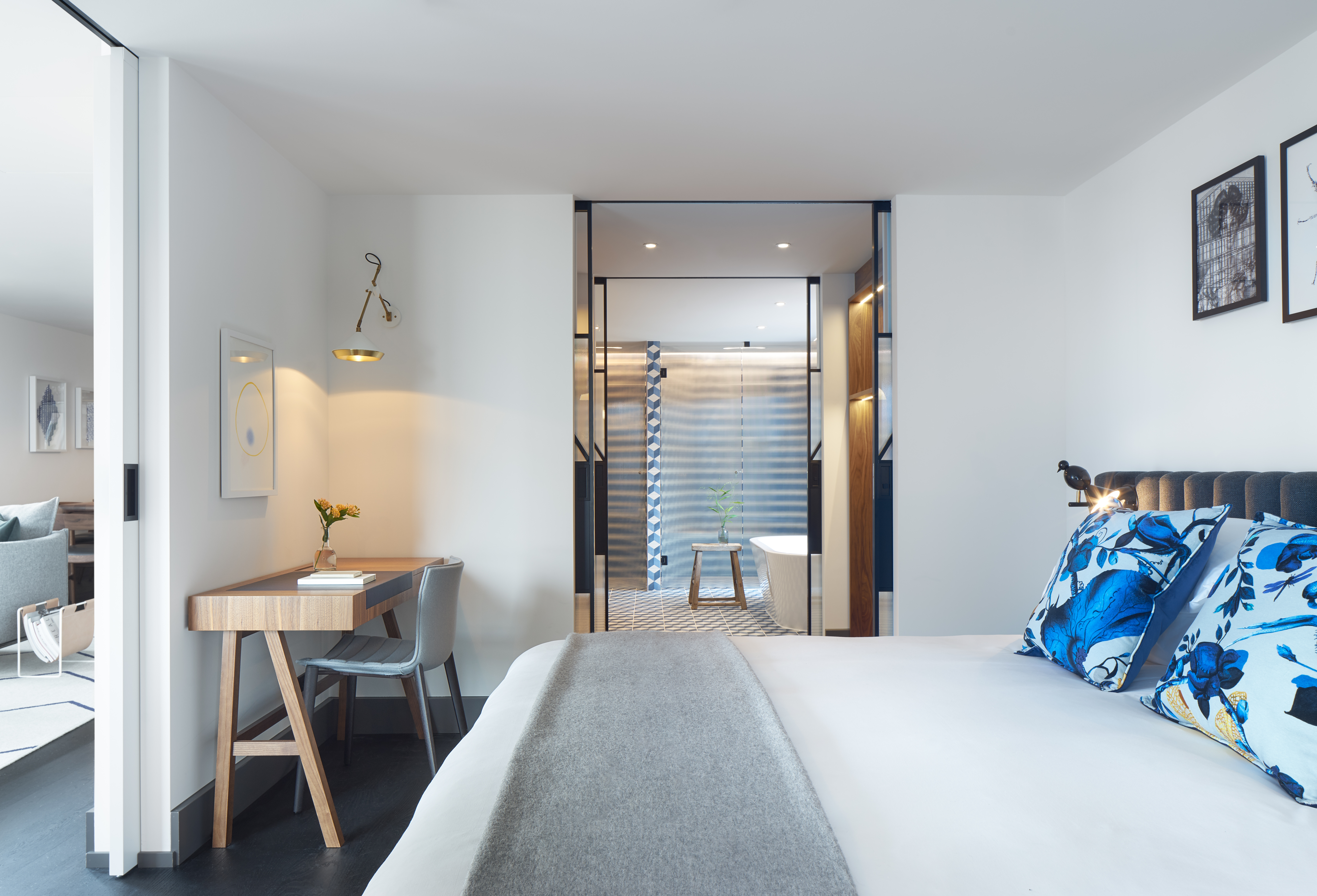 After a long, deep sleep we rose to a leisurely breakfast presented by Chef Sammy D and Symmetry Breakfast of Instagram fame… Following a brief Q&A with Michael Zee, where he told the story of how making a daily breakfast for his boyfriend, Mark, gained him 770,000 followers and a cookbook available worldwide!
Needless to say, the combined creativity, passion and flair of Michael and Sammy D led to some incredibly inspired and absolutely delicious offerings. Breakfast was served, and with dishes like Sammy's BBQ Benedict with jalapeños and pulled pork & Salmon with scrambled eggs and caviar, we certainly went back for seconds…and thirds…and fourths!
Kimpton de Witt is not only a welcome boutique addition to Amsterdam, but with Chef Sammy D at the helm, it could soon become a culinary destination too. The perfect base for business and play, de Witt is most definitely here to stay.
Photographer
Marc Berry Reid
Kimpton De Witt Amsterdam
Nieuwezijds Voorburgwal 5, 1012 RC, Amsterdam, Netherlands