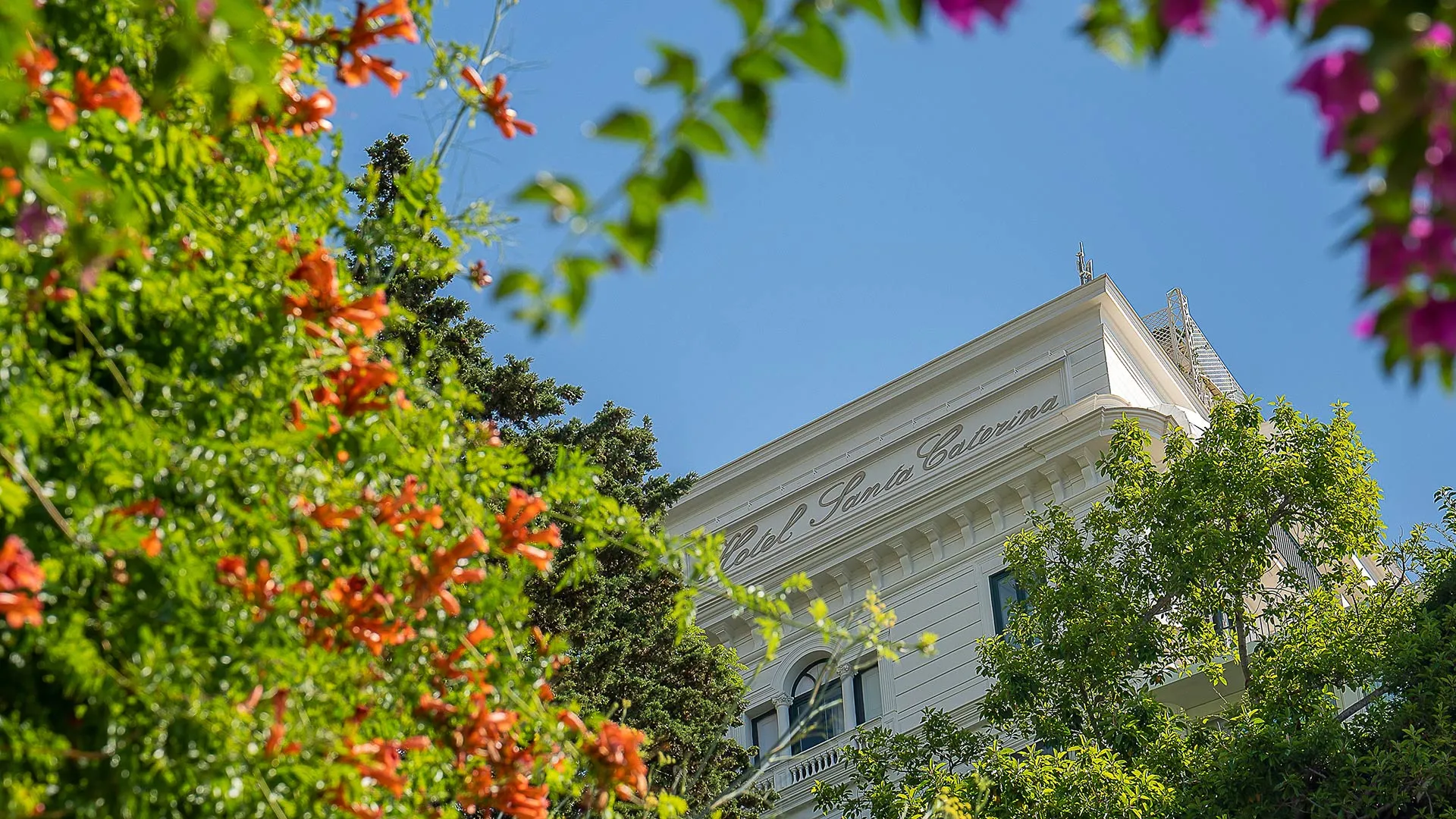 Nestled into a curve of Amalfi's famous coastal drive is Santa Caterina, the grande dame of Amalfi. The hotel is as close to Eden as us mere mortals can hope to experience.
Amalfi has been a popular jet set destination since the 18th century when it was a frequent stopover on their Grand Tours. In the 1880s Oscar Wilde was a frequent visitor and later Virginia Woolf and Ernest Hemingway would fall in love with the glorious coast of Amalfi.
Word spread like wildfire and eventually Hollywood took notice. From artists and playwrights to stars of the silver screen such as Gregory Peck, Elizabeth Taylor and Sophia Loren, everyone who was anyone was in Amalfi. To this day celebrities such as Leonardo DiCaprio, Jennifer Lopez and Beyoncé flock like birds migrating towards a perfect pastel summer.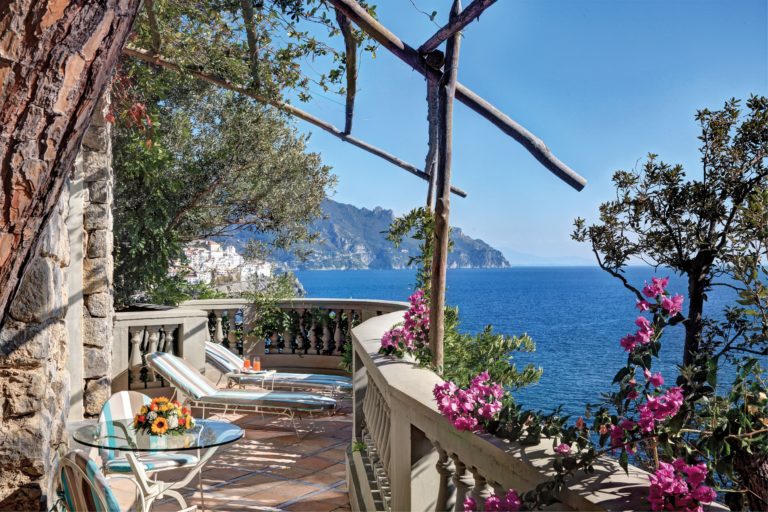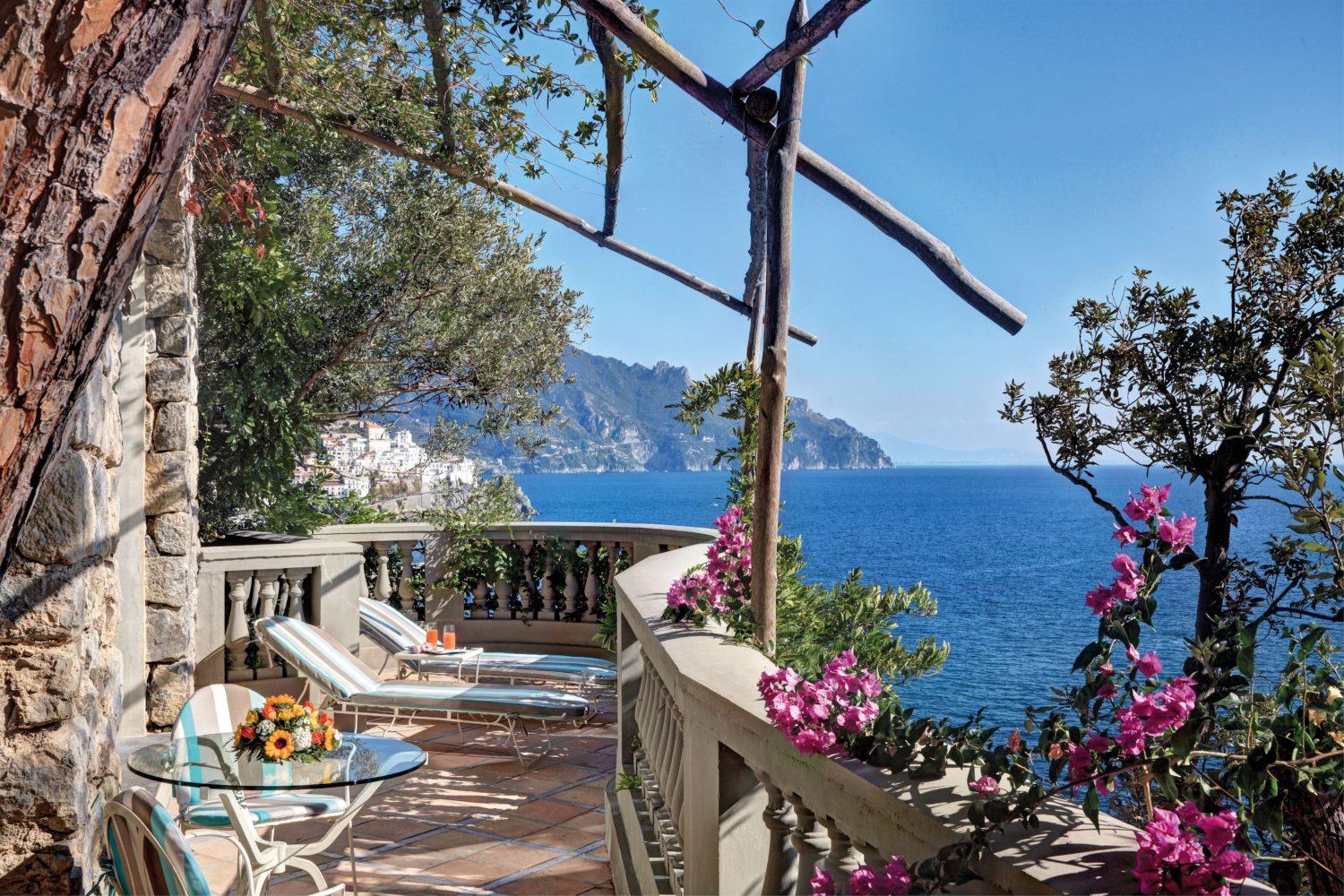 Santa Caterina is perched on a clifftop and offers spectacular coastal views from seemingly endless terraces and bedrooms. It is beloved for its lush secret gardens which are tiered like a wedding cake around the property, you can easily lose an afternoon admiring their beauty.
From Santa Caterina, the view of Amalfi looks like a Karl Gustav Rodde oil painting from the Romanticism era. You couldn't find a more desirable location, showcasing unrivaled views of Amalfi but far enough to feel worlds away from the bustling crowds.
There is a luxury driver to shuttle you back and forth into town and should you wish to venture further and explore the delights that the Amalfi Coast has to offer, Positano, Ravello, Sorrento, Capri, Pompeii, Herculaneum and Naples are all close by.
The rooms and suites of Santa Caterina transport guests to another era suspended in time. Many are housed in the main building but some particularly private and romantic rooms are hidden in the gardens. Each is oozing authentic Mediterranean charm with hand-painted ceramic floors, marble bathrooms and stunning terraces and balconies that overlook the rich blue of the Tyrrhenian Sea.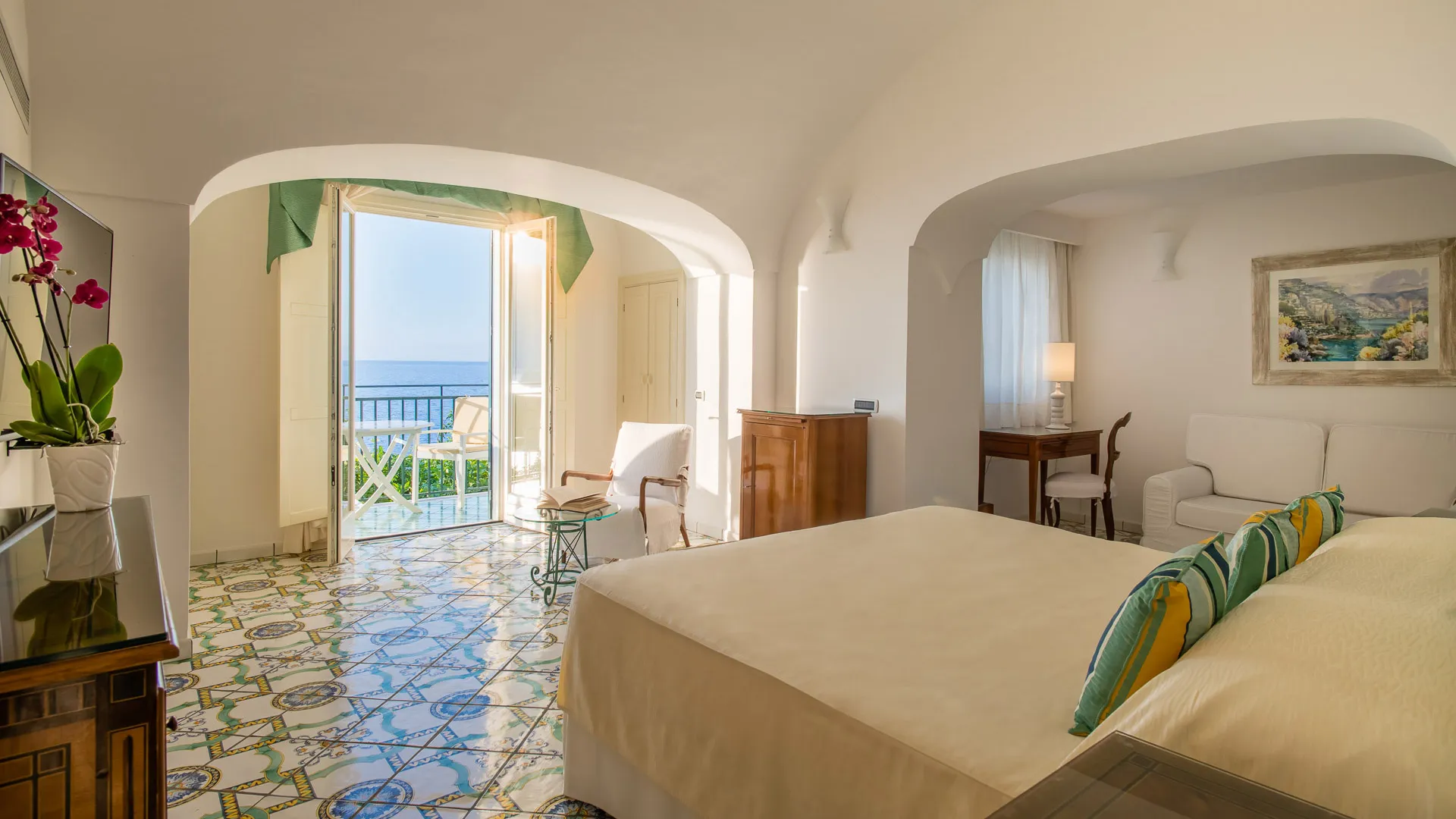 The beating heart of Santa Caterina is the private beach club which is accessible via an elegant lift which offers breathtaking views as you plunge vertiginously down the cliffside towards the sea.
It is almost too beautiful and charming to be real, there is a saltwater pool and direct access to the ocean. The sunbeds are perfectly arranged under vast white umbrellas and staff members are on hand to bring you a turquoise towel that mirrors the sea alongside a wonderful cocktail and food menu. You will never ever want to leave.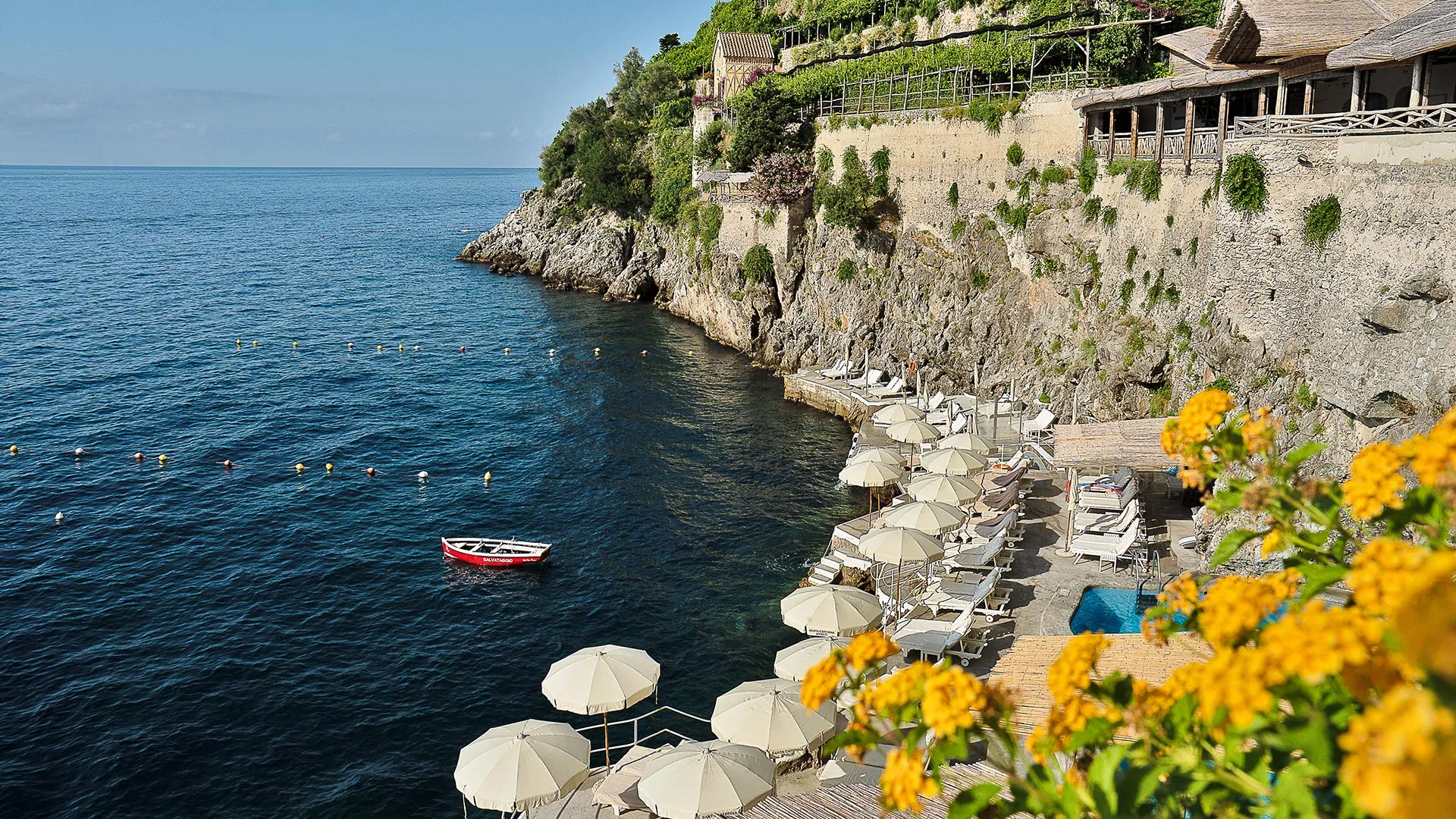 The food at Santa Caterina is exquisite, you are in Amalfi after all. Breakfast is a regal affair, served on the terrace overlooking Amalfi and the sea. The fragrance of freshly baked bread and local honey is hypnotic. Also, don't be surprised if you bump elbows with an A-list Hollywood actress at the pastry station like we did.
When it comes to authentic gastronomy you are spoilt for choice at Santa Caterina. Michelin-starred Glicine is a celebration of seasonal and Mediterranean flavours and beautiful wines that are served with style.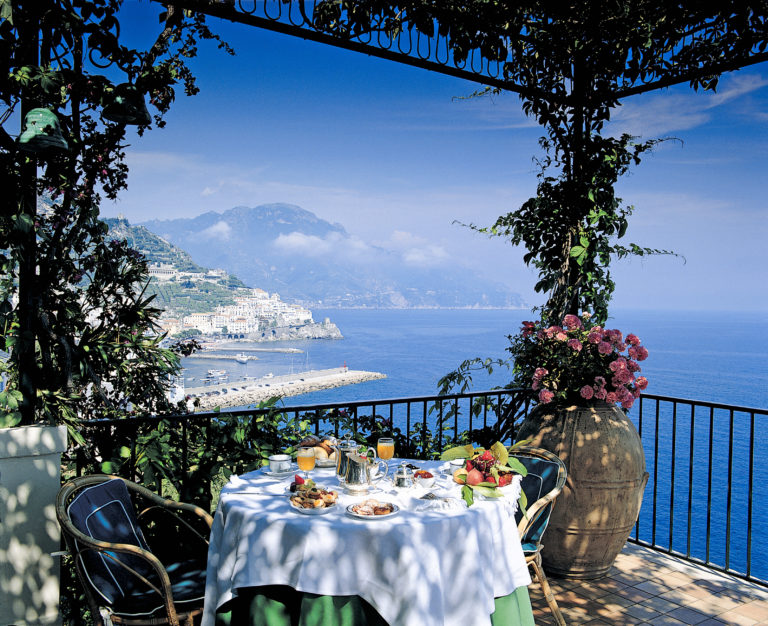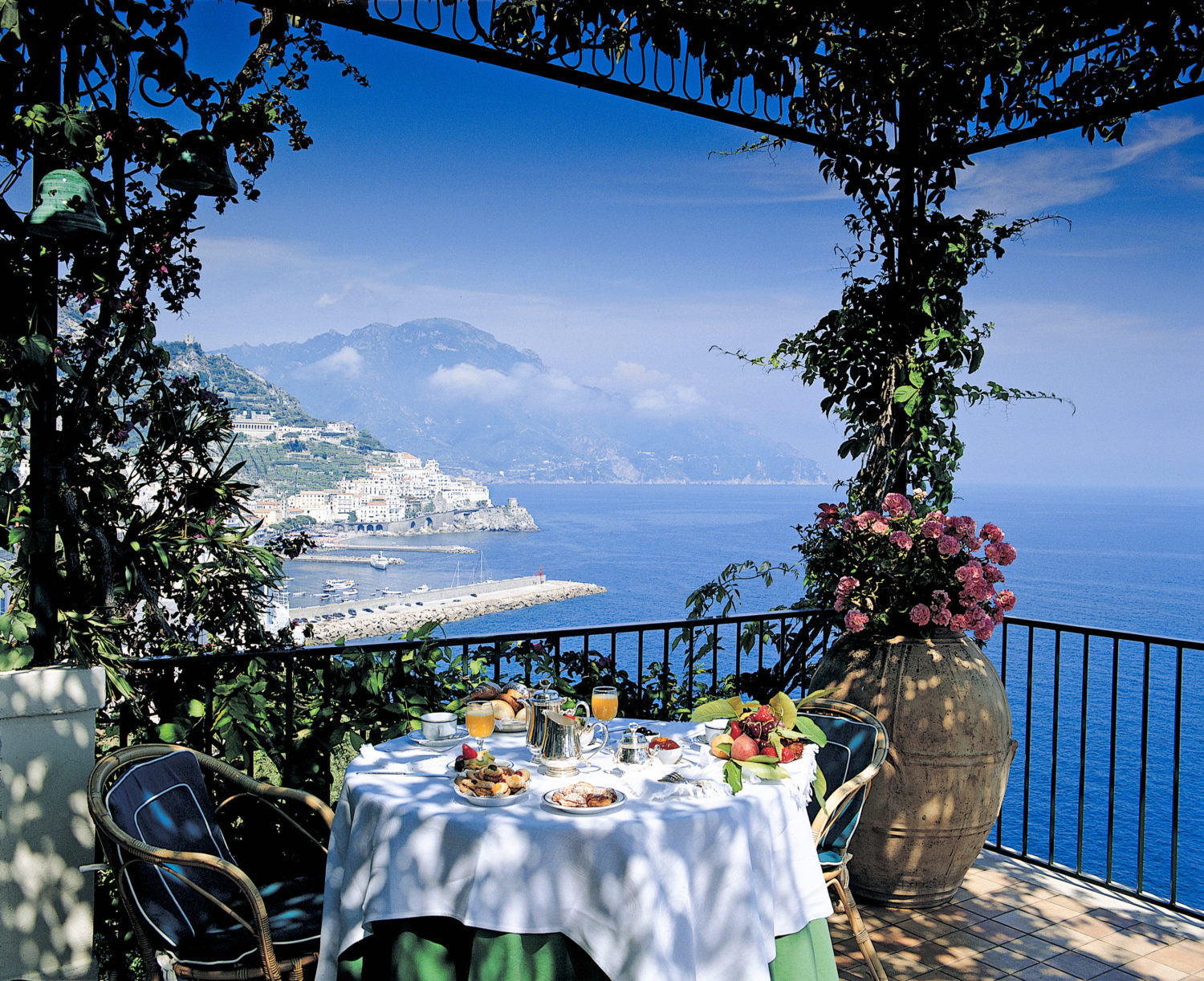 For a more relaxed affair, Al Mare is a love letter to Amalfi, perfectly positioned on a stone terrace overlooking the sea. It is famed for its extravagant seafood and handmade pizzas cooked in the wood fired pizza oven. Order the Spaghettini al Limone Sfusato di Amalfi, it may be the best thing you've ever eaten in your life.
Santa Caterina is so timeless that it has become a tradition for many families, something precious handed down from generation to generation. La Dolce Vita Amalfitana, then, now and forever.
@hotel_santa_caterina
Via Mauro Comite, 9, 84011 Amalfi SA, Italy