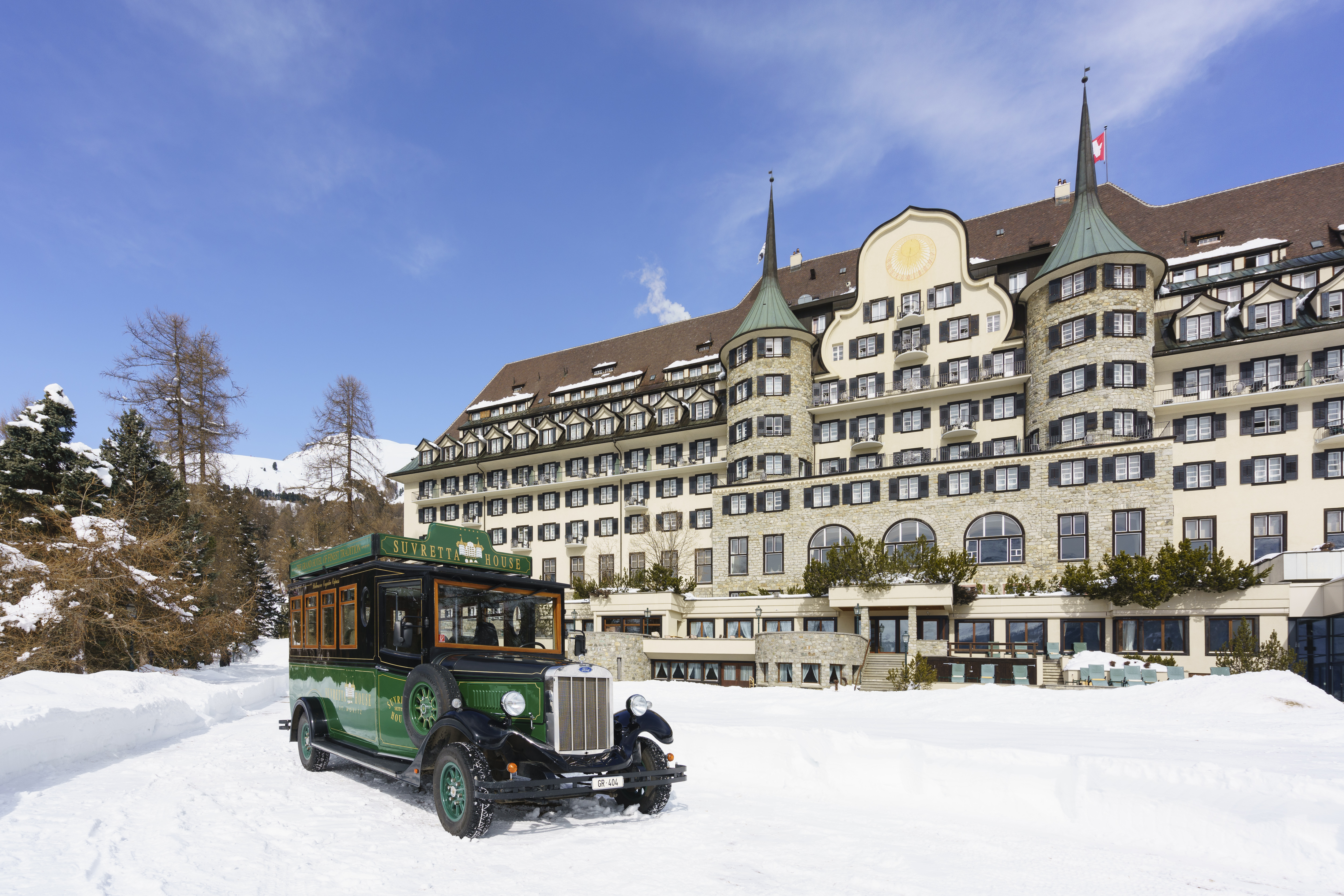 Once upon a time when a past century meets the modern day world, you discover the wonder that is Suvretta House in Switzerland. Steeped in history and unequivocally drenched in traditions of the past, this destination is an enchanting fairytale experience from beginning to end.
Suvretta House was the brainchild of Swiss hotel pioneer Anton Bon. Built in 1911, his vision back then was to create an opulent grand hotel hidden in the mountains that purveyed optimum levels of luxury and happiness. Situated in the breathtaking Alpine landscape of the Upper Engadin in St Moritz, the hotel to this day is still owned by the original family. The day to day running of the house is attentively taken care of by the magnificent General Managers, husband and wife duo Esther and Peter Egli. Their hospitality is extraordinary and their welcome is unique as they address each and every guest by name; a subtle yet priceless touch.
Suvretta House is the alpine runway for haute couture style. Travelling around the area in luxury is no different. Their resident chauffeurs will transport you to magical places in the most grandiose old-worldly emerald carriage. It will propel you to resplendent places nearby such as Restaurant Chasellas—one of their off-site mountain delights—1,936 metres above sea level. The interior is traditional and rustic with a cosy ambience. It's a romantic secret sanctuary for an evening meal or a buzzing hive of activity with families dining throughout the day. Each diner is welcomed personally by the new in-house restaurant chef Steven Muller who crafts the most delicious traditional and comforting dishes using seasonal local produce and caters for every dietary requirement with his ingenious creations and indelible flavours.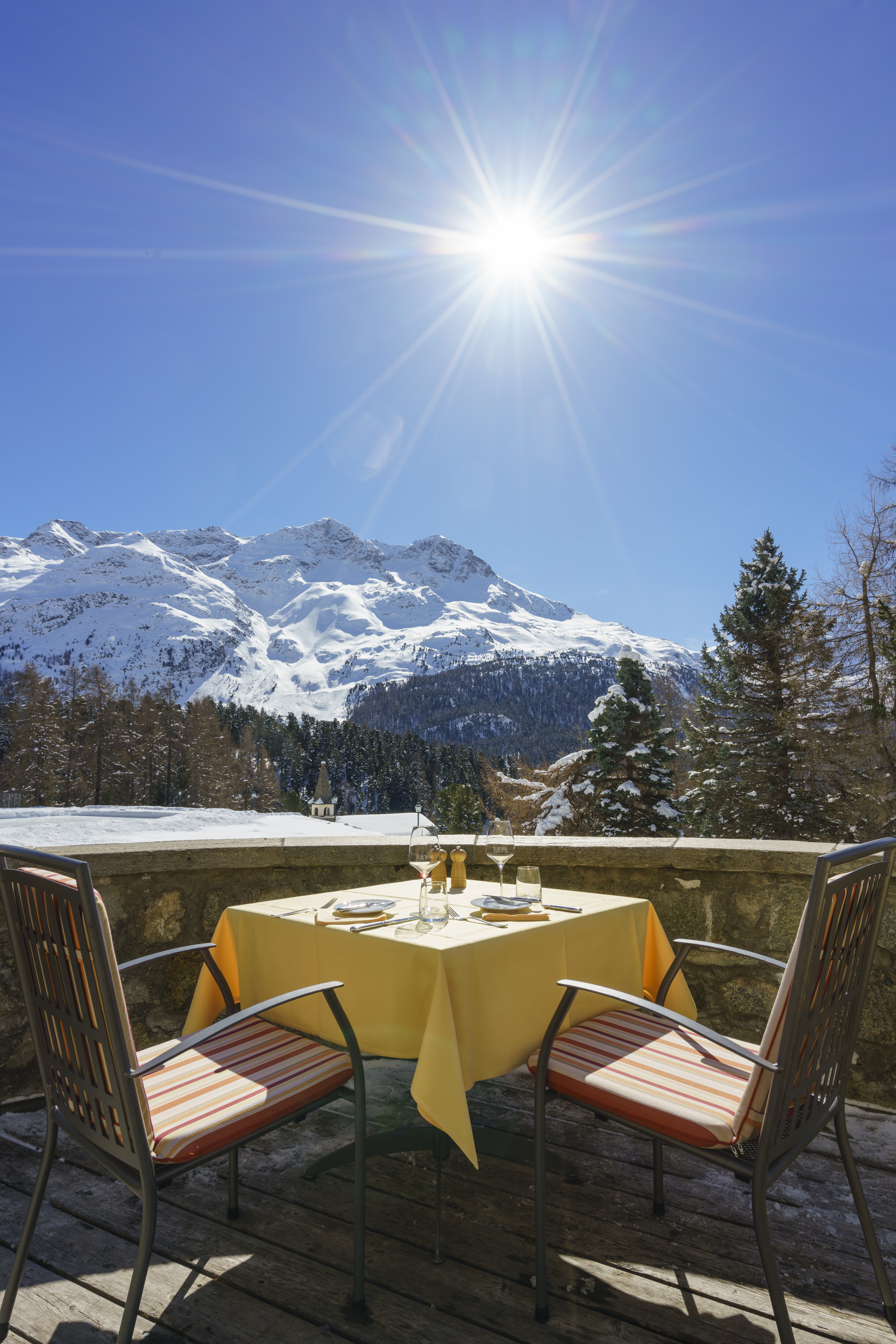 Waking up in this celestial winter wonderland is a dreamy affair with its angelic views and crystal clear mountain air. The morning tranquillity and stillness elevates your morning mood and nourishes your mind, body and soul. Each hotel room is sprinkled with a touch of class from their extensive wardrobe space to their glorious beds of grandeur which you can gently sink into after a tiring day on the slopes. The memorable ornate wooden panelled lift which takes you down to breakfast with its alluring red leather couch, adds a real sense of glamour to the morning experience.
Suvretta House has covered every facet and thought of every minute detail when it comes to the comfort and relaxation of their guests. The luxury of a ski centre in the lower ground of the hotel and private accessible ski lifts right outside the front door means that no time is wasted when hitting the idyllic slopes. Each locker in the ski centre is heated and ventilated so your cherished ski gear is cared for at all times. There's an array of stylish shopping amenities located just outside the ski centre offering ample opportunity to indulge in a spot of retail therapy should you forget to pack any imperative items of clothing.
The fresh powdery snow at this heavenly resort creates the most seductive skiing conditions. There is so much waiting to be explored as you climb and glide your way through the perfectly prepared and preened pistes. The thrilling rush experienced when manoeuvring your way up, across and down the Upper Engadin is indescribable and it's clear to see why this historic place was twice home to the Winter Olympics.
Elevation will gather momentum during your stay with a visit to Trutz, their impressive mountain restaurant which is 2,211 metres above sea level and can be accessed via ski lift or as you rapidly meander down the mountain slopes. Discover a rustic lodge style restaurant where you can enjoy warming homemade dishes and a well-deserved tipple on their sun terrace, watching fellow skiers whizz by in their glamorous attire. It's the perfect lunch haunt to relax, revitalise and embrace a sunny afternoon hit of vitamin D.
A sporty competitive nature is always welcomed at Suvretta House. Guests have the opportunity to enjoy a private curling lesson with a qualified trainer where professionals athletes and novices are warmly welcomed. Suvretta House is the only hotel in the world to have a Curling Guest Club on its grounds. During a lesson, you'll be professionally guided through your paces and learn the importance of sweeping the brush. For those more daring and feeling the need for speed, then perhaps a figure skating lesson would be on the itinerary. World champions in figure skating have showcased their talents on the Suvretta House ice rink. You'll be lucky enough to perfect your own technique and maybe even witness a pirouette or a triple lutz from one of the Swiss professionals.
Following a day of alpine or cross-country skiing, explore the blissful ambience and unwind in the sophisticated lobby whilst enjoying spectacular views of the Upper Engadin. The dark framed windows and doors create a dramatic frame for such a breathtaking mountain view. Indulge in some artistic afternoon tea with an array of delicious finger sandwiches, scones and bespoke sweet treats all handmade by their talented pastry chef. Savour the electric ambience and listen to soft piano tunes in salubrious balmy surrounds.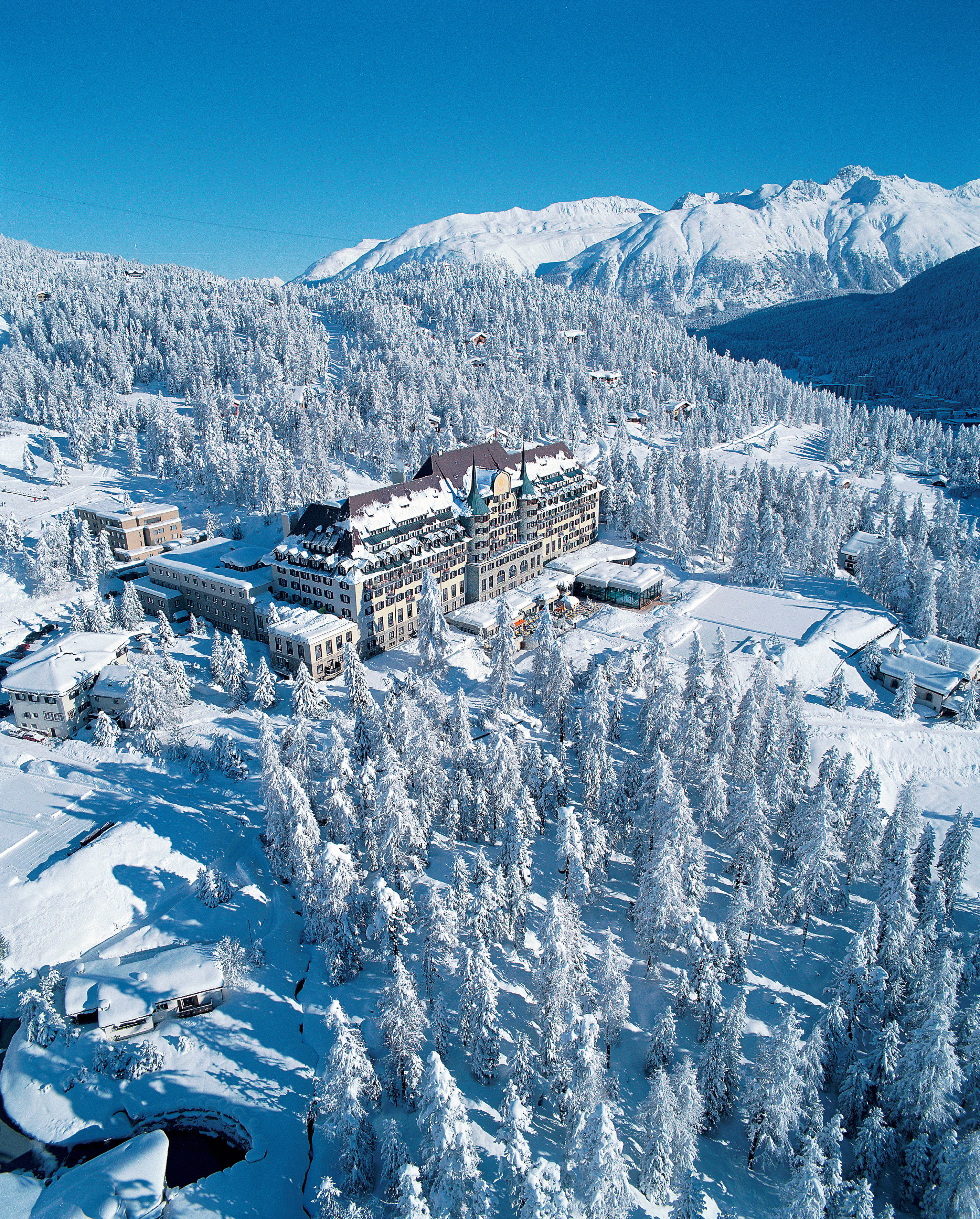 The comfort and luxury at Suvretta House transcend right through to each of their on and off-site restaurants; the level of gastronomic fusions experienced is spellbinding. The Suvretta Stube which is located in the lower level of the hotel is a must visit. Embrace warm Swiss comfort food here with a casual Raclette dining experience. The scrumptious mouth-watering traditional Swiss dish of melted cheese leaves every diner in a taste bud world of awe.
Another tantalizing experience not to be missed is Anton's bar which is named after the visionary and creator of Suvretta House, Anton Bon. This is the perfect place to retire for a late night aperitif. Live music and a stellar drinks menu will keep you entertained until the early hours. With its stylish chic interior and sultry tones, this is a great place to relax and people watch the night away.
The most impeccable dining experience at Suvretta House can be enjoyed at the lavish and exclusive Grand restaurant. Dining here is more like a journey back in time with its old-school glamour. True to its French nature, it has an intricate ceiling and classic lighting created by dazzling suspended chandeliers. There's a real elegance and craftsmanship throughout, not to mention the flawless service combined with charming French decorum and outstanding cuisine.
A trip to this incredible place would not be complete without a visit to the world-class spa. With an abundance of luxurious treatments to choose from, the ilā Kundalini Back treatment is highly recommended. This nurturing treatment uses chakra and sound healing to activate and channel the Kundalini leaving you floating back to your room feeling on cloud nine.
During a Winter trip to Suvretta House, you'll enter a world of sheer decadence, a place that delves deep into your soul and evokes a sense of euphoria that is rarely experienced when visiting a new place for the first time. A real-life enchanting fairytale experience with a magical timeless beauty you'll never forget.
@suvrettahouse
suvrettahouse.ch
Via Chasellas 1, 7500 St. Moritz, Switzerland