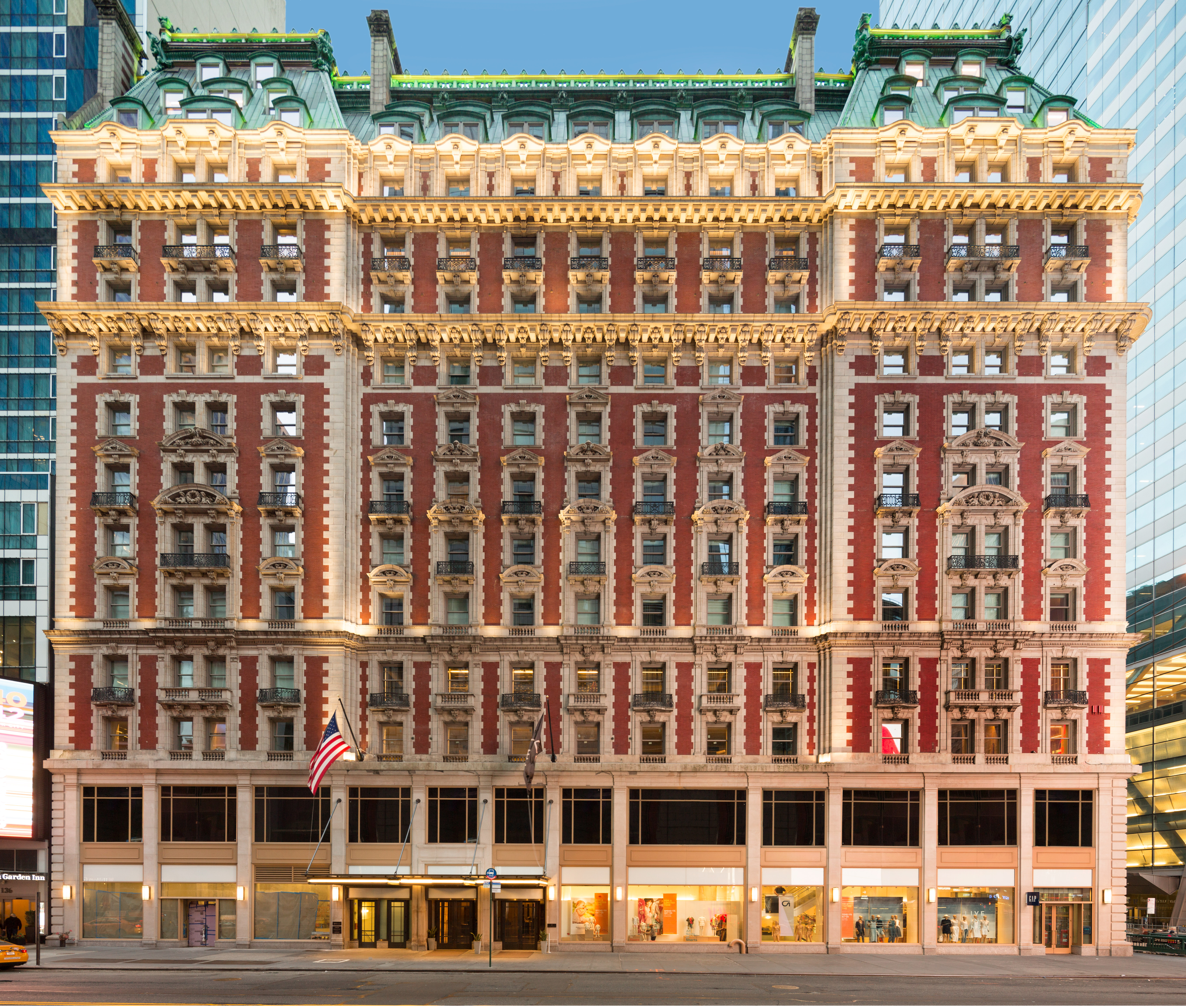 In The Great Gatsby, F. Scott Fitzgerald wrote of New York, 'The city seen from the Queensboro Bridge is always the city seen for the first time, in its first wild promise of all the mystery and the beauty in the world'.
The view from the bridge remains an unforgettable one. The skyscrapers stand tall and dignified, like the wardens of the city. Their lights blaze from above, drawing you in like a firefly as you enter the belly of the magnificent beast.
New York is a magnet for dreamers; they say if you can make it here you can make it anywhere. There is an indescribable bond with the city; the instant feeling of belonging, whether you've been there for a day or a decade. As Taylor Swift sang, 'Welcome to New York. It's been waiting for you.'
It is hard not to be overwhelmed by New York's distinct beauty. Its aesthetic charm may not be as romantic as Paris or as charming as London, but it is nonetheless as mesmerising.
Iconic American poet Ezra Pound once wrote, 'And New York is the most beautiful city in the world? It is not far from it. No urban night is like the night there… squares after squares of flame, set up and cut into the aether. Here is our poetry, for we have pulled down the stars to our will.'
Times Square is not for the faint of heart; It is an aesthetic playground that engulfs the senses. The kaleidoscopic colours and electrifying energy instantly envelop you into a technicolour dream. It is often described as the crossroads of the world and is one of the most visited tourist attractions. Around 50 million people visit Times Square each year, with over 460,000 pedestrians walking through on its busiest days.
With so many visitors, it is far from surprising that it also attracts some of the most intriguing characters that come to the square to seek fame and fortune. It is a melting pot of street entertainers, including: musicians, acrobats and beautiful girls wearing nothing but body paint.
There is magic in New York if you know where to look for it. Amongst the rainbow of billboards and gunmetal grey headquarters of the world's biggest organisations is the centenarian Beaux-Arts façade of The Knickerbocker Hotel. This landmark was built in 1906, constructed of red brick with terracotta details and a prominent mansard roof.
It was one of the most exclusive hotels in New York until its closure in 1921, due to the economic challenges that plagued the city in the early 1920s. The hotel hosted an array of oil tycoons, political figures and movie stars; F. Scott Fitzgerald and the great tenor Enrico Caruso were regulars. Legend has it that the martini was invented at the hotel in 1912 by the house bartender Martini di Arma di Taggia and became the signature drink of John D. Rockefeller.
The treasured Manhattan monument was acquired for $115 million in 2012 and a careful and extensive restoration costing an additional $115 million ensued. In February 2015, The Knickerbocker reopened and a legend was reborn.
The Knickerbocker has a luxuriously contemporary aesthetic that pays homage to the glitterati of New York's Gilded Age. It has an authenticity, grandeur and attention to detail that is a rarity for Times Square. Celebrated design firm Gabellini Sheppard designed it as a sanctuary from the sensory overload on its doorstep.
There are over 330 stunning guestrooms and suites; each boasts 12-foot ceilings, 18-inch thick walls, soundproofed windows and blackout shades that offer an escape from the bright lights and sounds of the city.
The Junior Suite I stayed in is over 600 square feet and is beautifully decorated with bespoke furnishings, including: a writing desk, lounge chair and a coffee table. Two queen-sized beds lay side-by-side, dressed in crisp white 300-count Egyptian cotton SFERRA linens and supple Ploh goose down pillows.
There is a 55-inch, flat screen Samsung smart TV with HD cable and a Samsung tablet for room automation and personal use.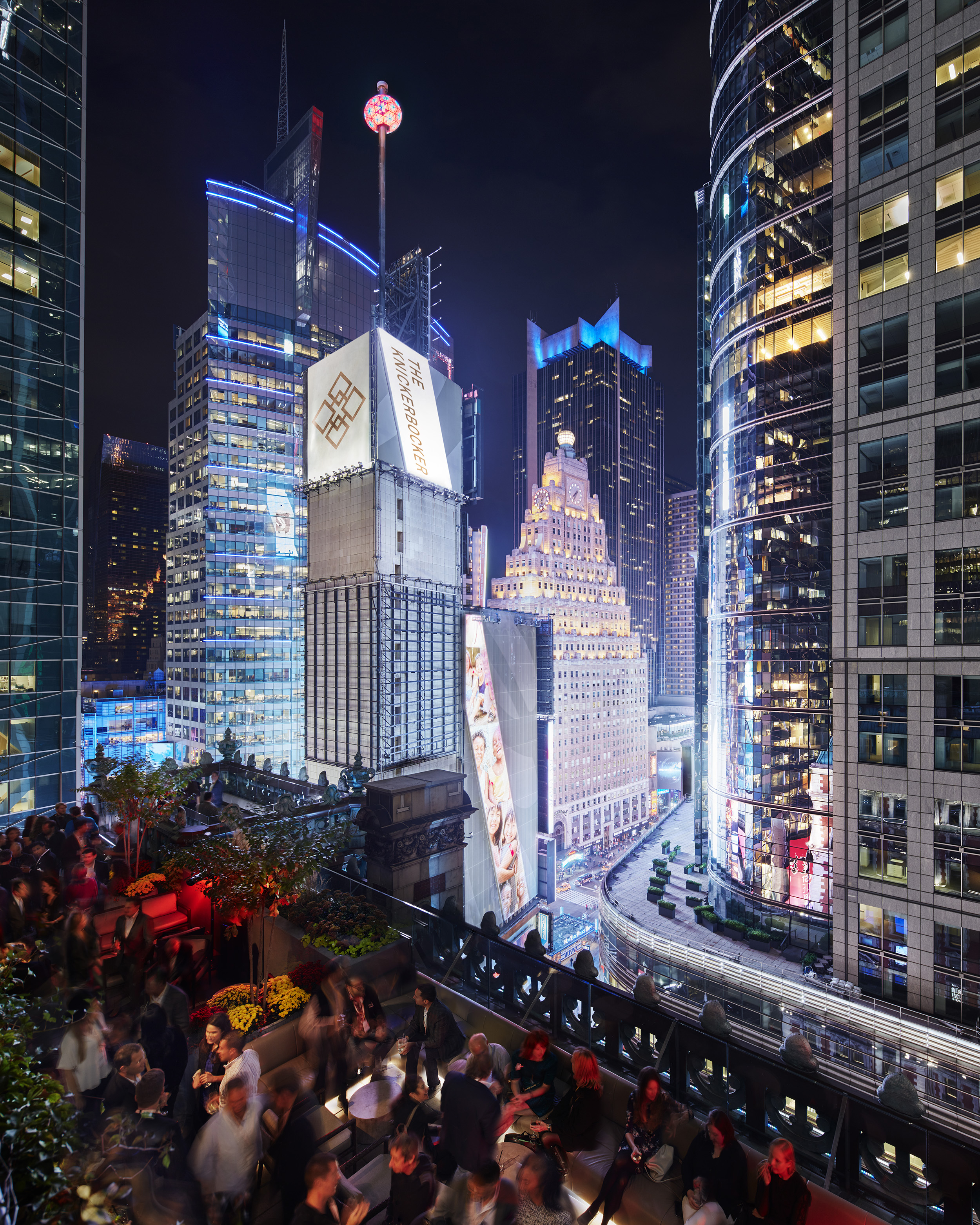 The bathroom is a statement in contemporary luxury with a white marble sink, vanity mirror, floor-to-ceiling mirror, wood grain ceramic tile flooring and a walk-in rain-shower.
The lighting is low, and the décor is quietly elegant, which is a perfect contrast to the incredible views of the futuristic flashes from the billboards that can be seen from every suite window.
The hotel amenities are impressive; New York Knicks basketball legend Larry Johnson curates the gym's workout program and the hotel's restaurant Charlie Palmer at the Knick is a culinary masterpiece. Master Chef Charlie Palmer redefines the standards of quality and creativity with his critically acclaimed honest American cuisine.
Culinary gems on the menu include: Charlie Palmers' signature succulent fried chicken with chipotle and paprika; Kampachi Ceviche with grapefruit; Leche de Tigre and plantain chips; and an extraordinary Apricot Vanilla Pavlova with apricot gelee, honey cremeux and Earl Grey ice cream.
The Knickerbocker's crown jewel is St. Cloud, its 16th-floor rooftop bar and terrace. It boasts romantic ivy covered walls and stylish indoor and outdoor seating areas including: three luxurious corner Sky Pods with panoramic views of the glittering lights of Times Square.
It offers an eclectic cocktail menu and craft bottled beers to be enjoyed under the stars. Highlights include: the Blueberry Gin Daisy, an intoxicating mix of Dorothy Parker Gin, lemon, blueberry grenadine and seltzer; and the Brooklyn Bee's Knees, a delicious concoction of Brooklyn gin, wildflower honey, lemon and lavender.
At New Year's Eve in particular, St. Cloud comes alive with the best view of the descent of the New Year's Eve Ball in Times Square. Up here, so far above the noise and bright lights of New York's pulsating streets, there is a feeling of being truly infinite.
American poet Walt Whitman once wrote of New York, "There is no place like it, no place with an atom of its glory, pride and exultancy. It lays its hands upon a man's bowels; he grows drunk with ecstasy; he grows young and full of glory, he feels that he can never die."
The Knickerbocker
Instagram: @theknicknyc
6 Times Square, New York, NY 10036, USA
British Airways Holidays offers three nights at the 5* The Knickerbocker Hotel, from £779 per person. Includes World Traveller return flights from London Heathrow and accommodation. For reservations visit ba.com/newyork or call 0344 493 0122.