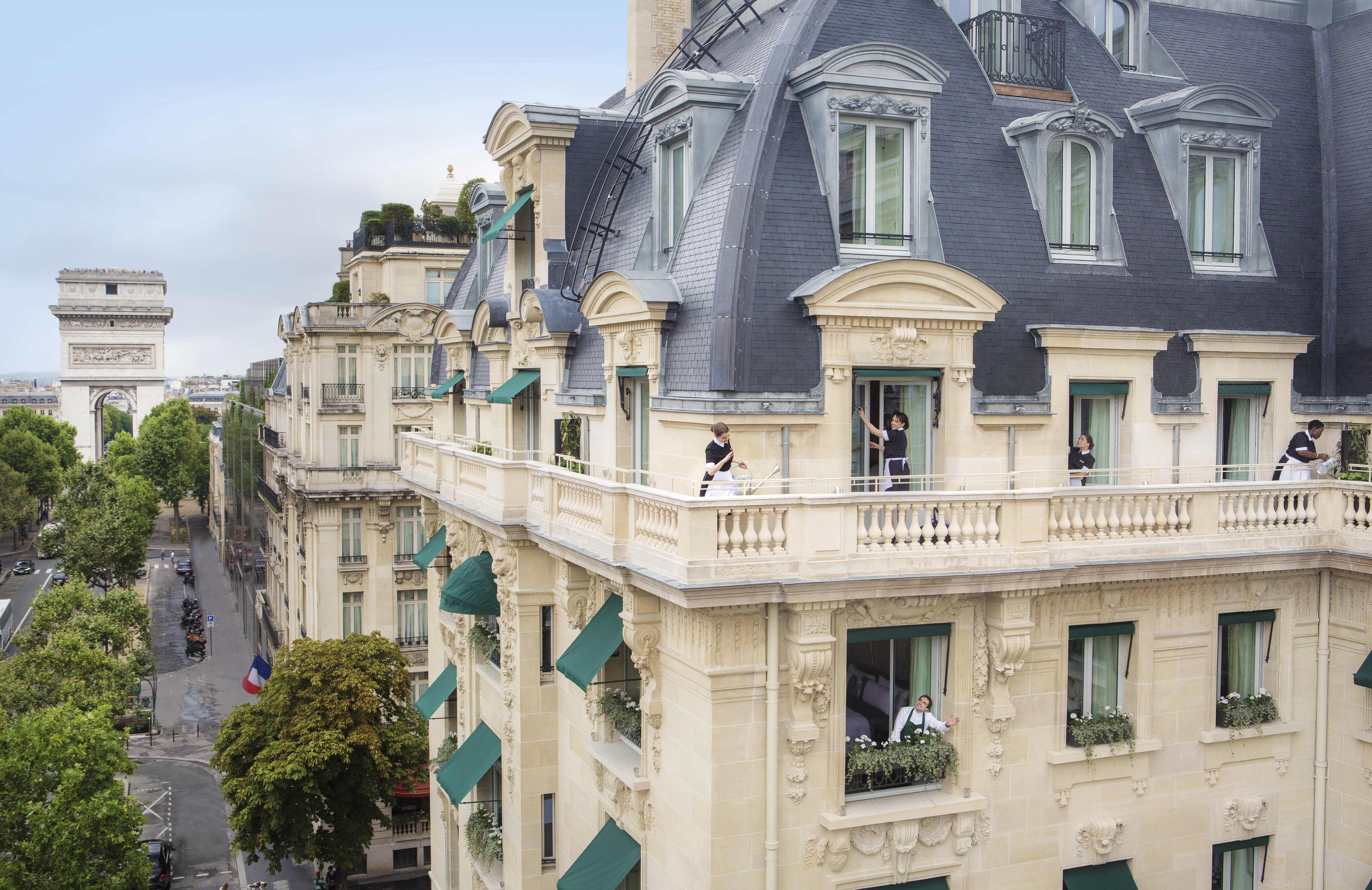 In 1918, James Thurber, former editor of The New Yorker, once wrote in a letter to a friend, "Paris is a vast university of Art, Literature and Music… it is worth anyone's while to dally here for years. Paris is a seminar, a post-graduate course in everything."
For centuries Paris has been an education in beauty and romance for history's most prolific writers, poets and artists. Henry Miller, who wrote, "When spring comes to Paris, the humblest mortal alive must feel that he dwells in paradise."
So in the heart of spring, I ventured to Paris in search of Paradise.
There is nowhere you are more likely to find paradise than at The Peninsula. Moments from the Arc de Triomphe, the imposing neoclassical façade of the 19th-century hotel occupies an entire block on Avenue Kléber in the 16th arrondissement of Paris.
Following a meticulous four-year £340m restoration, with the help of France's most venerated artisans, The Peninsula Paris opened in the summer of 2014 and has been redefining luxury in the city of light ever since.
Outside of the hotel, The Peninsula's customised collection of perfectly valet parked cars that glittered in the early afternoon sunlight. The uniformed Emerald fleet includes a magnificent vintage 1934 Rolls-Royce Phantom II, a classic French 2CV fourgonnette and a 2014 Extended Wheelbase Rolls-Royce Phantom.
The moment I stepped through the doors, held open by two smiling bellboys in pristine white uniforms with gold accents, I felt as though I had walked into a masterpiece. I was welcomed by 'Dancing Leaves', a majestic glass art installation by glass specialists Lasvit. It features a cascade of 800 hand-blown glass abstract sycamore leaves with silver embellishment that twinkle in the light like diamonds.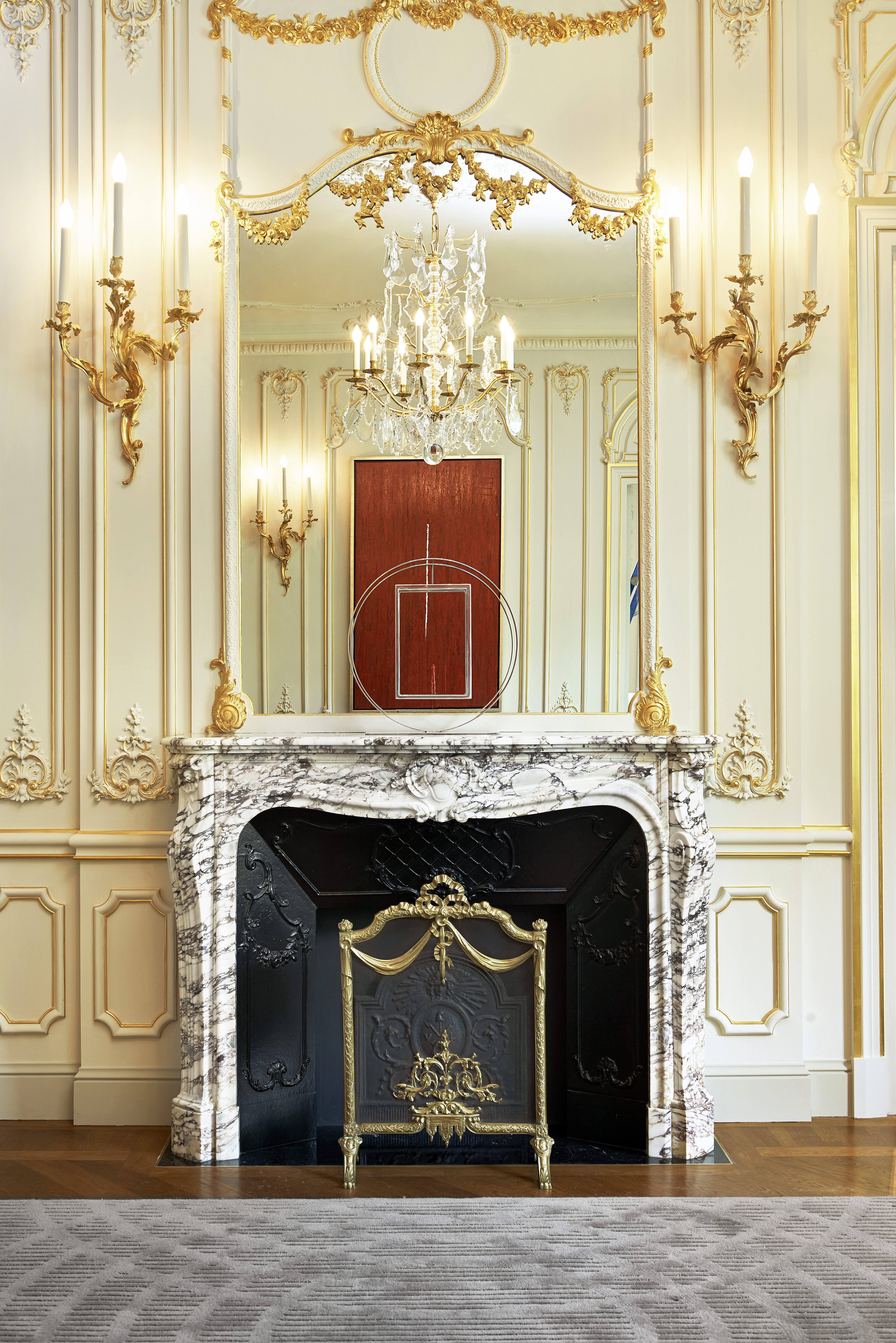 Downstairs, the aesthetic embodies a rich 19th-century aesthetic but upstairs, the 200 rooms and suites tell a different story altogether. Decorated in dove grey and caramels with high-gloss lacquered furnishings by Hong Kong decorator Henry Leung Walls, they are the epitome of contemporary elegance. I stayed in the Grand Premier Suite, which offered an uninterrupted view of the magnificent tree-lined Avenue Kléber; it was over 1000 sq. ft. but maintained the intimacy of a Parisian pied-à-terre.
In a vast open space of geometrical Art Deco, the suite featured a living area with plush sofas and armchairs, an office area and a luxuriously soft king-size bed. There was a spacious walk-in closet, complete with old Hollywood style mirrors, nail varnish dryer and a discreet valet box.
The crown jewel wasn't without the opulent alabaster bathroom. It was a magnificent black and white marble rotunda with a built-in television above a sumptuous bath, his and hers sinks and a Toto smart toilet with heated seat, automatic flush and massage options. Like most of the suite, a touchscreen tablet controlled the bathroom. Once the 'spa' button was pressed, the suite activated a do not disturb function which shuts off all contact with the outside world, dims the lights and plays classical music.
The suite is a feast of cutting-edge 21st-century technology, which is controlled with touchscreen tablets and LED wall panels. These effortlessly control the lighting, temperature, curtains and television.
Although the suite is indulgent, it is far from ostentatious. Every luxury feels like a necessity. It boasts distinct Parisian influences with Peninsula's world-famous signature functionality.
Often an afterthought, The Peninsula Spa located in the basement of the hotel is a revelation. The luxuriously appointed 19,000 sq. ft. space was designed to refresh and revitalise. It boasts a stunning state-of-the-art fitness centre, 65 ft. x 16ft. indoor pool and two Jacuzzis. The changing rooms were a work of art; both the male and female rooms featured a sauna, a hammam, a spa shower, an ice fountain and professional standard beauty and hairdressing areas.
For 90 perfect minutes, I lay in a candlelit room, the air heavy with the scent of jasmine, as Justine gently heated hypnotic aromatherapy oils and massaged them into my skin. She then used hot volcanic stones that were tailored to the massage pressure.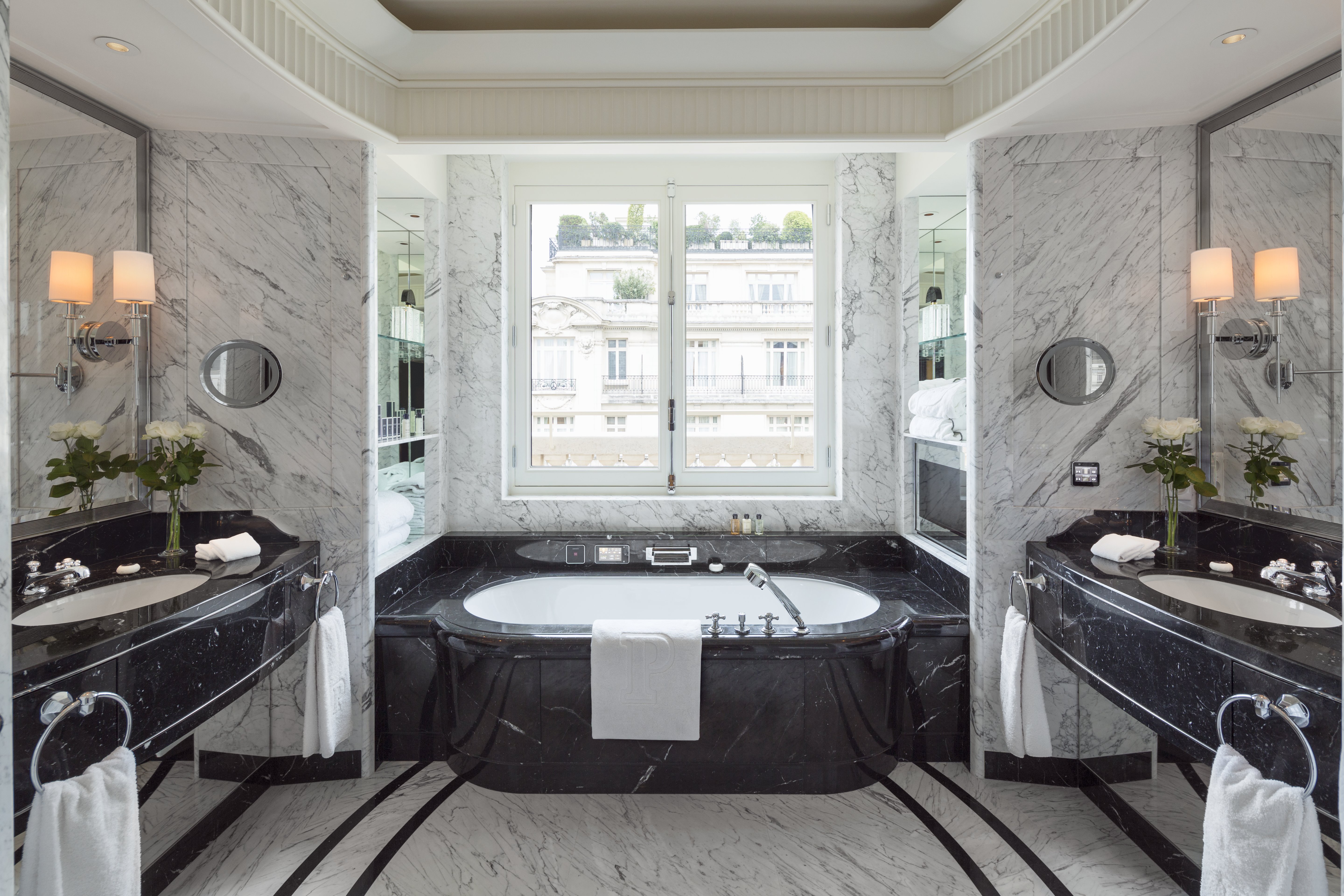 After working up a ferocious appetite, I made my way to Le Lobby, a white and gold neo-classical former grand dining room that has been meticulously restored to reflect the glory of the Belle Époque era.
It was there that the most marvellous traditional afternoon tea was served; delicate finger sandwiches overflowing with cool cream cheese and cucumber deviled egg and fresh Scottish Salmon and fresh dill.
As well as a cup of steaming Lapsang souchong, there was also a chilled glass of Champagne Taittinger Brut Réserve. Next came warm scones with lashings of fresh whipped cream and sweet strawberry conserve.
Nowhere in the world curates pastries like the French, there was a mountain of sweet treats, including; waffles dusted with icing sugar, caramel shortbread, passion fruit cake with edible violets and pastel macarons.
After a sumptuous mid-afternoon delight, our courteous waiter suggested that my guest and I venture on to Terrace Kléber for cocktails. He found us a sun soaked table, dressed in a candy floss pink cloth on the busy terrace.
At his request, we ordered delicious glasses of Earl Grey iced tea, garnished with fresh lemon and mint. The sun was slowly setting over Avenue Kleber, leaving a dusky pink-streaked sky in its wake. Remnants of the scorching afternoon were everywhere; from the girls in mini dresses dancing in the apartment opposite to tropical house and the children holding the remains of ice lollies, sticky red juice stains around their mouths and looks of unadulterated joy plastered on their faces.
We sat and watched snippets of the lives of effortlessly beautiful people as they passed in the fading evening light. That long, hazy afternoon was a lesson in the inimitable French L'Art de Vivre.
The Peninsula Paris has inextricably and effortlessly woven into the fabric of Parisian society and culture. Behind its 19th century heritage and illustrious history, it has been at the forefront of integrating cutting-edge technology in a way that has cemented its reputation as an icon reborn.
The Peninsula Paris
19 Avenue Kléber, 75116 Paris, France
Eurostar operates up to 18 daily services from London St Pancras International to Paris Gare Du Nord with return fares from £69. Fastest London-Paris journey time is 2hr 15 minutes. Tickets are available from eurostar.com.