The captivating Central American country hailed for its diverse landscape and culture has lured travellers the world-over to with dramatic landscapes and centuries old civilisation. 
From the mesmerising Maya culture in the highlands to the Spanish colonial influences of the inner-cities, Guatemala bears the relics of an age-old country, but a bubbling creative scene is adding another element to this must-visit destination.
To experience this epic tale for yourself, pay a visit to the former capital, Antigua, before rambling on a chicken bus through the highlands to reach Lake Atitlan, 'the place where the rainbow gets its colours.'
ANTIGUA
Serving as Guatemala's capital for almost 300 years from the early16th Century, this beautiful UNESCO World Heritage City sits beneath the watchful eye of three towering volcanoes – Volcán de Agua, Fuego and Acatenango. Antigua's enchanting beauty and cobbled streets seduces even the most seasoned of travellers. While the history of the city is plain to see, the birth of hipster subculture is permeating the surface, popping up through farm-to-table restaurants, indie coffee shops and world class galleries beneath the gaze of three towering volcanoes — it really has to be seen to be believed.
Despite its rich history, Antigua isn't dwelling in the past. A thriving cultural scene has heralded many young Guatemalan creatives to the city, as well as expats. There's a flavour for positive impact tourism, gastronomy, arts and culture that has created an underground scene in a city most-visited for its surface-level charm.
Markets filled with vibrantly patterned traditional textiles are neighbours with contemporary design studios and speakeasies housed in Baroque Antigueño style buildings. A booming coffee scene fuelled by local farms, internationally renowned restaurants, a handful of boutique hotels and stylish courtyard hangout spots are quickly placing Antigua on the map as one of the most enticing cities in Central America.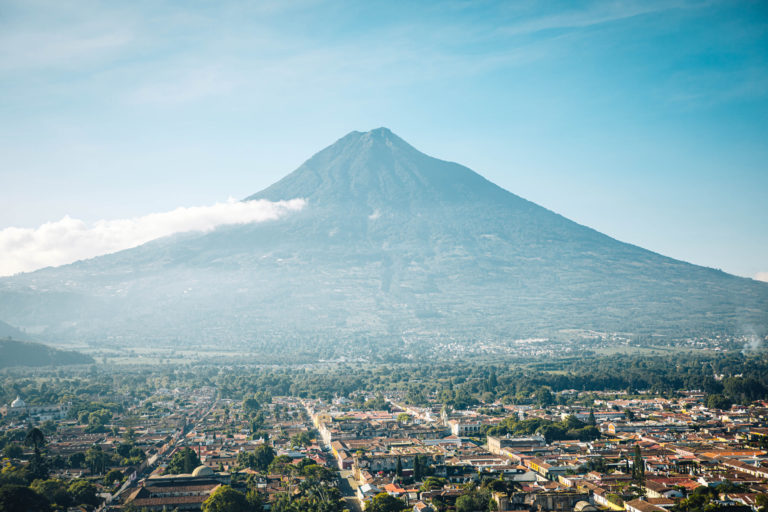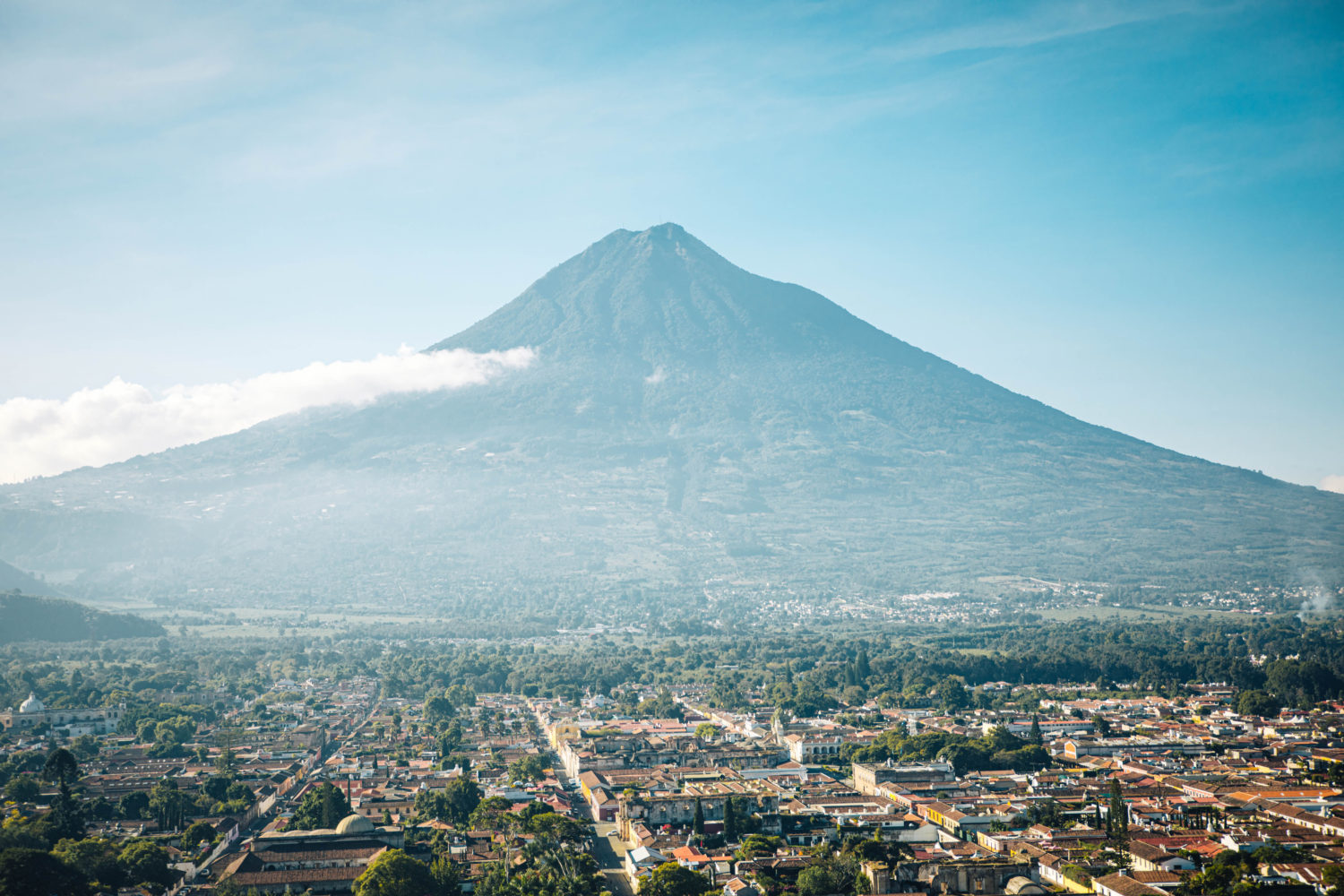 SLEEPING
Good Hotel
This isn't just a hotel, it's a social business. Housed inside a restored mansion in the heart of the city, Good hotel Antigua is a boutique property intrinsically connected to its neighbourhood. The twenty-room hotel features a beautiful, plant and guava tree lined colonnaded courtyard and plenty of light-filled communal spaces. Dutch design, using natural materials create a stylish and calming space, with open-air showers and private patios. What's most notable, however, is that each of the twenty rooms are named after a local child, so your hotel stay helps Niños de Guatemala, a nongovernmental organisation, provide underprivileged local kids with a formal education. Furthermore, 100% of the hotel's profits are invested back into the local community to fuel the human potential of the destination travellers are experiencing. Sleep good, do good!
EATING
There are endless dining opportunities in Antigua, whether you want a tostada on-the-go or prefer to make dinner a refined affair, there's no shortage of exceptional dishes. Two things to note are that Guatemalan's love breakfast and they have an incredibly sweet tooth. Desserts and traditional brunches are a dime-a-dozen, but nowhere in the city serves a 'Desayuno Chapins' or 'Breakfast of Champions' — fried plantain, frijoles Volteados, eggs, tortillas and tomato salsa — quite like Union Café.
International influences are heavily prevalent in Antigua, with two of the most notable restaurants featuring cuisine from beyond Guatemala's borders. Ni-Fu Ni-Fa, which means so-so, set themselves up for success with this humble title. Tuck into mouth-wateringly succulent panfried steaks washed down with the most exclusive imports of Argentinian wine in a courtyard setting that resembles Pablo Escobar's lavish Tulum mansion.
For a little something lighter, dine at the restaurant-gallery hybrid, Santo Sprito. The downtown organic restaurant, helmed by chef Mattia Bellucci, serves Italian classics with a local twist inside a colonial-era house adorned with the work by local artists.
DRINKING
Late night coffees and midnight cocktails is the way of life in Antigua. With volcanic soil ensuring neighbouring farmlands grown rich produce and super-fruits, cocktail and coffee bars are brimming with fresh ingredients inspiring new ideas. Fat Cat Coffee is the pitstop for coffee-lovers who want to challenge their perception of Western coffee culture. The team here follow their coffee from seeding the beans on the farm to pouring a piping cup. Their passion for their craft is insatiable and you'll find yourself waiting for a cup for 15-minutes because the barista has passionately engaged you in one of his many coffee tales.
Hidden behind a red telephone box inside a craft beer bar is Ulew Cocktail Bar. Here the libations are created to each patrons palette using housemate syrups, local ingredients and international spirits. Each cocktail is served on a what can only be described as a stage, featuring characters and objects that tell the story of the drink.
LAKE ATITLAN
Just a 3-hour journey from Antigua, and halfway between the city and Acatenango, where many travellers embark on a pilgrimage to see Fuego erupting up close, is magical Lake Atitlan. Created by prehistoric volcanic activity, life on the lake is slow and considered in comparison to Antigua. By its natural form and surroundings, the lake has preserved the Maya communities and culture that live in harmony in the protective shadows of Volcan de Atitlan, Volcan San Pedro and Volcan Toliman.
There isn't a 'scene' here as such, as life revolves around the water. People bathe, play, work and source food from the lake. There are 12 villages dotted around the 
circumference of this mystical body of water, said to have an entire city on its bed, and the only way to get to these villages is by boat.
Here, the community thrives on the humble, collective worship of one of nature's purest elements, one that for them, ensures there is cotton to be woven on the backstop looms, somewhere to bathe and play, coffee cherries to pick, fish to catch, rich soil to sprout super-fruits, and somewhere to immerse in spiritual practices. If you're ever searching for a life-affirming destination, this is it.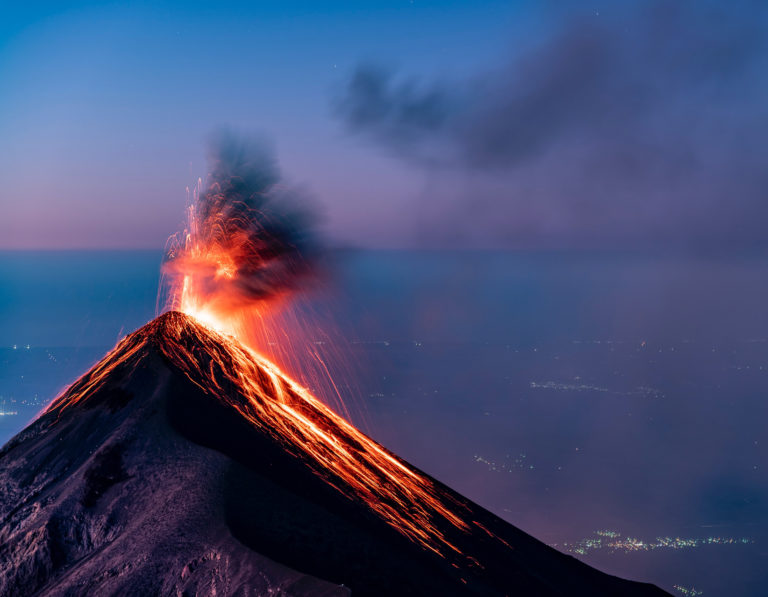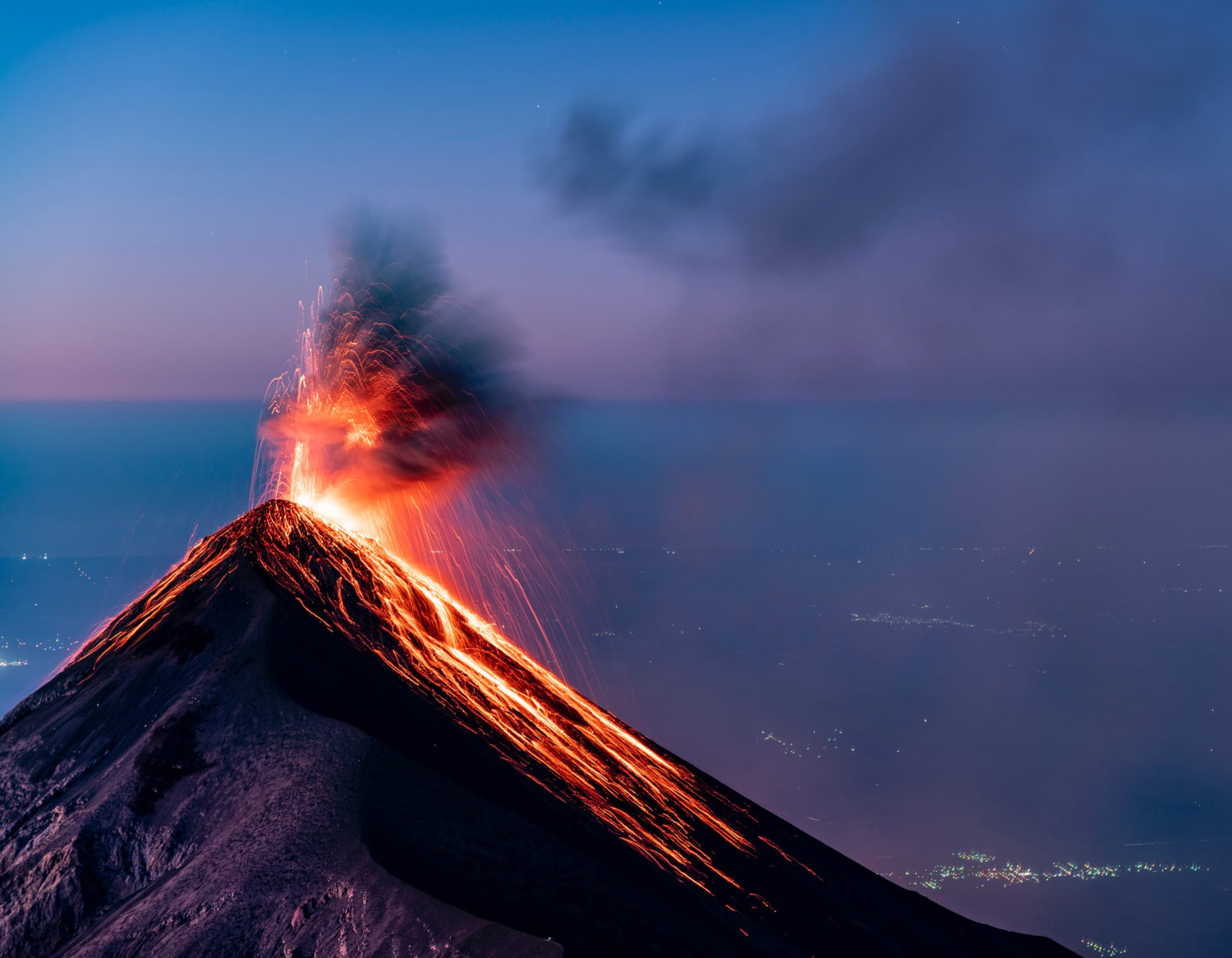 SLEEPING
La Fortuna
An entirely self-sufficient hotel camouflaged by the swathes of forest that surround it, La Fortuna sits in a private high-cliff bay overlooking volcanic peaks. Five beautifully designed villas made from native materials and furnished by local artisans, La Fortuna effortlessly showcases that luxury and sustainability can go hand-in-hand. Using only solar energy and with limited phone or wifi signal, this eco-hotel is the ideal place to do as the locals do — slow down and appreciate mother nature.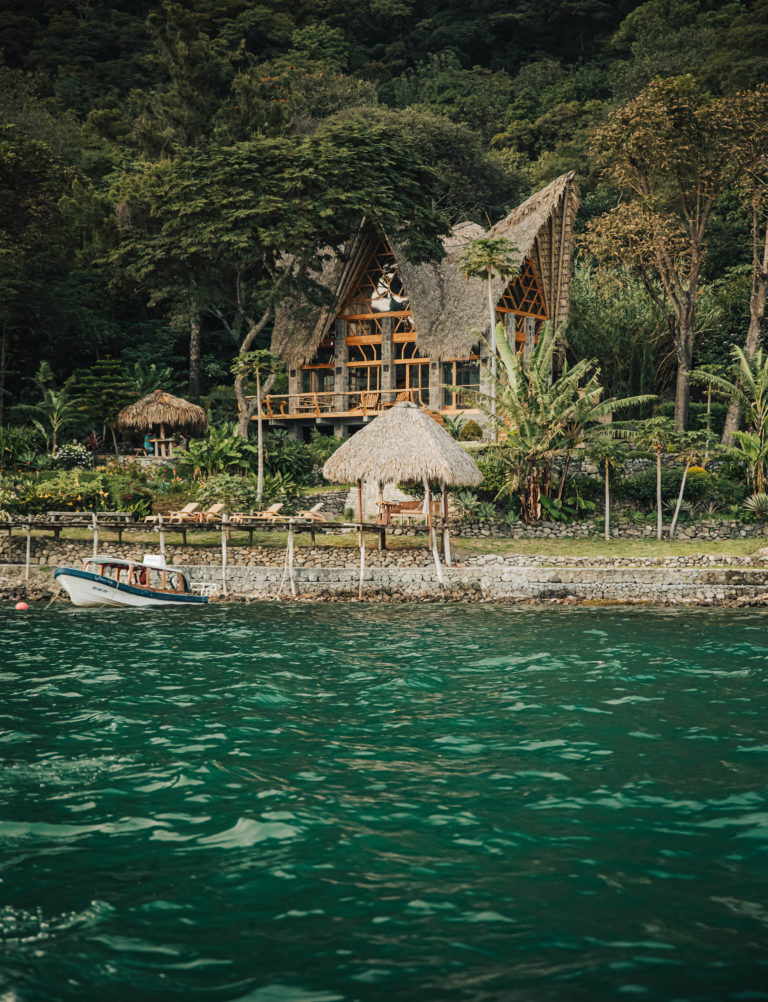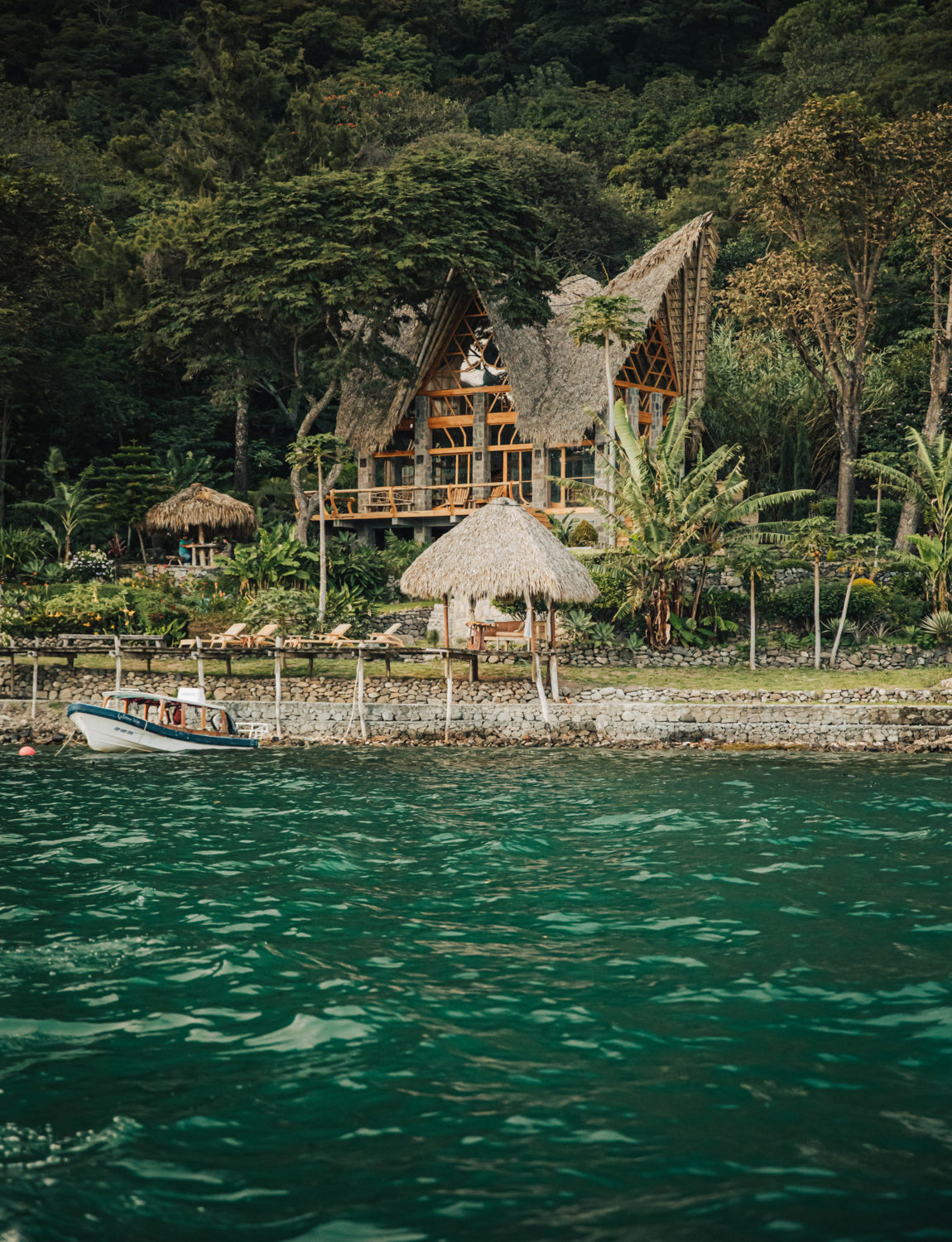 EATING & DRINKING
Despite being geographically isolated, Lake Atitlan has some exceptional food options and is a great place to indulge in Guatemalan street food. For dishes representative of the region, dine at Cafe Sabor Cruzeсo, where the menu proudly features Mayan classics, including hearty jocón, subanik or kak'ik stew. To taste how refined kitchens are using local ingredients to finesse international dishes, book a table at 6.8 Palopó, where lakeside produce is given a new identity.
Trying local delicacies served by smiling Maya women in their traditional cerise and royal purple dress, as colourful TukTuks dodge between crowds leaving only the echo of their trance music behind is a right of passage at Lake Atitlan. Follow the scent of freshly baked tortillas in Panajachel and you'll find a street lined with bubbling pots of pepián – a chicken stew — tostadas, elotes locos and more. Finish off your street food trail with beachfront drinks at Selina, where I promise you will witness one of the most beautiful sunsets of your life.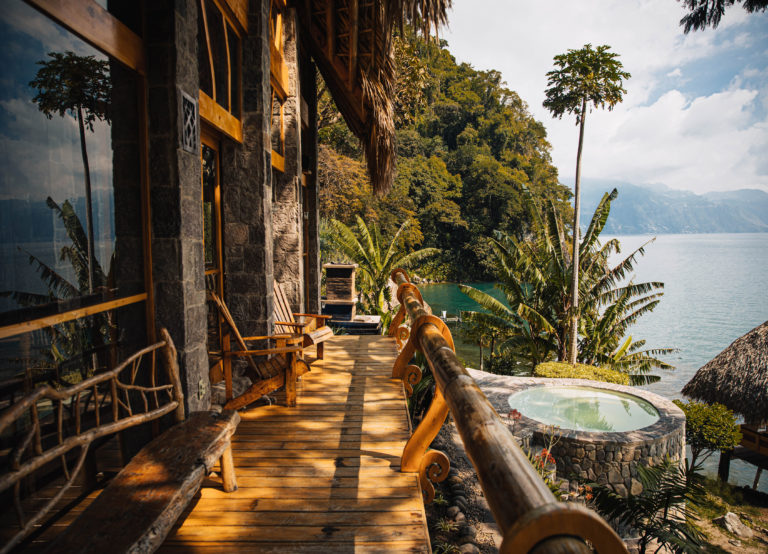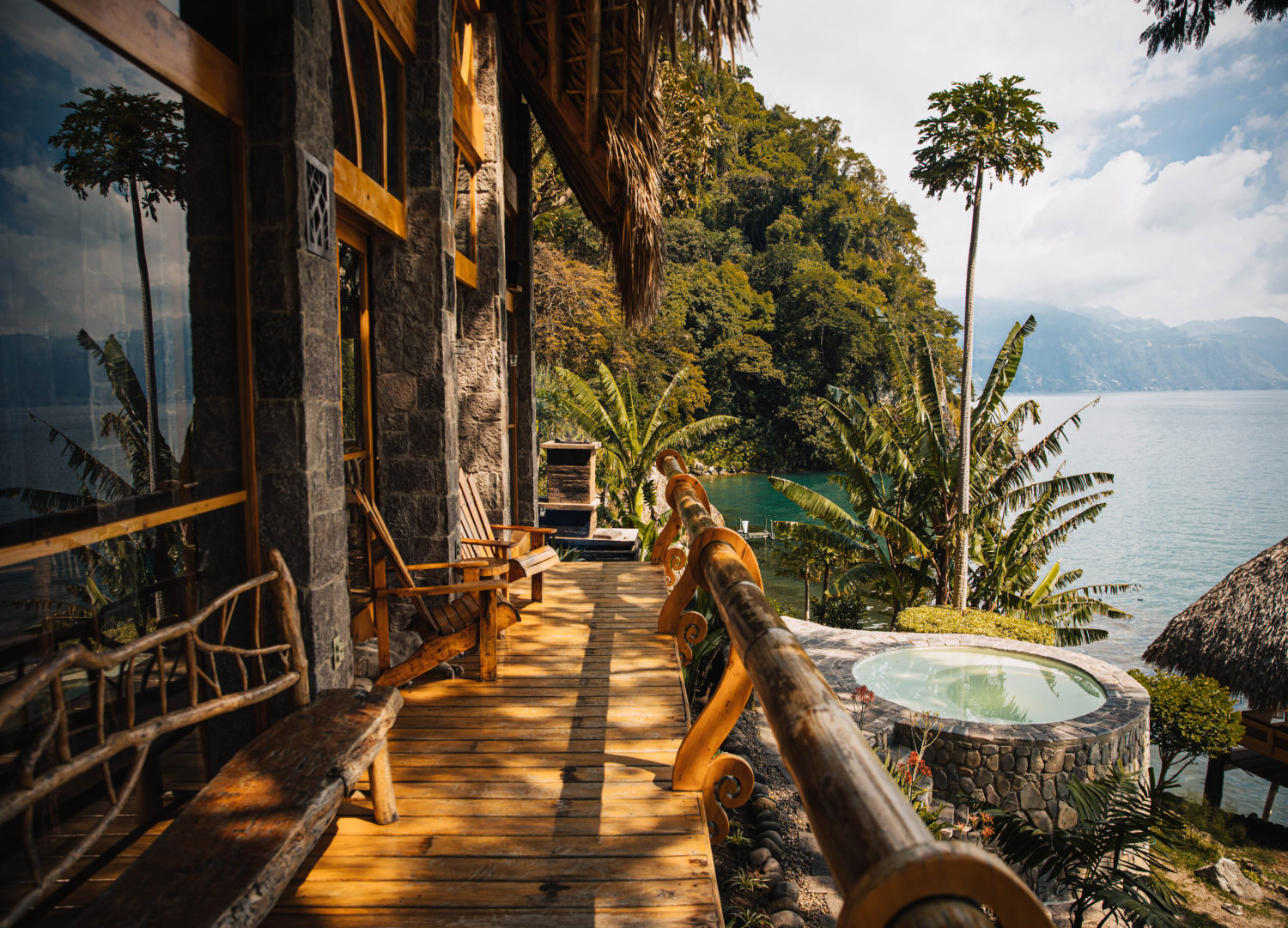 A LITTLE EXTRA…
Experiencing Maya culture first hand is truly once-in-a-lifetime for many. To have the honour to see the daily rituals and sacred cultural traditions of one of the world's oldest civilisations is a humbling experience. At Lake Atitlan, there are several artisan co-operatives that ensure that, not only is the Maya culture preserved, but that those who profit from it are the Maya community themselves. Local artisans still produce traditional Maya textiles on back-strap looms in their homes and local co-ops. In almost every doorway you peep through there will be a Maya women weaving an intricate tapestry from a prismatic heap of cotton on her floor. Local social business, Hiptipico works to create a sustainable avenue for Maya artisans to bring their traditional products to the global marketplace. Hiptipico owner, Alyssa, hosts small tours to local co-ops where travellers can immerse in one of the oldest textile practises in history.