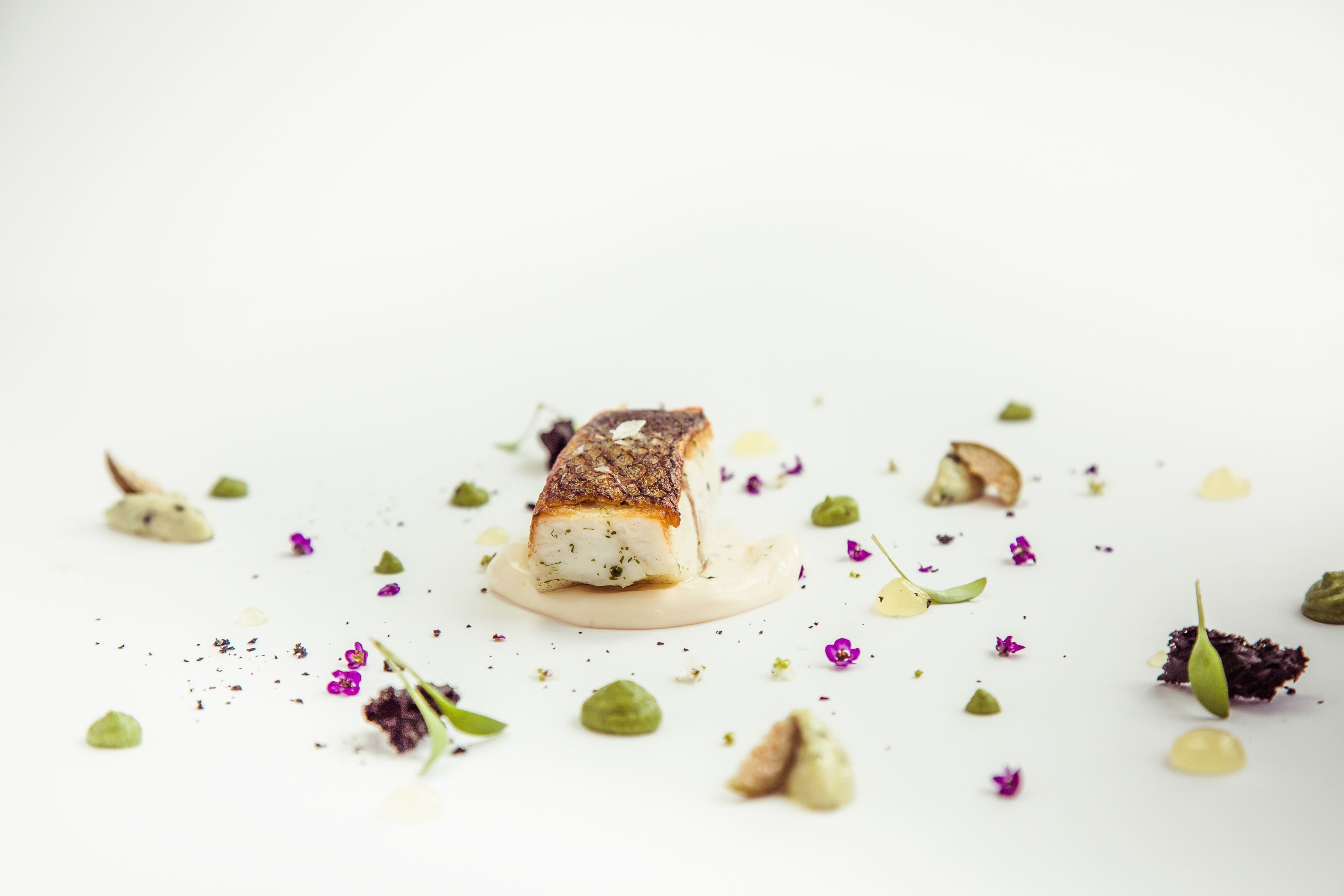 Es Fum is one of those places whose reputation precedes it. It has held its Michelin star since November 2011 and is recognised by many as a true culinary pearl in a rather prestigious area of Mallorca. Stepping into the grand, marbled entrance of The St. Regis Mardavall that Es Fum calls home we quickly realised that this would be a night to remember, for all the right reasons.
Slowly strolling through the foyer, taking in the vast, beautiful interior of the hotel, we soon reached Es Fum to be greeted by a hostess who led us to a table on the terrace, overlooking a glistening swimming pool whose waves danced in the moonlight. Had it been light enough to see, beyond this a magnificent ocean vista would stretch for miles.
Al fresco is certainly my favourite way to dine. It allows for a far more relaxed occasion, even with the pristine white tablecloths and fine glassware placed perfectly atop the table. A cooling sea breeze combined with the sound of waves crashing in the distance, whilst ever more relaxing classical music played softly.
Soon, our waitress arrived tableside, giving the option of service in Spanish or English – regrettably we had to opt for the latter – as she poured Aqua Panna using a silver handled holder, a lovely touch.
The first aperitivo arrived as a trio to be eaten by hand, alongside a perfectly chilled flute of citrus-led Ruinart Champagne: a crisp cod croquette with yuzu, intense steak tartare with caviar and, my personal favourite, melon that had been marinated in fino sherry before being wrapped in a thinly cut slither of Iberico – a unique twist on the simplest of classics.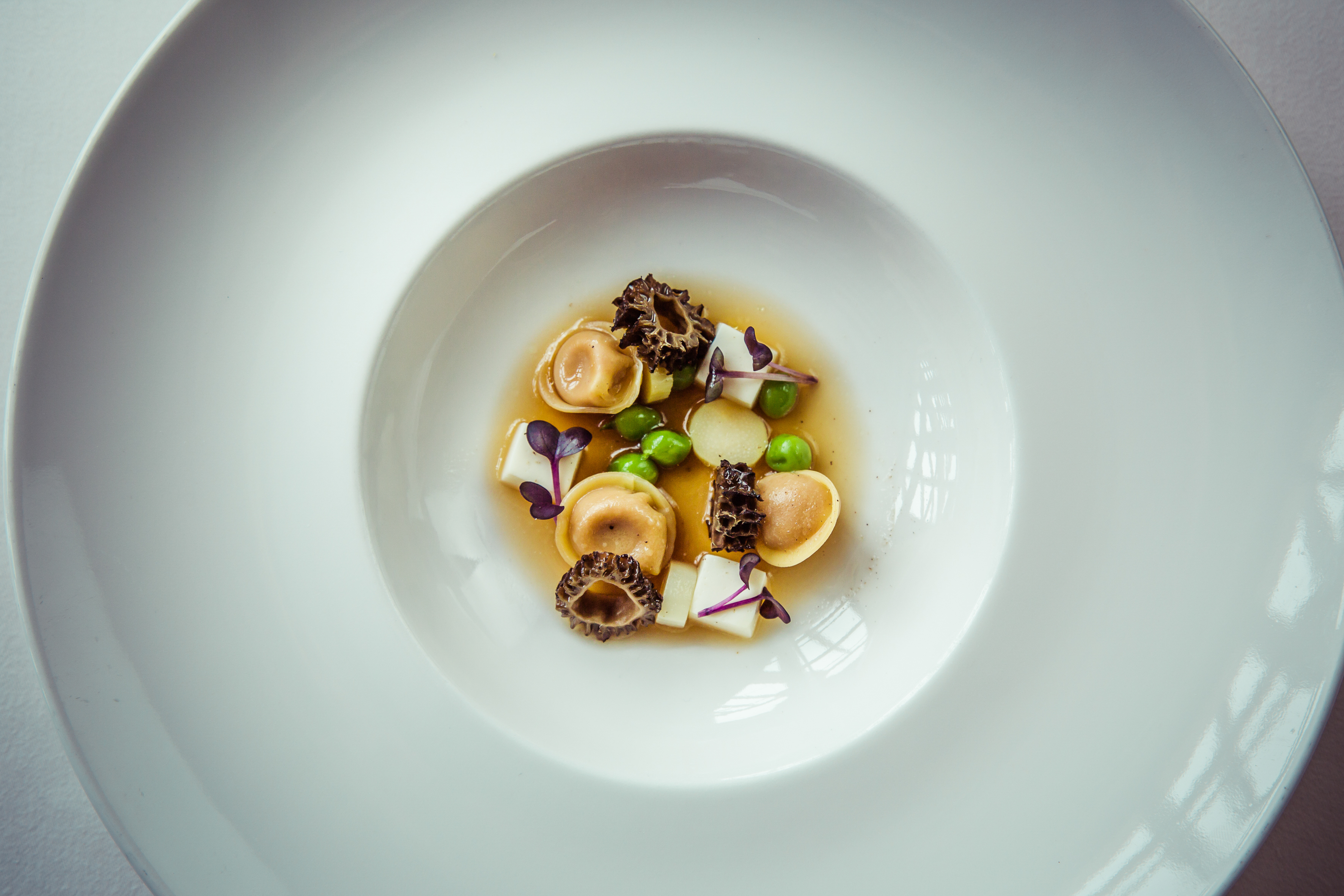 The next simple dish to arrive, however, was even more impressive. Black olive focaccia, rye and beetroot breads were served with five iterations of butter – classic salted and then four buttery infusions: mushroom, tomato, spinach and beetroot, each flavour making your palate think a little more, awakening the sense in preparation for the tasting menu to come. This, alongside salt, hibiscus salt and Mallorca Arbequina olive oil was certainly a winning combination… as was the first of the starters – a refreshing, slightly spiced dish of fruity watermelon foam and smoked eel, the heat brought by a hint of cajun.
Palates well and truly enticed, our incredibly knowledgable sommelier arrived at the table to recommend the perfect bottle for the occasion, and the most beautiful Pinot Noir – or, in fact, wine – either of us had ever tasted. The 2008 Clos Vougeot Grand Cru, from Domaine Jacques Prieur, did exactly as we had been promised. Poured as a large glass the wine was allowed to breathe and, in doing so, matured to change its profile as the tasting menu progressed. At the outset, it paired perfectly with light fish dishes yet by the time the pigeon had been served – more on that wondrous dish later – the red had gained some incredible body to match. It was simply gorgeous.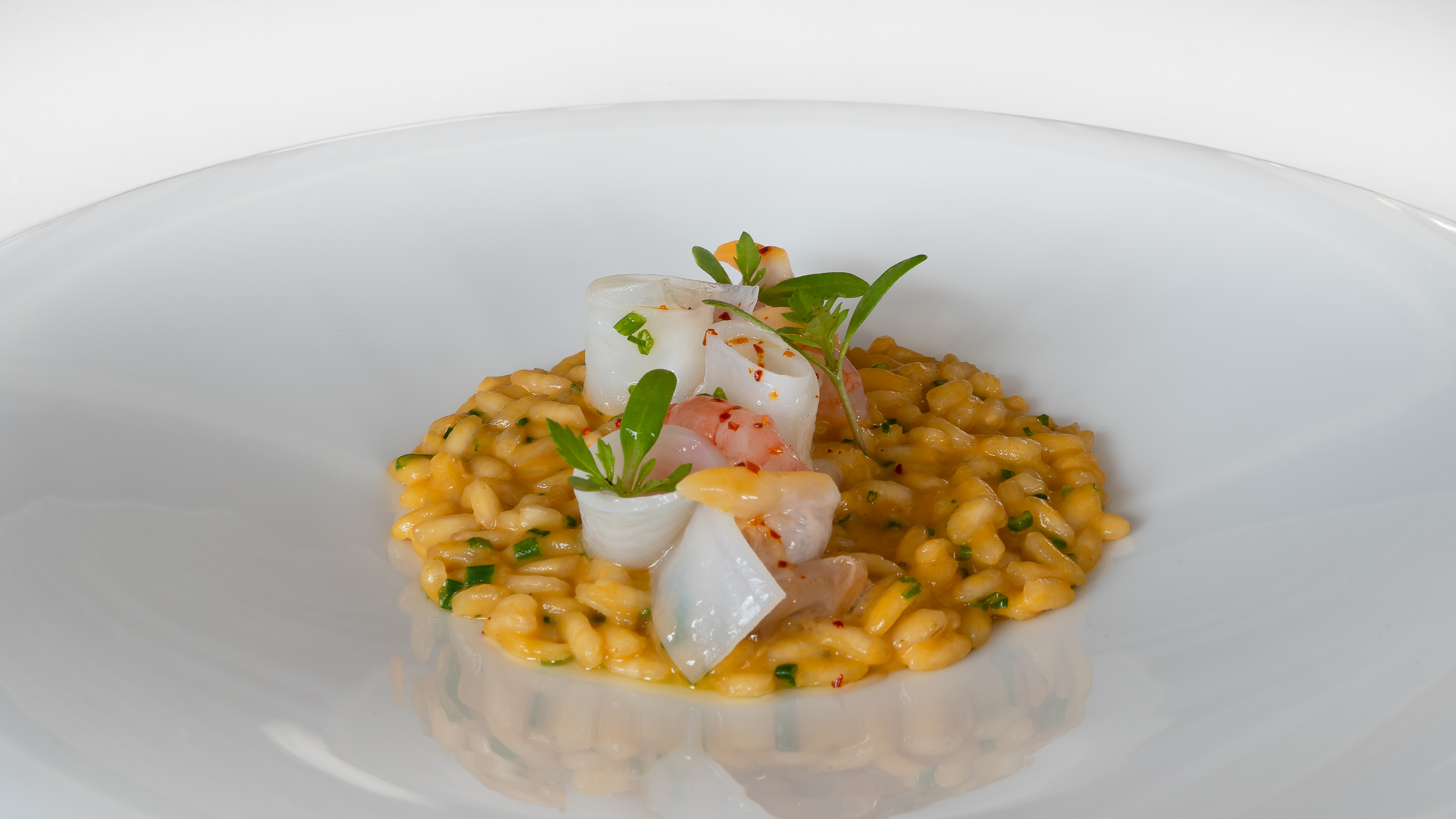 The first course to perfectly pair was a delicate yet flavourful tempered crayfish dish that was almost too pretty to eat. Served with mojama tuna shavings and a celery and apple granita, Ajoblanco – a chilled summer soup of oil, bread, almond and garlic – was poured over at the table to complete a juicy, fresh, herbaceous summer starter. The next dish of was rather different, thin sliced beef kicking the flavour up a notch whilst beautiful balls of mahonés cheese exploded in our mouths with the texture of burrata and the intensity of a blue. Elsewhere on the plate, prominent bell peppers and artichoke emerged from the most exquisite, mouth-coating sweetcorn purée of dreams. I must say, I'm certainly a fan of a good purée, as Es Fum may well be home to the very best that I have enjoyed so far.
In a location this close to the ocean, there's no surprise that the champions of the experience would be of the seafood variety, and the next course truly blew us away: creamy paella rice was served al dente with delicious sea urchin, beautiful red prawns from Soller – praised as one of the very best locations for the crustacean on the island – alongside clams and a interesting preparation of calamari, served up tagliatelle style in long ocean-evoking ribbons.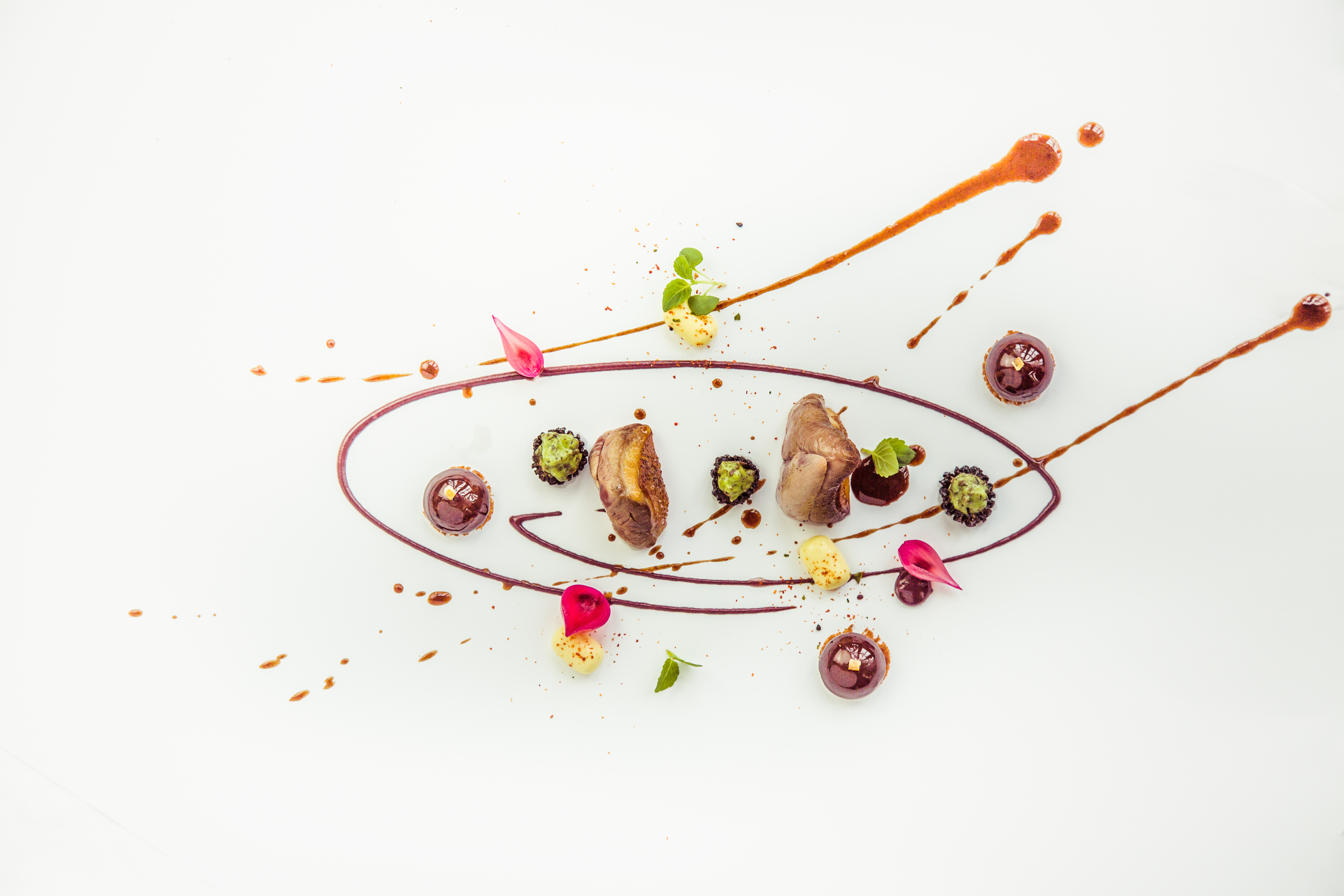 Soon after, the fillet of sea bass arrived; its skin perfectly crisp in contrast to another fantastic purée – this time a truffled cauliflower with cauliflower crisps and 'burnt-to-the-point-of-charcoal variations scattered through it. Add to this a selection of juicy, herb infused mussels and you're onto a winner: the best mouthful so far.
Of course, it wouldn't be right if one of the dishes to be paired with that utterly exquisite wine wasn't a meaty one: luckily, the roasted pigeon breast with its gamey flavours was the perfect match. Served alongside a sticky balsamic veal ragu, toasted celery mousse and points of citric lemon, the dish was accompanied by something simple yet extraordinary – atop a compressed nut wafer sat a pigeon liver and sherry parfait that we so strongly wished that we could have more of. It is the sweet, meaty, creamy portion that I've been wanting to taste again ever since.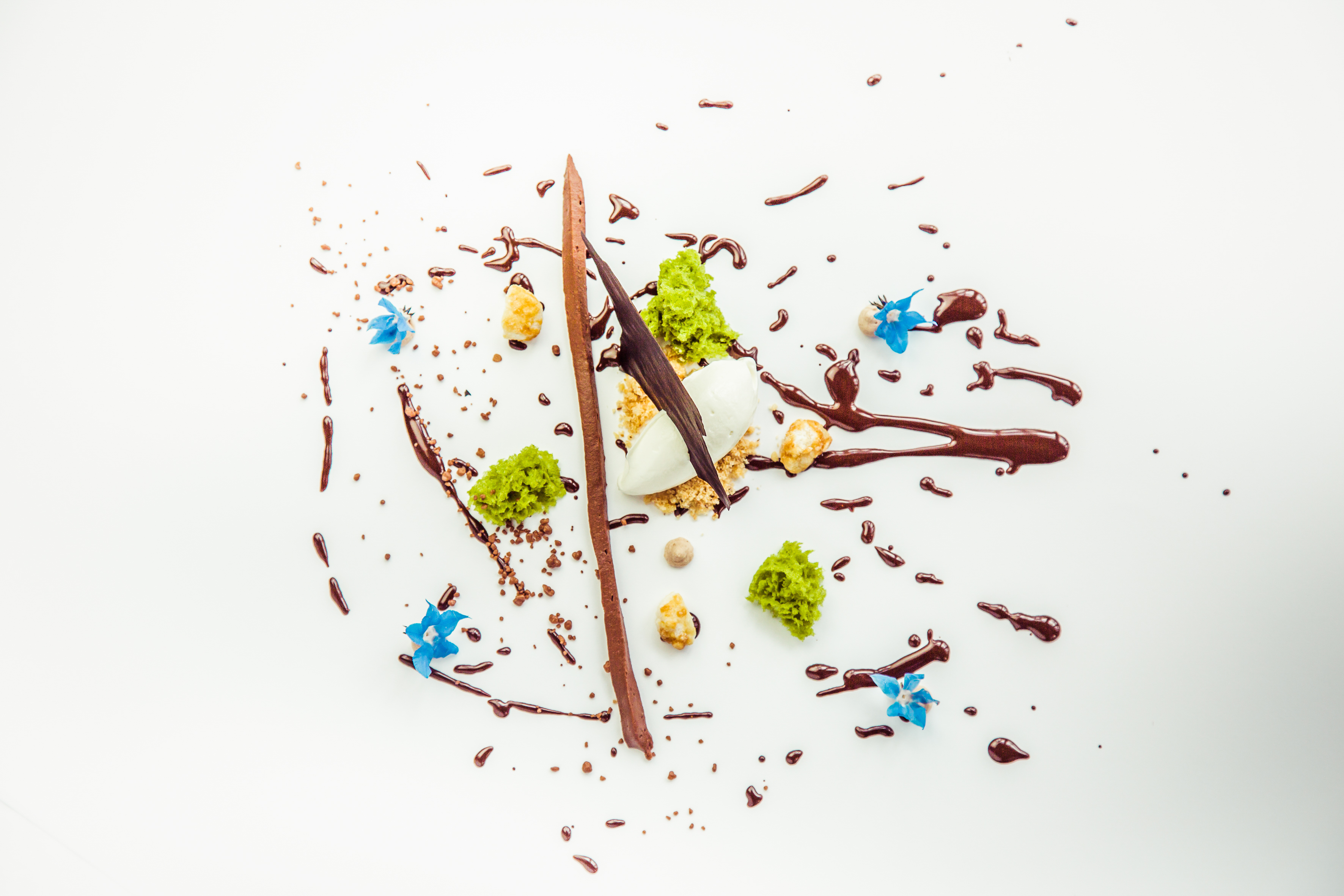 Dessert was equally mindblowing. Carrying on the sherry theme, a frozen lemon and rosemary cream cut through fresh figs, bites of sticky fig sponge and explosive pearls of Pedro Ximenez to create a perfectly balanced, moreish indulgent dish that rounded off the evening in a fittingly delicious fashion added to by the petit fours selection: the white chocolate and passionfruit bomb exploded on the palate; mascarpone, chocolate and Baileys created a perfect tiramisu bite; and nut and matcha bites provided something a little interesting to close off the experience.
Es Fum truly is a wonderful place. Not only is it set in incredible grounds and offers even more incredible food, but it somehow maintains this relaxed, cosy atmosphere that attracts diners from all over the island and further still. Es Fum is an utterly fantastic place that wholeheartedly deserves its current Michelin Star and much much more…