The ornate double doors at Jean Imbert au Hôtel Plaza Athénée are a portal to an opulent new world. It's hard not to gasp audibly at the sheer beauty of this space.
At its heart is a grand Royal Table which has been carefully crafted from antique Breccia marble. The room has been adorned with 20,000 gold leaves and there is a gilded ceiling from which elaborate chandeliers descend gracefully. The light from the crystal dances around the room, as if dining with angels.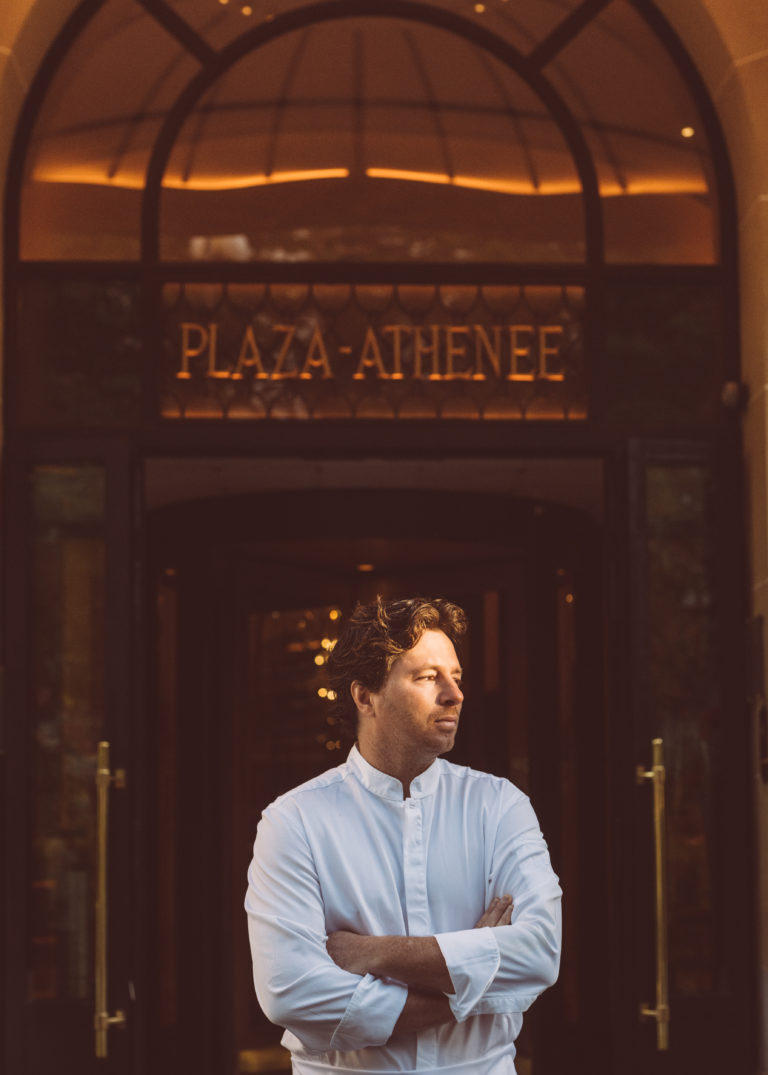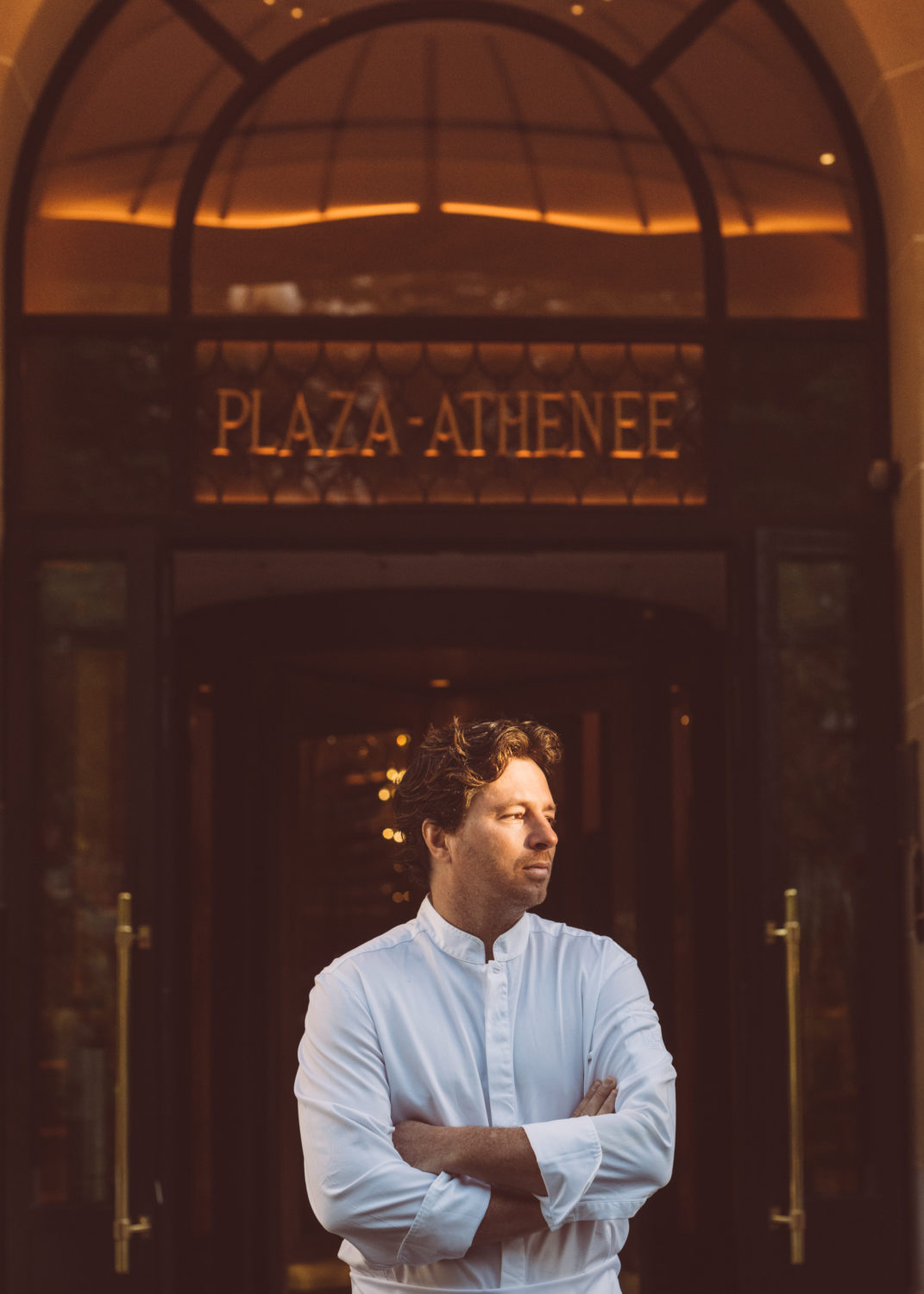 In January, in the middle of Couture Week, the stars aligned at the Royal Table to celebrate the first anniversary of the restaurant. From global cultural icons Pharrell Williams and Kid Cudi to stars of the silver screen, Marion Cotillard, Guillaume Canet and Vincent Cassel but the brightest star among them all was Chef Jean Imbert.
Michelin-starred Chef Jean Imbert has a host of celebrity admirers, from Beyoncé, Jay-Z and Dua Lipa to Hailey Bieber, Kylian Mbappé and Matt Damon, to name just a few. He has become a global phenomenon, with restaurants and culinary partnerships from the Caribbean to French Polynesia via Paris.
Jean has the midas touch. At present, he is the brainchild behind La Case, an ode to the Caribbean imagined by Jean at Cheval Blanc St Barth. There is also The Restaurant, affectionately named Monsieur Dior which embodies the French art of living and is driven by Jean. The legendary Venice Simplon-Orient-Express has also appointed Jean as Chef for a new gastronomic era aboard the world's most glamorous train. Luxury eco-resort The Brando has also recently partnered with Jean to bring its vision for its new culinary programme to life.
However the jewel in Jean's crown is the mothership, Jean Imbert au Hôtel Plaza Athénée, the grand dame of Paris. So much more than a restaurant, Jean has created a fine dining experience from your wildest dreams. It transcends time and place, a celebration of soulful authentic French cuisine with the kind of splendor that would have made Marie Antoinette blush.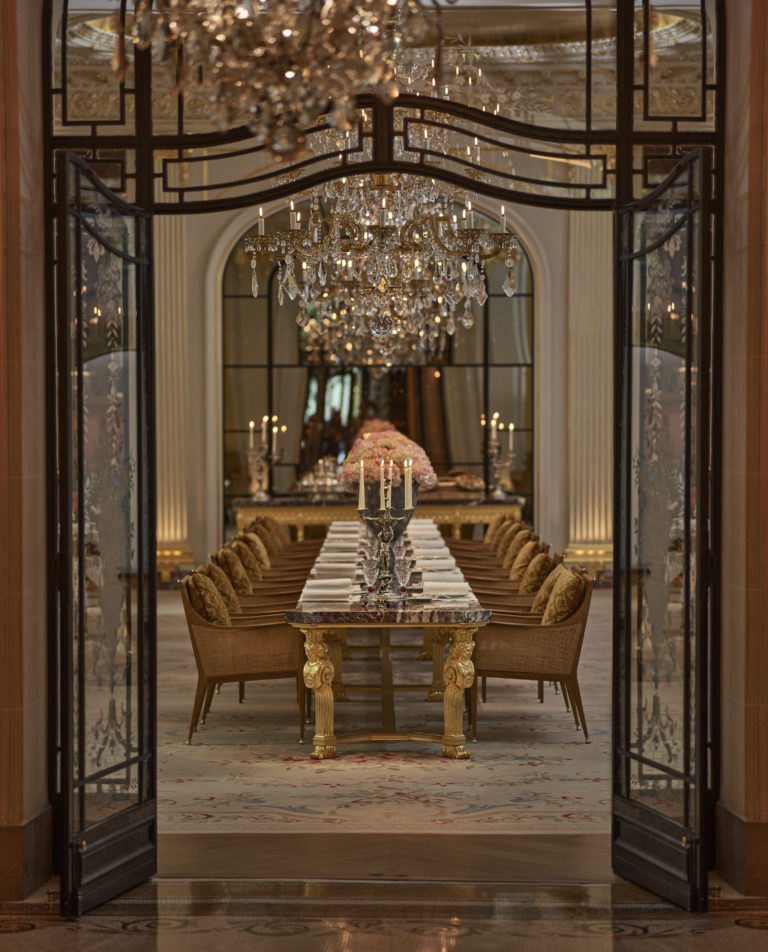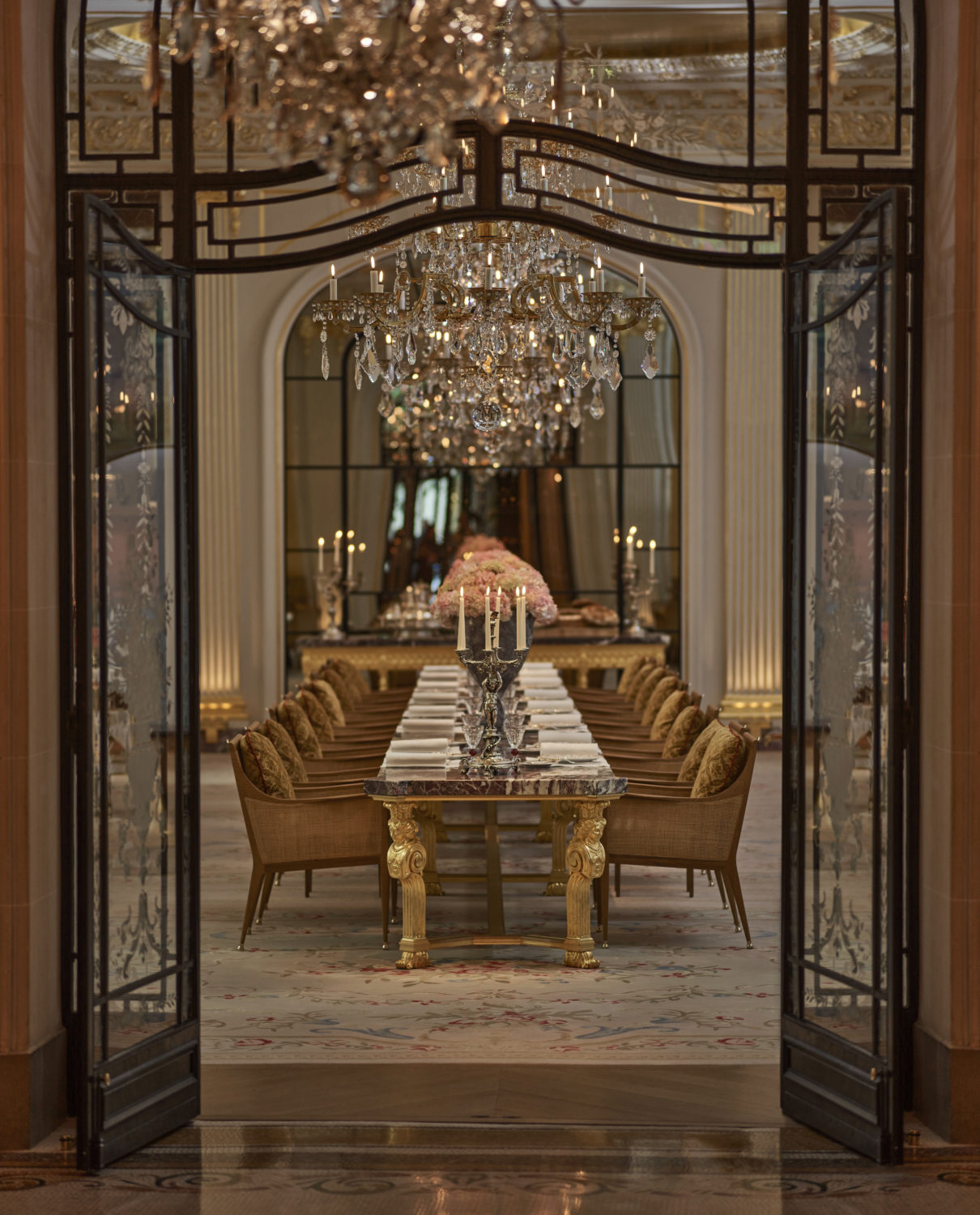 Jean believes that the secret to success with cooking is "25% visual, 25% flavour and 50% storytelling".
He confessed, "I could talk for half an hour about all of the little details, from the lighting to the service, the table to the music. Small details make this place so special. It's good to have nice dishes but my first concern with this restaurant was, what is the story? I approached it like an artistic director, I had to tell the story first and then good dishes will become a part of the story."
Jean Imbert au Hôtel Plaza Athénée is the theatrical dining experience of a lifetime. From the table-side flambéing and filleting, every moment has been carefully scripted and perfectly executed. Prepare to have all of your senses seduced on an immersive journey back through the ancient heart of French gastronomy, lead by the revolutionary Jean Imbert.
The surroundings may be sumptuous and the food may be divine but it is Jean Imbert and his team that are the beating heart of the experience. Expect the most loving and attentive service you can imagine, here the number of staff seem to outweigh the guests.
They move with the elegance of Fred Astaire, swanning up and down the restaurant, seeming as though their feet never quite touch the ground. Your every whim is catered for before the request even forms in your head.
The attention to detail is extravagant and admirable, the silverware is perfectly polished, the Baccarat glasses gleam like the crown jewels. Here, you can expect to be treated like King Louis XIV for the evening.
Although it has the discipline of historic fine dining, the staff ensure it is youthful at heart with their charm, charisma and sense of humour.
This style is close to home and truly symbolic of the essence of Jean, who is an old soul at heart but electrifyingly energetic in person. When it comes to the extraordinary work ethic and dedication expected from his team members, Jean leads by example.
He revealed, "I have around 500 people working with me across the different restaurants but I like to be part of the team. Sometimes I have to be the boss but I don't like it, I like to be on the floor with everyone else."
He added, "Say we are like a football team, I don't want to be the coach. Maybe the captain but I am definitely on the team."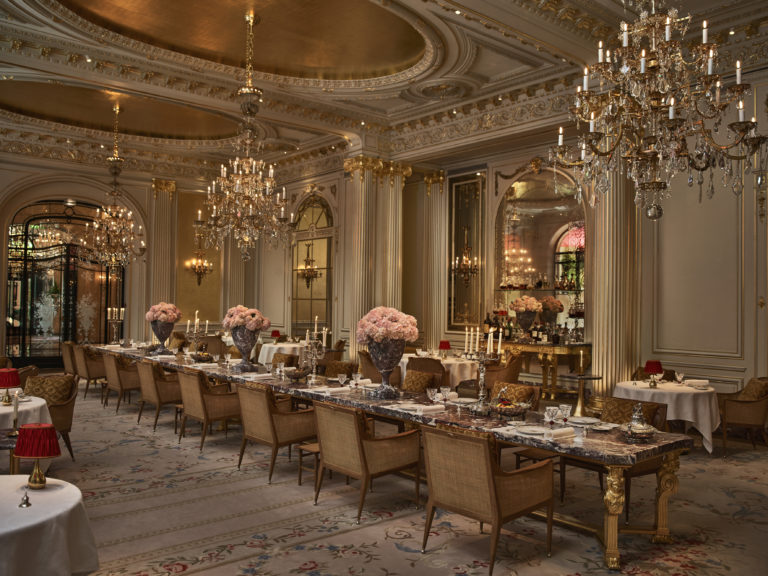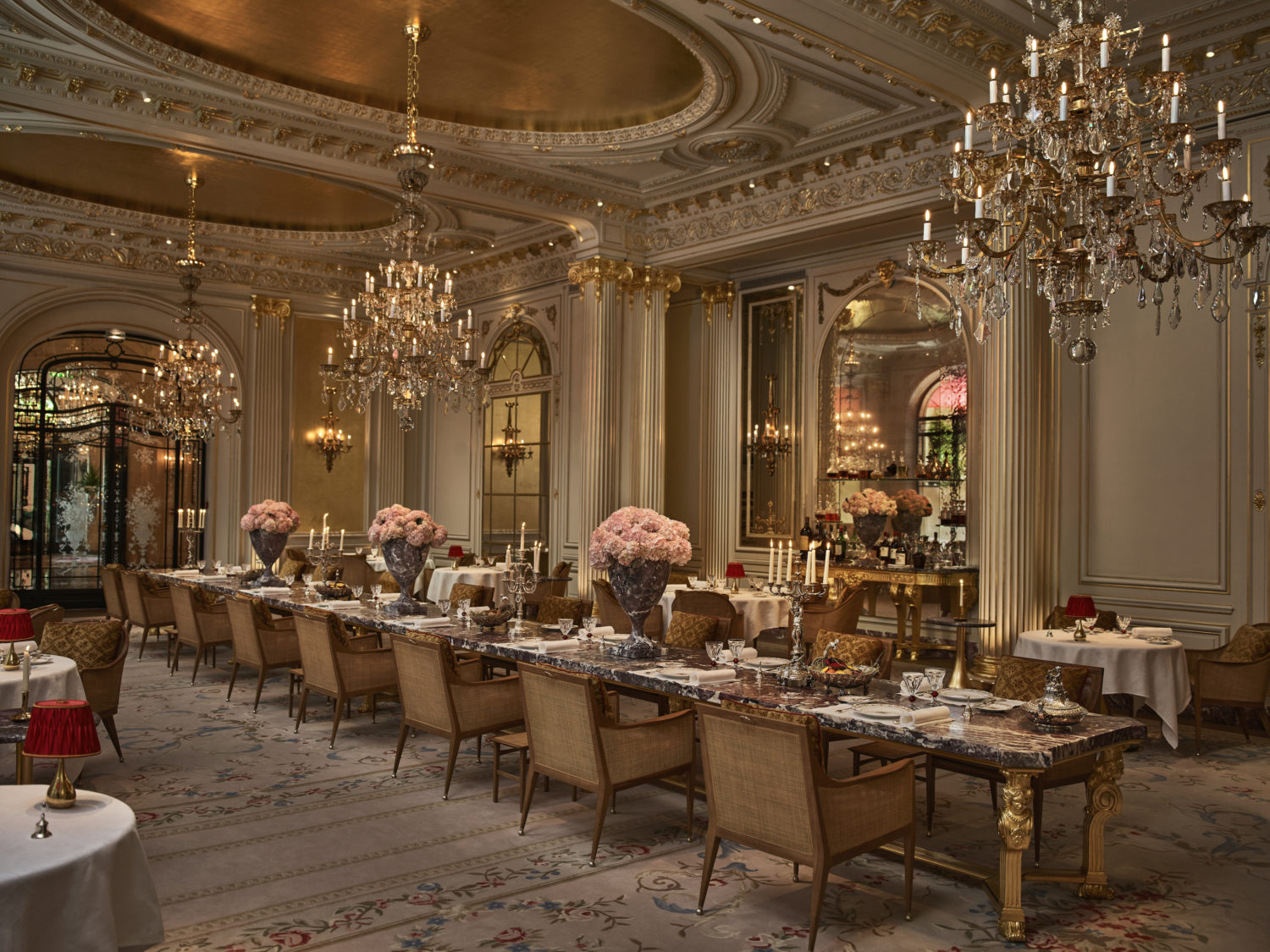 Jean believes passion is at the heart of being successful in the kitchen. He also revealed that he can tell within five minutes if someone is going to be a great cook or not.
He smiled playfully, then said, "Actually I can tell in one minute, I don't need five."
He elaborated, "It's all in the eyes. With this job you need to work nights, you need to work on New Years Eve or on your mothers birthday. This has to be in your blood."
He thought carefully for a moment, then continued, "You need ambition, you can't think about money, social media or living in Los Angeles and knowing Jay-Z. These kinds of people will never make it."
He added, "You must have a real passion for food. You must be aware and curious. You have to buy books, understand other chefs, read, be curious, be passionate, that is the only way."
A restaurant at Hôtel Plaza Athénée has been a dream of Jean's since he was a teenager.
He revealed, "Even 20 years ago, I said to the boss here that I dream of the Plaza Athénée. I was going to get a restaurant here, I was so focused."
He continued, "I always say if you take my dreams from when I was 18-years-old, I've done them all except to cook for my hero Michael Jordan. I feel so happy and also lucky because luck plays a part in all that. It's hard work, really hard work, but you know, food gives me so much. For some people it's only food but it is important to me."
He continued, "I don't stop, I work seven days a week. It's everyday work, you know? A normal day in Paris is 7.30am until around midnight. I find time to play basketball once a week and football, and in the summer I play tennis too."
He added, "I also watch one movie a week, I watch half one day and the other half on another. Always old movies, I'm passionate about old Hollywood, Charlie Chaplin, Douglas Fairbanks and James Stewart."
Jean's cultural identity has been shaped by France. For the menu he has paid tribute to French cuisine through the flavours of yesteryear. He has unearthed ancient recipes, some from centuries ago to celebrate the rich culinary heritage of France but with a contemporary, playful and whimsical twist.
Each dish feels like a privilege to eat, perfectly presented like a work of art, especially the truffle tart that will steal your heart.
This creamy decadent tart is embellished with petals of truffle and once you stick your spoon inside a delightful surprise awaits, a rich amber egg yolk oozing across the plate. It is truly a stroke of genius, culinary perfection.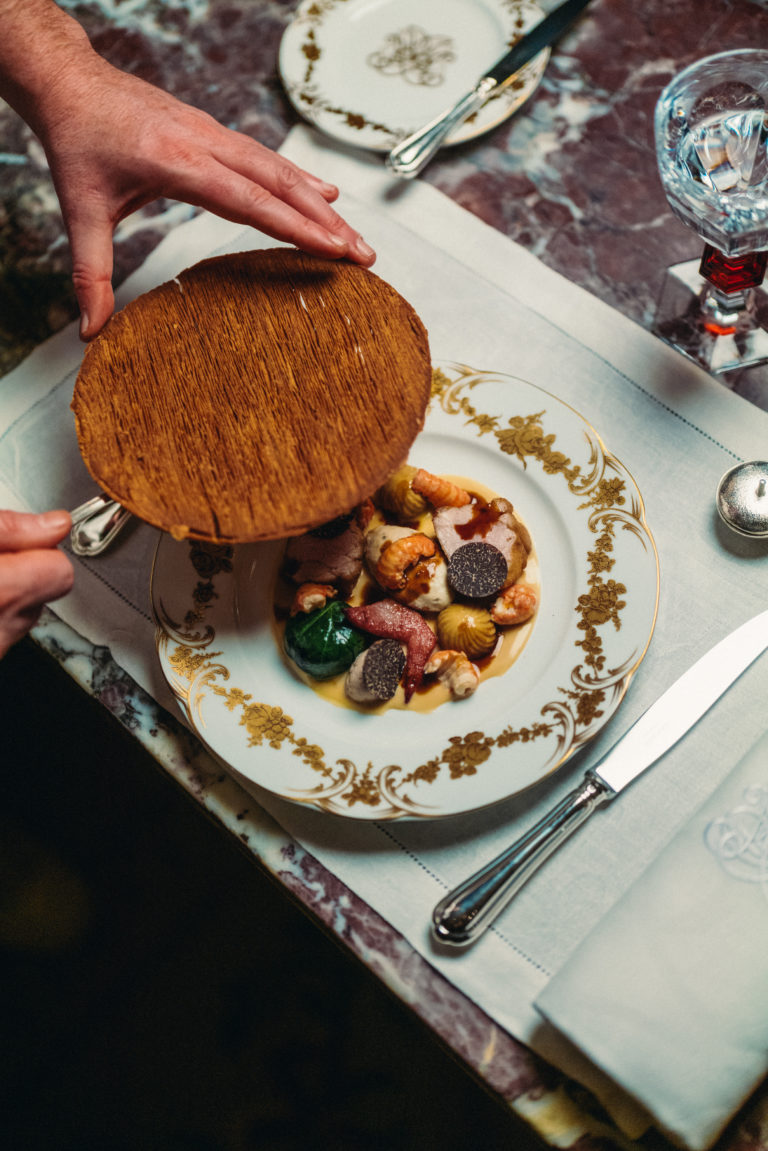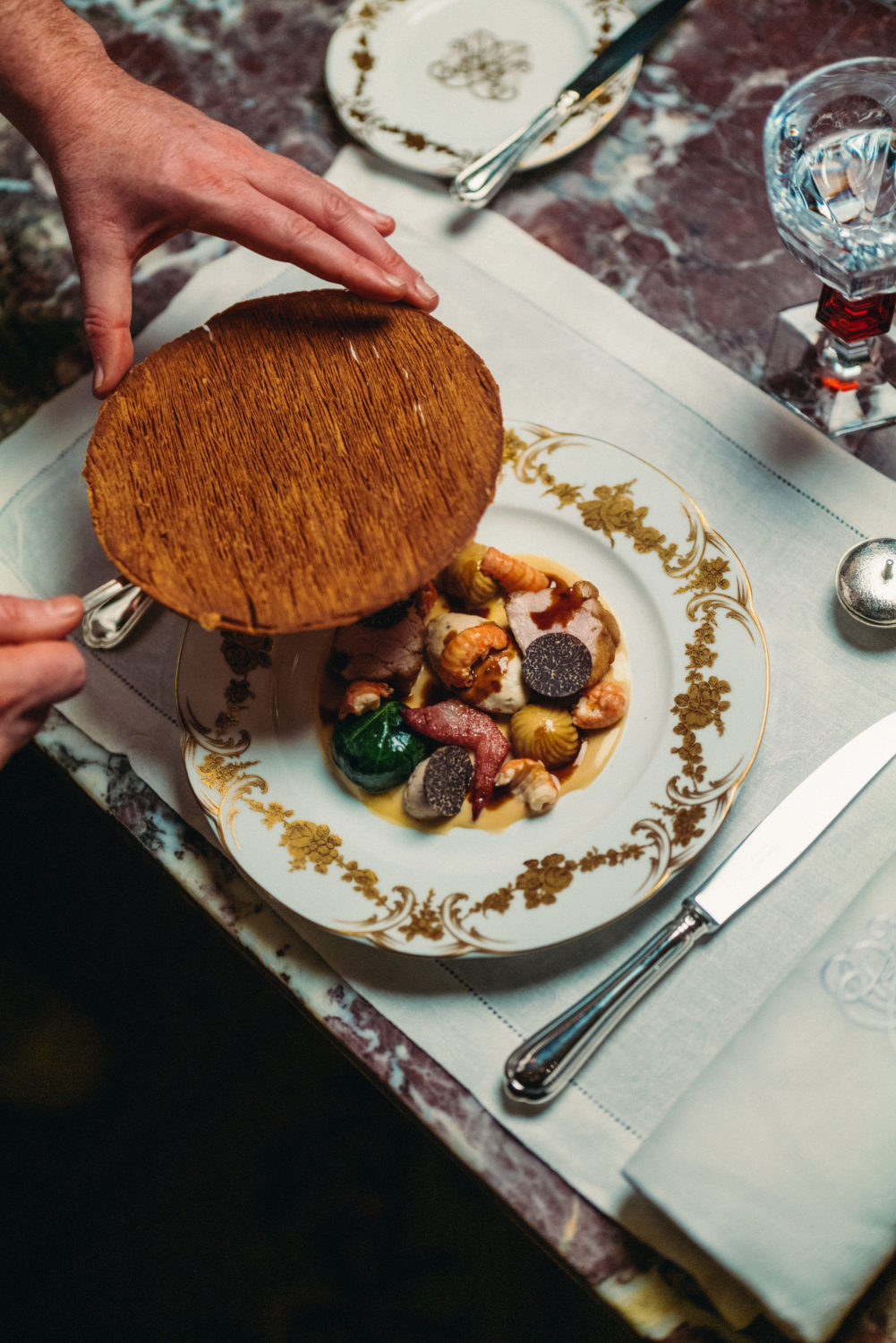 Jean smiled, he said, "As a chef, I love every dish but I feel particularly lucky with the Truffle Tart. Even if we change a recipe, sometimes up to 12 times, but the DNA stays the same. I love the truffle tart, it is very beautiful. It has only changed once, the first tasting didn't have egg but I changed this. Everyone in the kitchen questioned me, 'chef, are you sure?' I told them not to trust me."
He continued, "I'm a little bit crazy about change and sometimes even when the dish is very nice, I want to change it because we need to be moving. It's part of creation and that is the best part of being a chef. I love this process, keeping the team moving is important."
There is the extravagant Bellevue Spiny Lobster, named after the castle of Belle vue, where Madame de Pompadour created exquisite dishes for Louis XV. The Brioche Marie-Antoinette, a cloud-like brioche in honour of Marie-Antoinette who was reputed to have said "Let them eat cake!"
There is even a Lobster A L'Americaine which is served with a carmine sauce known as 'cardinal', after the famous Cardinal Mazarin.
Each dish can be perfectly paired with a beautiful wine from the carefully curated list. Led by Laurrent Roucayrol, the spectacular sommeliers listen, guide and advise, ensuring the perfect match.
The dessert menu is simply an indication of all of the delicious treats that will arrive to your table to great fanfare, from the L'Ambassadeur almond cake and the Fontainebeau made with Ile-de-France milk to the Chocolate Marquise to the Pink Praline Ice Cream. Why have one dessert when you can have them all? Marie Antoinette would be proud.
At Jean Imbert au Hôtel Plaza Athénée, you can have a front row seat to the gastronomic show of a lifetime. Here, Chef Jean Imbert has solidified himself as one of the greatest Chefs of his generation and in our opinion, curated the greatest restaurant in the world.
Even Pharrell agrees, at the first anniversary of the restaurant, he swallowed a mouthful of food and exclaimed joyously, "Everybody! Rejoice! Jean Imbert has done it again."
25 Av. Montaigne, 75008 Paris, France.