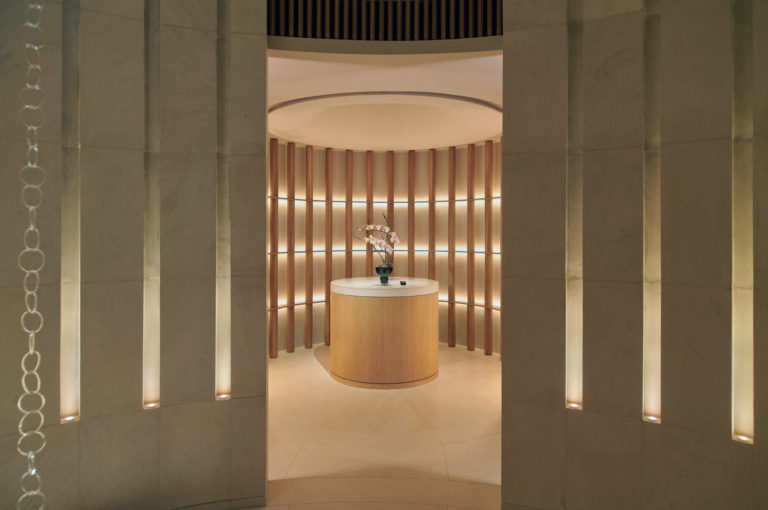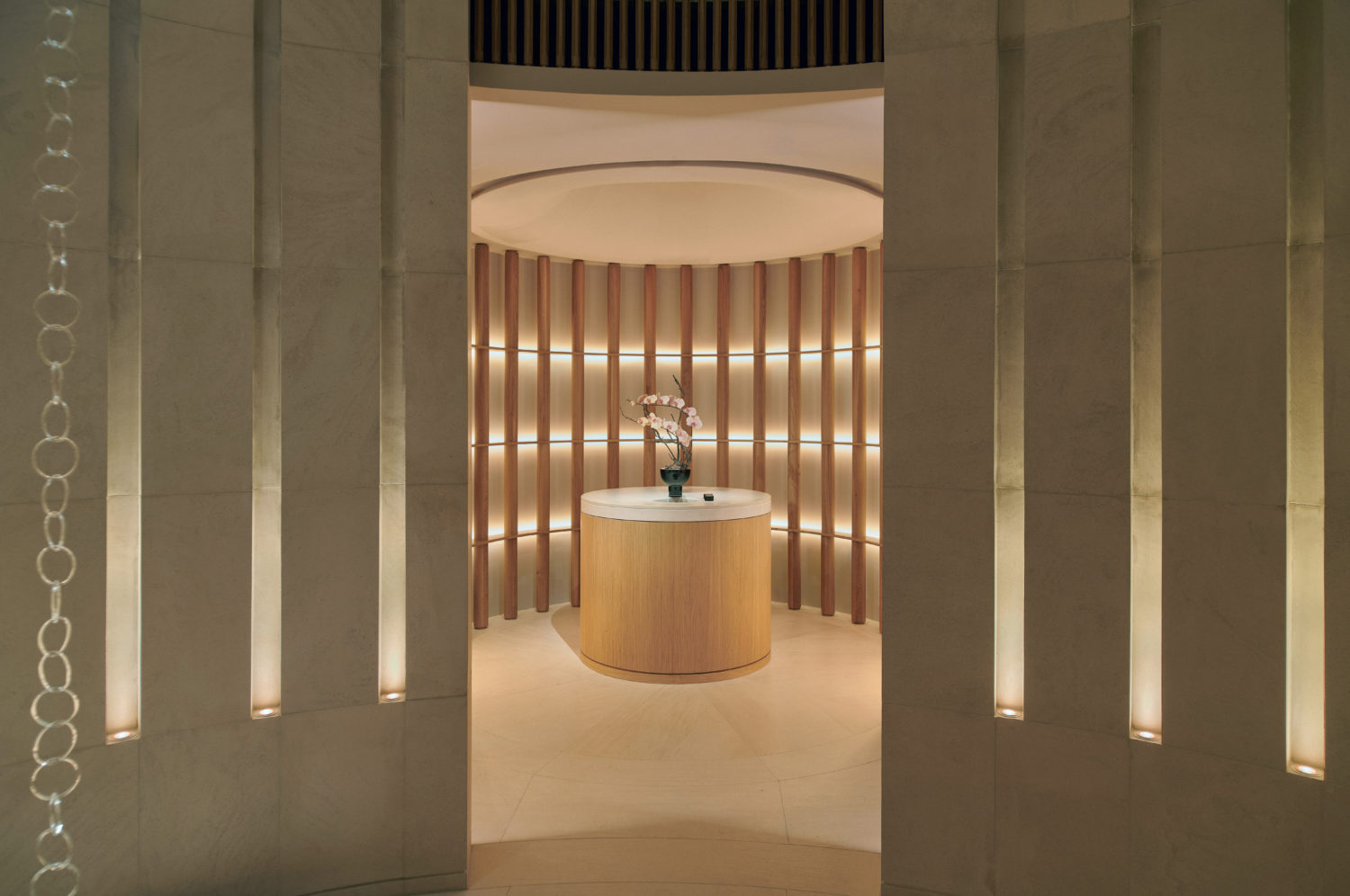 In a ground breaking project that has seen teams of experts excavate five floors into London clay in order to pave the way for the next 200 years of Claridge's life, the legendary Mayfair hotel announces the opening of its first ever spa. Situated three floors down, Claridge's Spa will be a haven of wellness and tranquility featuring a swimming pool, steam rooms, sauna and seven treatments rooms – a sensorial space that evokes wellness and spirituality.
Hong Kong based interior architect André Fu has designed the 7,000 sq ft spa which promises to offer the ultimate sanctuary in the heart of Mayfair. Fu, who has collaborated extensively with Maybourne Hotel Group on other projects, was invited to bring his highly personal vision for a new wellness experience within this iconic London hotel.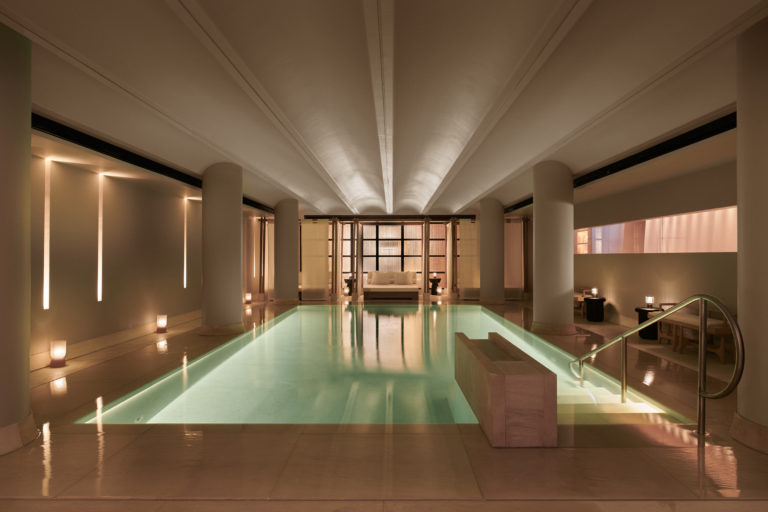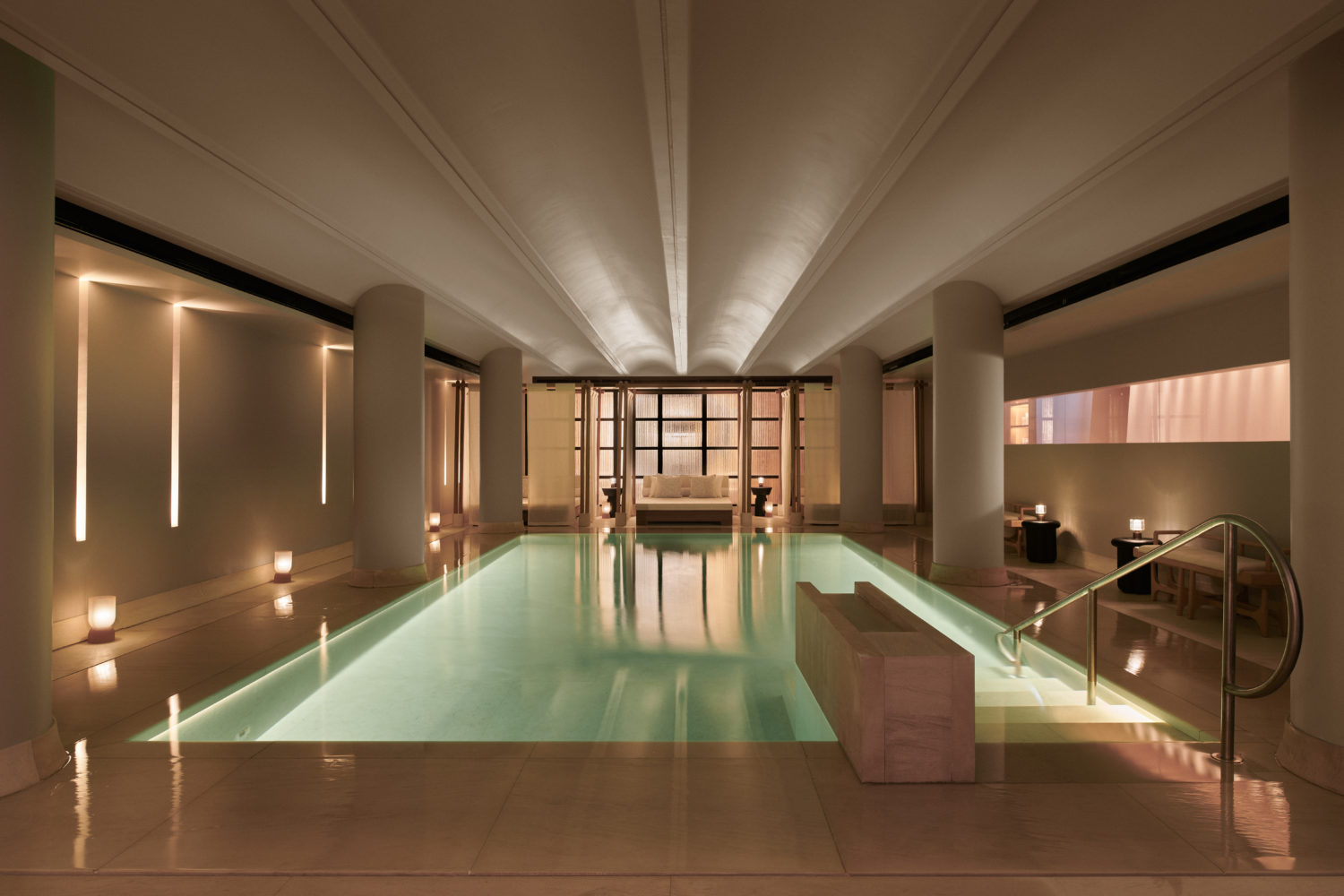 'Wellness' is the focus of the design of Claridge's Spa. This demonstrates a more general societal trend towards looking after the wellbeing of ourselves and the environment. The notion of 'luxury' is also evolving to become more holistic, incorporating concepts of wellness. For me, this is all about creating an escape that celebrates mindfulness, and is pure and balanced.' –
André
Fu
THE INSPIRATION
Set within the context of the hotel's Art Deco history, the spa has been designed to evoke the spirituality of the East. Inspiration for this approach came from Fu's own experiences visiting traditional Japanese temples and Zen gardens in Kyoto. However, rather than imitating these particular aesthetic traditions, Fu has imagined a unique contemporary experience that promotes a genuine sense of mindfulness and balance, drawing heavily on Asian design influences. ​ As with many of Fu's other projects, this design conveys a purity of form as well as a strong feeling of intimacy and warmth.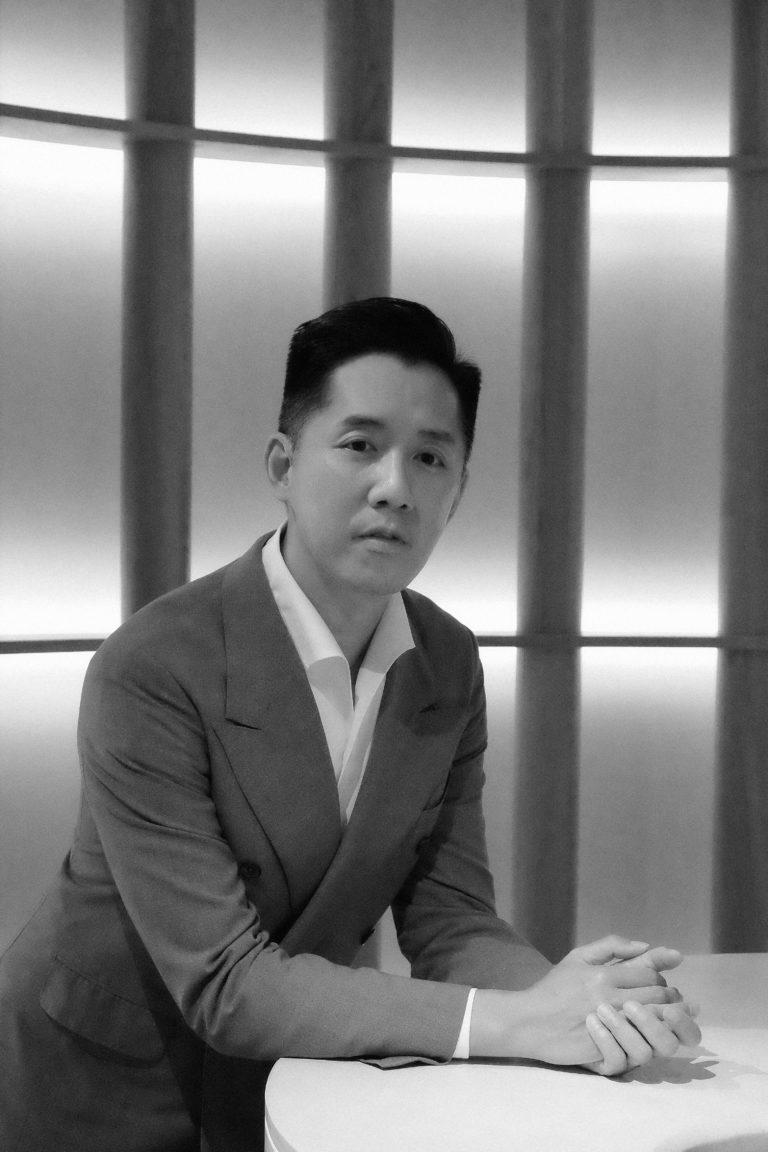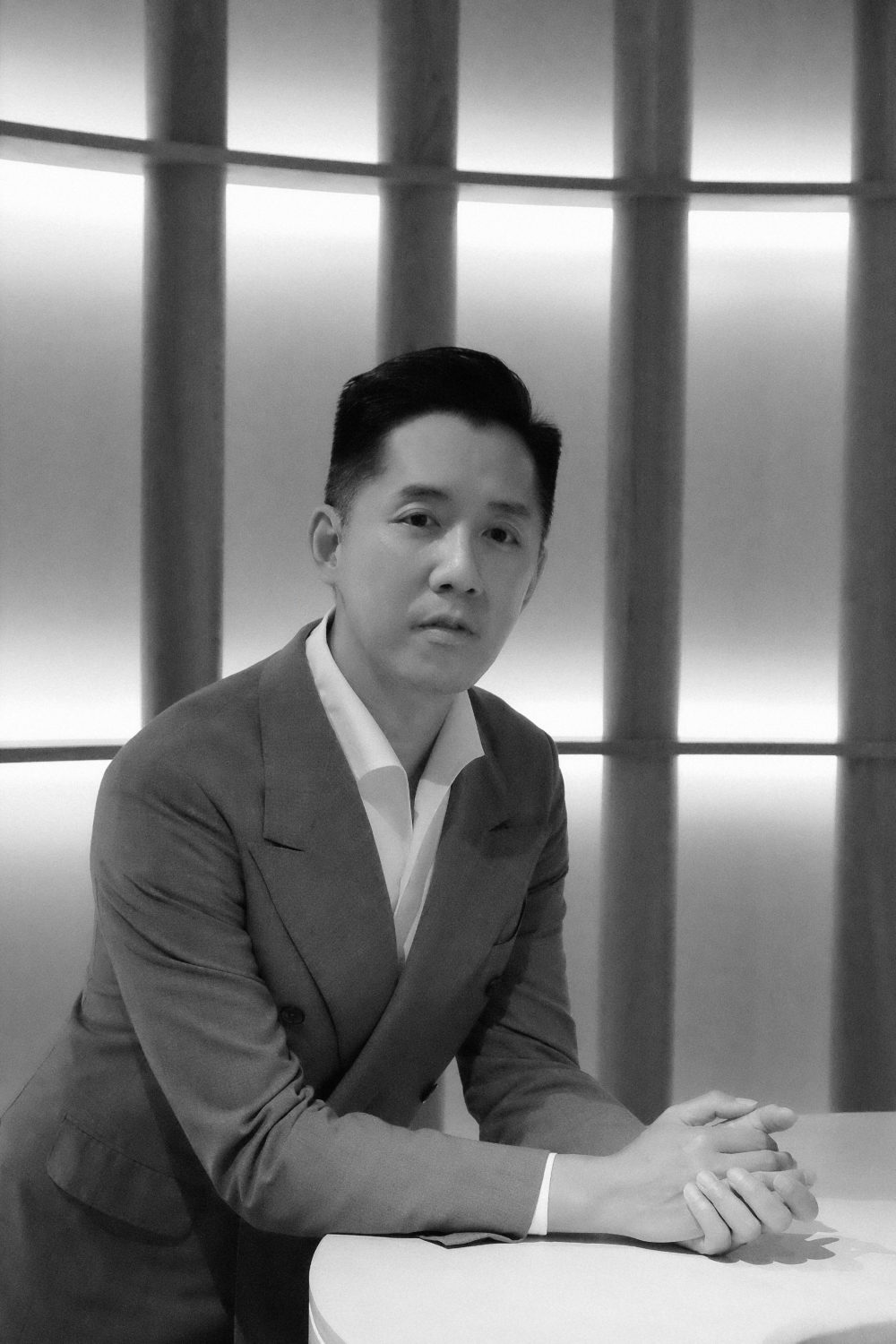 THE JOURNEY
The spa's architecture invites guests to experience a series of highly articulated spaces that play with proportions and, more importantly, light and shade to create an immersive experience. Each vista is carefully considered with windows that subtly frame each view. The use of natural elements – solid French limestone, natural oak and water – emphasises the sense of authenticity that is at the foundation of Fu's personal aesthetics.
On entering the foyer, guests are greeted by a full-height cast glass screen crafted by Irish artisan Eoin Turner. The texture of the glass evokes the silhouette of bamboo grove or reed beds, guiding them into the rotunda – a meditative, dimly lit cylindrical space that features a suspended Japanese glass artwork by Victoire Bourgois. Falling water trickles down the installation, creating a multisensory atmosphere with relaxing sound and visual elements.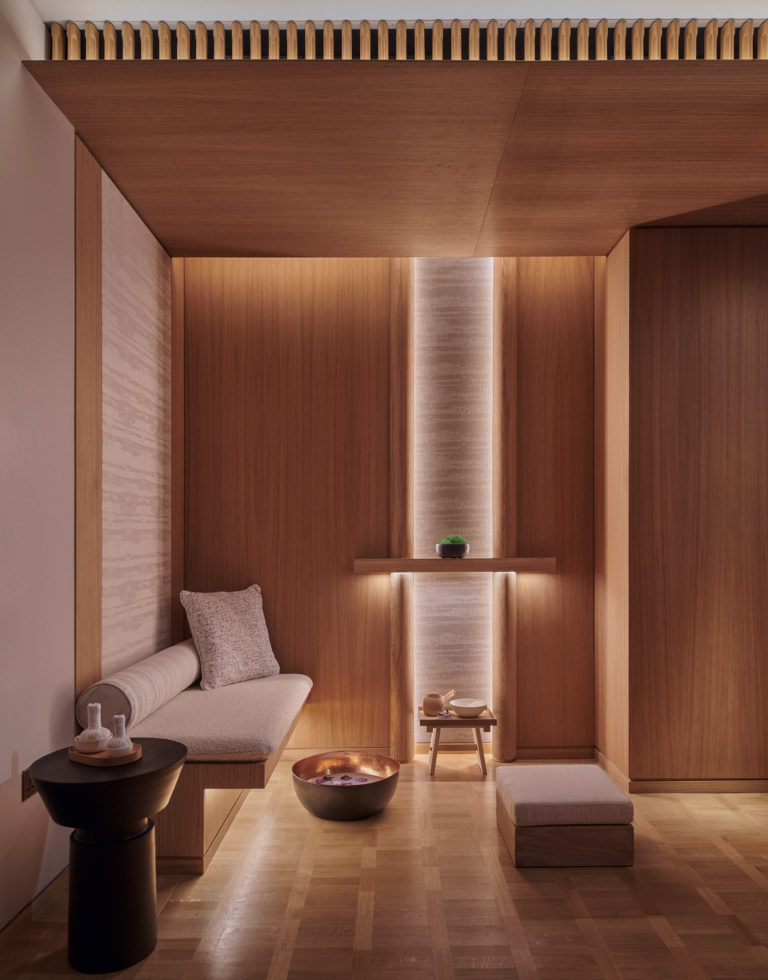 Guests then enter another circular space adorned with a solid limestone counter, alongside a ceiling illuminated by a halo of light glowing from above. The spatial tour continues through a 12-metre long tunnel with a slanted wall on one side, embellished with a grid of strong shadows cast across the ceiling. On the other side is a linear glass opening that looks onto the indoor pool. This visual connection to water, light and shadow creates the impression of a subterranean micro-climate. The corridor leads to a series of private changing pods, each complete with private showers and amenities.
The main pool area is the spa's central hub. Minimalist in spirit, two rows of limestone-clad columns and a magnificent, multi-vaulted ceiling frame the pool. Set back from the water, personal cabanas offer private spaces to unwind. A Scarpa-inspired feature low wall also appears to cut into the pool, with a mini waterfall projecting out from one side.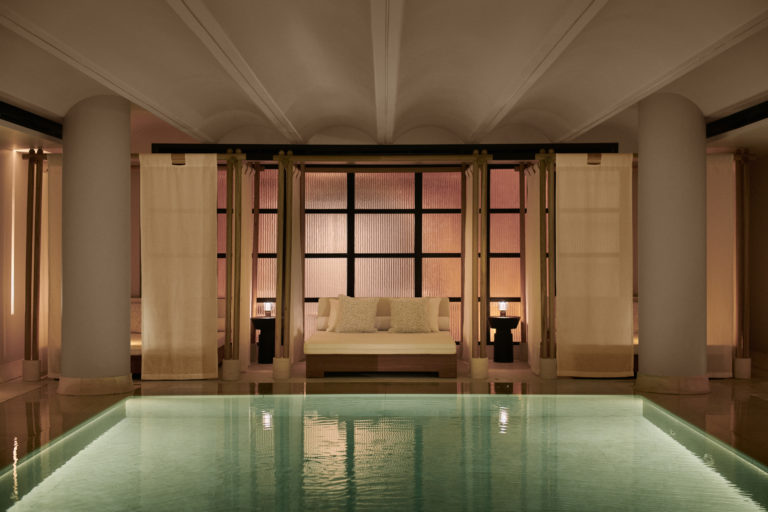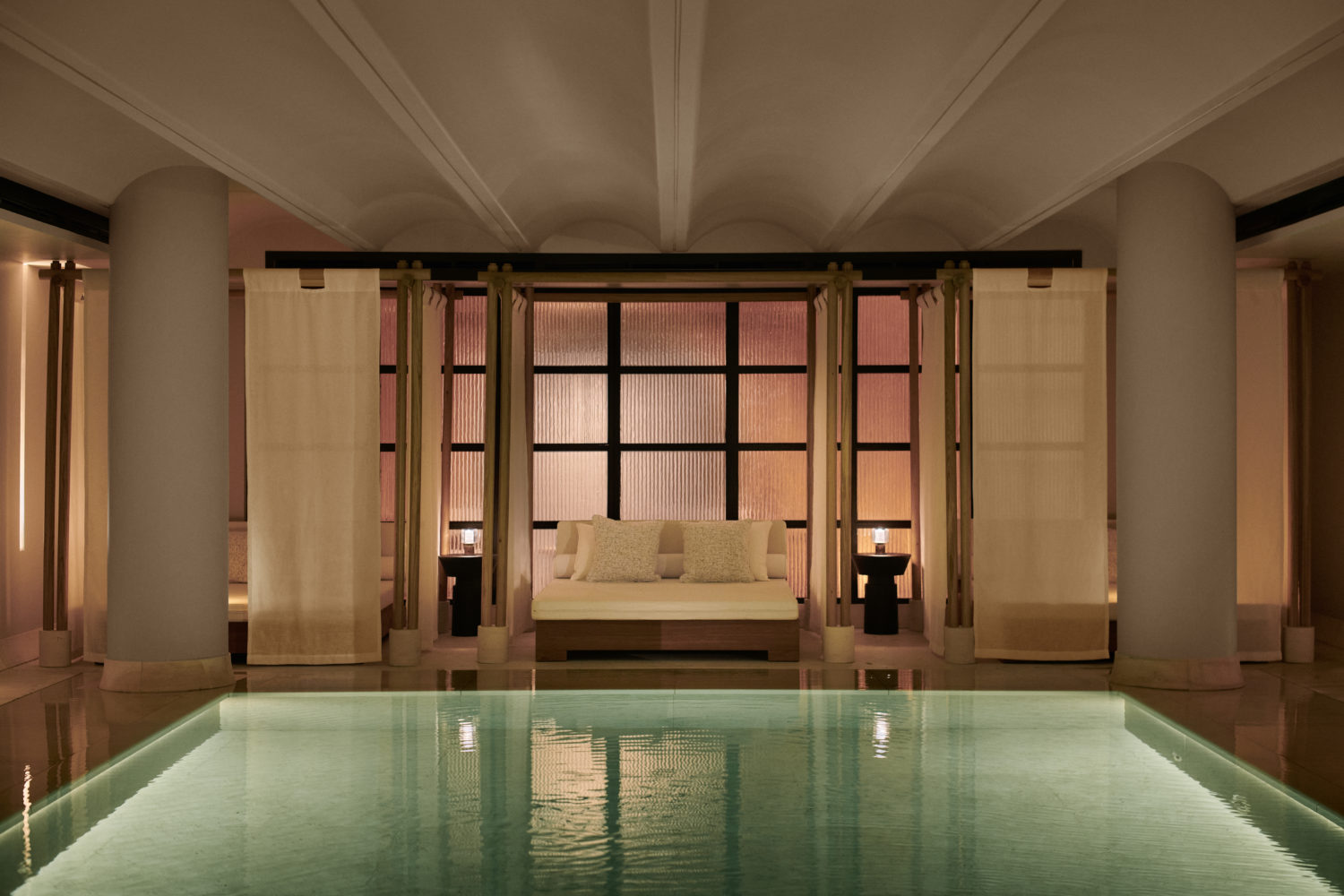 Another installation of interlocking oak posts adorns the threshold marking the entrance to the treatment area. Inspired by the silhouette of bamboo forestry, the spaces are suffused with a sense of calm and meditation. Bonsai trees are also featured extensively in the connecting passageway to accentuate the sense of nature throughout the spa.
The ultimate urban retreat can be found in each of the seven private treatment salons. Lined in full height oak panelling that conceals all equipment, each treatment chamber is deliberately pure to allow a rejuvenation of the mind and body.
Claridges, Brook Street, London W1K 4HR