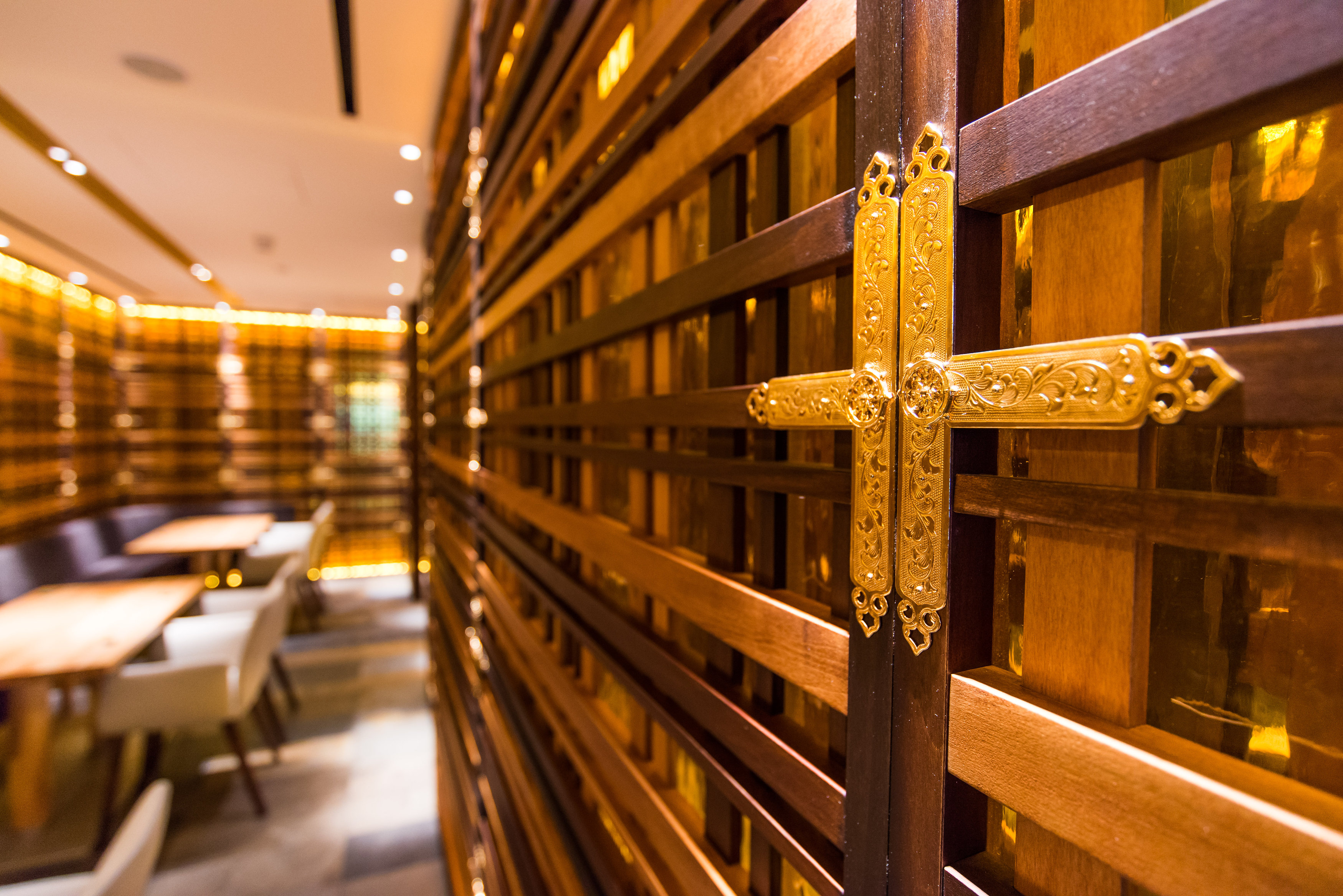 It's been a while since I've found myself anywhere near central London on a Friday night. I'm generally bound to the East End by the dog, a log fire and the fact my favourite Italian is just a stone's throw from where I live. It generally means there has to be a very good reason or some seriously persuasive food to get me to budge.
So this is where Tokimeite comes into things. I'd heard great things about the place, Yoshihiro Murata currently holds an impressive seven Michelin stars across his three restaurants in Japan and his return to the London restaurant scene is absolutely a reason to get excited. Having taken my first trip to Tokyo last year I was keen to again experience authentic Japanese cuisine, something which is impossible to find in East London currently.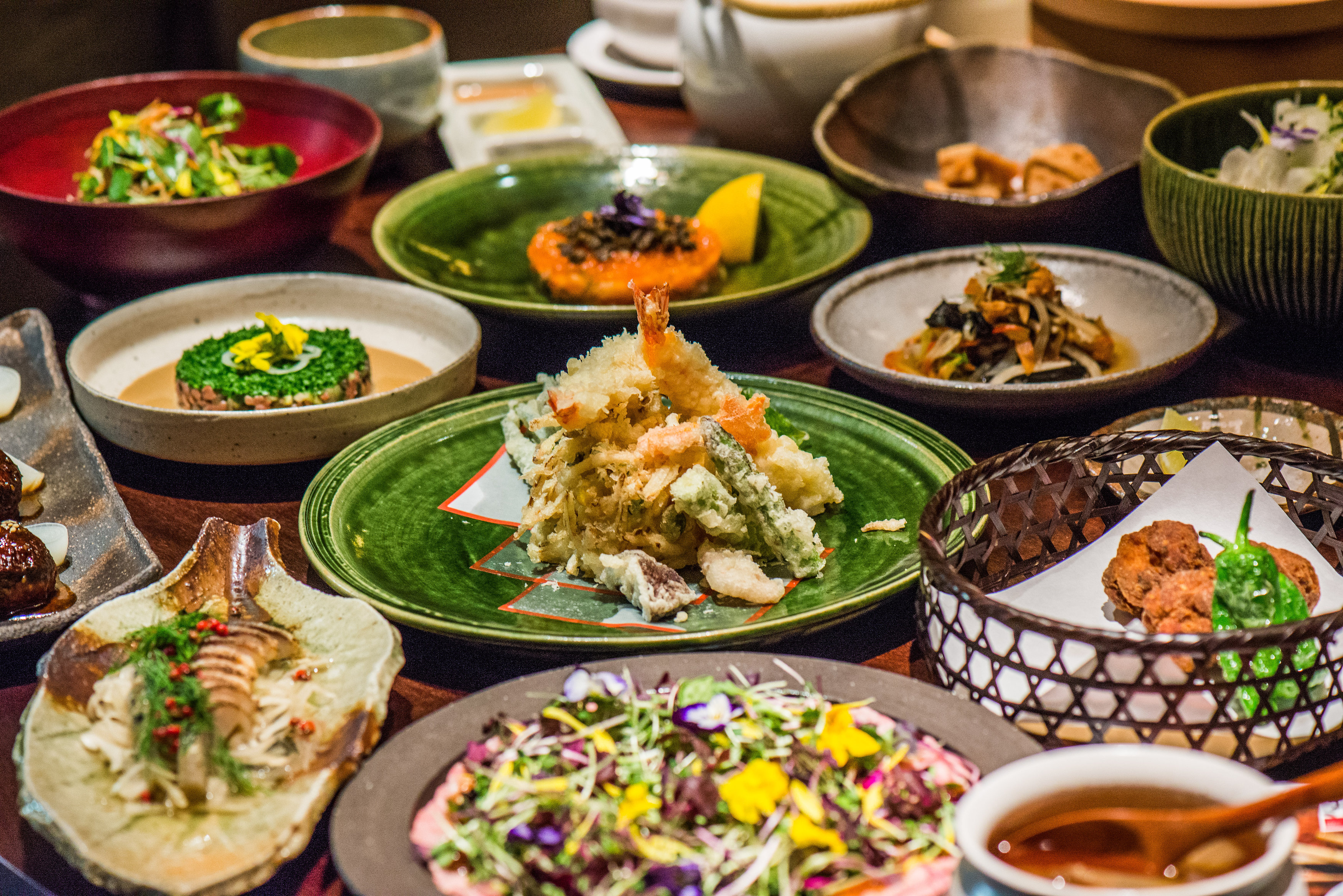 His modern Japanese menu is everything you expect from Murata, pretty dishes, fantastic ingredients and a few hidden surprises. Any carnivore can't fail to be excited by Murata's homage to all things Wagyu. Think Wagyu Shabu Shabu, Wagyu Kunsei Tataki, Wagyu Tartare just to start followed buy various Wagyu beef cuts served six different ways.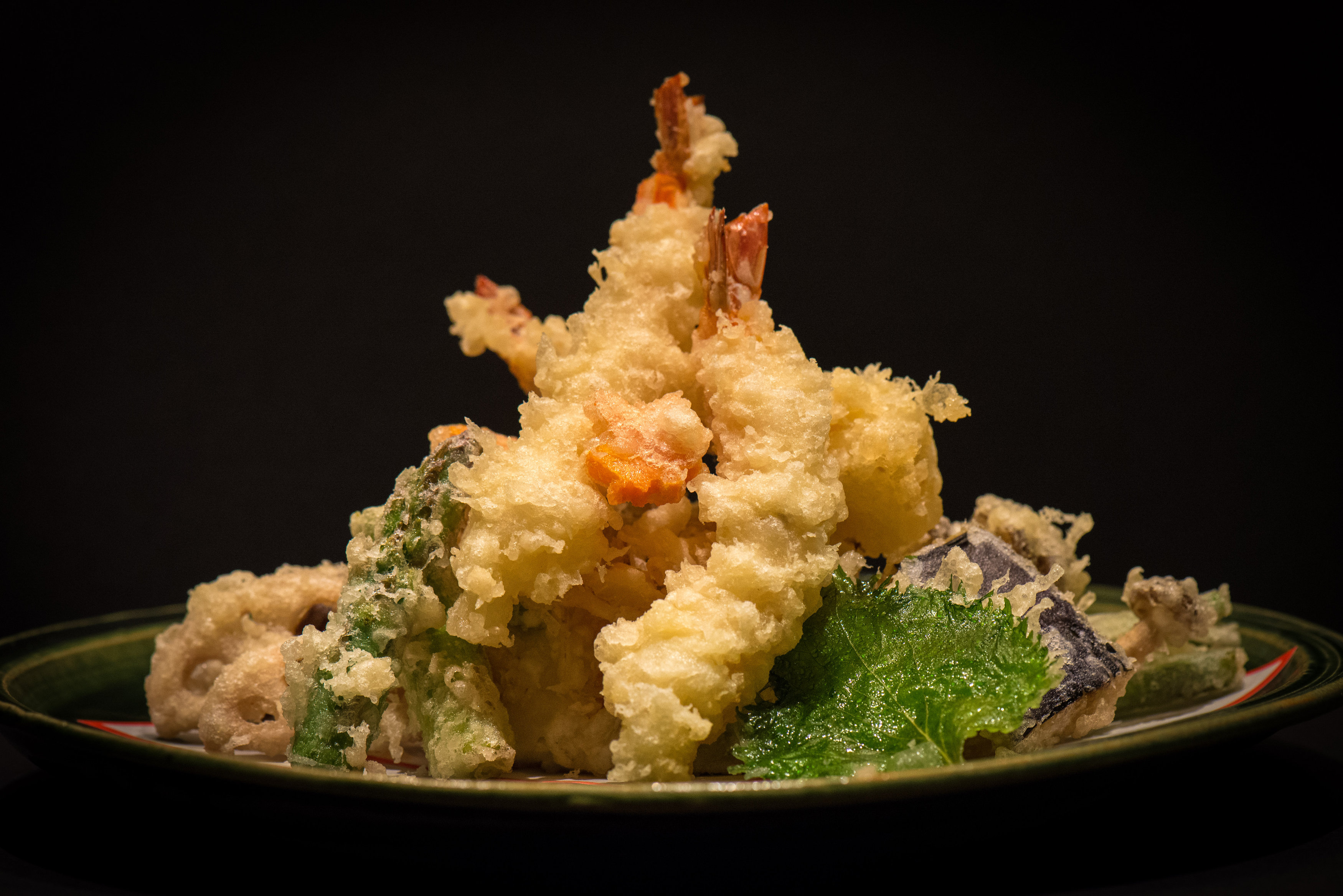 It did however take a little more persuading to get The Vegetarian's enthusiasm to kick in. Aware that both fish and meat play such an integral part to this menu meant he was well aware he was going to need to take a back seat here, or so we thought. Once we ordered pretty much all of the vegetarian options listed (just to make sure he didn't pass out on our way home) we found ourselves (me included) more enthusiastic than we've ever been about any vegetarian plates on offer.
I don't mind admitting that I even took a breather from my Wasabi Mayo Prawn Tempura (a sharing portion for two) to go back to the Spinach with Toasted Sesame Sauce and grilled Edamame. It is absolutely the attention to detail that sets this restaurant apart. Dishes are presented not in an overtly showy way but the special care taken with taste, technique and flavour is instantly apparent.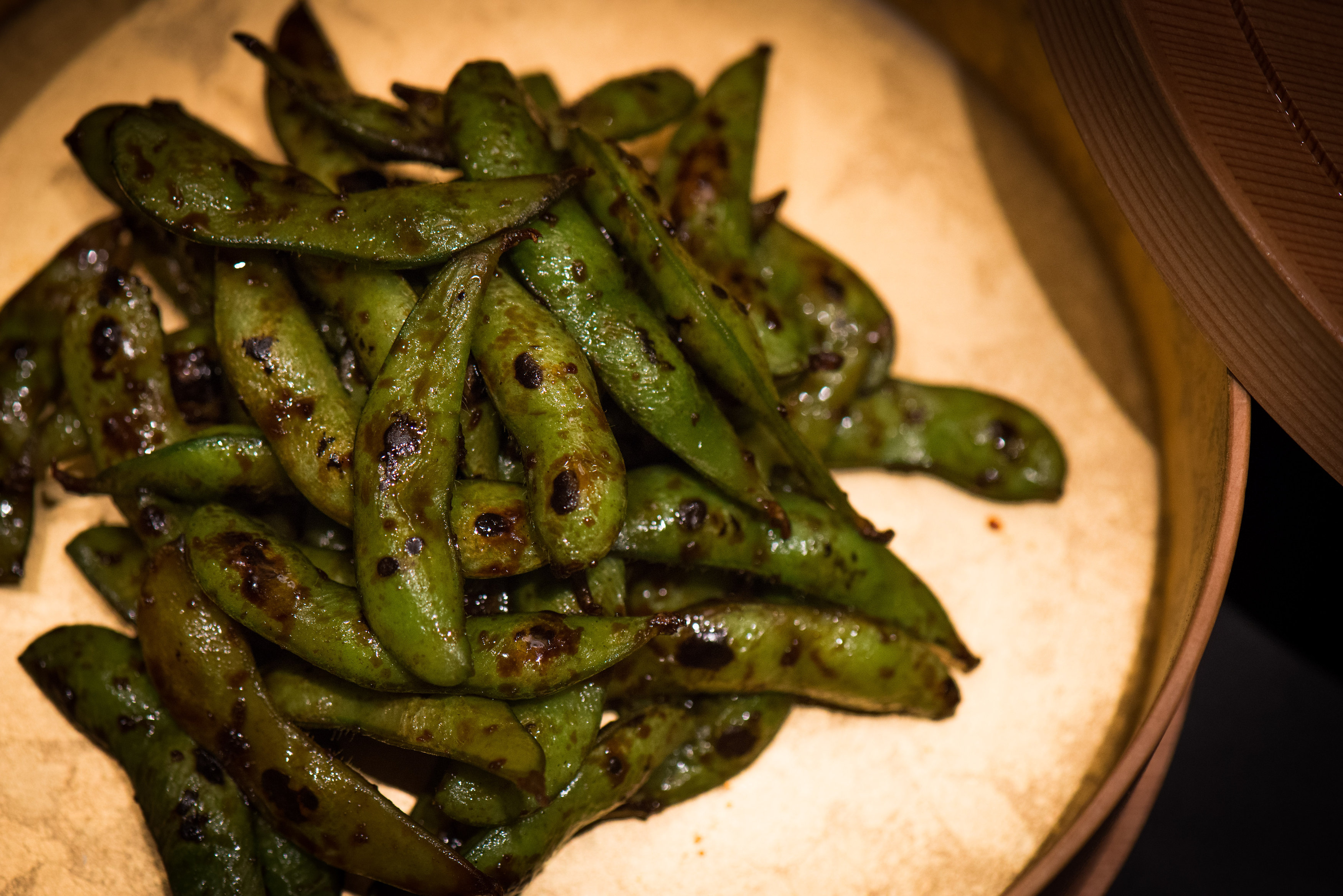 Edamame arriving grilled instead of steamed was a point of interest and lay a good marker for what could be expected from the rest of the menu. A usually plain grazing dish was turned into a showstopper with unexpected smoky, sweet flavours taking hold. Trying to pinpoint what exactly was so great about these seemingly simple vegetarian options was tricky but everything was consistently excellent and left you wanting more.Classic vegetable tempura is always going to be delicious if done right and of course it was here, lightly cooked to perfection and generous in portion size.
The Vegetarian couldn't have been happier. However it was the combination of salads that really grabbed our attention – Wasabi Potato with Walnut and Edamame arrived looking like the most perfect fluffy potato salad you'd ever set eyes on, served complete with sticky caramelized walnuts.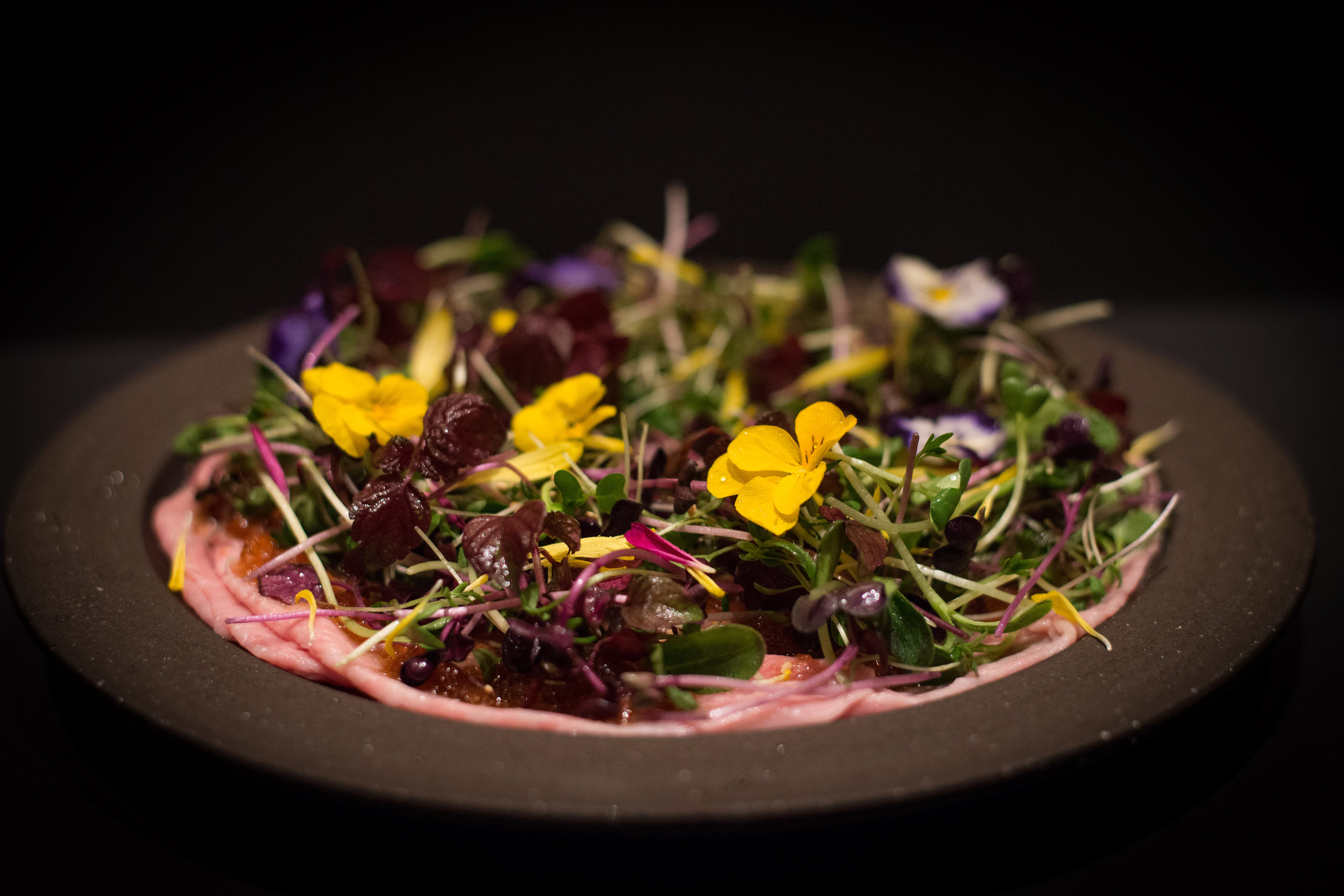 Next, a Mixed Vegetable Salad with Shiso Plum Dressing that came dressed with edible flowers was a delicate but sweet assortment of finely mandolined vegetables working perfectly alongside the Wasabi Potato. Strangely (perhaps less so these days) it was these fine vegetarian dishes that got me excited and I haven't stopped telling everybody about them since. Despite this I felt that I couldn't leave without sampling at least one Wagyu dish.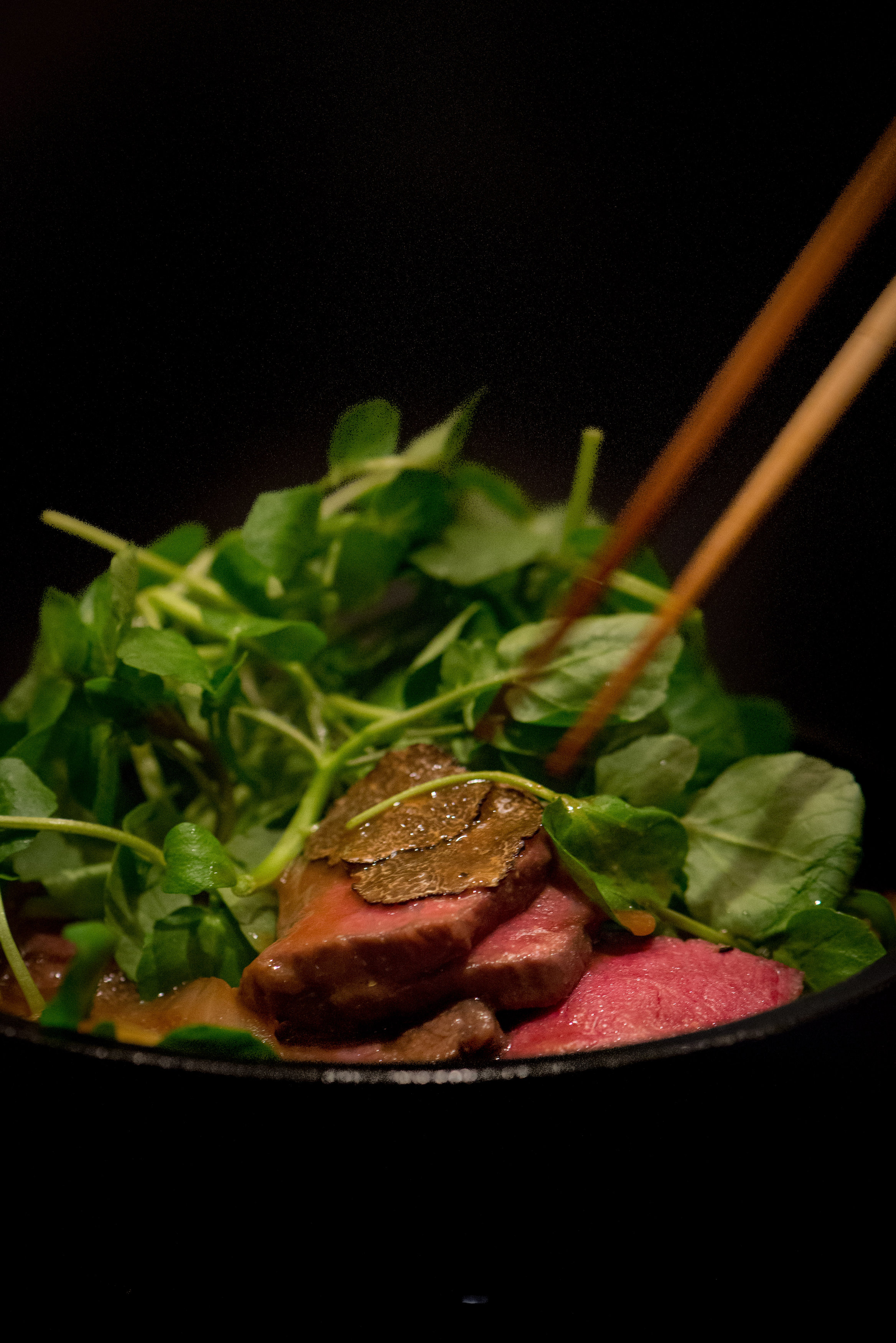 With a little guidance and input from The Vegetarian we jointly decided that I should try a less obvious take on Wagyu beef. Seeing as I like to get a little involved when it comes to the cooking I opted for the Table Simmered Wagyu cut with Onion and Watercress in a Miso Dashi with a side of Truffle Sauce. This dish is an inspired creation. The meat arrived borderline blue, served next to a rich miso stock to lightly simmer your beef in over a gas burner.
Before I knew it The Vegetarian had got involved and was piling the watercress into the broth, nudging me to ensure I didn't forget to dunk the melt in the mouth Wagyu in the Truffle sauce. Sometimes I think he eats vicariously through me. This was a real treat of a dish and one I'd return for again ordering alongside plenty of side salads. I have no doubt that had I tried the entire menu I wouldn't have been disappointed with any of the dishes.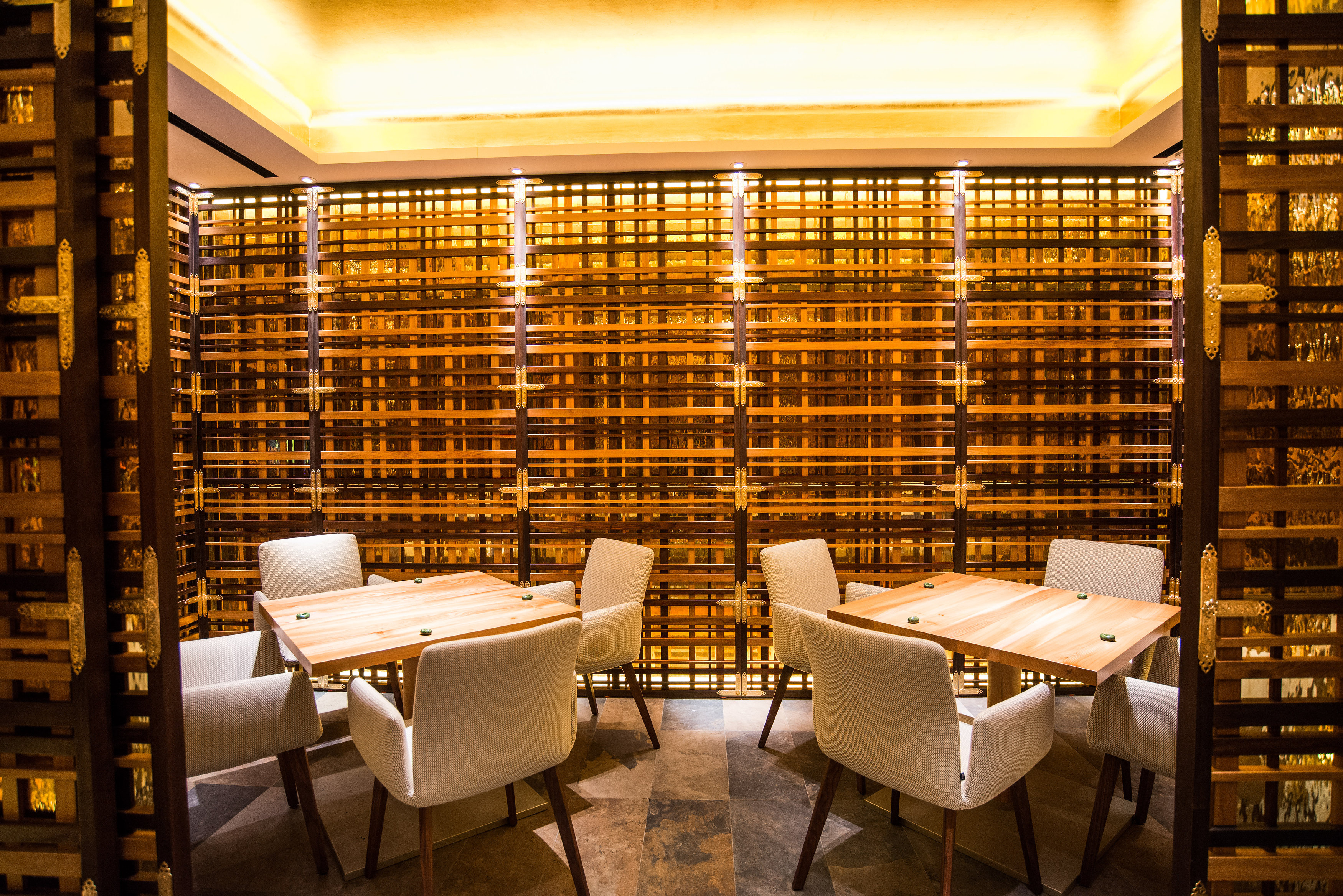 In keeping with the food the interior is neat, simplistic, elegant and indulgent without being excessive. Each of the three levels is characterised by Japanese traditions, crafts and festivals, (Flames, water and wood), designed by the acclaimed Designer Yasumichi Morita and offers a calm away from the chaos of Regent Street and Oxford Circus. I have to say the main bar area on the ground floor was the space I was most drawn to. Warm, informal bar seats and banquette booths made for the ideal Friday night atmosphere.
When there make sure you sample plenty from the cocktail list, a favourite had to be the Yuzu Margarita for it's extra tang. All in all this should absolutely be on your list of must tries. Go with a group as the dishes are made for sharing and trust me you'll want to try as much as you can but share as little possible.
Follow Anna Barnett on Twitter: @AnnaBarnettCook
Follow Anna Barnett on Instagram:  @AnnaBarnettCooks
Tokimeite
23 Conduit St, London W1S 2XS