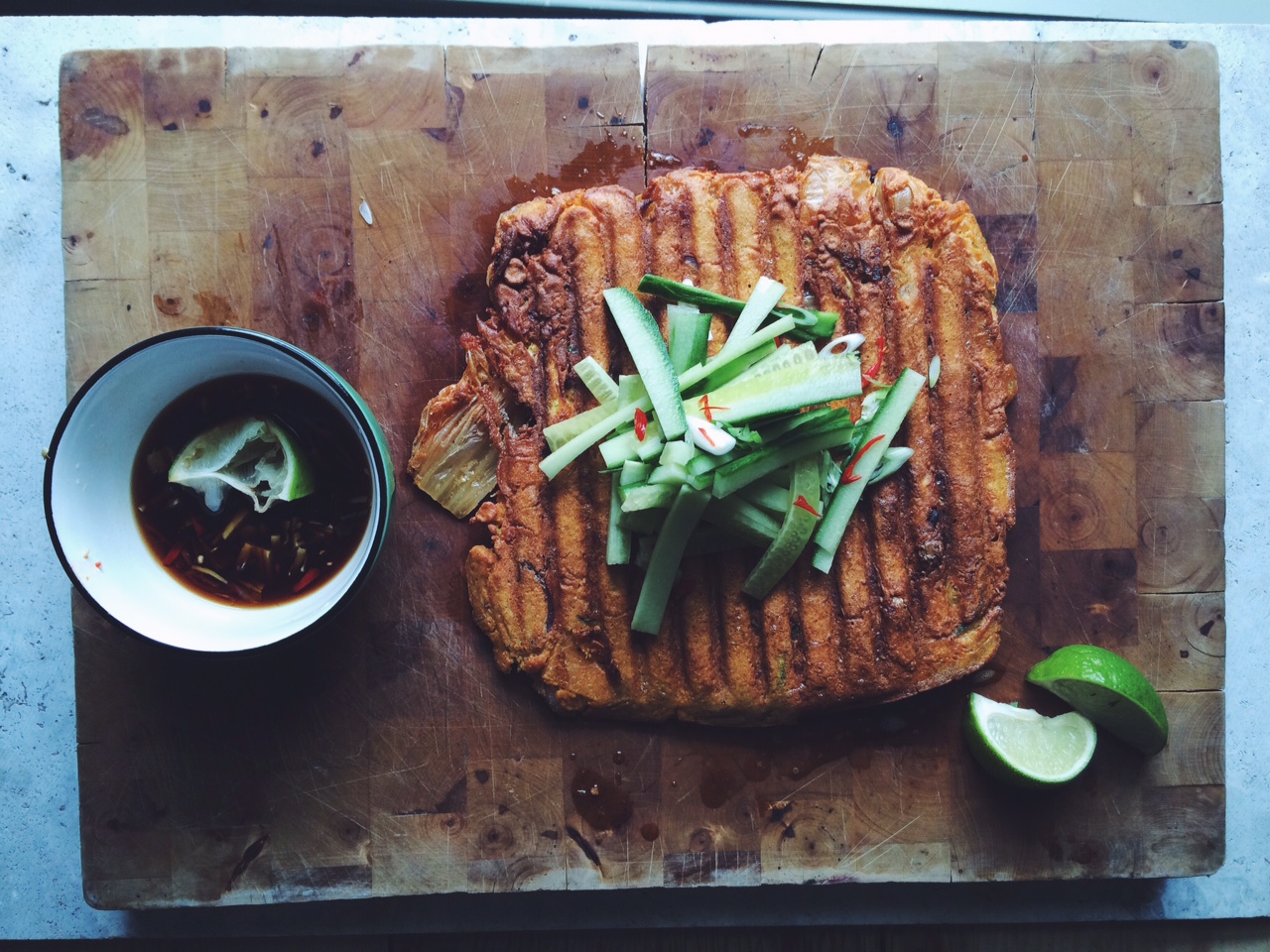 Preparation Time 5 – 10 minutes
Cooking Time 10 – 15 minutes
Serves 4 – 6
Ingredients: 
2 Tbsp Quinoa flour
3 Eggs – Free range organic
2 Large Tablespoons of Kimchi
2 Tbsp kimchi juice
Dash of light soy sauce
½ Courgette – Cut in half and thinly sliced into strips – Lightly fry before adding to the pancake mixture
½ Red onion – Thinly sliced into half moons – Lightly fry before adding to the pancake mixture
½ Spring onion – Finely sliced
Good dash of white pepper
Good glug of rapeseed oil
Asian Pickled Cucumber:
½ Cucumber – Thinly sliced into strips
2 Generous glugs of rice wine vinegar
½ Red Birdseye chilli (use a medium one for less heat) Finely Sliced – seeds removed for less spice
½ Tsp Palm sugar (regular sugar works too or honey for a healthier option)
Dash of white pepper
Squeeze of lime juice
Dipping Sauce:
2 Generous glugs of light soy sauce
2 Generous glugs of rice wine vinegar
½ Red Birdseye chilli – Finely sliced
1inch Fresh ginger – Bruised, peeled and finely sliced
Squeeze of lime
If you prefer it a tad sweeter add ½ tsp of palm or regular sugar
Method:
Whisk the eggs and quinoa flour together so there's no lumps then add in the rest of the ingredients prepared as per instructions leaving out the rapeseed oil. In a griddle or frying pan add the rapeseed oil and heat until super hot. You can test this by adding a tiny bit of mixture and when it starts sizzling it's ready to go. Cook on a medium to high heat until golden and crisp on the underside and cooked through on the top.
As soon as the pancakes are on get the prepared cucumber into the rice wine vinegar mix and set to one side, ready to serve.
Tip – It's great to get this made up in advance so that the cucumber gets a chance to really pickle.
For the dipping sauce, prepare and thoroughly combine in a small dipping bowl and you're good to go. Don't forget to have a taste to make sure the flavours are balanced and adjust with soy or rice wine vinegar of necessary.
Serve it up and enjoy.
Follow Anna Barnett on Twitter: @AnnaBarnettCook
Follow Anna Barnett on Instagram:  @AnnaBarnettCooks
Anna has worked in events and celebrity booking for MTV and Channel 4, has spent many years as part of the team at British fashion label House of Holland – but she's still primarily known to her friends as 'The Feeder'.
Her lifelong obsession with cooking led to a weekly blog, 'The Reluctant Vegetarian', which she spent two years writing for UK newspaper The Independent.
She now contributes a monthly recipe spot on Miss Vogue, while running www.AnnaBarnettcooks.com and has just been appointed as one of Grazias resident cooks for the magazine. She regularly turns her house in Hackney into a pop-up restaurant and has been featured extensively in the glossies, nationals and online.
Her debut cookery book 'Eat the Week' launched last summer.