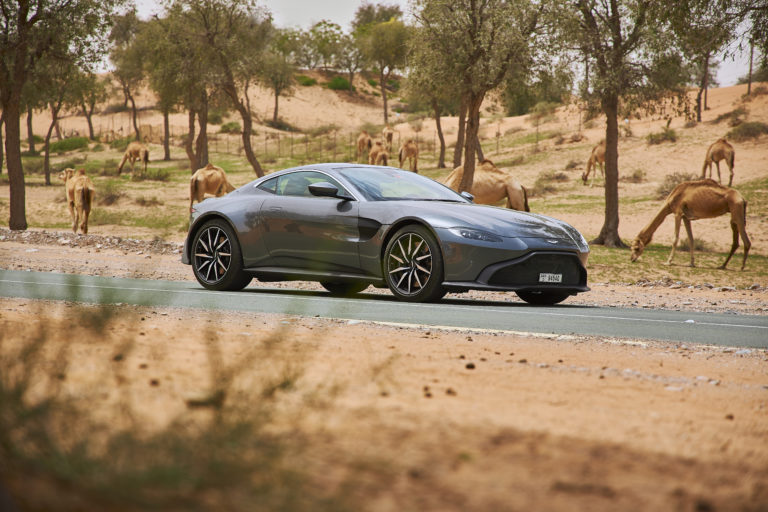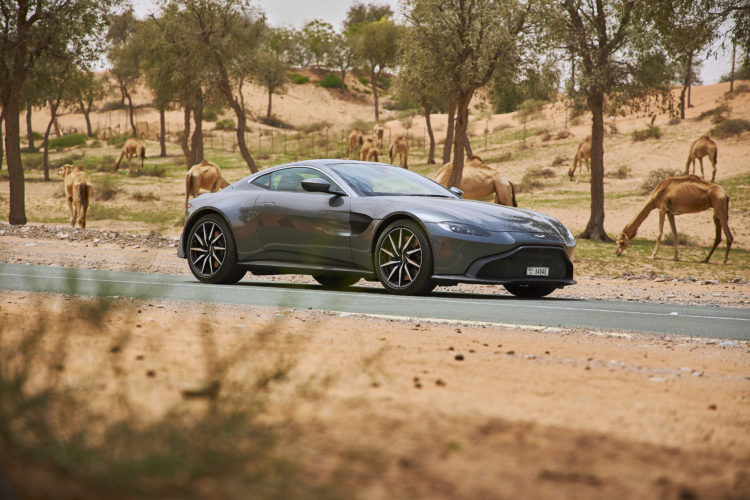 Waldorf Astoria has created a stellar reputation around the world for introducing a new level of luxury for its guests. Last year the 'Live Unforgettable' campaign was launched, an incredible initiative to offer truly unique experiences.
From racing Aston Martin's through the streets of Dubai to a decadent feast under the stars in the heart of desert, we take you on an unforgettable adventure like no other…
Retreat to the Beach at Waldorf Astoria Ras Al Khaimah
It's hard to believe that just 50-minutes from Dubai International airport is the sparkling azure waters and golden sands of Waldorf Astoria Ras Al Khaimah on the Arabian Gulf coast. This is a world away from the soaring skyscrapers of Dubai. The opulent Arabian palace rises from the beach like the most majestic sandcastle and has every amenity your heart desires, from 10 restaurants and lounges, an award-winning spa, decadent rooms and suites, two pools and a vast private beach.
The extravagance continues inside. There are is a Sleep Master that offers 11 varieties of pillows, a Fragrance Master who will spray your room, bedding and towels with your favourite scent and even a Bath Master who will draw you the perfect romantic bath, heady with the scent of organic essential oils and scatter it with rose petals.
Waldorf Astoria Ras Al Khaimah is a masterclass in true decadence beyond your wildest dreams.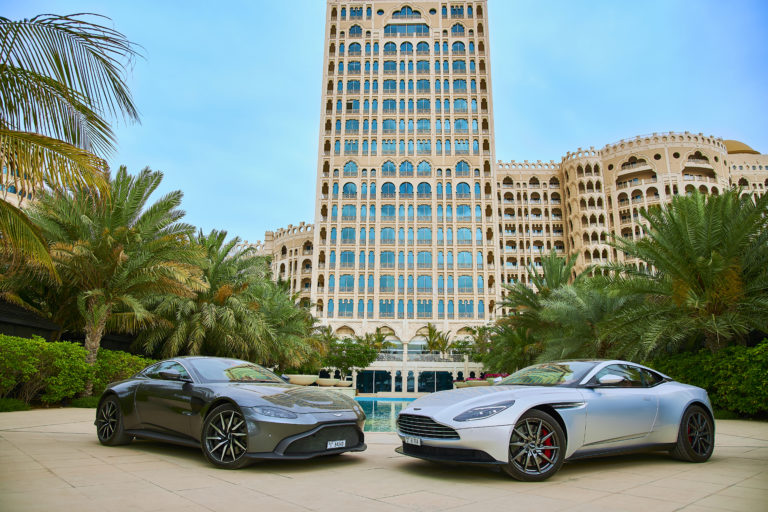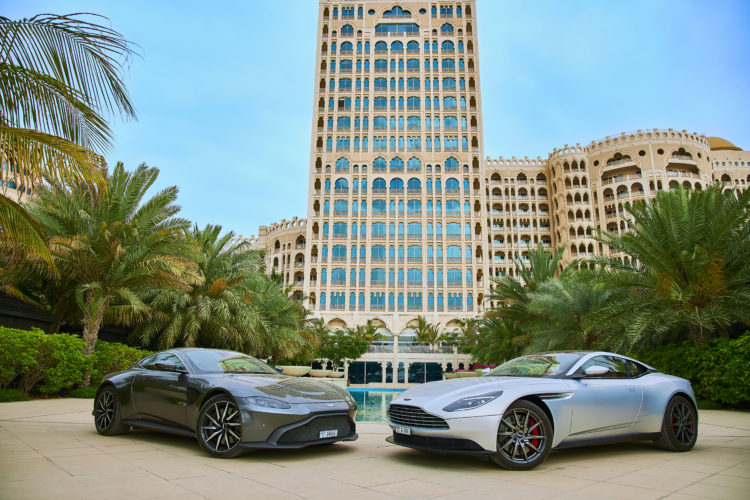 Drive an Aston Martin through the Desert
Waldorf Astoria have partnered with Aston Martin for a once-in-a-lifetime driving experience. Choose from a glistening Aston Martin Vantage or DB11 V12. An Aston Martin performance driver will accompany you in the passenger seat to educate you on this elegant yet powerful machine and explain how to achieve the best out of the vehicle.
Take the drive of your life, from Waldorf Astoria Ras Al Khaimah to Waldorf Astoria Dubai Palm Jumeirah, stopping in the desert where there are only camels for company or to take in the mesmerising view of the Arabian Gulf. An adventure that James Bond would be proud of.
Explore the city at Waldorf Astoria DIFC
Aptly situated on Happiness Street, the Waldorf Astoria Dubai International Finance Centre offers a marriage of sleek contemporary with the vintage elegance of 1960s New York. Mad Men's aesthetic seems to be at the heart of the aesthetics, effortlessly chic, there is sumptuous leather, gleaming bronze and decadent marble. It's kind of place where Don Draper wouldn't be out of place, his tie slackened and an Old Fashioned in hand.
It's core guests may be high-net-worth business travellers, but they work hard and play harder. The Waldorf Astoria DIFC's crowning glory is St. Trop, situated on the 18th floor. The St.Tropez-inspired rooftop bar boasts birdcage swinging chairs, temperature-controlled pool and innovative cocktails against the mesmerising backdrop of Dubai's ever-changing skyline.
Floors 27-50 are home to chic guest rooms and suites, whilst residential suites occupy Floors 50 – 55. The views are unforgettable, from the glittering lights of Dubai's soaring skyscrapers to the city's coastline and the peacocks that roam freely around the opulent Arabian palaces home to the royal family.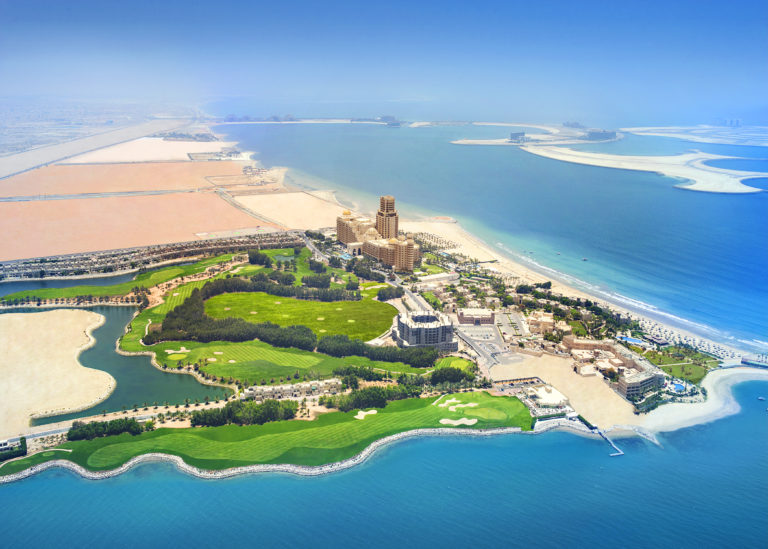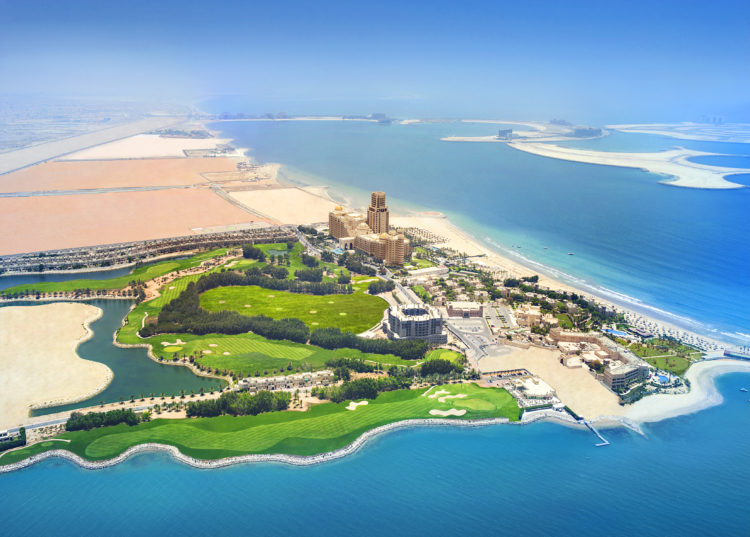 Dine at Bull & Bear
An ode to the original Bull & Bear, located at Waldorf Astoria New York, this sophisticated steakhouse has been one of the most exciting openings in Dubai's thriving restaurant scene. Floor-to-ceiling windows wrap around the restaurant, offering unbelievable views of the Burj Khalifa, the tallest building in the world.
Bull & Bear is perfect for breakfast, lunch and dinner. Start the day in the sun-soaked restaurant with Ful Medames mini Arabic flatbreads, a rainbow Acai Bowl with coconut flakes, seasonal fruits, chia seeds and cacao nibs or the aromatic Shakshouka Poached Eggs with tomato cumin ragout, hazelnut dukkah and cool mint yoghurt.
Dinner is an extravaganza of beautifully-prepared classic dishes, reinvented with a touch of Bull & Bear magic for a new generation. To start, there is Bull & Bear's signature Prawn Cocktail, a dish that defined an era and was a surefire starter at Betty Draper's dinner parties. Bull & Bear infuse locally-caught tiger prawns in eastern flavours and then grill them to ensure they are served hot with marie-rose sauce, wasabi crème, saffron aioli and asian slaw. The Seared Scottish Scallops are also a seafood showstopper, served with organic cauliflower purée, hazelnut dukkah and salmon caviar.
For the main event, gems on the menu include the melt-in-the-mouth slow cooked Braised Wagyu Beef with rigatoni, celeriac purèe, gruyère and black truffle. The Lobster Linguini is also a highlight, with tender butter poached lobster, bright preserved lemon, tomatoes and bisque.
Last but certainly not least are the desserts. For the savoury among us, the Farmhouse Cheese is a real treat, with a daily selection of delicious cheeses, fig jam, candied walnuts and nutty bread.
A signature dish is Ring the Bell, where rich molten chocolate is poured over a hazelnut chocolate fondant, with dulce crispy pearls, toasted marshmallow and baileys ice cream. It is an ode to the iconic bell on Wall Street that signals the close of the day's trading and celebrates the final course of an incredible dining experience.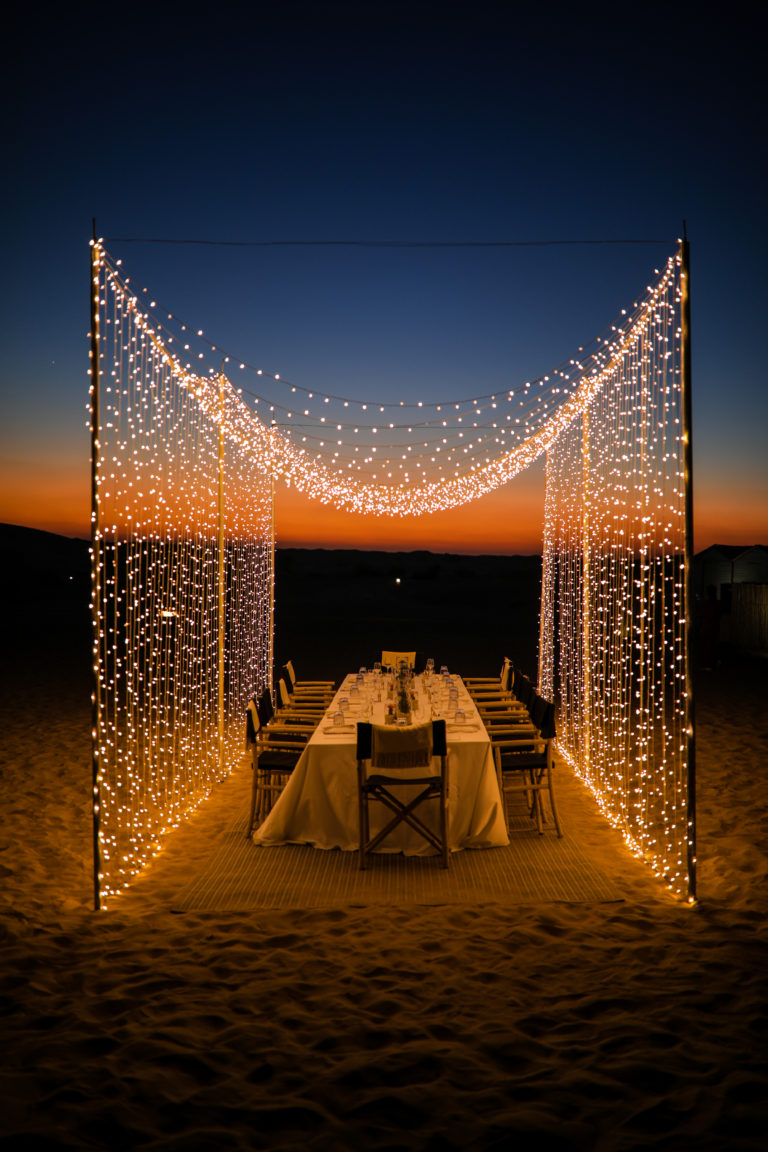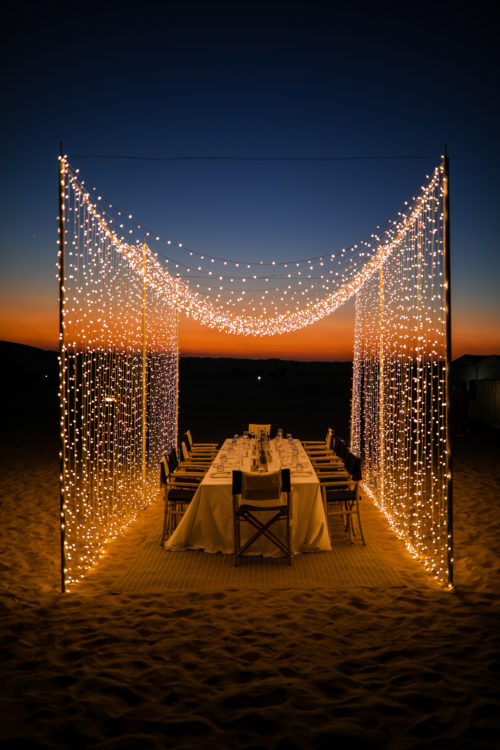 Experience the Live Unforgettable Desert Escape
Waldorf Astoria's concierge team has collaborated with luxury events specialists Nara Desert Escapes to curate a Desert Escape beyond your wildest dreams.
Head out to the heart of the desert, flying over dunes in a 4×4 until you meet a herd of well-looked after camels. Ride camels through the powdery golden sand, follow the sounds of drums from musicians discreetly playing on the highest point of the sand dunes until you reach a secluded opulent Bedouin-inspired camp, complete with private fully-functioning bathrooms.
As the heat of the afternoon fades and the cloudless blue sky transcends into a candyfloss pink, enjoy a chilled cocktail served by waiters in crisp white linen. Entertainment is abundant, from falcon show with Mariah the falcon, hypnotic belly dancers dripping in gold, intricate henna artists and the opportunity to discover the stars and planets with an astronomer.
Under a black velvet sky studded with a smattering of stars, a glorious gourmet feast of Arabic barbeque is served. Under a canopy of fairy lights, generous dishes are passed around laden with aromatic chicken, spiced Arabic sausages, homemade kofta and roasted apple and toffee.
An Arabian night that will stay with you forever, the kind of night you will tell your grandchildren about one day.