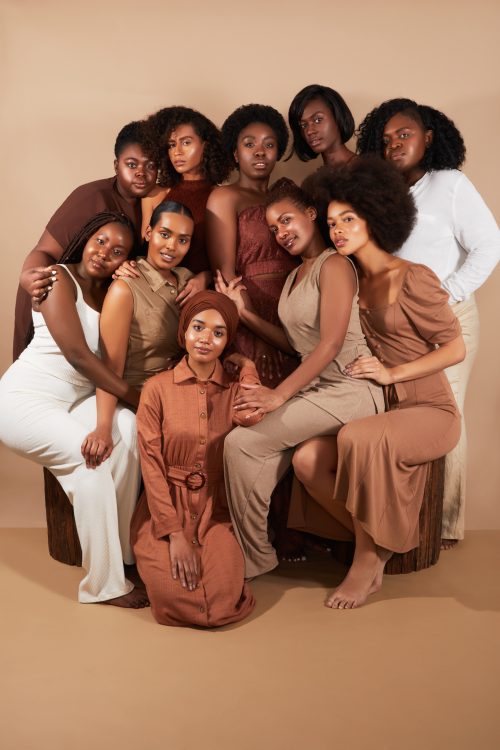 Working for many years as a professional makeup artist, I have been frustrated that finding makeup for darker skin tones wasn't always easy. There were rarely the right shades or weren't dark enough. In fact, often to my dismay there were no dark colours available at all.
I've had models sit in my makeup chair and to my surprise have asked me if I need to use their own foundation and concealers from their bags. This is always disheartening, I pride myself on ensuring my kit is diverse, especially as a woman of colour myself.
Every makeup artist should be able and prepared to work with all skin colours, types and tones, this is our professional job after all! Our kits should be fully diverse, enough to cover all skin tones. There is NO excuse for this not to happen.
The last couple of weeks have been a real eye opener for the world. Many people have been listening and educating themselves and in the beauty industry in particular, we have all realised just how much work needs to be done. We all need to stand up and make change so that the beauty industry offers true representation and diversity.
Changes are being made as we speak, some big, some small but there is such a long way to go when it comes to inclusivity and diversity but all cultures must be embraced in the mainstream beauty industry.
There are so many incredible black-owned beauty brands that I have been a fan of throughout my career. I have curated a list of some of my personal favourites that deserve to be spotlighted, please give them a follow…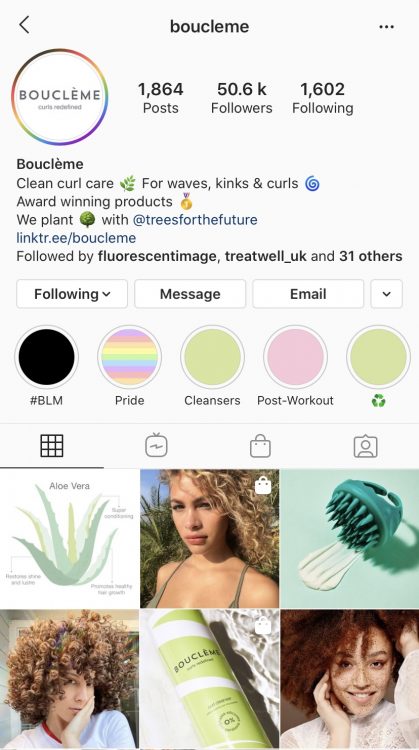 Boucleme
Founded by the amazing Michele Scott-Lynch, learning from her own curly hair journey. An amazing ethical brand for all those people with curly hair out there, your curls really do look incredible after using these products.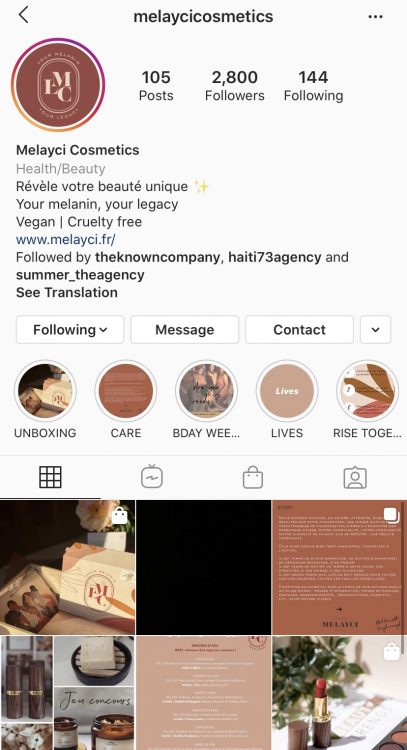 Meylaci Cosmetics
'Your Melanin, Your Legacy', this beautiful Paris-based lipstick brand was founded by Kelly Carmen Njike. It combines beauty and empowerment with 5 colours that are designed to suit all skin tones. The collection is also vegan and cruelty-free.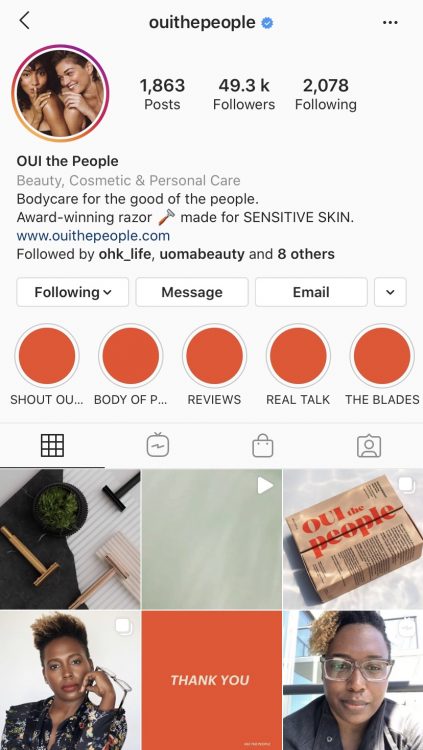 OUI The People
Founded by Karen Young with one goal, to make all people feel beautiful. A modern shaving brand with some beautiful products, that are changing the language of beauty.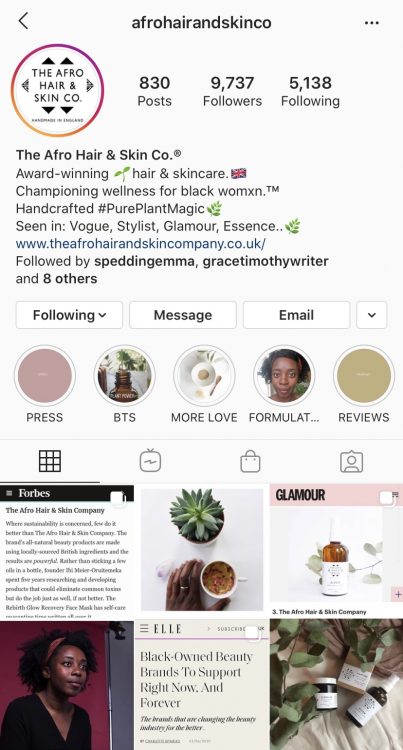 The Afro Hair & Skin Co.
A Clean & Green award-winning natural hair and skincare that are handmade with love in the U.K. This is definitely a brand to watch.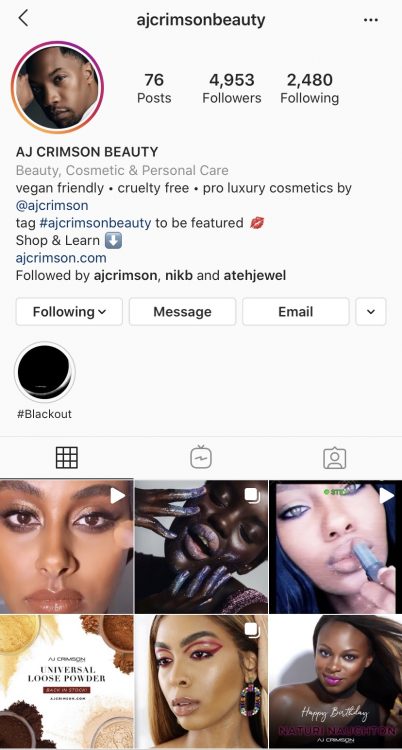 AJ Crimson Beauty
This amazing line of makeup was created by celebrity makeup artist AJ Crimson, designed for all ethnicities. After years of mixing foundations, he was inspired to create his own beautiful range, which is also natural and cruelty and paraben-free.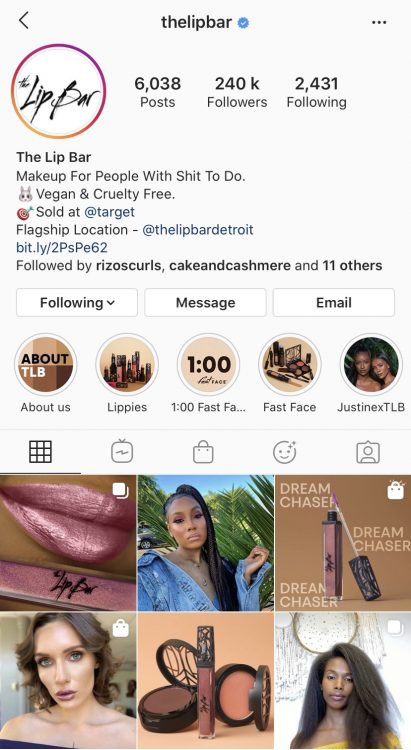 The Lip Bar
This vegan and cruelty-free US makeup brand was launched in 2012 by Melissa Butler. She was tired of hearing the media say that beauty looked a certain way, so she started making lipsticks in her kitchen. The rest is history.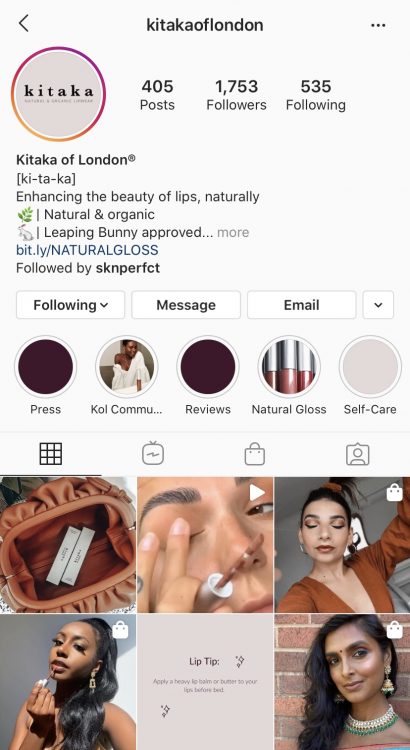 Kitaka of London
These gorgeous natural and organic lip glosses were founded by Patrice Monique. The textures are amazing and there are a range of beautiful colours for all skin tones.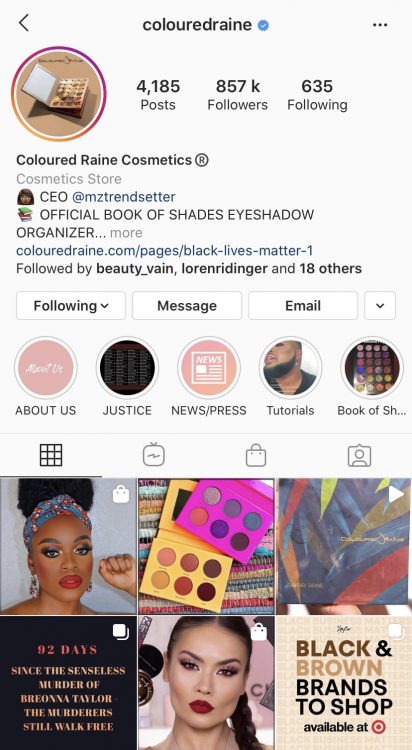 Coloured Raine Cosmetics
Beautiful cruelty-free cosmetics for all ethnicities, with stunning colours and pigments and long lasting lip formulas. This US-based company was founded in 2013 by Loraine Dowdy, who wanted Coloured Raines cosmetics to break down all beauty barriers.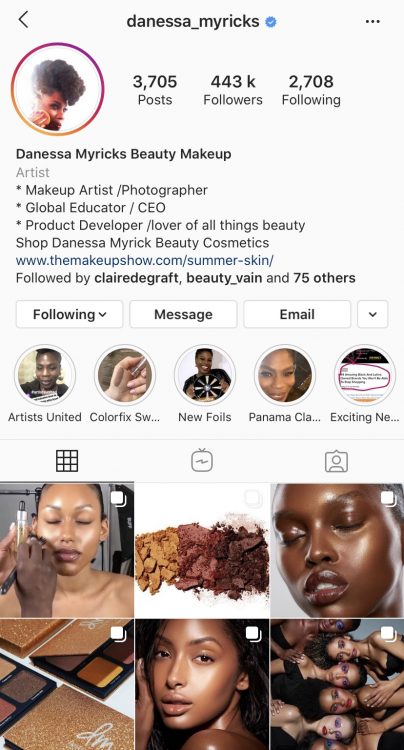 Danessa Myricks Beauty Makeup
This lady needs no introduction, Danessa Myricks is an all around superwoman. A makeup artist, photographer and creator, she created an inclusive and diverse beauty world with her products that are totally multifunctional.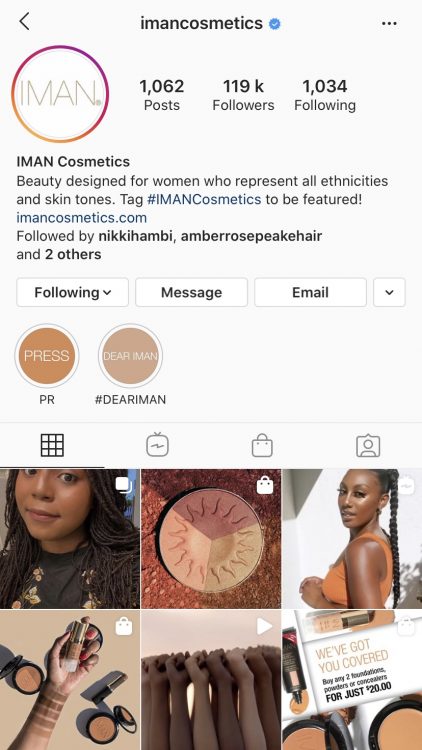 Iman Cosmetics
Founded by iconic supermodel Iman in 1994, it was one of the first beauty companies to create cosmetics and skincare for women of colour around the world.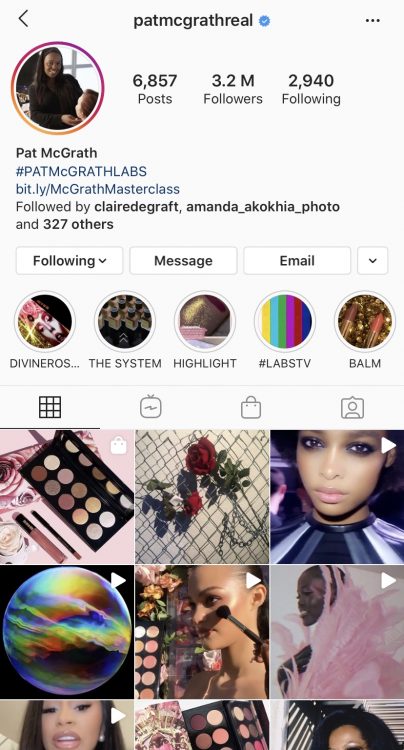 Pat McGrath Labs
The Mothership. Iconic British makeup artist and industry Icon, Pat McGrath is one of the world's most influential artists.
In 2016 Pat McGrath launched her brand that would change the beauty world forever. Bright and vibrant with the signature amazing glitter. The pigments are incredible, the metallics are powerful and the colours are just divine.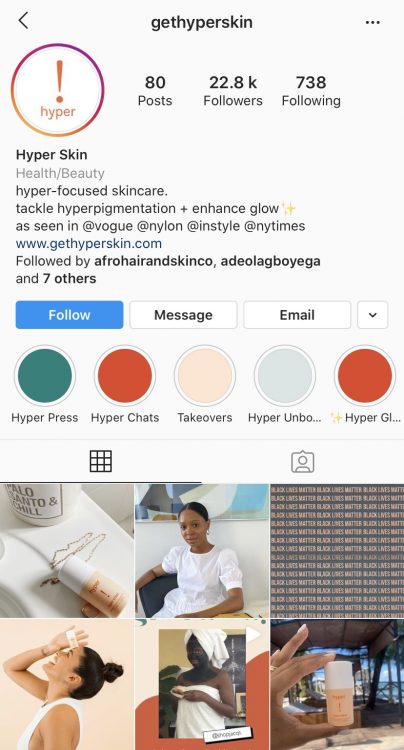 Hyper Skin
Launched by Desiree Verdejo, inspired her own personal skin journey. She found that there was nothing out there to help her problematic skin, so she created her own solution. Hyper Skin is affordable and beautiful, created with amazing ingredients to make you skin glow.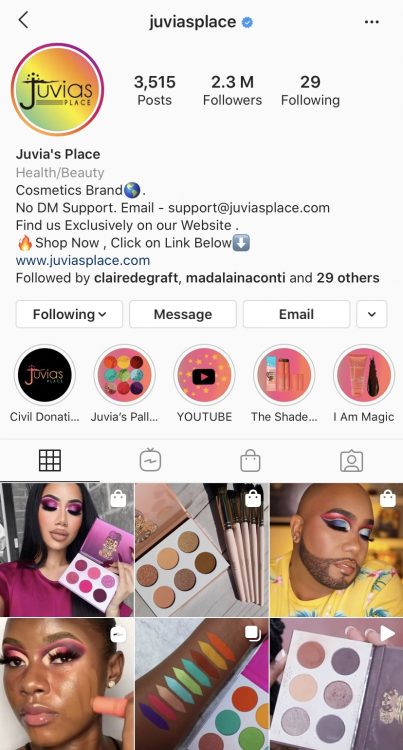 Juvias Place
Founded in 2014 by Chichi Eburu, Juvia's Place has grown a cult following. Chichi realised that there was a gap in the market, where black culture was not represented so Juvia's Place was born. Inspired by her native Africa, they have the most incredible bright and beautiful palettes for all skin colours.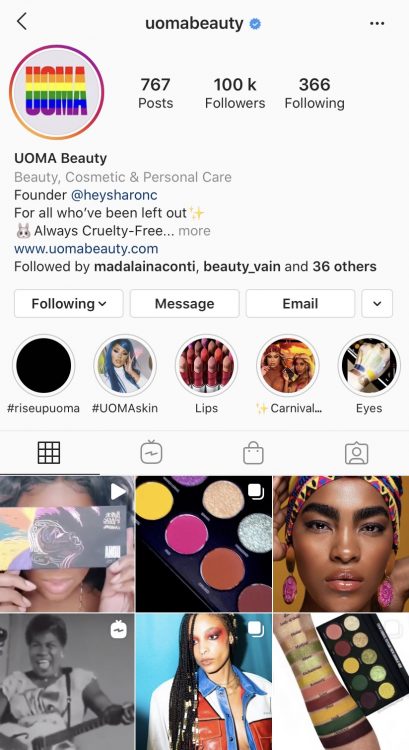 Uoma Beauty
Founded by Sharon Chuter, this brand embraces culture, pride, colour and inclusivity in equal measure. It is rebellious, fun and the colours are bold. With 51 shades on offer, there truly is a shade for everyone.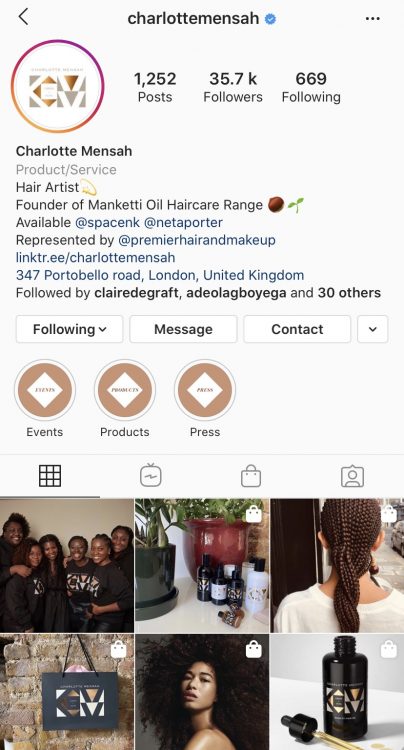 Charlotte Mensah
Award-winning hairdresser Charlotte Mensah created this fabulous brand, specially designed for curly haired people who want to nurture their curls.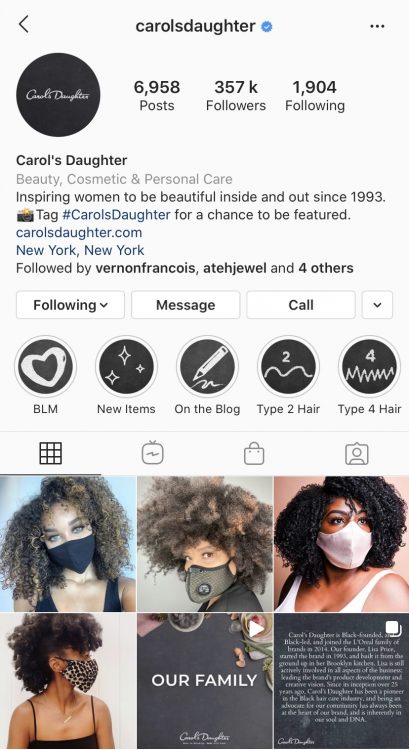 Carol's Daughter
Born in 1993 by Lisa Price, Carols Daughter is named after Lisa's Mum Carol. Starting from humble beginnings in her kitchen, Carol's Daughter has grown into a world-famous prestige company that specialises in hair, body and skincare products made from natural ingredients.