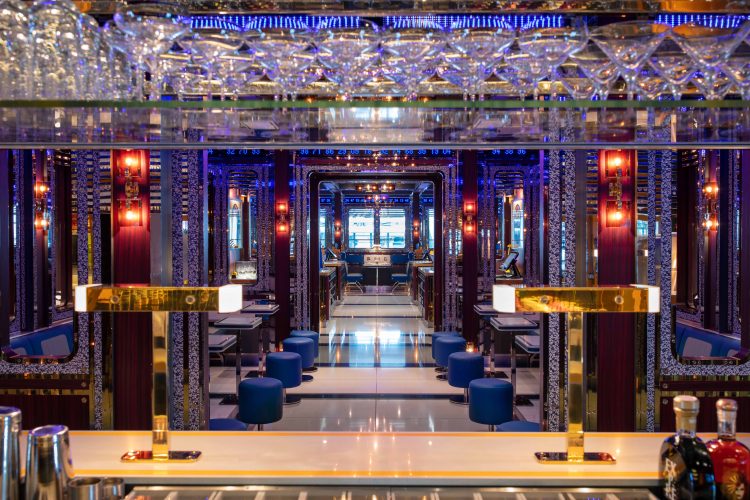 Bob Bob Ricard in Soho has already solidified its reputation as one of London's best restaurants. Bob Bob has now ventured across London to the heart of the city with the opening of its sibling restaurant, Bob Bob Cité, an opulent contemporary French brasserie located in the landmark Leadenhall Building.
Famed interior design studio, BradyWilliam has created a £25million modern aesthetic masterpiece, inspired by the future of aviation travel. The attention to detail is magnificent, be transported onto decadent mega yacht or one of the luxurious early-twentieth century Zeppelin airships. There are over 800 bespoke light fittings, including 24 chandeliers, bespoke banquette seating in beautiful rich leather and 12-and-a-half kilometers of mirror-polish steel trim weighing over five-and-a-half tons accent the Japanese book-binding-paper-clad wall panels throughout the restaurant.
It wouldn't be Bob Bob without the iconic 'Press for Champagne' button, but at Cité it has been reborn as 'Pressez pour le Champagne'. In an ode to its location in the City of London, tickertape wraps not only the façade of the restaurant but also internally in all dining rooms. When 'Pressez pour le Champagne' is activated, the table number is illuminated throughout the space. The menu is full of beautifully presented classic French country cooking and you cannot visit Bob Bob without trying the famous Boeuf En Croûte, a glorious Beef Wellington of 35-day Aged Scotch fillet with truffle jus. Accompany it with cloud-like creamy truffle mashed potatoes and grilled hispi cabbage with green goddesses.
@bobbobcite
Level 3, 122 Leadenhall St, London EC3V 4AB