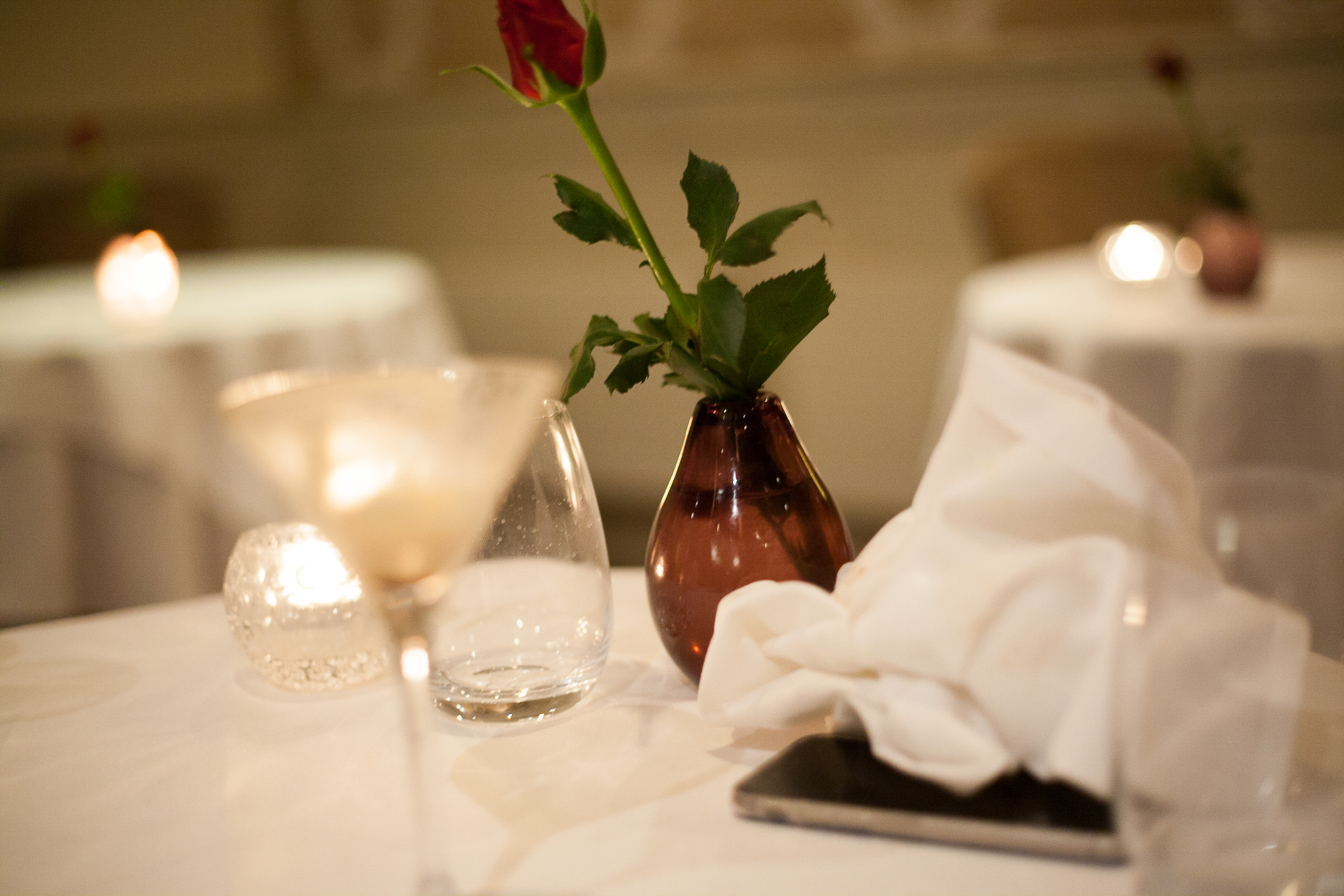 From the very outset of the evening, slowly strolling through the picturesque village of Bray, Berkshire – also home to Heston Blumenthal's highly-acclaimed Fat Duck – the expectations for Giancarlo and Katie Caldesi's fourth venture, Caldesi in Campagna, were extremely high.
To date, the duo have proved themselves time and time again as a gastronomical force to be reckoned with: the first Caldesi restaurant was one of purely Tuscan offerings and the pair began making regular trips to the region to further research the cuisine and to discover new, exciting twists on classic dishes. In 2002, the couple launched Caffe Caldesi, a far less formal Tuscan-Italian restaurant and café and, finally, in 2005 La Cucina Caldesi was born: from here they run a unique and diverse range of cooking courses for all ages and, more importantly, all abilities.
A year later, the couple appeared on the BBC Television series Return to Tuscany, where they ran a cookery school for a month (they later released a cookery book of the same name). From herein, the pair have regularly appeared on programmes such as Masterchef, BBC Breakfast and Saturday Kitchen and have been regular contributors to both glossy magazines and national papers. The Caldesi family have some incredibly impressive accolades both in and out of the kitchen. That evening we were to truly understand just how well deserved these were.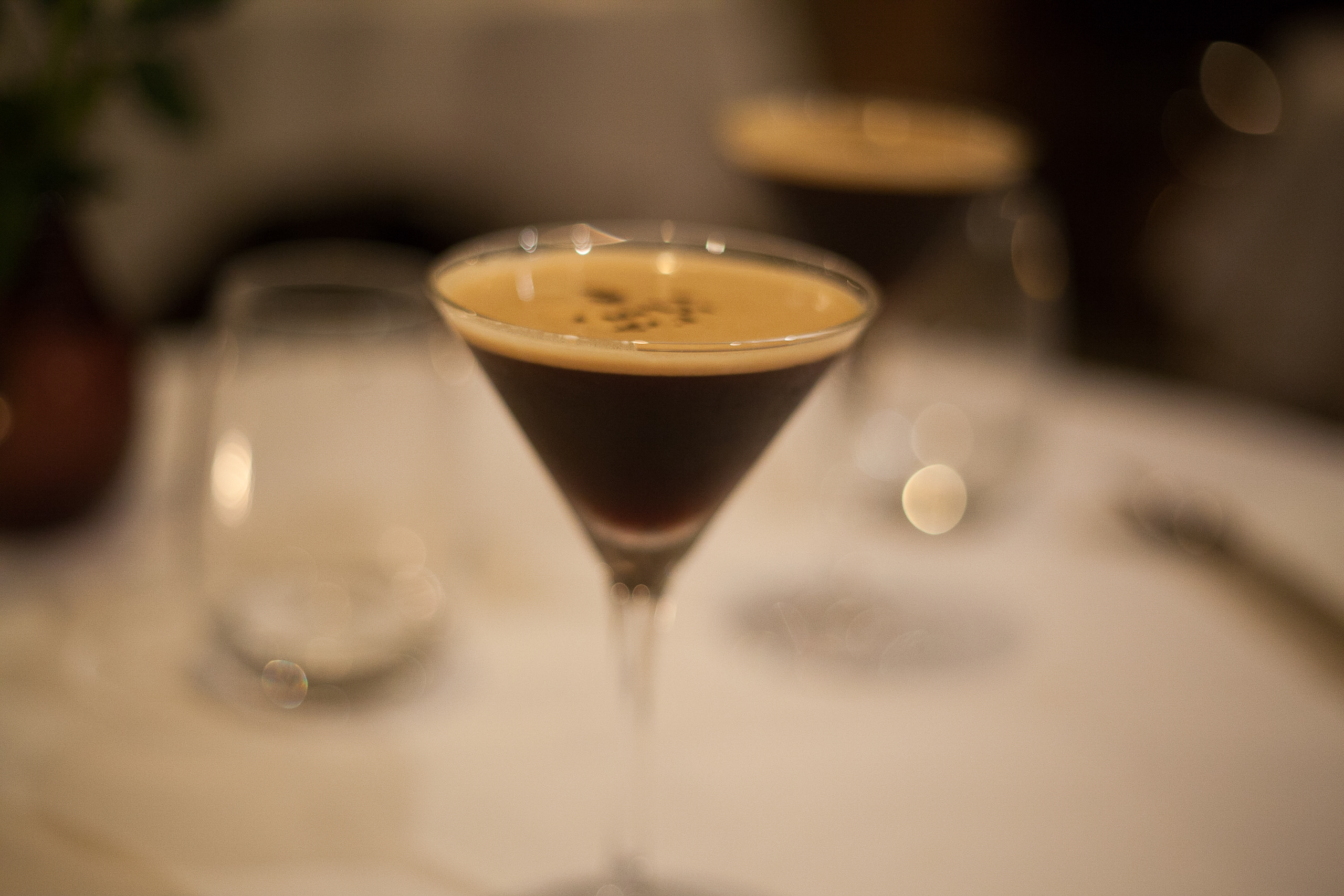 As we approached the façade of the restaurant, the host – dressed in a smart black tuxedo – held back the door for us to enter, greeting us politely and enthusiastically as he did so. He escorted us to our table and took our jackets through the cloak room. The table was set with pristine glassware and carefully polished cutlery atop a perfectly folded napkin. Even by the the table layout it was clear just how much pride the Caldesi's take in every single detail: everything must be impeccable, and everything truly was.
Moments later, Nedo – our waiter and sommelier for the evening – arrived at the table bearing two delicate flutes of fine Italian sparkling wine, held out an extensive, carefully compiled wine list and instructed us to call him over if we had any questions about anything on the list.
After a torrent of questioning, Nedo recommended a fine white wine that had quite a story behind it: "Prince Charles", he told us, "regularly visits this exact vineyard on his trips to Tuscany". It took one sip to realise why. The 2014 Pomino Bianco DOC comes from the Frescobaldi vineyard and blends an unusual combination of the full bodied Chardonnay and delicate Pinot Blanc grape varieties to give an incredibly floral bouquet, a rich, textural mouthfeel and a satisfying lingering finish. It was beautiful.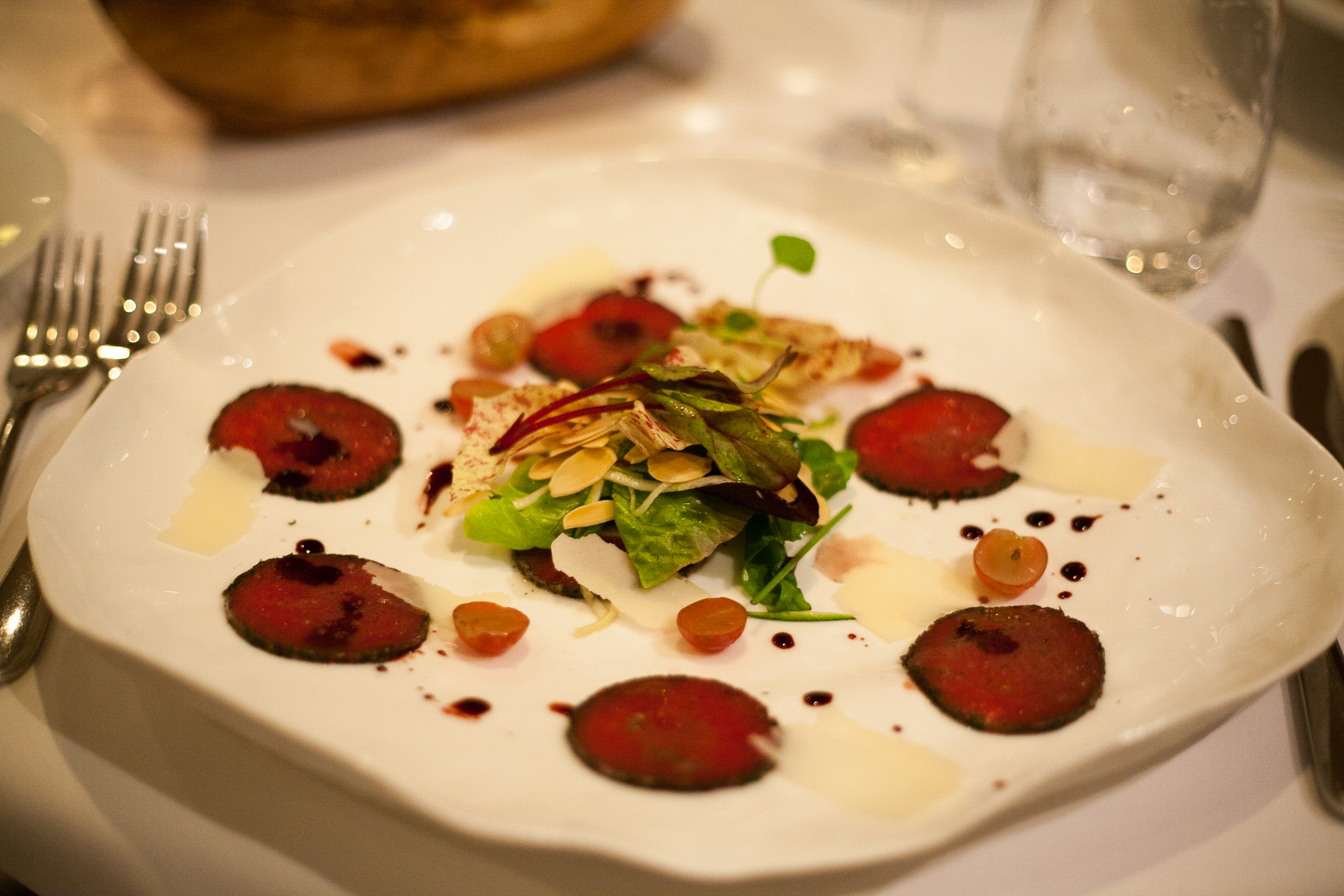 A generous serving of bread & oils was then placed in front of us, presented in a handmade rustic wooden bowl, before a complimentary appetiser was served on a raised rectangular slate. Atop proudly sat a single braised beef croquette – perfectly crisp and golden on its exterior and amazingly tender under the breadcrumbed coating. The croquette was served with a sweet carrot purée, a single al denté carrot, beetroot, sea salt crystals and freshly shaved Italian truffle.
The à la carte menu boasted an impressive selection of Italian dishes and other classics with a Tuscan twist applied to them. To start, however, I gave in to temptation and opted for the Venison Carpaccio on the specials that night. The tender, succulent thin circles of meat were complimented by sweet red grapes, mixed leaves, lightly toasted almonds and shavings of parmesan and more fresh truffle with a delicate red wine jus bringing out the very best in each ingredient.
My guest has recently discovered the joys of calamari and, thus, the Calamari alla Livornese was a fast choice. In a deliciously rich tomato, garlic and chilli sauce, accompanied by a thin toasted slice of freshly prepared garlic bread the dish was full of moreish flavours.
With our starters cleared we embarked on a short tour of the restaurant and garden. The interior of Caldesi in Campagna is reminiscent of a traditional Tuscan eatery whilst the sizeable garden embraces the vast natural beauty the quaint village of Bray has to offer. In the corner stands an impressive josper barbecue that is fired up during the warmer summer months offering succulent red meat, chicken and fish dishes. We will definitely be visiting this hidden gem again next year!
Back at the table, we sipped on the Pomino, truly excited for our mains to arrive. Once more, Caldesi in Campagna did not disappoint.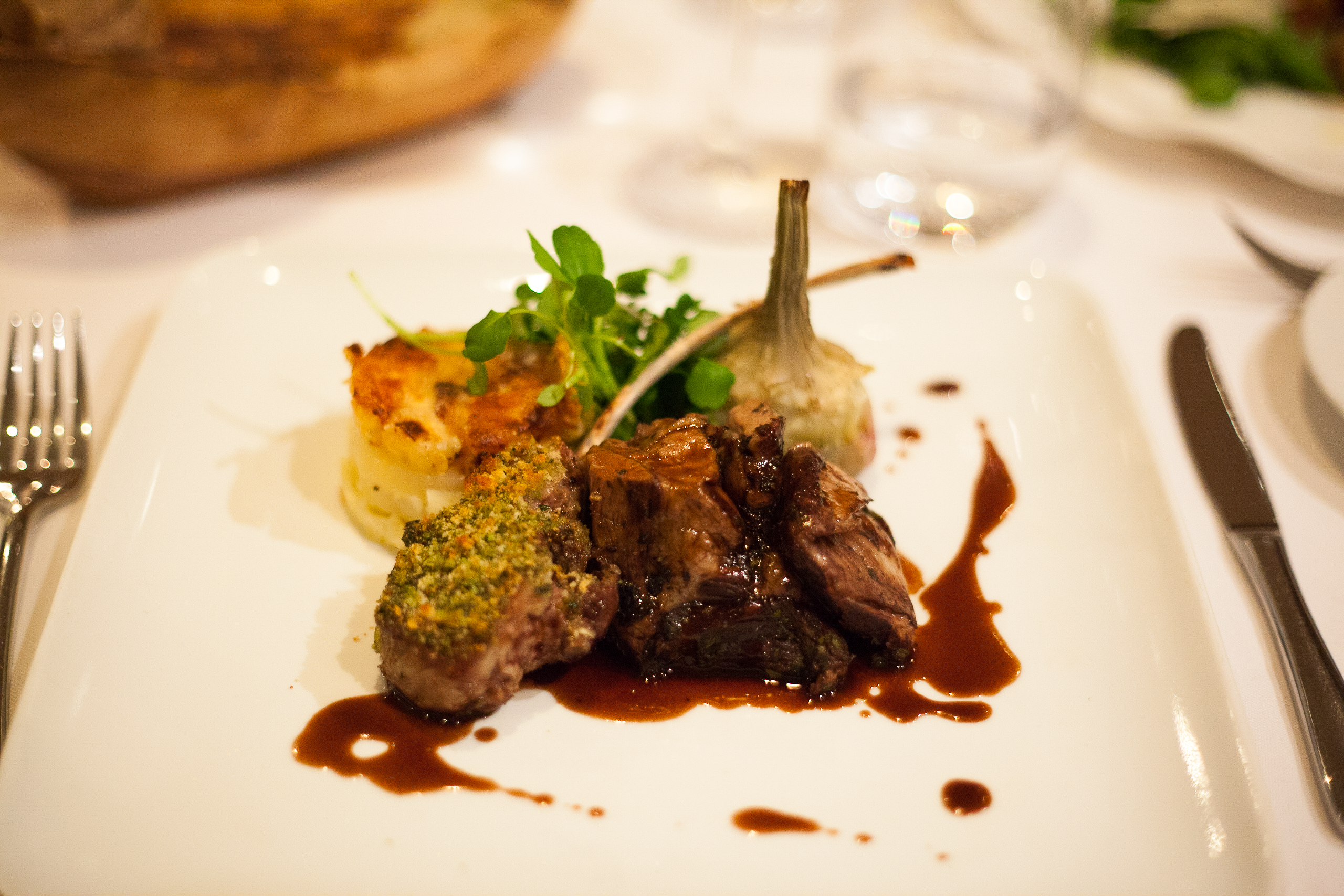 My guests chosen delight came highly recommended by Nedo. Pollo alla Sienese featured a perfectly roasted breast of corn fed chicken, carefully wrapped in San Daniele ham and filled with a smoky truffled pecorino cheese atop a creamy olive oil mash. Although she really didn't want to part with even the tiniest mouthful, my guest reluctantly allowed me to taste the dish. The combination of smoky, creamy and meaty flavours complimented each other so perfectly that I was left utterly speechless.
To my absolute delight though, somehow, my dish managed to surprise me even further. Simply named Agnello, the duo of slow cooked lamb shoulder and herb crusted lamb cutlet are accompanied by a dauphinoise-style potato cake and a whole artichoke's hart. Lamb as a meat can sometimes be rather difficult to get completely right. Obviously, Caldesi combined all the right elements: a crisp, delicate herb crusting; unobtrusive accompaniment and meat that was cooked to absolute perfection.
The portion sizes were most definitely sufficient, but with our eyes considerably larger than our stomachs we had ordered two additional side dishes. Although we did not manage to finish even a quarter of either side between us, the flavour that each boasted was a treat to the senses: Sautéed, garlic-infused spinach provided a healthy option whilst a generous serving of roasted potatoes with fennel seeds and herbs brought up the carb-count in delicious fashion.
Of course, no visit to an Italian fine dining destination would be complete without at least a browse of the dessert list. Again, Giancarlo and Katie have offered up and array of options. Presenting both sweet and savoury treats the dessert menu notably includes Giancarlo's twist on a Tiramisu and a dish named Bomboloni – Italian-style donuts, here served with vanilla custard, Sambuca and berry jam.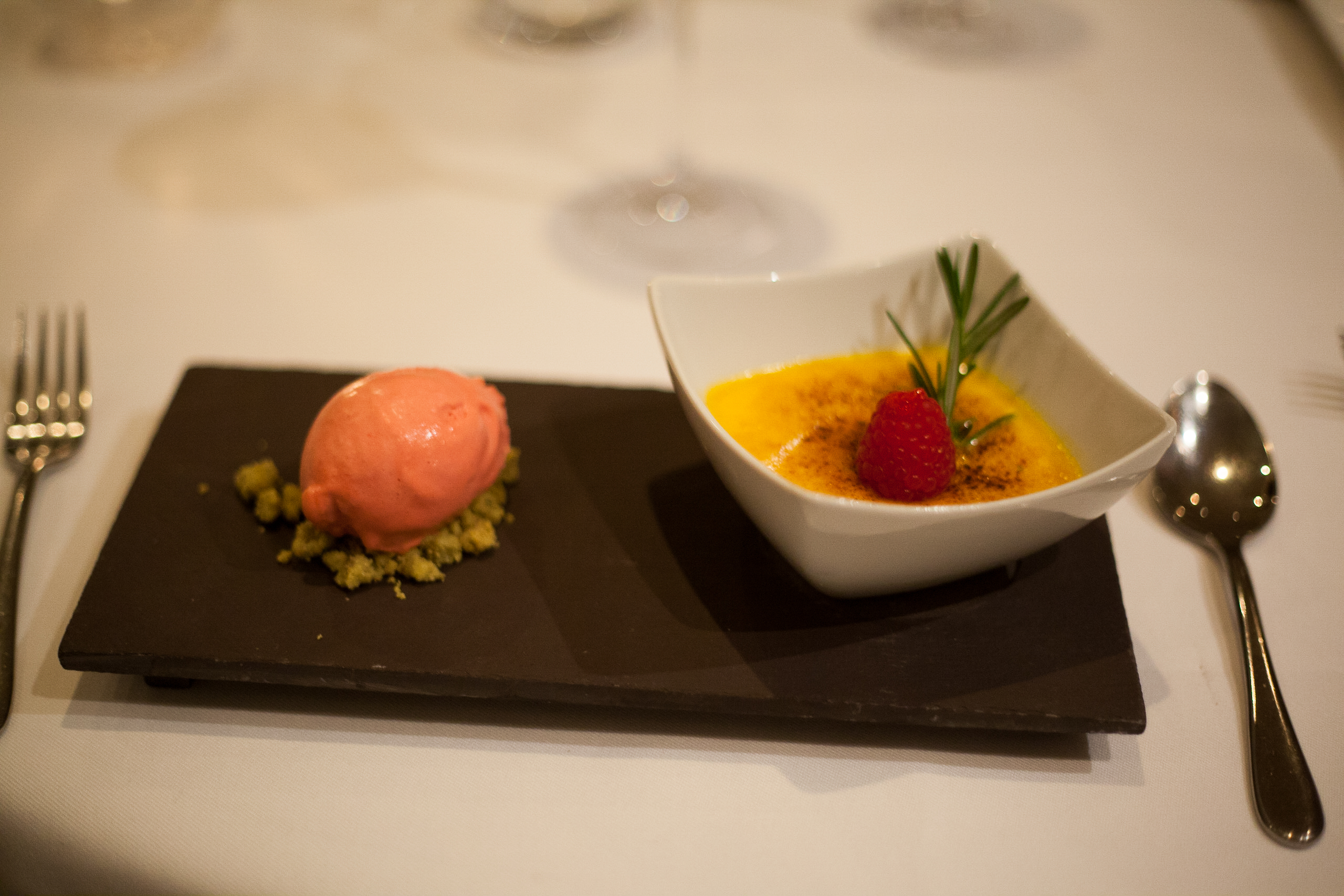 Elsewhere on the menu, the Tortino al Cuore Caldo caught my attention immediately. A rich, dark chocolate fondant – lightly dusted with icing sugar – oozed with a bitter sweetness, enhanced by a pistachio crumb, homemade vanilla ice cream and a physalis fruit flower and, eaten alongside an Espresso Martini – which shook vodka, kahlua, brown sugar and intense arabica coffee – the pairing offered up a state of pure indulgence.
Feeling somewhat adventurous, I sampled a dessert that featured a combination of flavours that I had never seen before: Crema Bruciata is the Caldesi twist on the classic creme brulée. Served in a shallow white bowl and garnished with a ball of homemade raspberry sorbet atop the same pistachio shortbread crumb, the dish blended rosemary into the sweet vanilla cream. This combination utterly tantalised the tastebuds and lingered for a few seconds before the sorbet crept in to cleanse and neutralise the palate.
Caldesi in Campagna is undoubtably one of the very best fine dining destinations in Berkshire. Every aspect – from its subtle yet romantic atmosphere to its dedicated, knowledgable yet unobtrusive team of sommeliers and waiters, to its inventive yet homely menu – make this idyllic venue home to one of the most fantastically memorable experiences that one may ever encounter. For epicureans, culture lovers and creatives alike, Caldesi in Campagna is an absolute must.
Caldesi in Campagna
Old Mill Lane, Bray, Berkshire, SL6 2BG
01628 788500
Photographer
Sam Dibley